The VU Safe App
VU Safe is the free, official mobile safety app of Victoria University.
The app is packed with safety information, tools and features to keep you safe on campus.
See the points below for how to use the VU Safe app.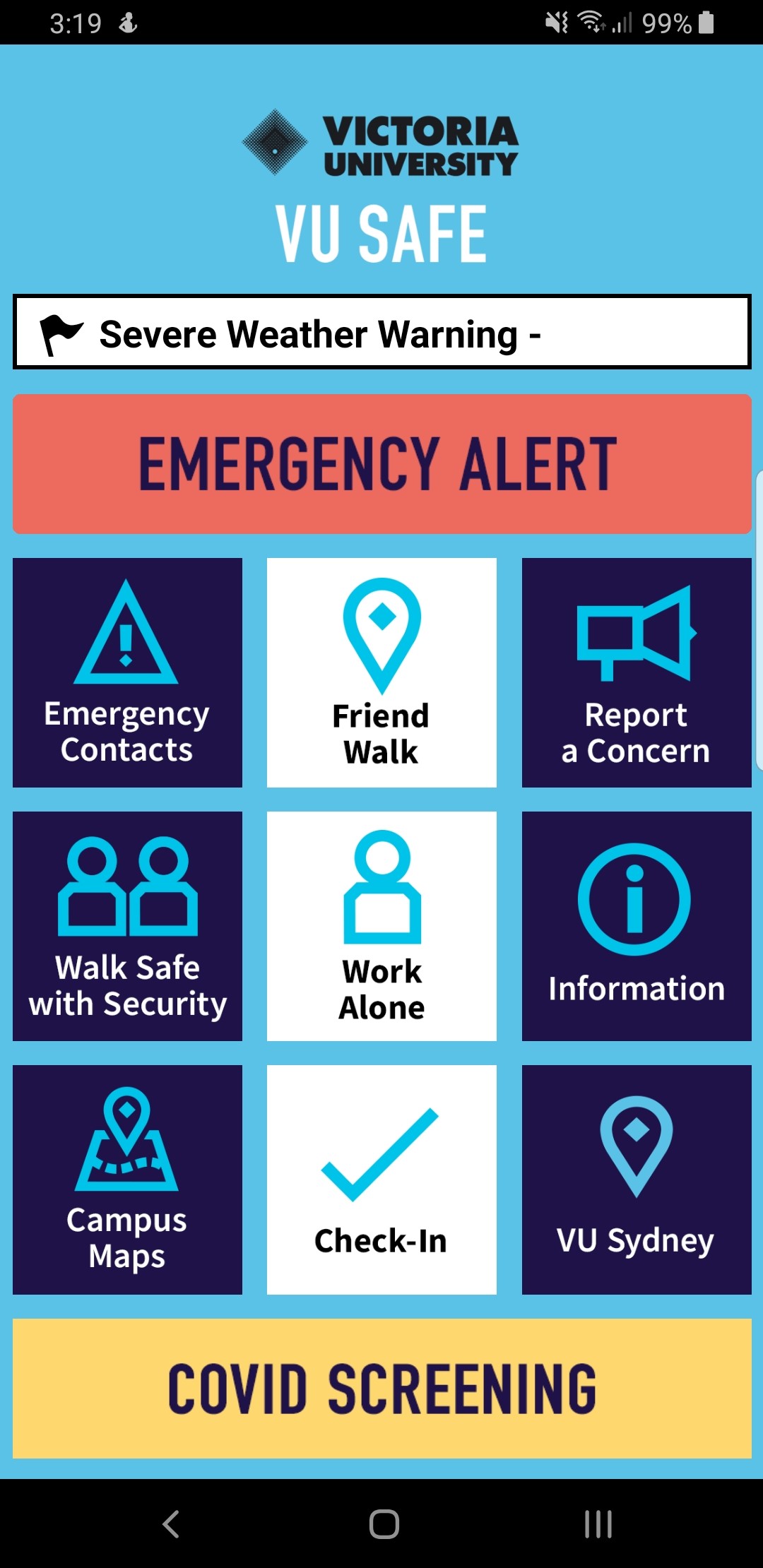 ---
VU Safe is free and available to download on iPhones and Android phones.
---
Emergency Alert

In an emergency press the VU VICTORIA CAMPUS SECURITY button to set off a silent alarm. The alarm will call Campus Security and send them to your location if they are needed.
Friend walk

Have a friend virtually watch over you as you walk.

Tap the button and select a contact, they'll receive a message with a link to view a map and track your location. Pick your destination, and start walking.

If you need help, just hit a button to notify your friend and start an emergency call. When you get to your destination safely, just tap the button to end the call.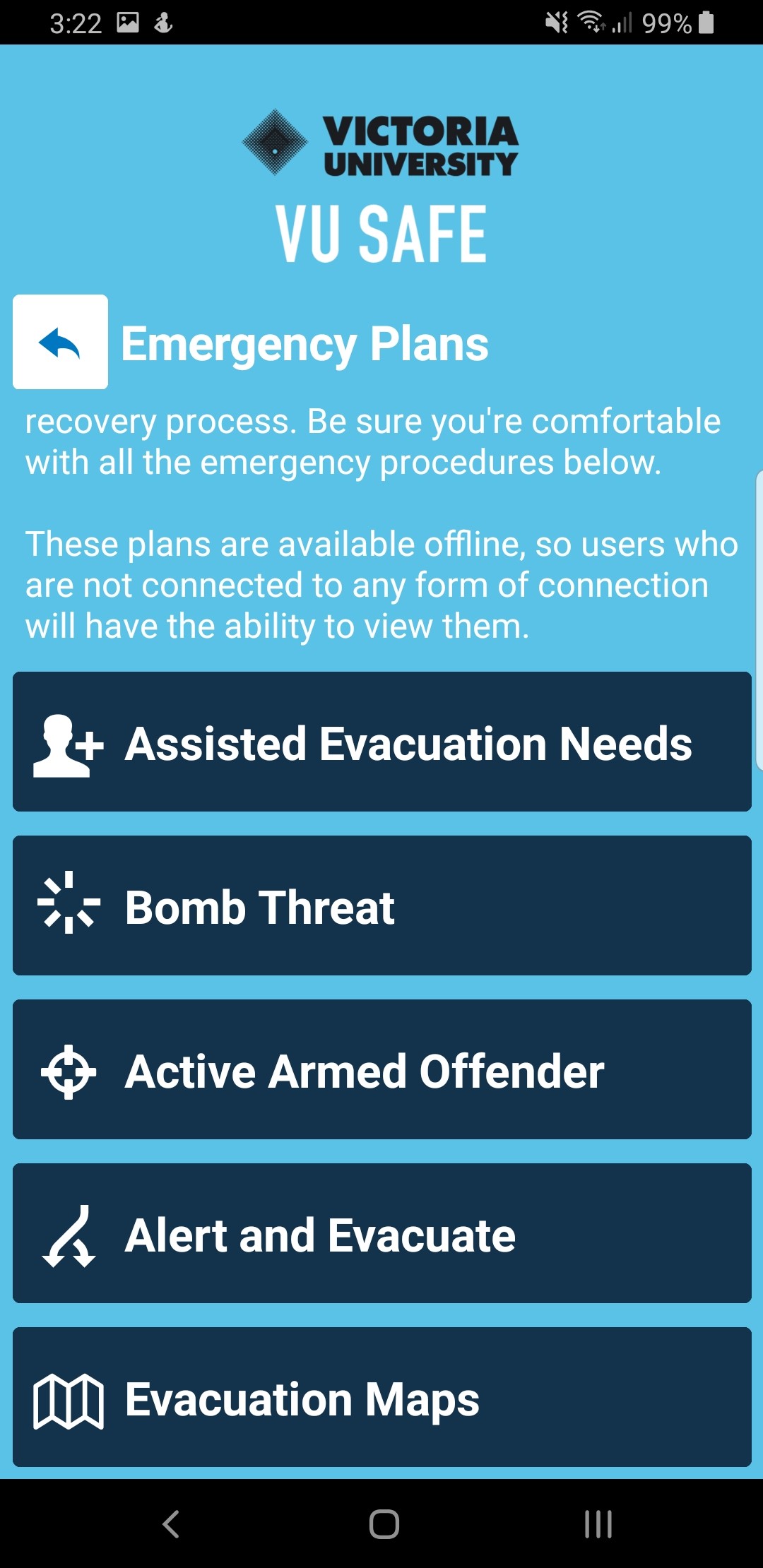 Emergency Plans
Check out the emergency plans for your campus so you know what to do in the event of a bomb threat or active armed offender.
Emergency contacts

Immediately contact emergency services with the push of a button. On-campus, you can contact Campus Security and request first aid assistance. Off-campus, you can contact Emergency Services 000 (triple zero).
Safety toolbox

The toolbox has a range of safety tools, including a flashlight, safety notification history, and VU shuttle bus tracking.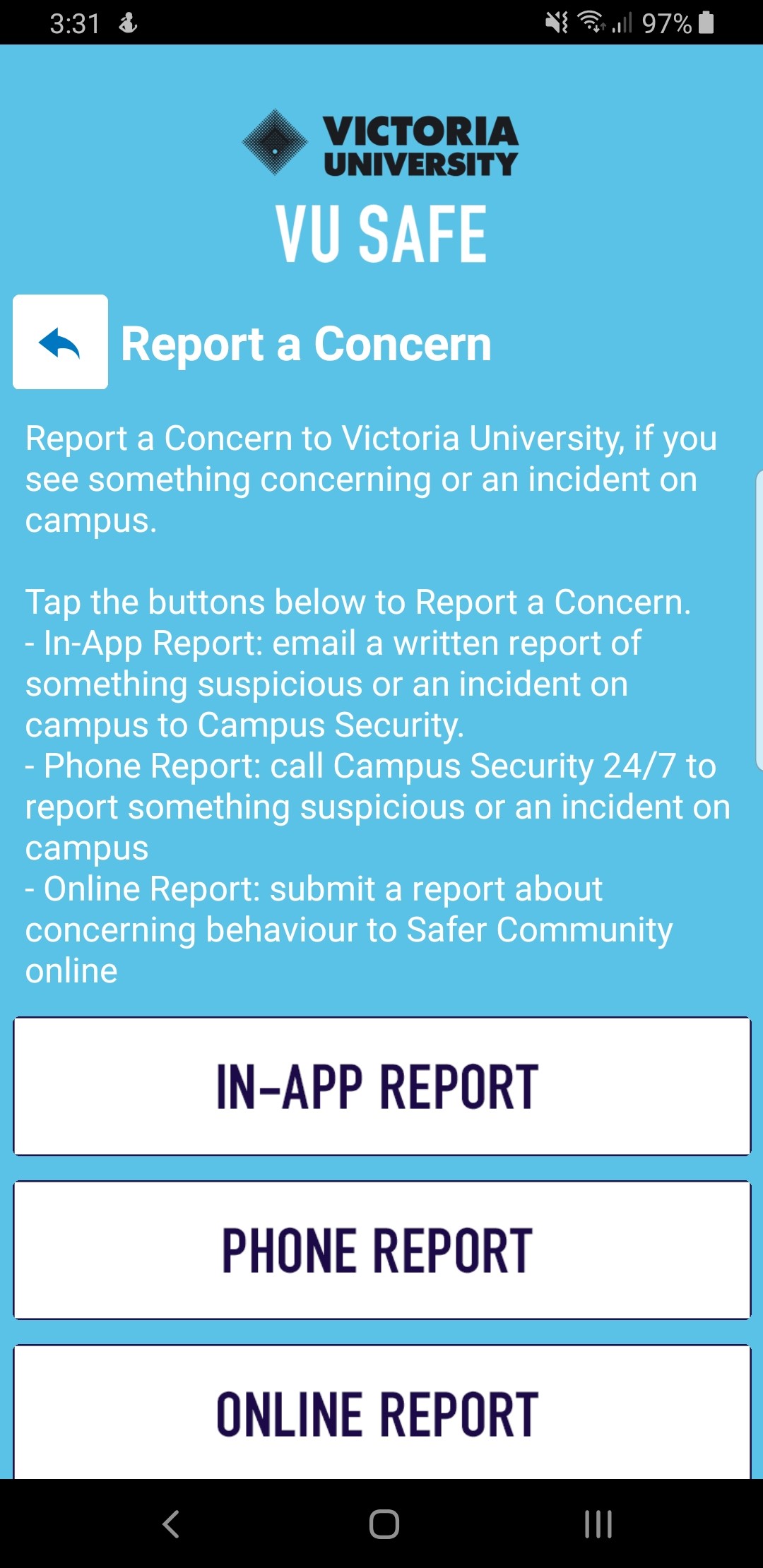 Report a tip
Report a tip to Campus Security. You can write an email, take a photo or video and send it directly through the app, or call in a tip to Campus Security.
Request security escort
Send a request to Campus Security officers, who can walk you to and from buildings, public transport or to your vehicle on campus. You can make a call or book using the enquiry form in advance.
---
Due to the pandemic, it is highly important that all staff members complete a self-assessed covid screening to gain a QRcode pass when required to step on campus.
This pass only lasts a day.
Select Covid Screening then Start Self Assessment to begin.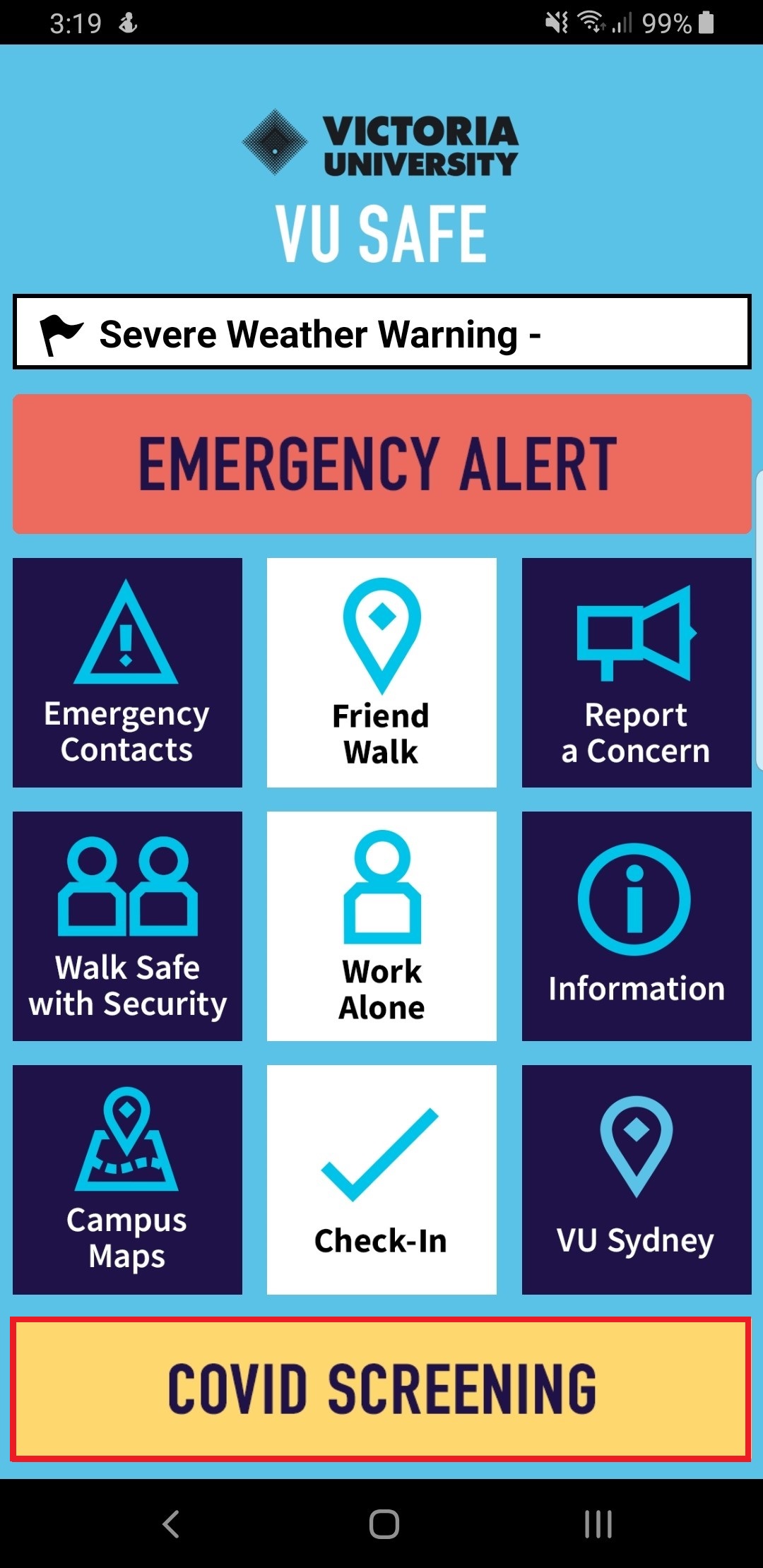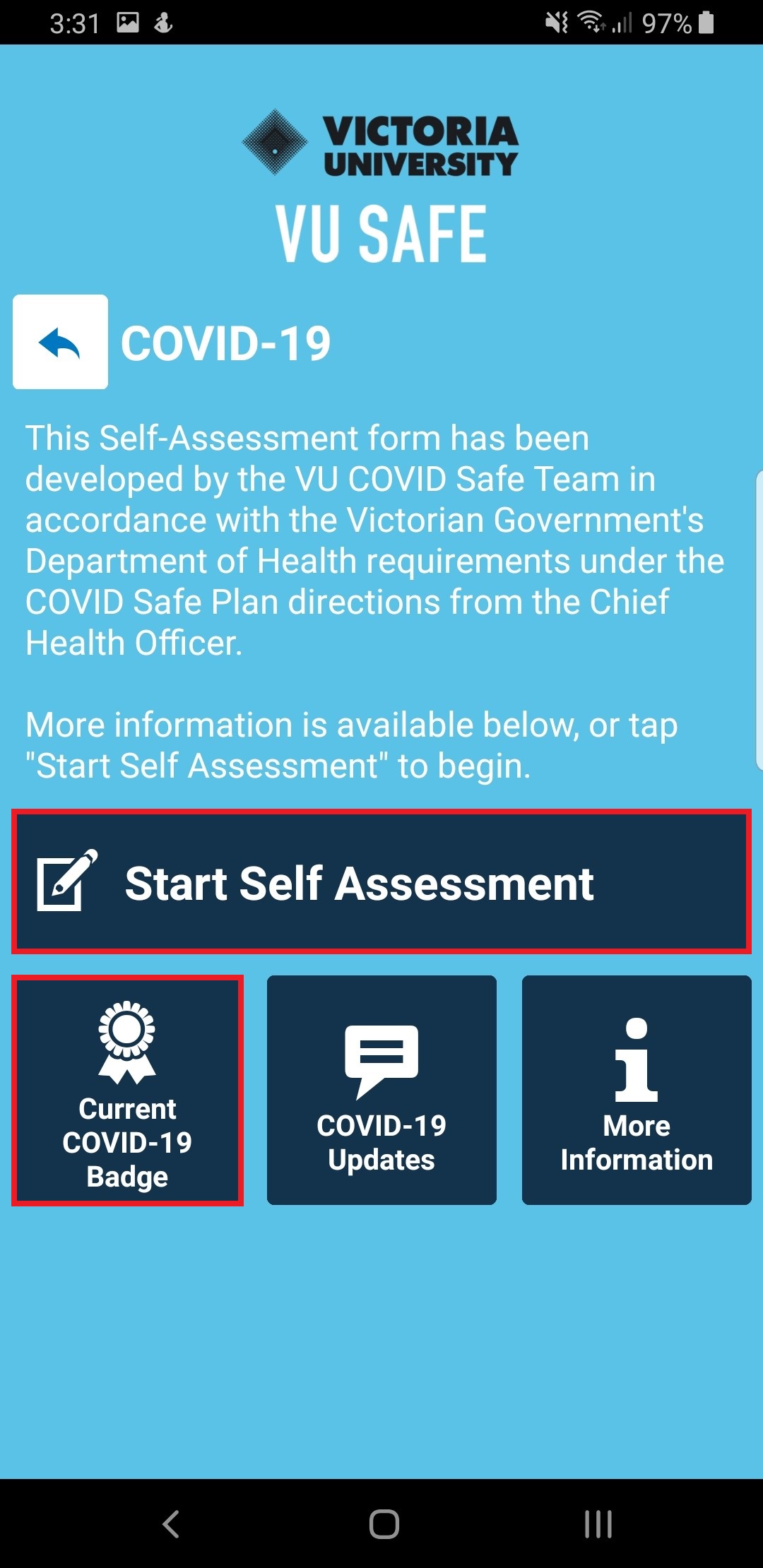 Once you have finished the self-assessment, you will either receive a QRcode badge allowing you access to campus or a decline message.
Select Current Covid-19 Badge to show/security your daily code when requiring access to campus.
---
About location services
VU Safe uses beacon technology to locate your device using GPS, WiFi and Cellular services.
Location services must be enabled on your phone to send your location to Security Services using the emergency alert and live tracking using the Friend Walk.


About notifications
VU Safe uses high-speed push messaging through WiFi and Cellular networks to send safety alerts to your phone.
Notification services must be enabled on your phone to receive the notifications. If you're connected to a network you'll get a notification even when the app is not running.


When should I use the emergency alert function?
You should trigger the Mobile Blue Light to send an emergency notification if you feel unsafe, if you or someone else has been threatened, assaulted or robbed.


When should I report a tip?
You should report a tip when you see any security incidents or suspicious activity on campus or in car parks. You can use the options to send a photo or video tip, as well as an email.
---
For more information about the safety app, and for advice, assistance and support if you have experienced or witnessed concerning behaviour, contact Safer Community.
Email: This email address is being protected from spambots. You need JavaScript enabled to view it.
Phone: +61 3 9919 5707
---
Further Support
Visit the VU Collaborate Help site at https://vucollaboratehelp.vu.edu.au for up to date information and resources on blended learning or email This email address is being protected from spambots. You need JavaScript enabled to view it..
Contact ITS Service Desk on (03) 9919 2777 or via self-service http://servicedesk.vu.edu.au for further technical support.