Marking rubrics in the Dropbox
Analytic rubrics allow you to grade assessments tasks such as a dropbox submission or a discussion post based on a pre-defined set of criteria. With analytic rubrics, levels of achievement are displayed in columns and the assessment criteria are displayed in rows.
To see a short video on How to Mark Assessments in the Dropbox Using a Rubric, see the video below:
This guide will steer you through the marking process and show you what the students see, the guide includes how to:


---
1. Go to the relevant unit and click on Assessments then select Dropbox.
2. Click on the title of the assessment you are ready to mark and then the title of an assignment under a student name.

3. Click on the rubric title to enter into and assess through the rubric.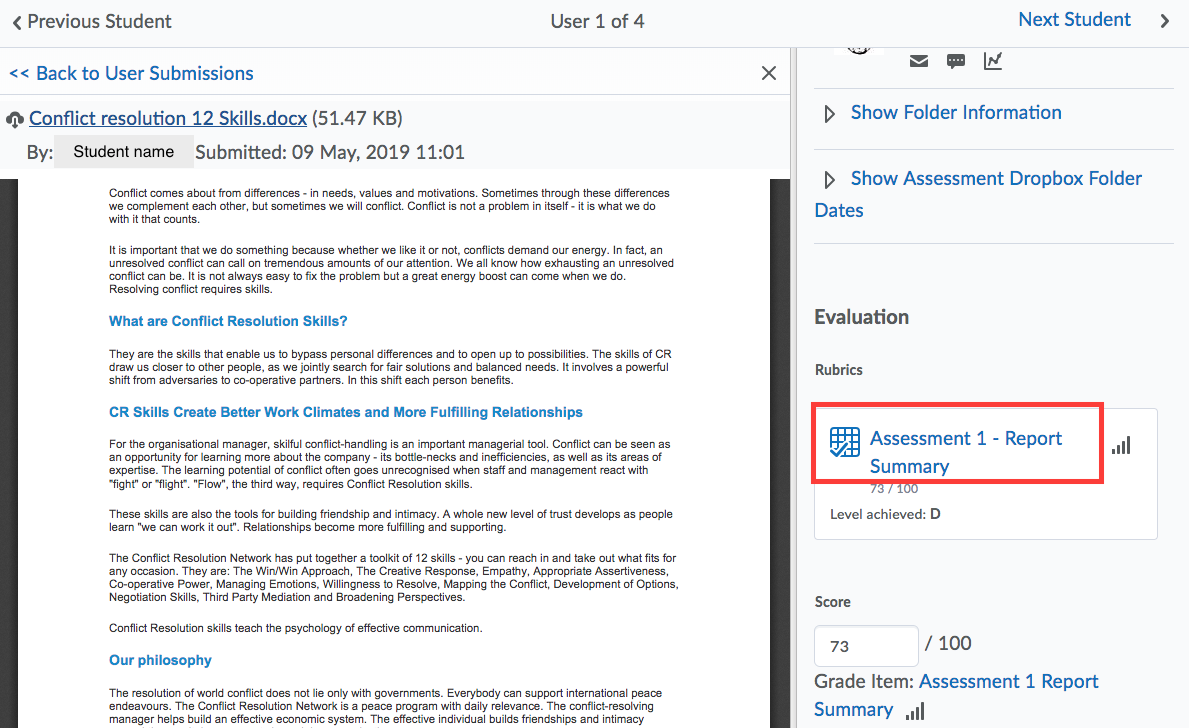 ---
1. Click the box to select the relevant feedback and score for each criteria.

2. You can see in the picture below that each section automatically awards the number at the top of the box.
All points and feedback are saved automatically as you progress through the rubric.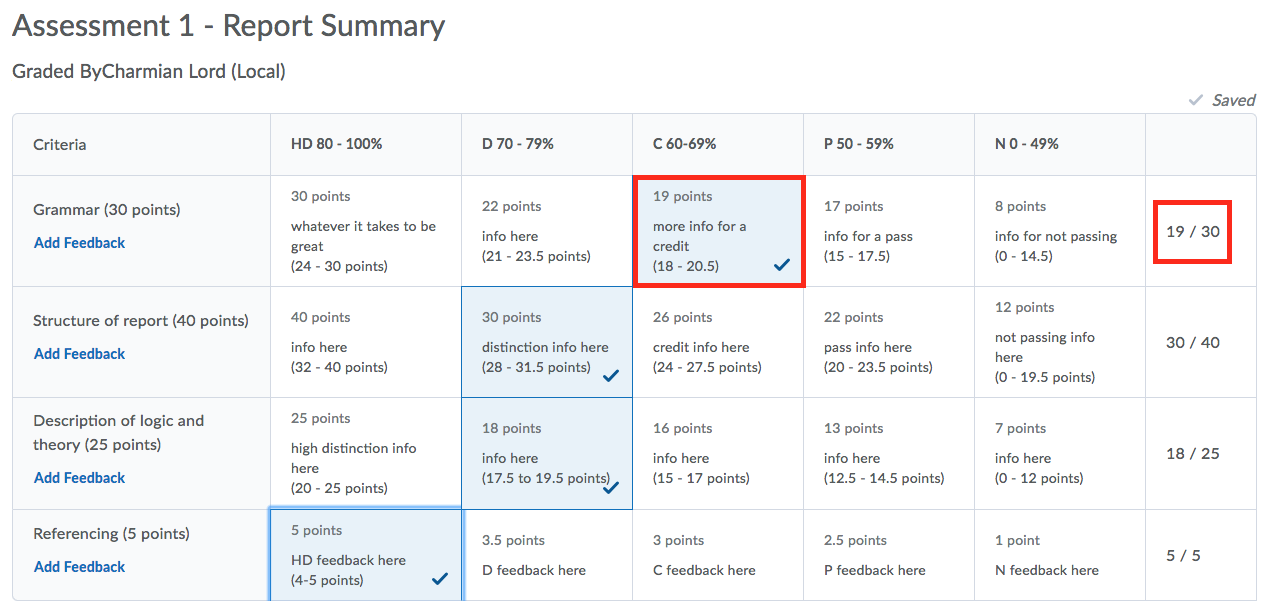 ---
1. If you do not wish to award the automatic score of that level, click on the score in the in the right-hand column.

2. You can then change the points awarded for that criteria in the box that appears. After you do this, the points show an asterisk to indicate that points for this criteria have been changed from the automatic points.

3. If you want to add specific feedback for a criteria, click on Add Feedback and type the feedback into the box that appears. Clicking outside of the box when you finish writing the feedback will automatically save the feedback.

---
Check the overall score at the base of the page. In the score and feedback column will be the sum of all the scores in the same column above. You will also see the level the student achieved overall.


Clicking on Close at the base of the page will automatically save the rubric for the student to view and transfer the score to the dropbox. The student will see the rubric just as you have seen it when they go to check their feedback.

---
1. Check that the information in the evaluation section of the dropbox looks correct.

2. You can add more feedback in the feedack box in the dropbox if you like or use that area to let students know where they can find their feedback. You can also record audio feedback (can be faster than typing it in).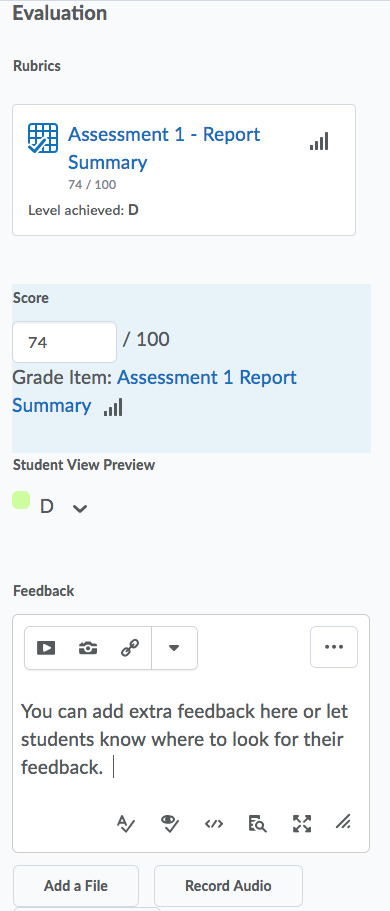 Note: The photo below shows you what the students see when they look at their rubric feedback. You can see where extra feedback is located and that if there is no extra feedback provided when marking the rubric, only the score is shown.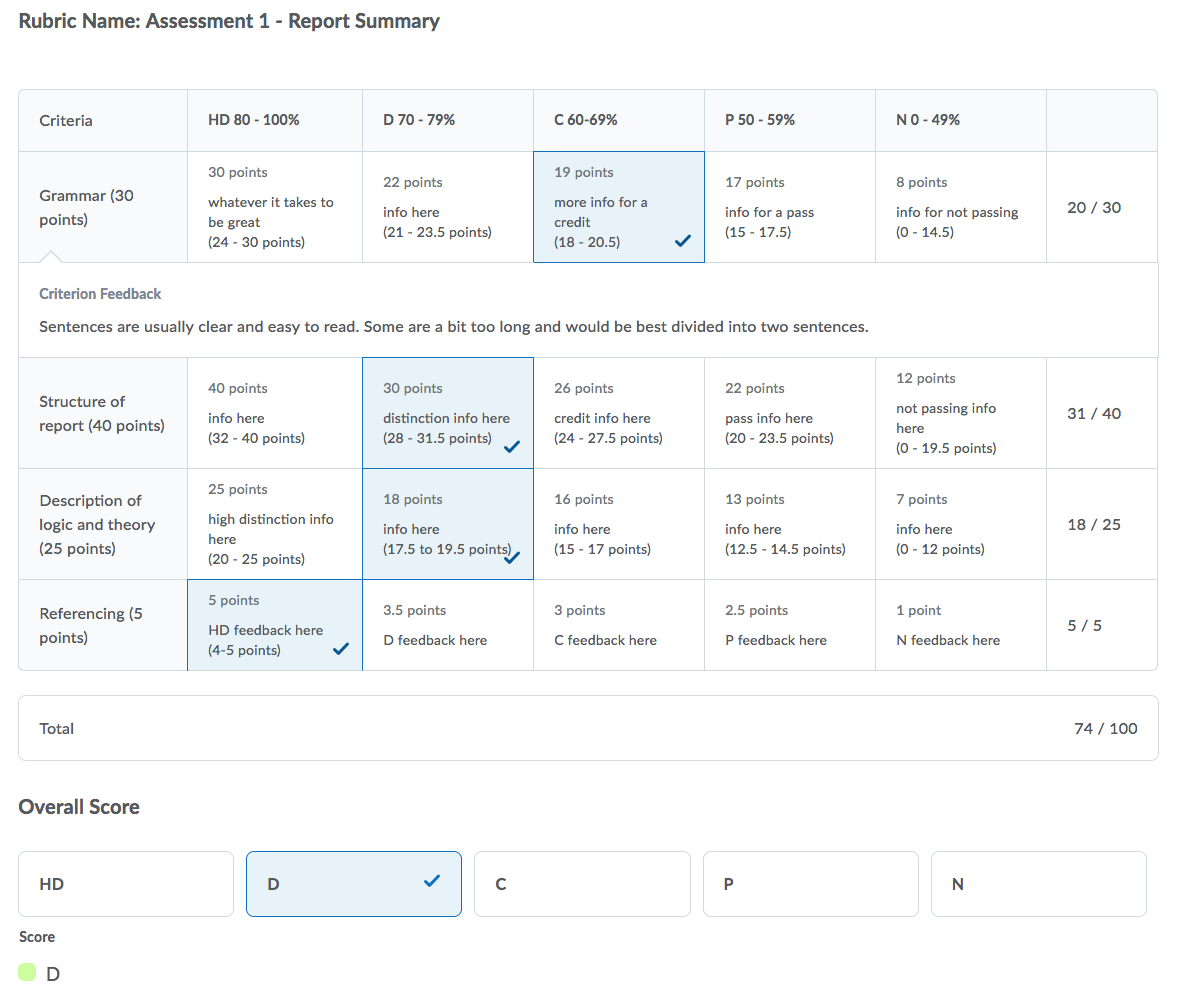 ---
Further Support
Visit the VU Collaborate Help site at https://vucollaboratehelp.vu.edu.au for up to date information and resources on blended learning or email This email address is being protected from spambots. You need JavaScript enabled to view it..
Contact ITS Service Desk on (03) 9919 2777 or via self-service http://servicedesk.vu.edu.au for further technical support.