Accessing an Originality Report with Turnitin Feedback Studio
Turnitin Feedback Studio enables you to scan student submissions against an extensive database of journals, student papers and online sources to identify potential cases of plagiarism. You can view the Originality Reports within VU Collaborate Delivery Space, which highlight matched areas, showing percentage breakdowns and direct links to identified sources.


---
1. Access student submissions by selecting Assessments > Dropbox.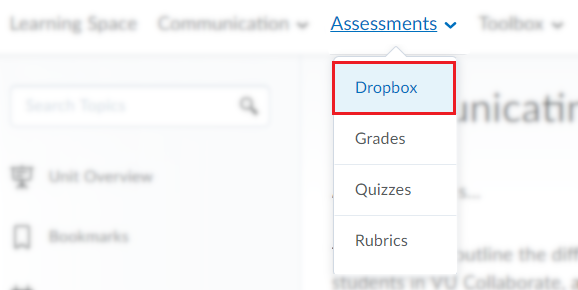 ---
1. Select the assessment dropbox folder you wish to view by clicking on the dropbox name link.




2. You will know if your assessment dropbox is Turnitin enabled if you see the OriginalityCheck Icon beside the dropbox name.



Note: To enable Turnitin Feedback Studio for an assessment dropbox folder, please view step 2 of the Creating an Assessment Dropbox guide.
---
Tip: Turnitin accepts the following formats: Microsoft Word (DOC and DOCX), Corel WordPerfect, HTML, Adobe PostScript, Plain text (TXT), Rich Text Format (RTF), Portable Document Format (PDF), OpenOffice (ODT), Hangul (HWP) and, Powerpoint (PPT).
1. Find the student you wish to view the Originality Report for. When a report is available, the status displays a percentage rating which indicates the level of matching content.



Note: If you see In-Progress in the report column, this indicates Turnitin is currently processing the assessment. Click refresh after 5 to 25 minutes, so the percentage from the Originality Report appears. If a report fails to generate after an hour, please contact the ITS Service Desk.

2. Click on the picture below to see a video showing how to push dropbox submissions through Turnitin if it did not go through.
This is not one of our lovely professionally done videos, just a quick demonstration.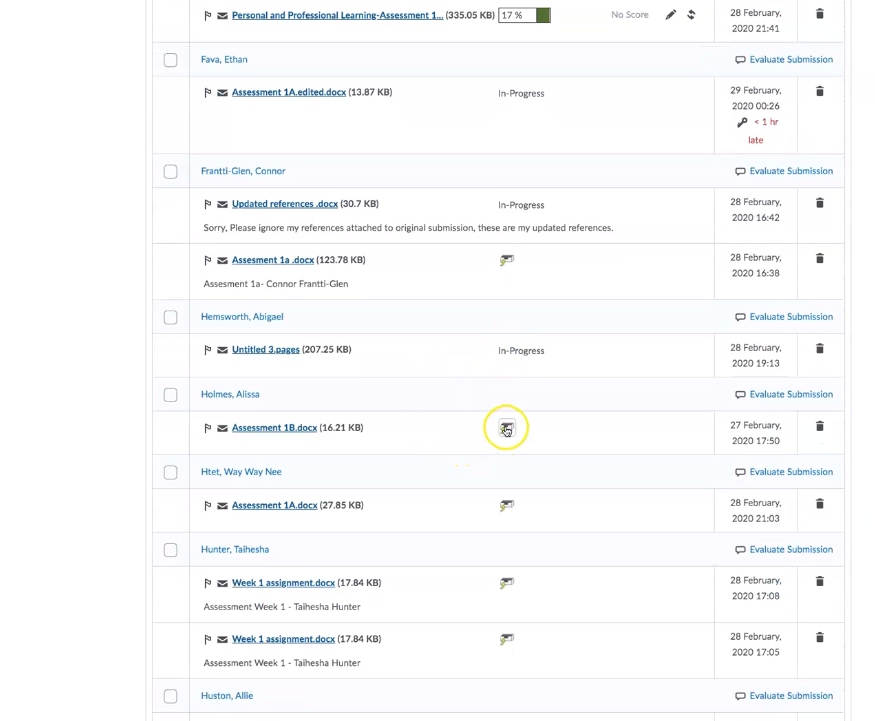 ---
Click the coloured box beside the percentage rating to view the Originality Report in Turnitin Feedback Studio. From here, you can also grade the assignment and provide feedback online.




4.1 Accept User Agreement

1. You may be prompted to accept the Turnitin User Agreement. If so, click on I Agree -- Continue.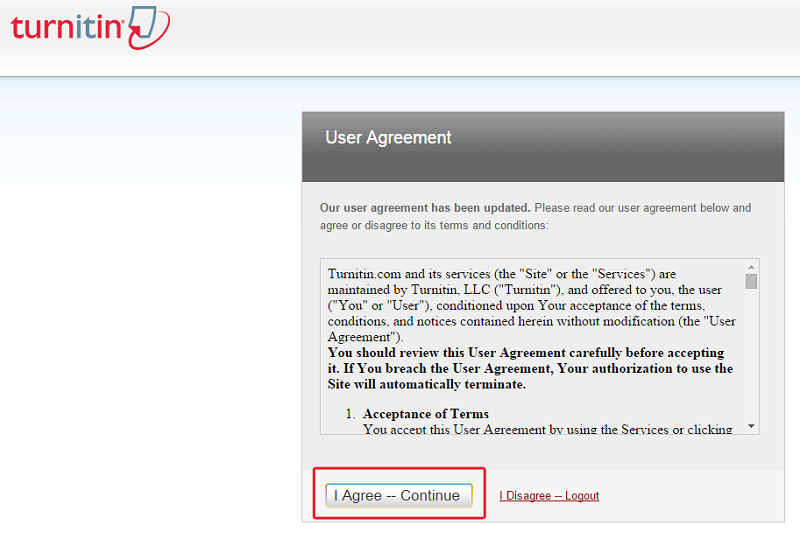 4.2 View Originality Report
1. The Originality Report is comprised of two main panes. The right pane lists all of the matching sources, including the percentage of text that matches, and a link to the online content. The left pane displays the submission text using coloured highlights to draw attention to the matching content. See the Reading an Originality Report guide to learn more about interpreting Originality Reports.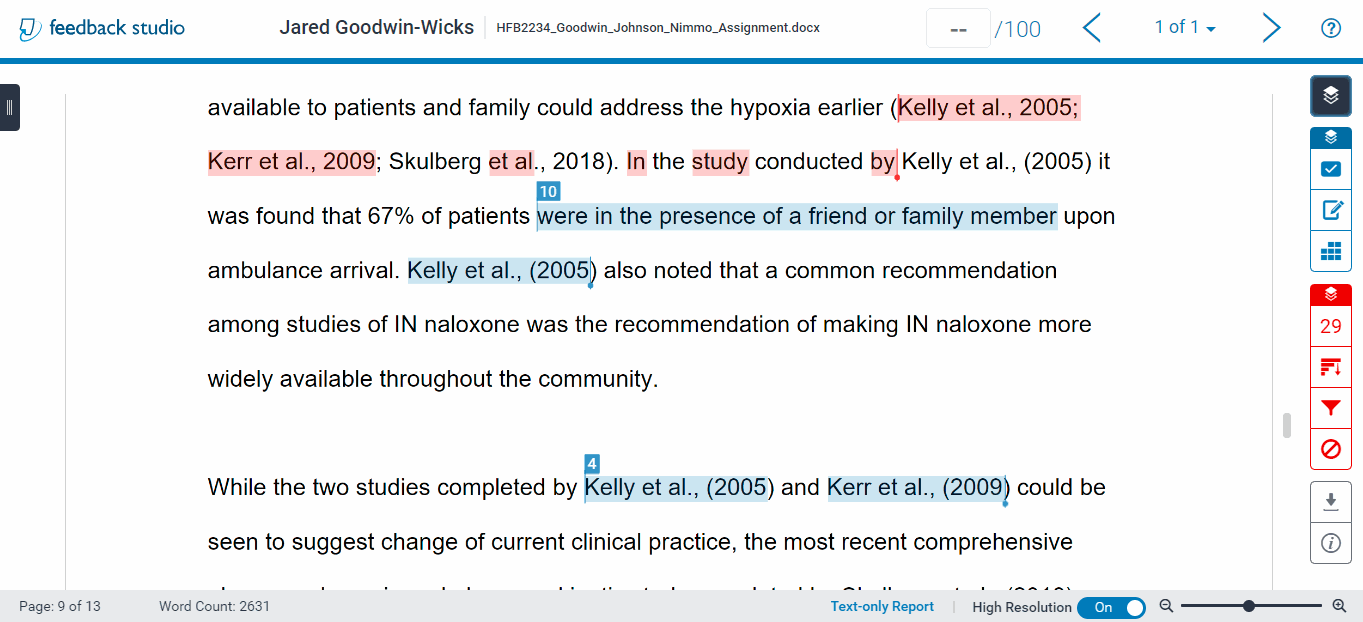 Further notes about Turnitin:
---
The file size may not exceed 100 MB; has a minimum of 20 words and less than 800 pages. Files of larger size may be reduced in size by removal of non-text content. Files that are password protected, encrypted, hidden, system files, or read-only files cannot be uploaded or submitted to Turnitin.
Text only files may not exceed 2 MB.
PDF documents must contain text to be submitted. PDF files containing only images of text (i.e. scanned documents) will be rejected during the upload attempt. To determine if a document contains actual text, copy and paste a section or all of the text into a plain-text editor such as Microsoft Notepad or Apple TextEdit. If no text is copied over, the selection is not actual text.
Users whose files are saved in a file type that is not accepted by Turnitin will need to use a word processing program to save the file as one of the allowed types. The university recommends Word, but Rich Text Format and Plain Text file types are also universally available. Neither file type will support images or non-text data within the file. Plain text format does not endorse any formatting, and rich text format supports only limited formatting options.
Warning: Users who are converting to a new file format will need to save their file with a name different than the original. Any file should be saved with a new file name when converting to plain text or rich text formats to prevent permanent loss of the original formatting or image content of a file.
---
Further Support
Visit the VU Collaborate Help site at https://vucollaboratehelp.vu.edu.au for up to date information and resources on blended learning or email This email address is being protected from spambots. You need JavaScript enabled to view it..
Contact ITS Service Desk on (03) 9919 2777 or via self-service http://servicedesk.vu.edu.au for further technical support.