Managing Chat Rooms
The Chat Room tool is a real-time, text-based collaboration tool. You can use the Chat Room tool to brainstorm ideas, hold a question and answer period, have a debate or discussion or organise a remote study group. VU Collaborate Chat Room allows you and the students a space to have a text-based discussion in real time.

You can use the Chat Room tool to connect with students in your Space or encourage students to connect with each other. As opposed to other collaboration tools, such as Discussions, Chat conversations occur in real time. You can set up unit specific chat rooms or chat rooms that involve individuals from all over the organisation.

See Creating a Chat Room before continuing.


Step One: Add a Message
---
1. Type a message in the text box at the bottom of the chat room, and click Send.





Step Two: See Who Else is Chatting
---
1. The Participants panel displays a list of users currently signed in to a chat room.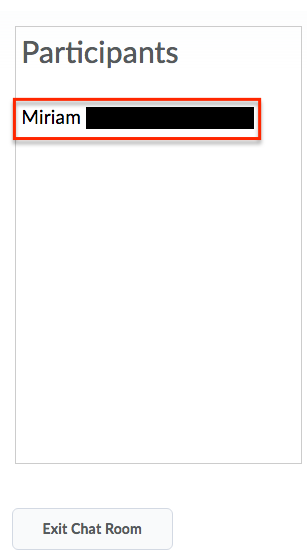 Step Three: Manage Your Chat Room Settings
---
These settings control the formatting and style of your messages, as well as the order they appear and sounds of notifications.


1. On the Chat Room List page or inside a chat room, click Settings.





2. Enter a new alias in the Alias field. Depending on your permissions, you can change your alias, or chat name, if you want to appear as a different name, such as a nickname, to other chat participants.
3. Tick the check boxes to use Bold or Italics.
4. Set an Alias Colour. If you want to change the message order, select New to Old or Old to New.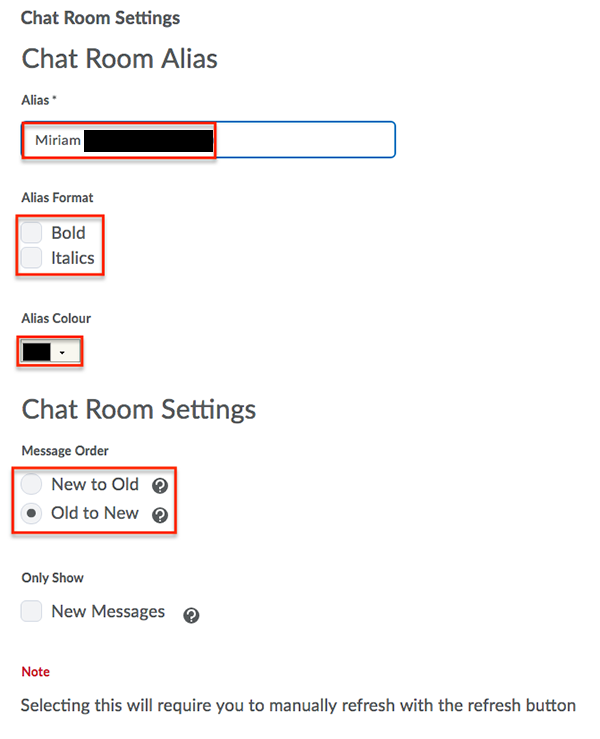 5. If you want to see new messages only, select New Messages. This requires you to manually refresh the screen, to see new messages and remove all old ones.
Note: You can change back to see all messages, which restores all messages for that session, even if they were not visible while New Messages was selected.
You can change your sound settings so you can hear a sound when someone enters the chat, leaves the chat, or when there is an incoming message.

6. Select a sound from the following drop-down lists: Incoming Message Sound, Person Enters Chat Room Sound or Person Leaves Chat Room Sound.
7. Click Save.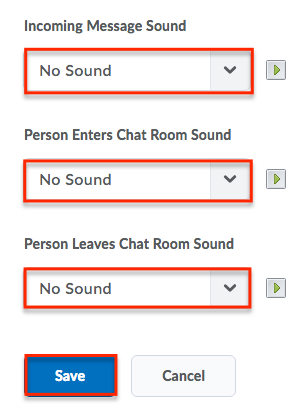 3.1 Managing chat session archives
---
The system archives a chat session once all chat members leave the room or after more than 20 minutes of inactivity. Chats appear in the Chat Sessions list.


1. On the Chat Room List page, locate the chat you would like to view. Click the arrow on the right side of the title, click View Sessions.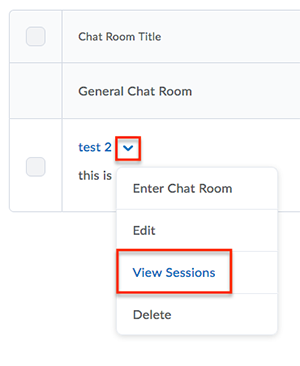 Note: For a general chat, you must be in the org. unit where you created the general chat to see its session archives.
2. Click the link attached to the Start Date to see the archived messages for this chat.

3. If you wish to delete the chat, select the chat and click Delete.

4. To finish viewing your chat archives, click Done.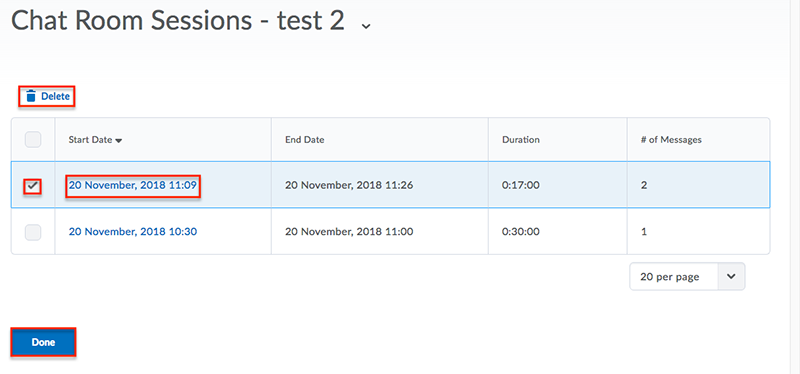 Note: For personal chats, only the chat's creator can delete sessions from the archives.
---
Further Support
Visit the VU Collaborate Help site at https://vucollaboratehelp.vu.edu.au for up to date information and resources on blended learning or email This email address is being protected from spambots. You need JavaScript enabled to view it..
Contact ITS Service Desk on (03) 9919 2777 or via self-service http://servicedesk.vu.edu.au for further technical support.