Downloading and using the Cisco Webex Meetings App
Cisco Webex Meetings app is great for when you cannot be in a class or present at a meeting.
Before beginning, visit your app store and download the app.

Learning Basic Functions
---

1. Open the app in your device and click Sign In. Enter your Victoria University email.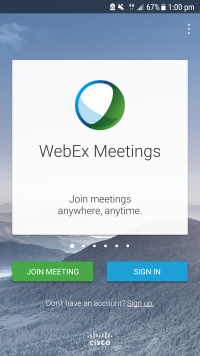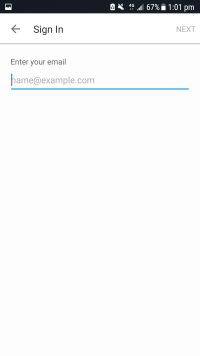 2. Next, the app requires a URL as part of the login process. Input vu.webex.com.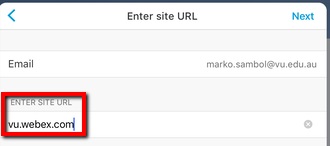 3. The site URL will transform to vu.webex.com. Click the arrow. You will be prompted to enter your Victoria University credentials.
4. This will ensure that you have access to any virtual classrooms that you have been invited to, or are hosting. Enter your ID and password then click Login.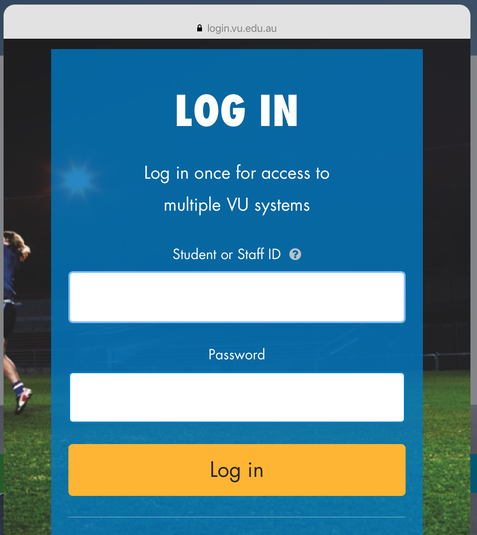 5. You will be prompted for permissions access throughout your use of the app. Select what you are comfortable with allowing. Things such as Audio will be necessary.
6. The homepage is simple. There is an option to Start Meeting or Join Meeting.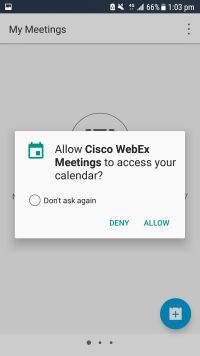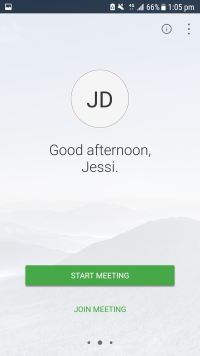 7. Before trying this out, swipe right to access My Meetings. This will be a list of any events that you are hosting or have been invited to and scheduled.
8. Swiping left will take you back to the main screen. Swipe again to see your recent Personal Rooms.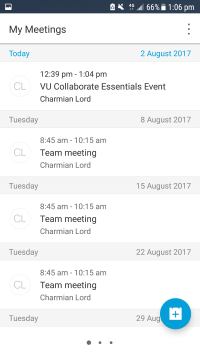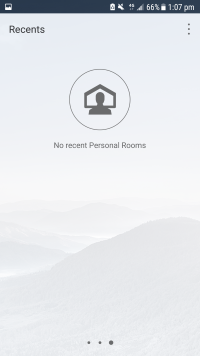 9. In the top right corner of each page, three dots represent the settings icon.
10. Click it then select Settings to alter any preferences you may have for your application.

Now that you are familiar with the setup, there are three main functions of this application.


1.1 Scheduling a Meeting
---

1. To schedule a meeting, go to My Meetings. Click the Calendar icon in the bottom right-hand corner.
2. Fill in the specifications of your meeting and click Schedule. If you set the meeting to start straight away, your option will be Start instead of Schedule.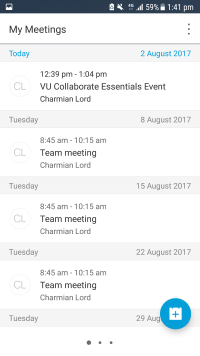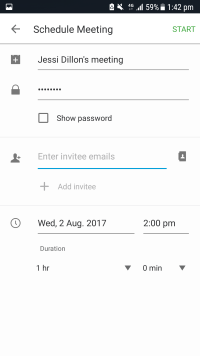 3. You will receive a confirmation email that will give you the option to add the meeting to your external calendar.


1.2 Join a Meeting
---
Note: To join a meeting, you must first be invited to one. You may be invited to the scheduling process, which means that the meetings will appear in your Calendar prior to them starting. Or, a participant may invite you via email directly before.
1. If a meeting is scheduled in advance and you are invited, it will appear in My Meetings. When it is time, you can click the title of this meeting and then click Join.
2. Alternatively, you will receive a notification that you were asked to join and can click this to enter the meeting.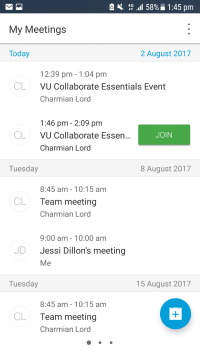 3. The options for involvement when not hosting a meeting are a bit different. You can call in the same (via video or phone) but in the settings drop-down, you have the option to Q&A.
4. From here, you can select a participant or group of participants and pose a question.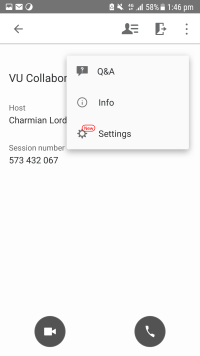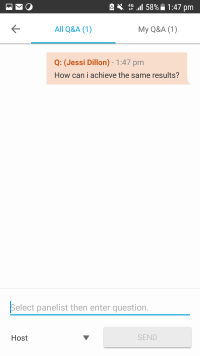 1.3 Start a Meeting
---

1. To start a meeting, click Start Meeting from the homepage. Your device will warn you if you are using mobile data instead of a wireless connection.
2. It will then take you to your Personal Room. You are the host in this room. The phone icon will have the option of calling via phone or via the internet. If you select phone, it will supply phone numbers to call.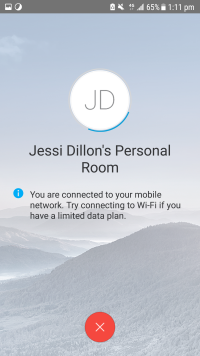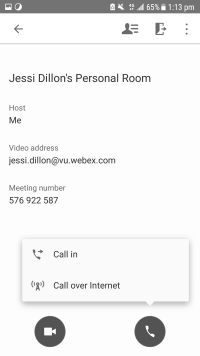 3. Once you have connected, you are part of the audio conference. The microphone icon can mute the audio at any time.
4. The video icon in the middle of the screen will connect a streaming video image to the meeting. Click Start my Video to begin.
Note: The camera can be reversed at any time and clicking Stop Video will end the transmission.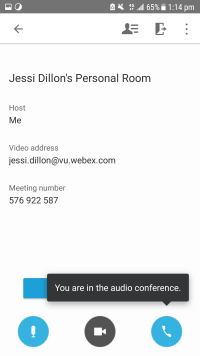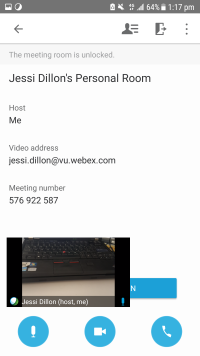 Sharing screens is a valuable option for showing documents, images or step-by-step instructions.
1. Click Share Screen to begin.

2. Cisco WebEx Meetings will warn that you will be sharing your device's screen and request permission to continue. Click Start Now.

3. It will then show a visual representation of how your content will appear to others and request permission once more. Click Share Screen to confirm.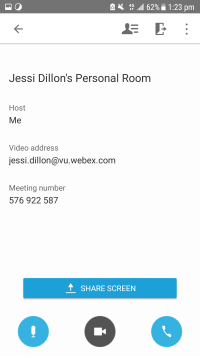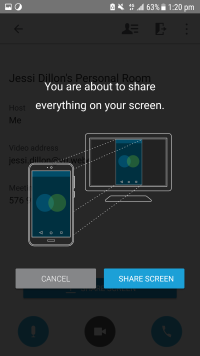 4. Two icons will appear - one on the side of your screen and one in the top notification bar.
Note: This will vary slightly from device to device
5. Click the icon on the side and it will open a Stop Sharing option. Click this to remove the screen share.
6. The door icon is the option to leave the meeting. The silhouette icon is a list of participants.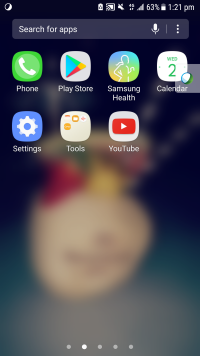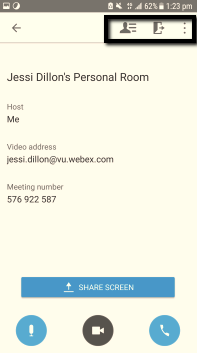 7. The settings button will now have more options. You can lock the room, record video, share screen, find a video system, create a shortcut, read more info or check the account settings.
8. If you select the back button, this will take you back to the homepage. This will not exit the meeting for you. You must click the door icon to exit.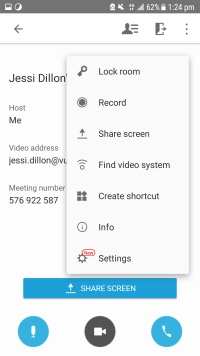 9. Like a lot of applications, the best way to figure out how it works is to explore it. Open it up and start a meeting with a friend or just play around with the settings.


---
Further Support
Visit the VU Collaborate Help site at https://vucollaboratehelp.vu.edu.au for up to date information and resources on blended learning or email This email address is being protected from spambots. You need JavaScript enabled to view it..
Contact ITS Service Desk on (03) 9919 2777 or via self-service http://servicedesk.vu.edu.au for further technical support.