Facilitating a WebEx Virtual Classroom
WebEx Virtual Classrooms allow students who might not be able to physically be present in class to attend the session online. If you have already created a WebEx virtual classroom in VU Collaborate, you can use it to hold a class or make a recording, and stream video from your screen or webcam and audio from your microphone. To learn how to create a WebEx Virtual classroom, read more on Creating a WebEx Virtual Classroom here.
Note: To record your presentation, you will need to work on a computer or laptop enabled with a microphone -- and webcam if you want to stream and record video.
Below are the steps in facilitating a WebEx Virtual Classroom:


---
Navigate to the VU Collaborate space where you need to set up a virtual classroom.
1. Click Communication in the navbar.

2. Select WebEx Virtual Classroom. Scheduled WebEx virtual classrooms will appear in the events list.




3. To launch your virtual classroom, click either the Prepare button or the Host button, which appears if the virtual classroom is already available for students to join.
Note: It is recommended to access your virtual classroom at least 30 minutes ahead of the scheduled start time, to prepare your content such as presentation slides and assist students in joining.

If you find that you don't have any sessions listed here that you can host or prepare, please read through the Create a WebEx guide.
---
You will be prompted to Add WebEx to your web browser if you are using WebEx for the first time.
Skip this step and move on to Step Four if you have used WebEx on your computer before.

1. Click on Add WebEx to Chrome.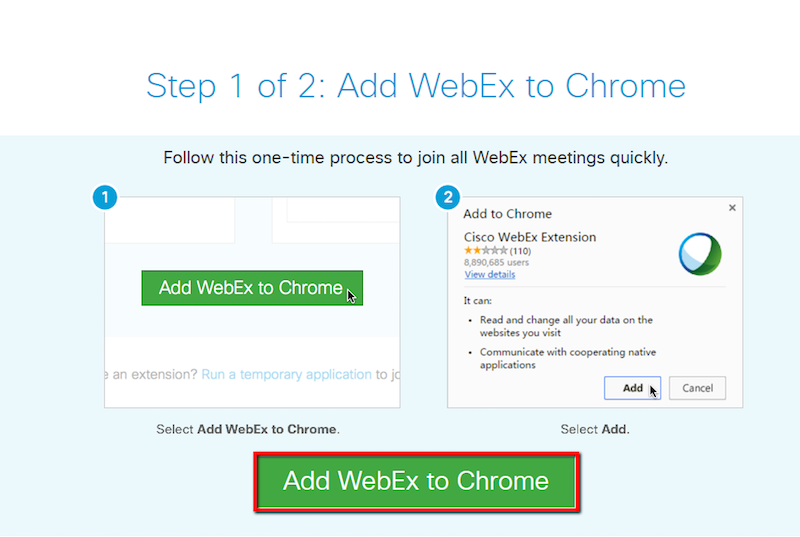 2. A pop-up will appear, click on Add again.



A file download will appear on the bottom left when the file download is completed you may proceed.
3. Click on Cisco_WebEx_Add-On.exe.
4. A pop-up will appear, click on Run.


---
A program called Cisco WebEx Training Centre will appear in another window. You will be prompted to set your Audio device.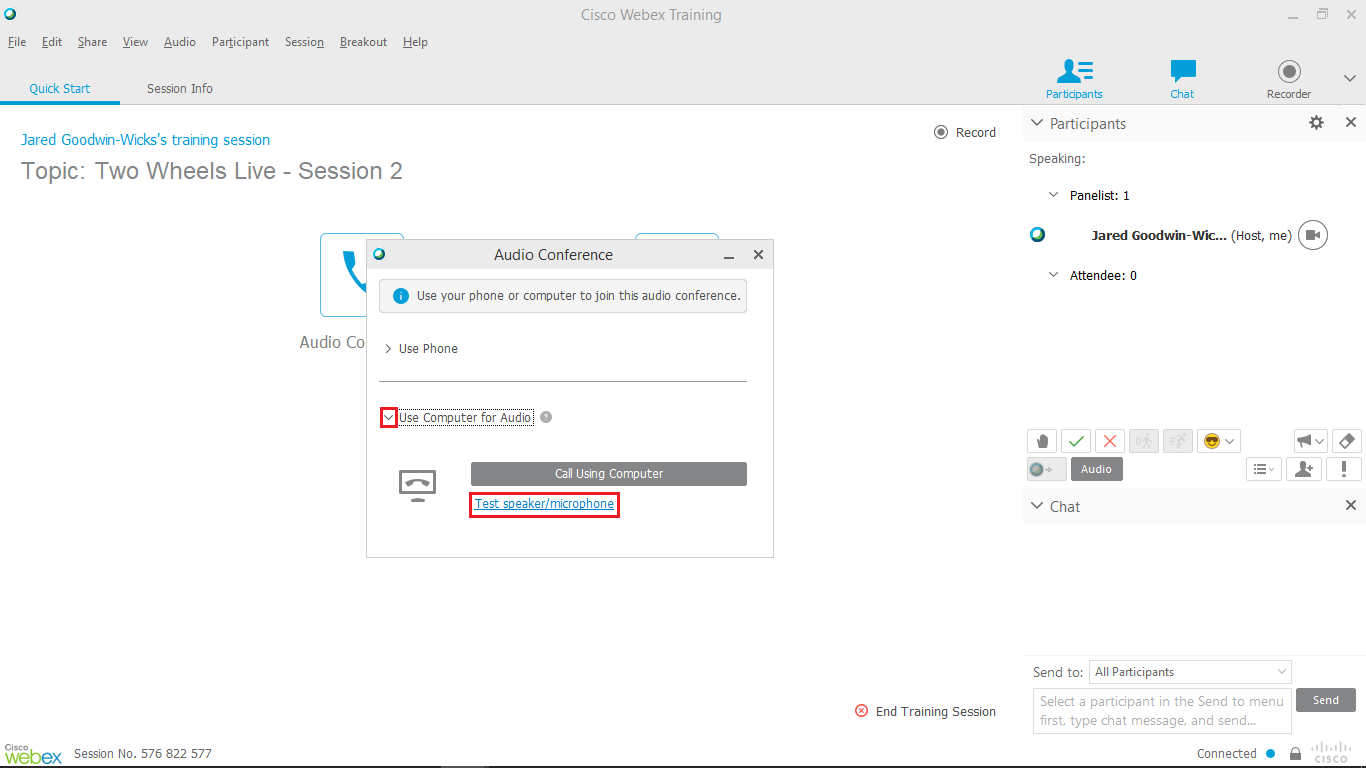 3.1 Testing your Speakers
1. Under the speaker heading, select the speaker or headset you wish to use in the drop-down menu.
2. Click on Test to ensure you hear a sound playing.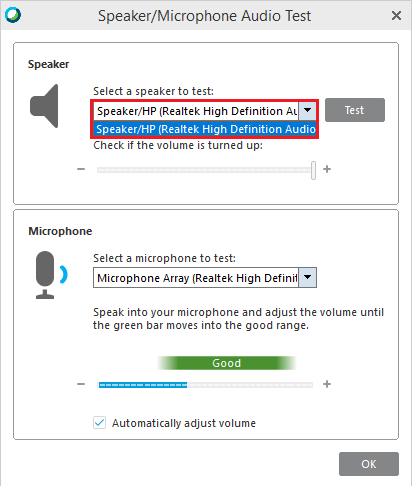 3.2 What if I don't hear any sound?
If there is no sound, ensure that you have unmuted your speaker:
1. To do this navigate to your Windows dashboard and click on the Speaker icon below.
2. A small speaker window will appear, click on the Speaker icon again.



3.3 Testing your Microphone
1. Under the Microphone heading, select the microphone you wish to use using the drop-down menu.
2. Select the box next to Automatically adjust volume which will automatically calibrate your Microphone's volume.
3. Check that you can see the blue/green bars moving as you speak. This indicates how well others will hear you.
4. Click on OK.


---
1. Click Call Using Computer.



---
You can share your computer screen with participants during the session to better demonstrate concepts or use other applications, such as a whiteboard. This is optional.
1. Click Share My Desktop to start streaming your screen.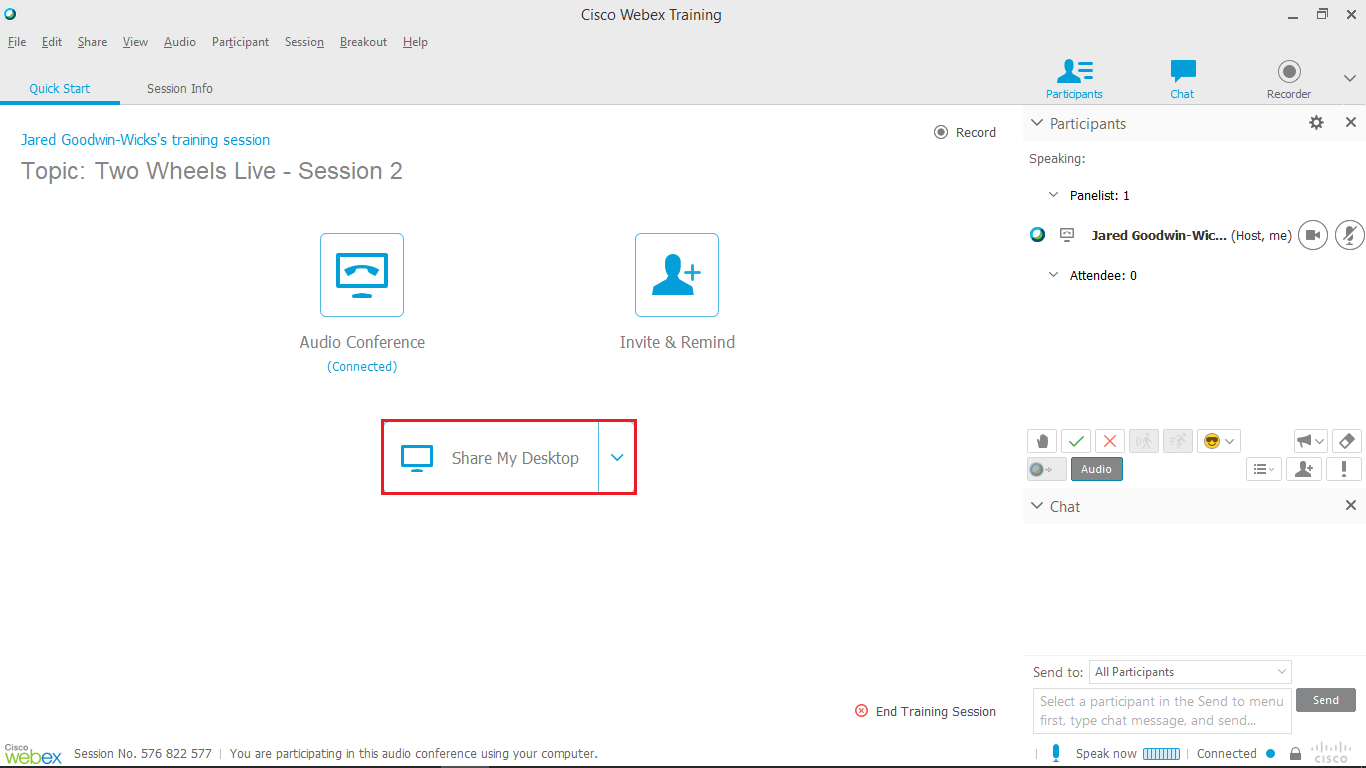 5.1 Share a PowerPoint Presentation
There is a list of other available resources that you can share and display including PowerPoint presentations, Word documents, spreadsheets or files including video.
Note: You can only share applications and files if they are installed on your computer.
1. Click on the drop-down menu next to Share My Desktop or Share Application (both titles will be in the same place with the same functionality).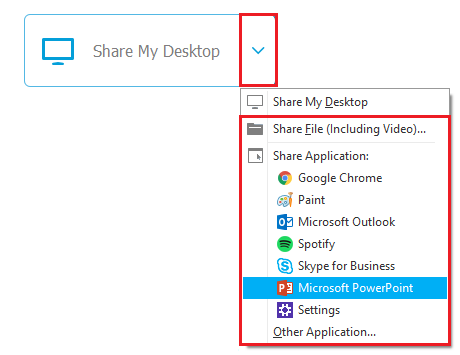 2. Select a file to share with participants. They will be able to see, annotate and discuss the file.
---
To ensure that all participants are able to send and view chats with other participants,
1. Navigate to the toolbar up the top of the page before you share the screen and click on Participant and then on Assign Privileges.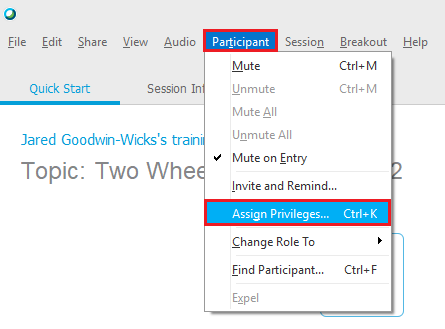 2. When the screen opens up choose the tab that says Communication and tick the box for All attendee communication, then click on OK.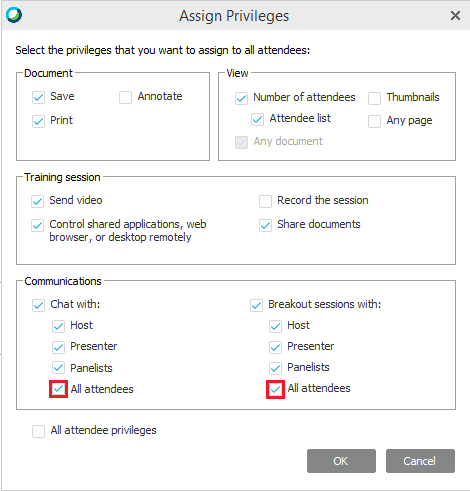 To be able to see what participants are doing (hand up, emoticons, tick, etc.) when you are sharing the screen, hover the cursor over the section that says 'You are sharing your screen' and other controls/options will appear.





3. Click on Participants to have a box show up elsewhere on your screen that will show the list of participants and what they are doing.
6.1 Chatting with Participants
1. While sharing content you can click Participants at any time, to check how many people are attending. You can also click Chat to send a chat message to any individual, including other presenters or all participants.


Note: the panel is located at the top of the screen. Roll over the green You are sharing Microsoft PowerPoint tab to display it.
2. To use the Chat function, hover to the top of the screen for the toolbar to show.
3. Click on chat.
4. A pop-up window will appear, select who you want to send messages to by clicking on the triangle next to Send to.
5. To chat with everybody, select Host, Presenter & Panelists.
6. Type your message in space below Send to and click on Send when you are done.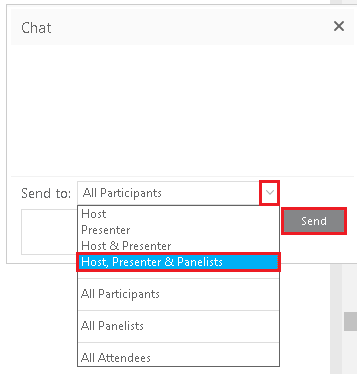 6.2 Question and Answer Sessions
You can also run a Question and Answer session using WebEx.




1. Hover over the top of your desktop to access the toolbar.
2. Click on the triangle next to Annotate, then select Q&A.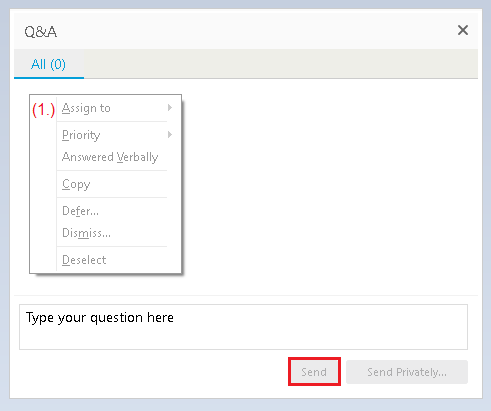 3. A pop-up window will appear. By default, the QA questions are posed to all participants. For further options right click (1.).

4. Type in your question in the space below and click on Send when you are ready or click Send Privately if you intend to send to only one user.
6.3 Participation Interaction
There are a number of interactions which participants of the session can use throughout your Virtual Classroom.




It will appear on the right-hand side of the participant's name. For example, the picture above illustrates a participant with a 'Hands Up' interaction indicating that he/she may have a question.



There are also correct, wrong, go faster or go slower interaction icons which participants will be able to use.
Note: In the participant's panel, if you see a hand icon next to a name, this indicates a raised hand. The tick icon indicates yes and the cross icon indicates no.
Tip: You can ask participants entering the session to confirm if they can hear you by clicking their yes button (the tick icon) or no button (the cross icon) which will appear next to their names in the participant's panel.
---
1. If you need to record the session for later viewing, click the Recorder button then go to the bottom of the page to select the second recorder button and start the recording.




2. Pause a recording by clicking on the "II" pause button.
3. End a recording by clicking on the stop button. This will close the recording file. If you wish to start again a new file will be created.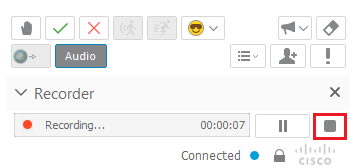 ---
Video is optional, but it is recommended to run the virtual classroom with at least audio instruction or a presentation.
1. Click the video button next to your name to start streaming video to the virtual classroom from your webcam.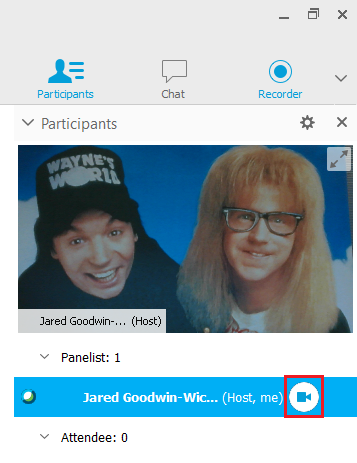 8.1 Choose a Video Focus
If participants are using webcams, you can lock which participant you would like the others to see. The options are to select A specific speaker or The active speaker.
1. On the bottom left of the participants' panel, where their videos appear, click the lock button.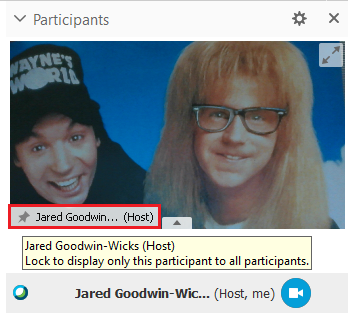 2. Select The active speaker if you would like the screen to automatically change to the person who is actively speaking at the time to all participants.




3. Select A specific participant and highlight whose screen you wish to show on the main screen to all participants. You can choose from panellists or attendees.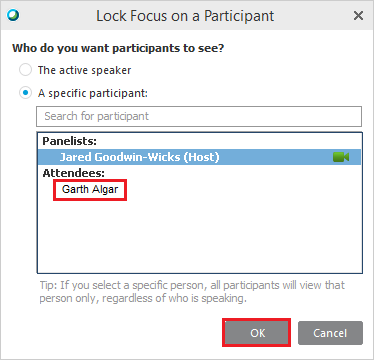 4. Click OK.
---
Further Support
Visit the VU Collaborate Help site at https://vucollaboratehelp.vu.edu.au for up to date information and resources on blended learning or email This email address is being protected from spambots. You need JavaScript enabled to view it..
Contact ITS Service Desk on (03) 9919 2777 or via self-service http://servicedesk.vu.edu.au for further technical support.