Ensuring privacy & security in Zoom
Occasionally there are people who come uninvited to a session. These uninvited guests can cause a lot of distraction and upset participants with the things they do when they are in the session. There are things you can do to stop them from entering the Zoom session and, if they are super tricky and still get in somehow, there are things you can do to stop them from causing harm. It's important not to share your zoom links anywhere public, and preferably not by email. Keep your links in VU Collaborate which is password protected behind the VU login.
---
One of the best ways to stop people from outside of VU from entering a Zoom classroom that you have scheduled is to insist on a password being used.
Passwords are a default setting that cannot be removed. You can still change the password to a word instead of a number.
Students and staff who have logged into VU Collaborate will not need to enter the password to join the scheduled session because they are already logged in to a secure system (VU Collaborate). If someone from outside of VU tries to join the session, they will need to get the password correct before they are able to join.
If you want to email the invitation or URL out to participants, be aware that the password is naturally within the link and the invitation. If you are scheduling for a class, the best option is to direct students to the Zoom classroom on VU Collaborate and not send the link to them.
---
Meeting settings at the organisational level have been now set so that only the host can share a screen. You will still be able to give control to others during the session to share their screen where and when you decide it is useful.
You are able to alter your meeting settings at victoriauniversity.zoom.us.
Although you can alter meeting settings and profile information at this site, advanced meeting settings will not transfer to the sessions that are created in VU Collaborate. All sessions that are made for students must be created in VU Collaborate. Sessions created in VU Collaborate will appear on the website but sessions created on the website will not appear in VU Collaborate.
---
Even though the meeting settings state that only the host can share the screen, permission for participants to share their screen can be granted during the session.
1. Click on the arrow next to Share Screen and select Advanced Sharing Options.
2. This is the screen you will likely have.
3. Simply click All Participants under the heading Who can share? to allow others to share their screen.
---
If somebody is sharing the screen and you need to take back control to share your screen instead, you can.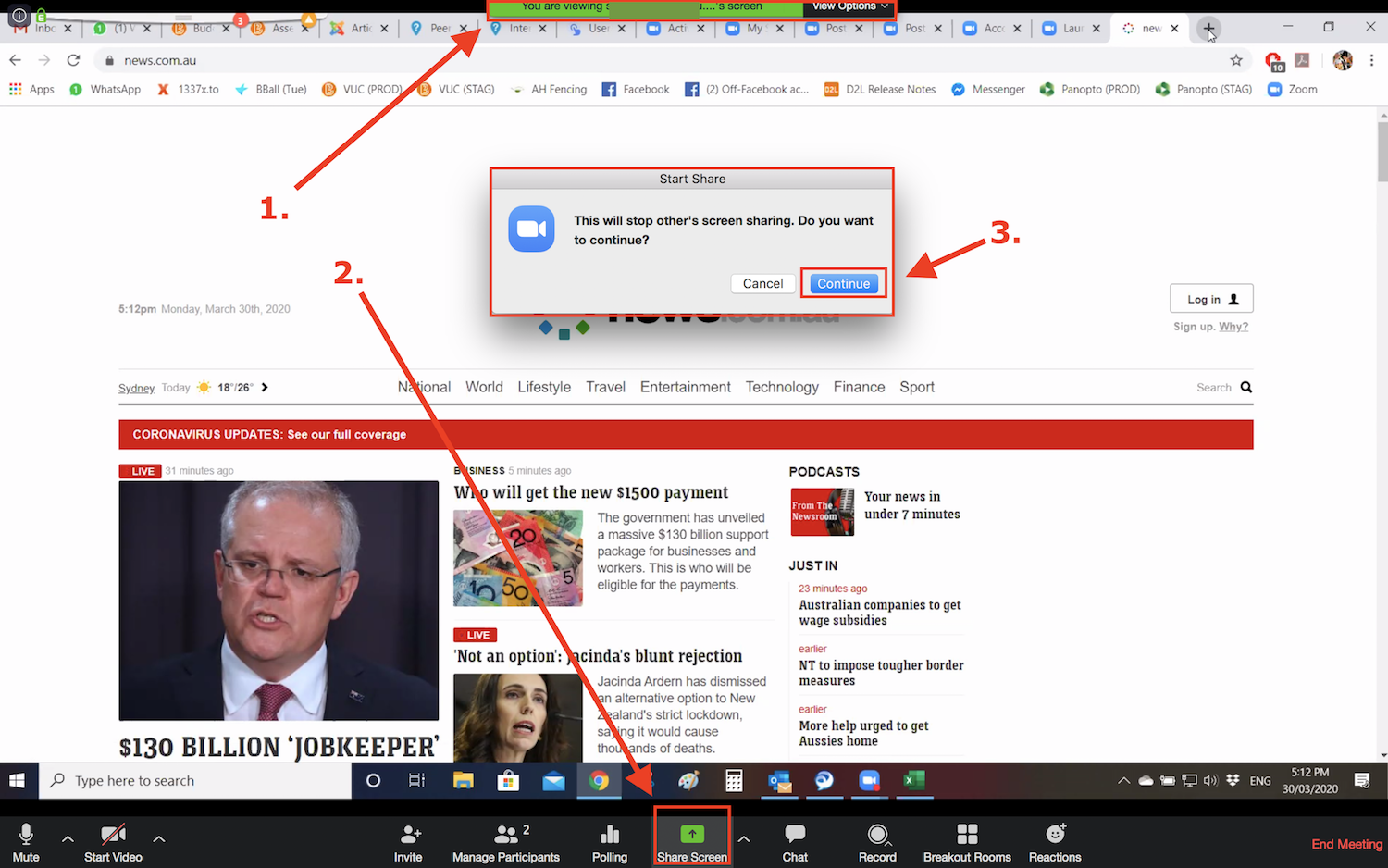 1. This shows the name of the person who is sharing the screen.
It may not always be their real name as names can be changed after joining the session. To stop people changing their name see the end of this step.
2. Click on Share Screen at the bottom of the screen to share your own screen.
3. Click Continue to close off the other person's sharing of the screen and start sharing yours.
---
At the bottom of the participants' list, you have the More option.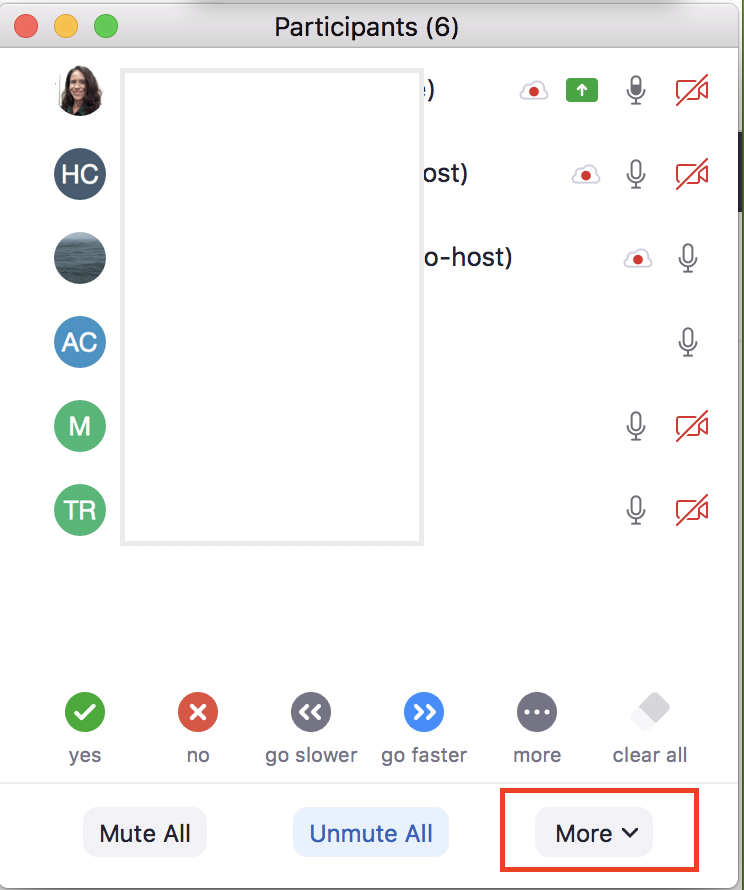 Clicking on More gives you the following options.

Simply clicking on each/any of these will allow or prevent that action from occurring.
---
When scheduling a session, make sure to Mute participants upon entry. They will be able to unmute and talk in the session but at least they have to start off quietly.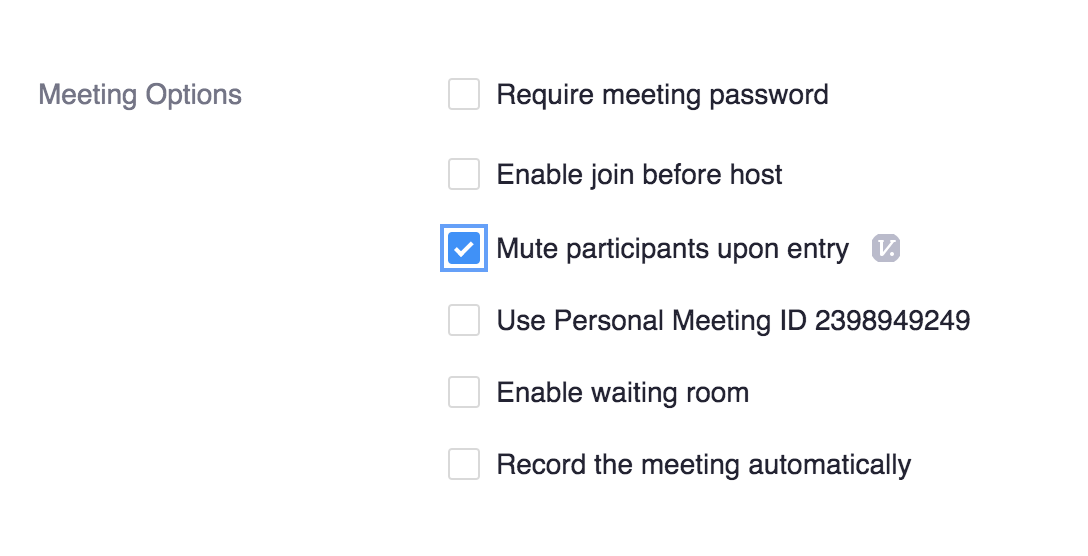 If there is too much talking in the session you can mute participants individually or all together and choose whether or not you want them to be able to unmute themselves afterwards.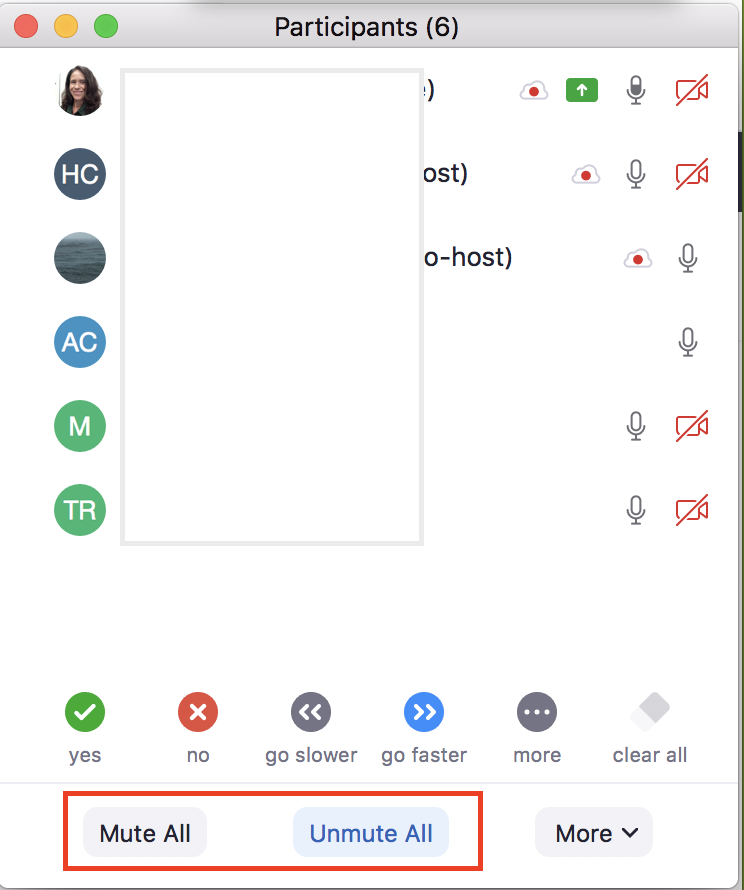 After you select Mute All, decide whether or not you want participants to be able to unmute themselves (the usual) or not. If you choose them not to unmute, you will be able to unmute them yourself.

---
To remove someone from the session, hover the mouse to the right of their name. Click on More, then Remove.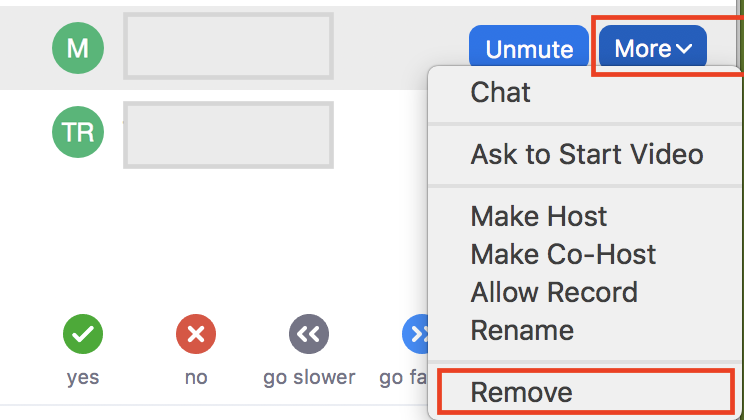 You will then get a prompt asking if you are sure; click OK.

If the person to be removed has been given co-host permissions at any point in the session, that will need to be revoked first. Simply hover the mouse to the right of their name, click More then Withdraw Co-Host Permission.

---
When scheduling the classes it is advised that you select Enable waiting room so you can see participant's names as they join. This option means that each participant will show up in the participants' list with the option to be invited into the session by the host. This can be done for all participants at once or one at a time. Seeing the name of the participant means that if they are not a student of your class, you can remove them before they join the session.
---
For added security features, click on Security at the bottom of the screen. The security icon in the meeting controls allows you as the host or the assigned co-host of a meeting to enable or disable options during a meeting to secure the meeting and minimize disruption during the meeting.
1. You will be able to lock the meeting where more participants will not be allowed to enter.
2. You can enable the waiting room where participants will reach a waiting room where they need to be approved by you to be allowed in the meeting.
3. You can also enable or disable the screen share, chat and renaming features of the participants.
4. You can lock the option that allows participants to rename themselves.
5. You can remove participants permanently.
6. You can report a user, provide their details and upload screenshots as evidence
7. You can suspend all participant's activities by turning off their video and audio
---
For classroom (and other online activities) you may find it useful to limit the session to only allow participants who are VU Students and Staff. All participants will need to sign into Zoom using their VU account (e-number or s-number) to join.

1. When scheduling a session, you can enable the feature Only authenticated users can join. Then, ensure the option "Sign in to Zoom (VU)" is selected.

Existing meetings can be edited and updated.




2. If you want to change the settings to make every session available only to authenticated users; go to your Zoom Profile Settings ( https://victoriauniversity.zoom.us/profile/setting ) and scroll through to find Only authenicated users can join meetings from Web client.





This feature is available to all Zoom users at VU.


---
Further Support
Visit the VU Collaborate Help site at https://vucollaboratehelp.vu.edu.au for up to date information and resources on blended learning or email This email address is being protected from spambots. You need JavaScript enabled to view it..
Contact ITS Service Desk on (03) 9919 2777 or via self-service http://servicedesk.vu.edu.au for further technical support.