Devices you can Share Screen with in Zoom
This guide is to show some of the devices you are able to share a screen with when you are having a Zoom class or meeting. This guide is by no means an exhaustive list of the types of devices you can share through Zoom, just a few examples. Feel free to test out other devices that you have, they may work very well.
Here is the list of examples within this guide:
---
The title share screen is not just about sharing your current screen. Zoom provides multiple options of devices and applications to share as well as your desktop screen (monitor).
1. Start by clicking on either of the Share Screen icons.
2. Select what you are going to share by clicking on the tile and then clicking on Share in the bottom right-hand corner of the window. What you are sharing is written at the base of the tile and anything that is open on your computer will appear here ready to be shared.
You cannot share items that are hidden or closed.
When you are sharing, the item you have chosen will have a green border enclosing it. If it is small on your screen, extend it to be larger. Participants will only be able to see is what is inside the green border.


When you have finished sharing that screen, you have two options.
You can either Stop Share, or you can choose to share a different screen by selecting New Share.
---
Wacom tablets can be great if you want to share writing, drawing and graphics. They are not your average tablet and you can find out more about them in this article.
When you share a Wacom tablet, you do not choose the item itself, you just select the general screen share or Desktop tile.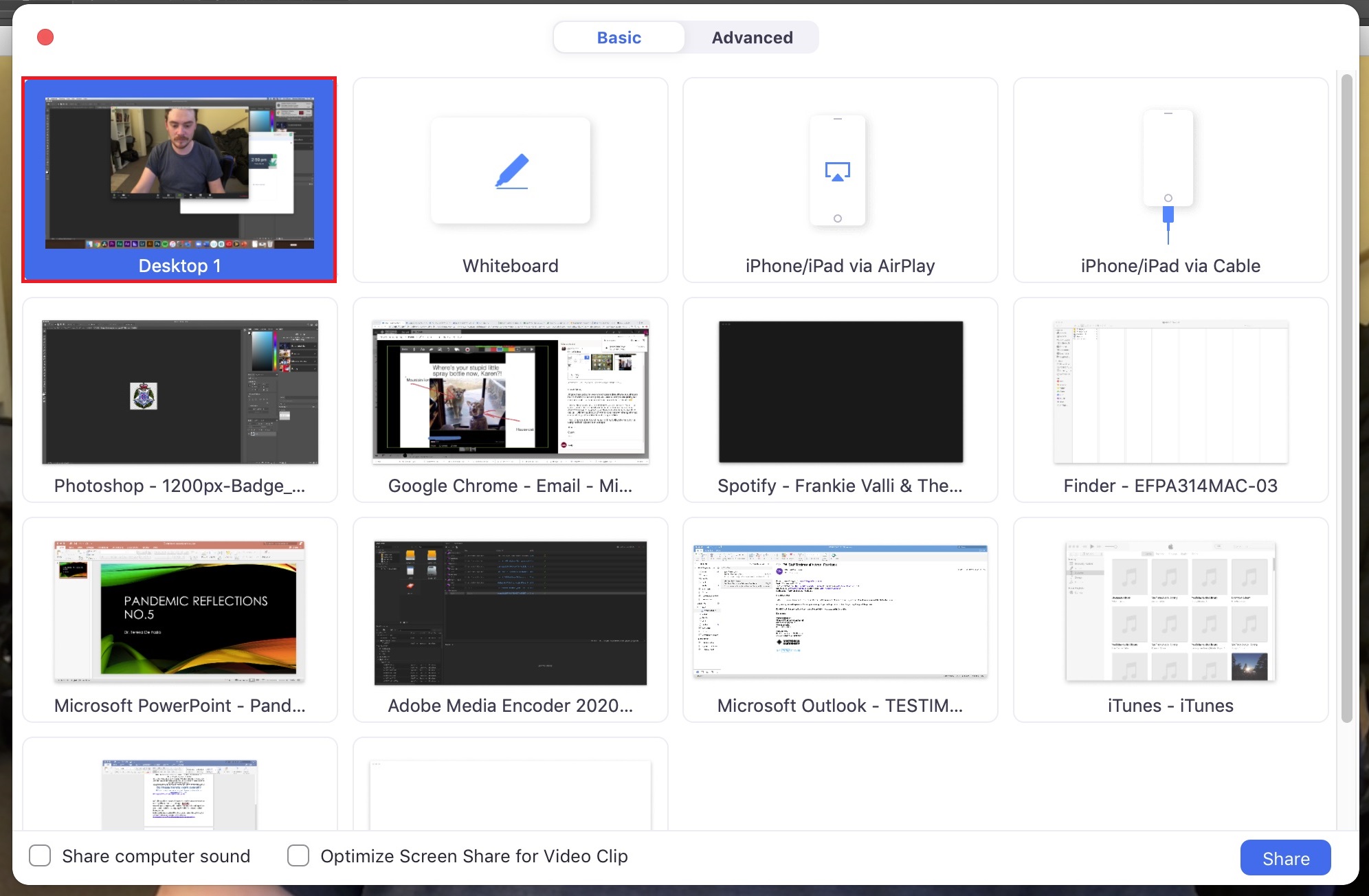 Once shared, you can use it for writing such as the example below. If you are using it for pictures or graphics, that is exactly what will be shared on the screen for participants instead.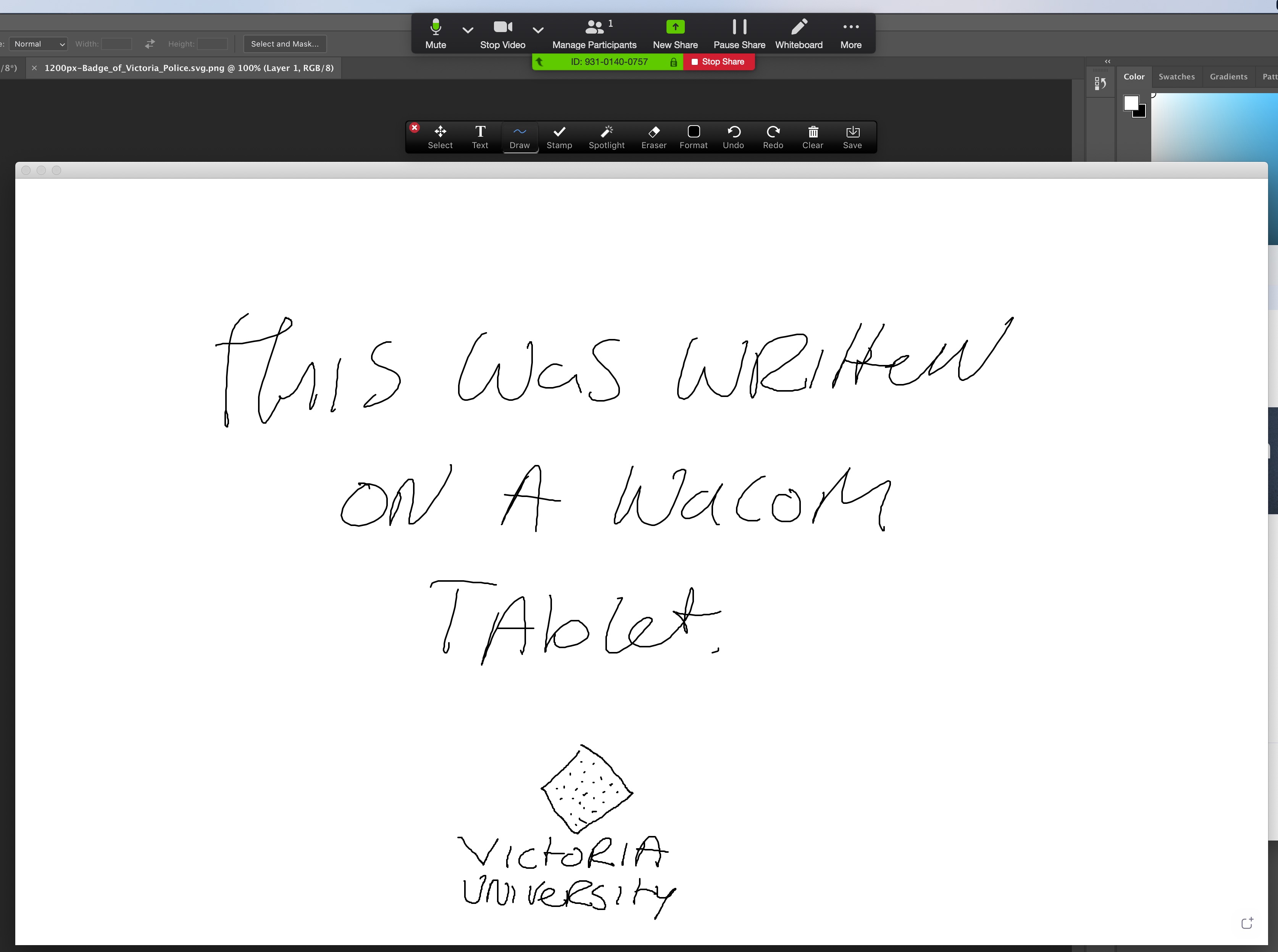 ---
Sharing an iPad (or other tablet) can be really helpful because it simply shows whatever is on your iPad screen. This means you can share any of the apps from your iPad to the participants in the Zoom session.
iPads can be shared with a cable or via Air Play. In this picture, the share with cable has been selected.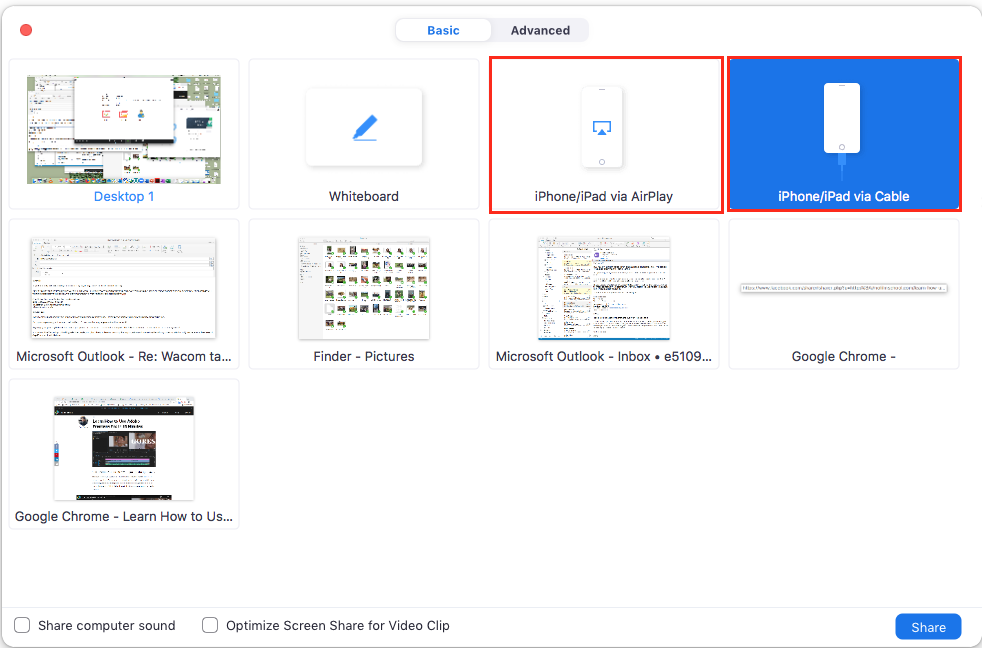 Once you have clicked on Share as well, the screen of your iPad will show like this picture. You can see that the green border is present with this screen share too.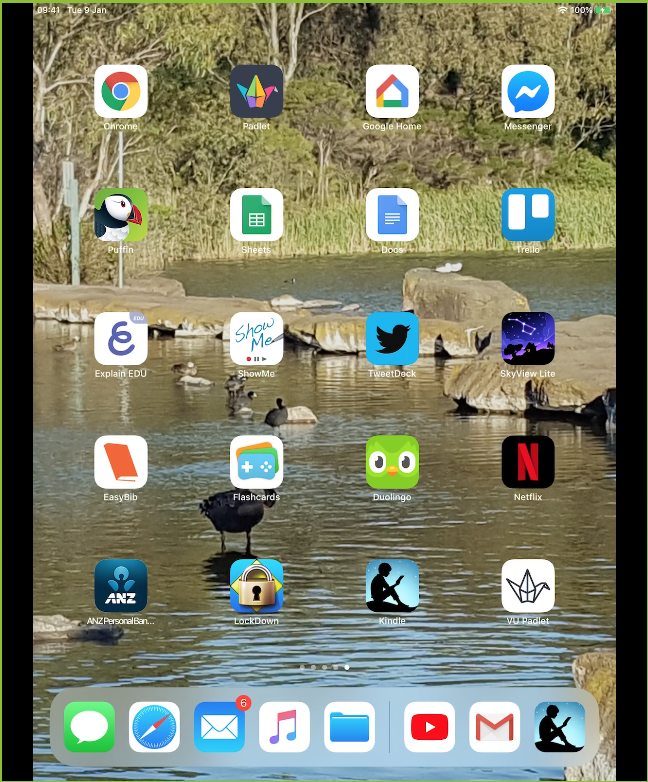 You are then able to share any of your apps. This picture is an example in the app Show Me which is useful for sharing diagrams, writing and drawing, and can be used similarly to a whiteboard.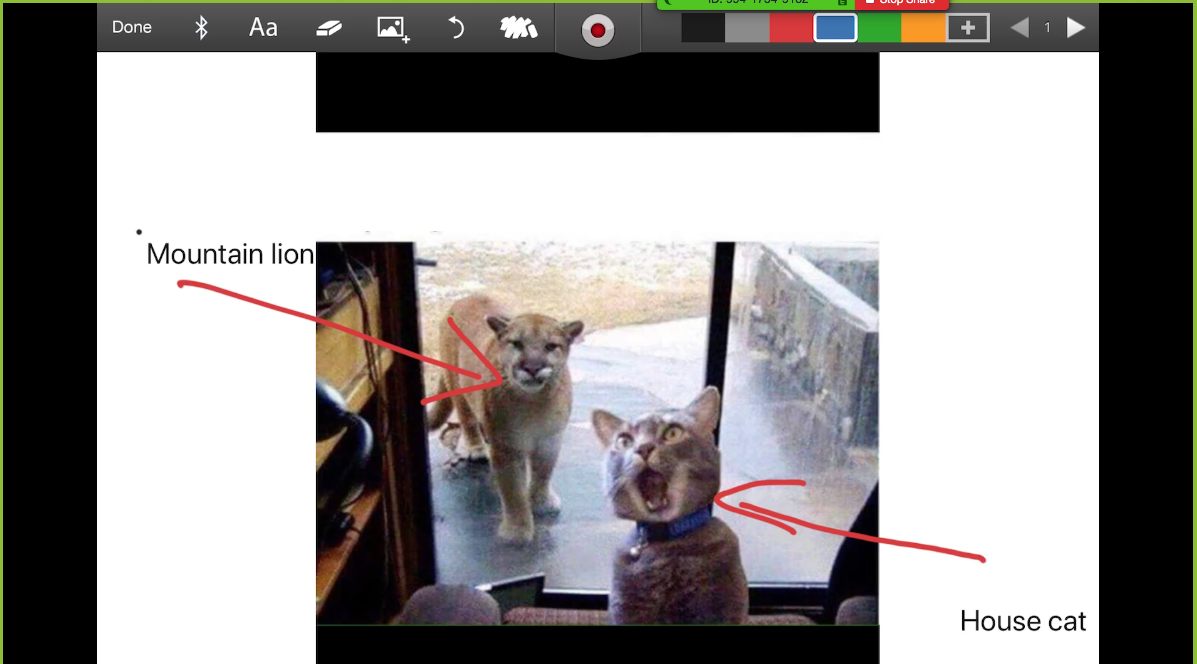 ---
There are a few apps available which provide the ability to turn a phone into a webcam. DroidCam sends the video captured by your phone to its corresponding app downloaded on to your computer using either WiFi or a USB connection. This app is free to use, but also provides more options if purchased for $5 (far less than a standard webcam).
AirDroid is also known to work well with Android tablets and PCs.
Step One: Connecting to the App
Find the DroidCam phone IP (found in the settings of the app) and type it into the DroidCam desktop app.
Phone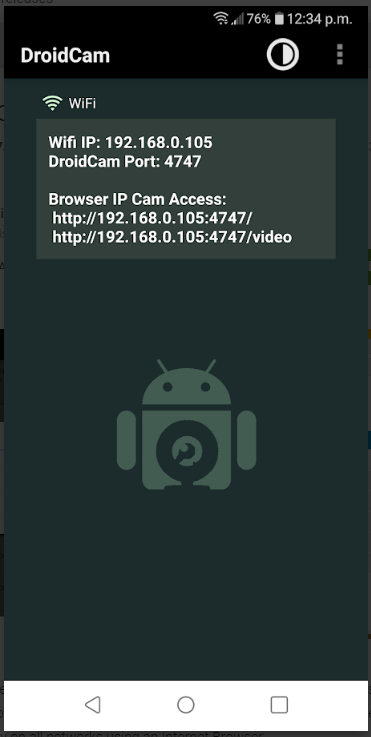 Desktop App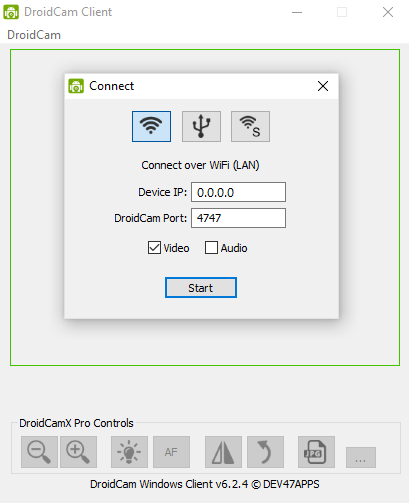 Outcome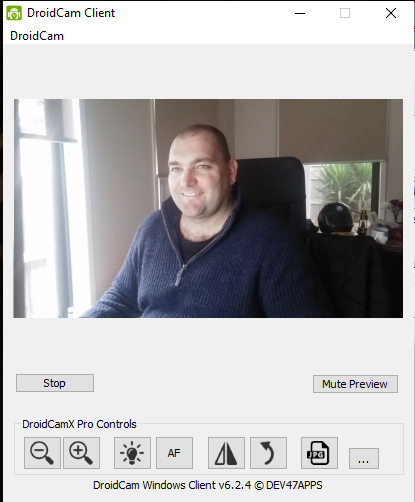 Step Two: Setting up Zoom
Select DroidCam as the camera under the Video settings in Zoom.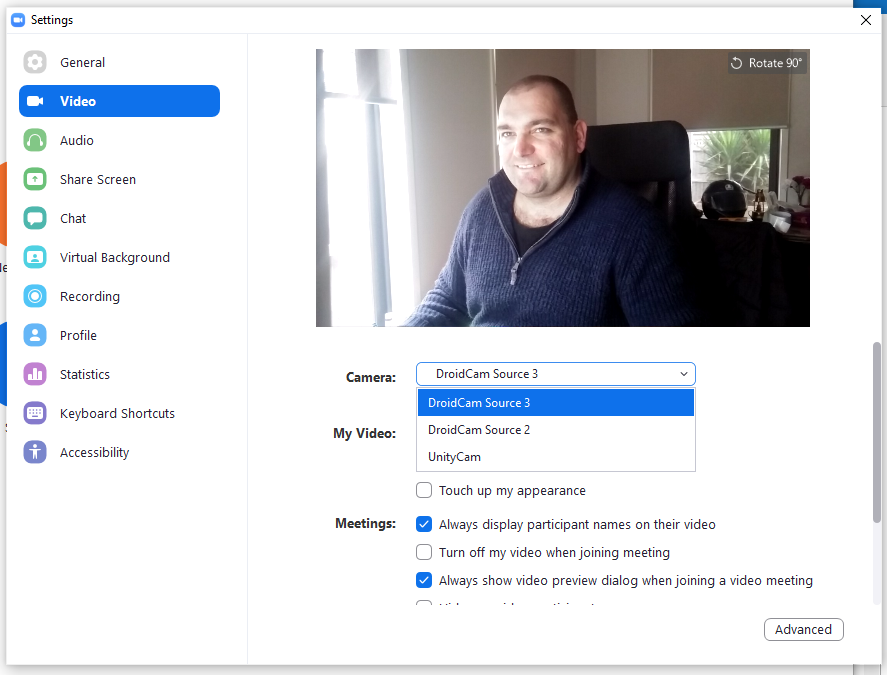 AirDroid is an app which functions much the same. More information for these apps can be found here:

DroidCam Google Play store page: https://play.google.com/store/apps/details?id=com.dev47apps.droidcam
DroidCam iTunes store page: https://apps.apple.com/au/app/droidcam-wireless-webcam/id1510258102

AirDroid Google Play store page: https://play.google.com/store/apps/details?id=com.sand.airdroid
AirDroid iTunes store page: https://apps.apple.com/au/app/airdroid-file-transfer-share/id1194539178


---
Further Support
Visit the VU Collaborate Help site at https://vucollaboratehelp.vu.edu.au for up to date information and resources on blended learning or email This email address is being protected from spambots. You need JavaScript enabled to view it..
Contact ITS Service Desk on (03) 9919 2777 or via self-service http://servicedesk.vu.edu.au for further technical support.