Copying and Deleting Student Content on Campus Pack Journals, Blogs, Wikis and Podcasts using Campus Pack tool
Campus Pack is an addition to VU Collaborate that offers wikis, blogs, journals and podcasts to staff and students.
This tool allows Convenors and Instructors to copy Campus Pack content between spaces and modules. This is a very useful tool for Convenors and Instructors as it saves time in preparing the Space for the next block or semester. The following guide demonstrates the process of copying content from one Campus Pack item to another and deleting previous Campus Pack student content.
To create any one of these tools, view these help guides on Creating a Campus Pack Journal, Creating a Campus Pack Class Blog, Creating a Campus Pack Wiki and Creating a Campus Pack Podcast.
Note: We recommend using Chrome or Firefox with Campus Pack. If you are using Safari, you will get a 'login error' unless you enable cookies through preferences.
Below are the steps of this guide:
---
1. Navigate to your space in VU Collaborate.
2. You can access content through the Learning Space on the main navigation bar.

---
1. Choose a module to which you want to add your new Campus Pack activity.
2. Locate the Add Activities drop down in the module you have selected.
3. Click on External Learning Tools option.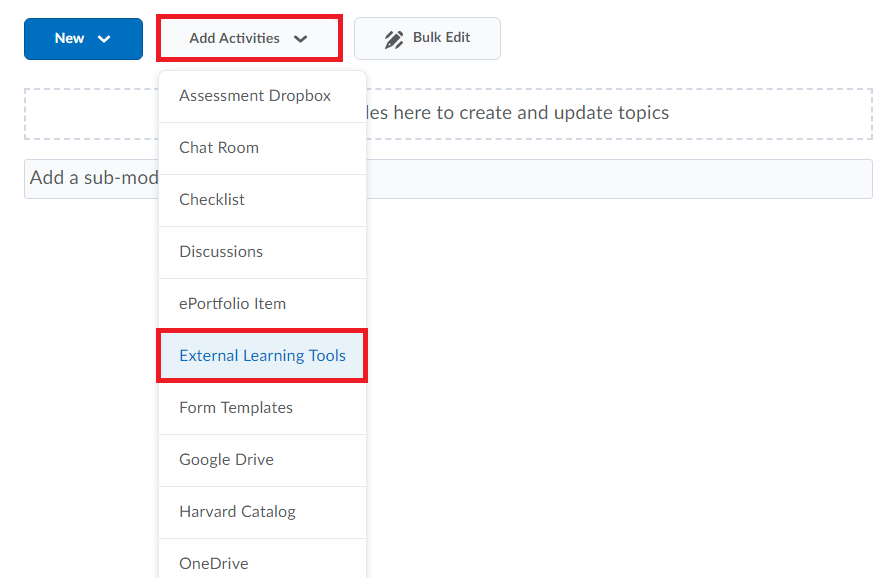 4. Select from one of the Campus Pack activities which include blog, journal, wiki or podcast which you want to create by clicking on the title.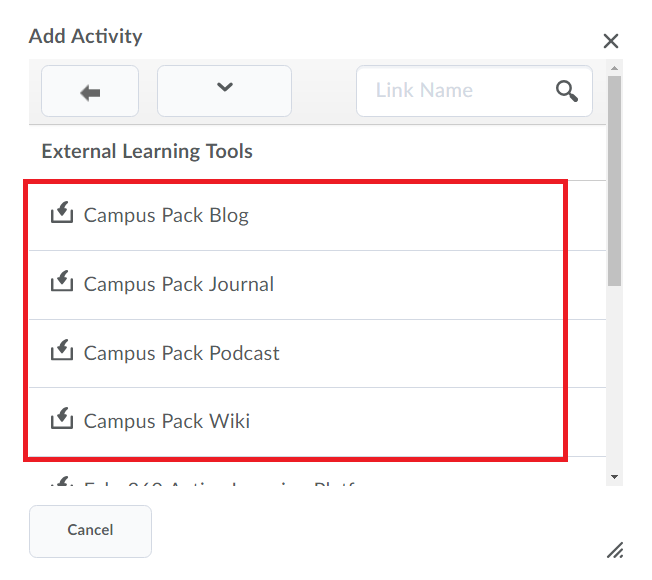 5. Your chosen Campus Pack activity will be created at the bottom of the content page.
Note: You can move this further up in your content by left clicking on the three lines beside it holding left mouse button down and dragging the resource up the page.
---
1. Click on Copy From Existing.

2. Select Courses and then fill in the blank column with the unit name or code which has the Campus Pack activity you want to copy from.
Tip: If you are searching for a sandpit space, search using the username of the sandpit owner.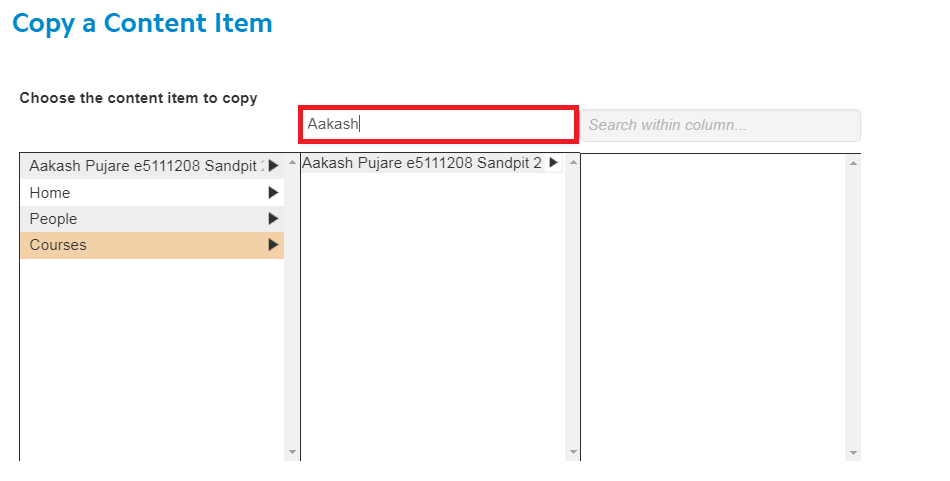 3. Choose the Campus Pack activity which you want to copy to your new space.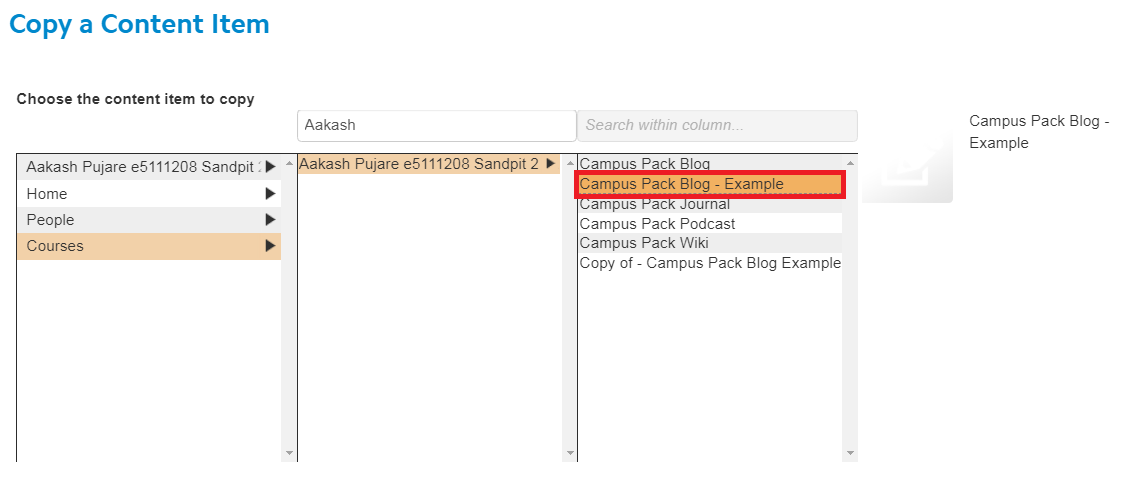 4. Give your copied Campus Pack activity a title.

5. If you wish to carry over the sharing settings from the previous space, tick the box below.
6. Click on Copy to continue.

7. You will now be able to see your new Campus Pack activity with the copied content.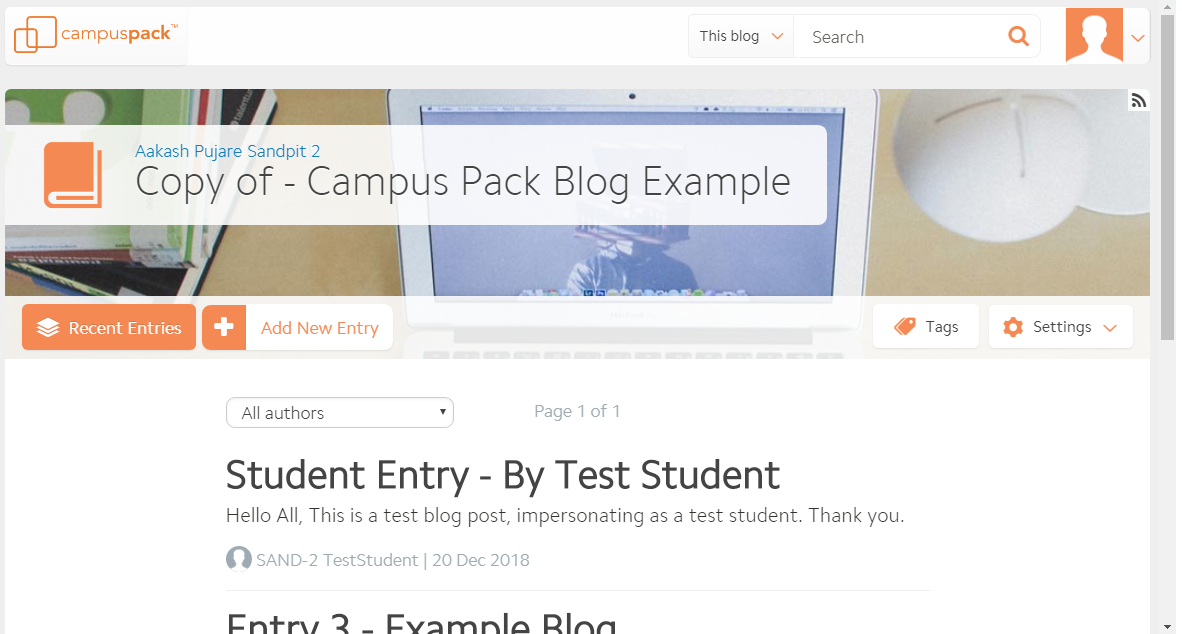 ---
1. Click on Settings located on the top right of the screen.
2. Select Recycle from the drop-down menu.

3. Select Delete by content role radio button.
4. Select role by student.
5. Click on Recycle at the bottom of the screen.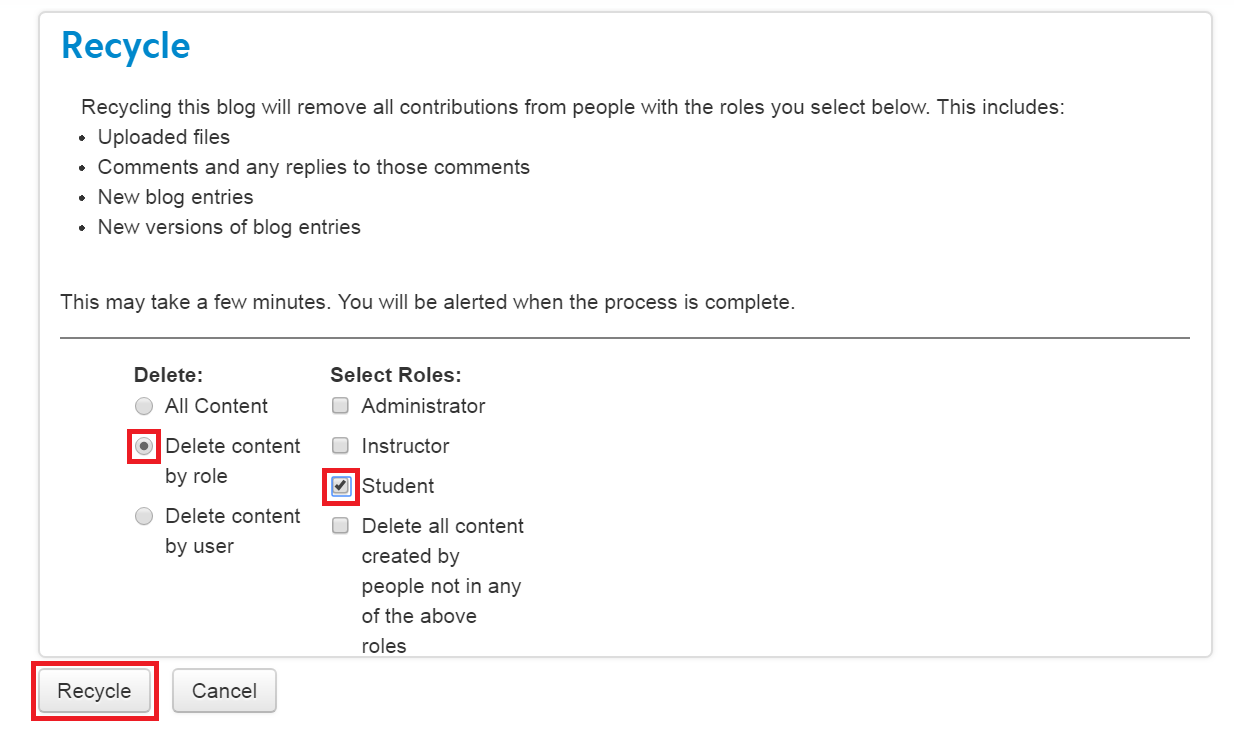 ---
Further Support
Visit the VU Collaborate Help site at https://vucollaboratehelp.vu.edu.au for up to date information and resources on blended learning or email This email address is being protected from spambots. You need JavaScript enabled to view it..
Contact ITS Service Desk on (03) 9919 2777 or via self-service http://servicedesk.vu.edu.au for further technical support.