Using the H5P Single Choice Set Tool
The Single Choice Set tool creates question sets with one correct answer per question. Students get immediate feedback after submitting each answer. Defined questions can be used for testing skills related to any topic as an interactive assessment tool. With immediate feedback and a summary at the end, the tool is designed to reinforce student learning better than a pen-and-paper quiz. Questions can be inserted into other H5P activities (interactive videos and presentations) or add a quick activity into a document or news item.
H5P.org also offer their own tutorial on how to use this object.
This guide includes:
Please see this guide on H5P if you would like an H5P introduction, and this guide if you want instructions on how to insert the H5P into your space.
---
1. In the Learning Space choose the module you want the H5P to be in, click on New then New Document.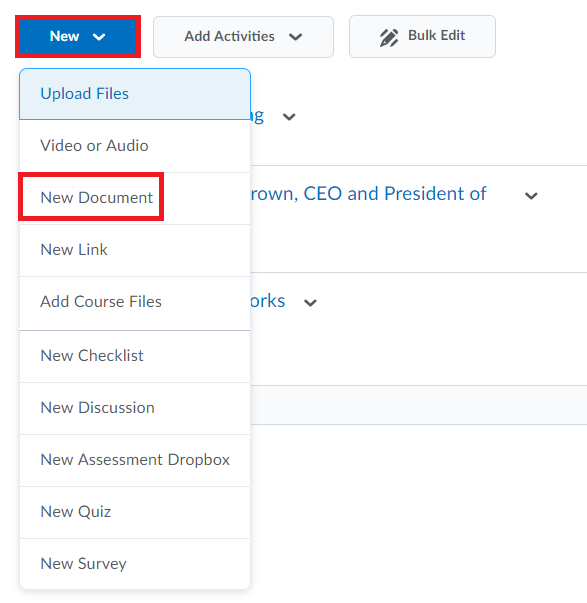 2. Click on the Insert Stuff button.



3. Select H5P learning object.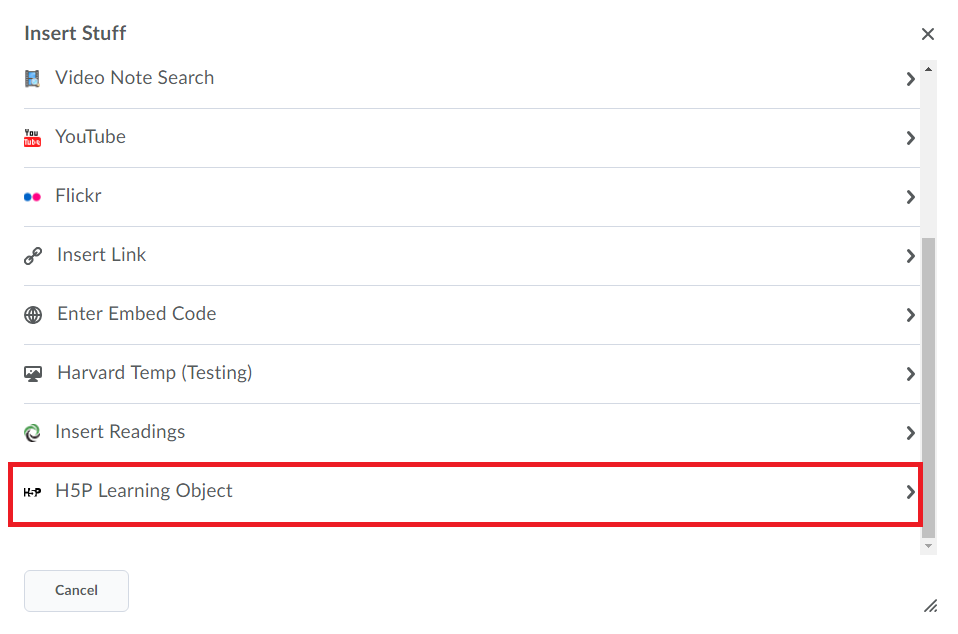 4. In the H5P tool, click Add Content.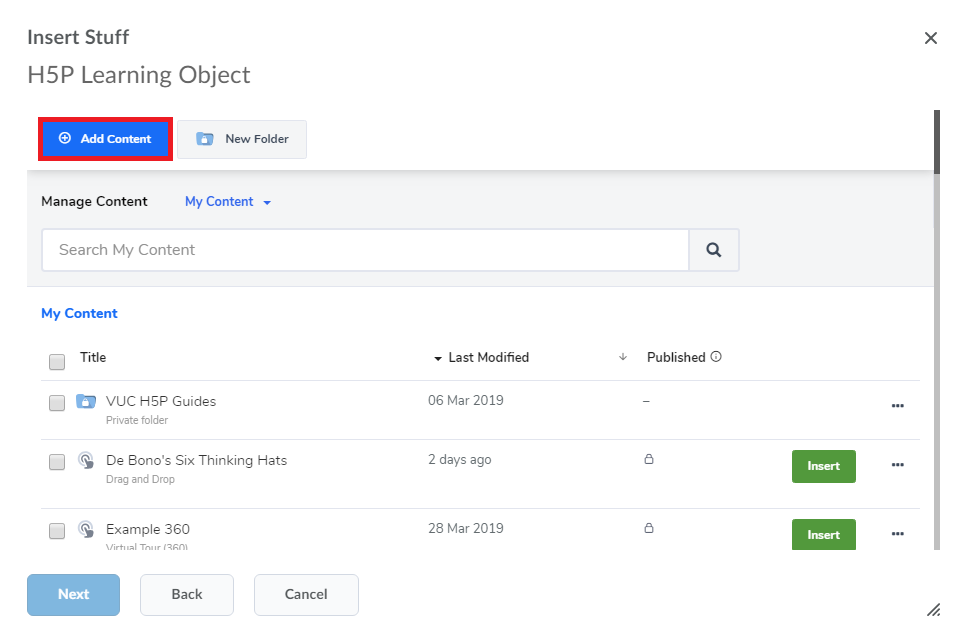 5. Select Single Choice Set from the Content-Type Dropdown menu, then click Use.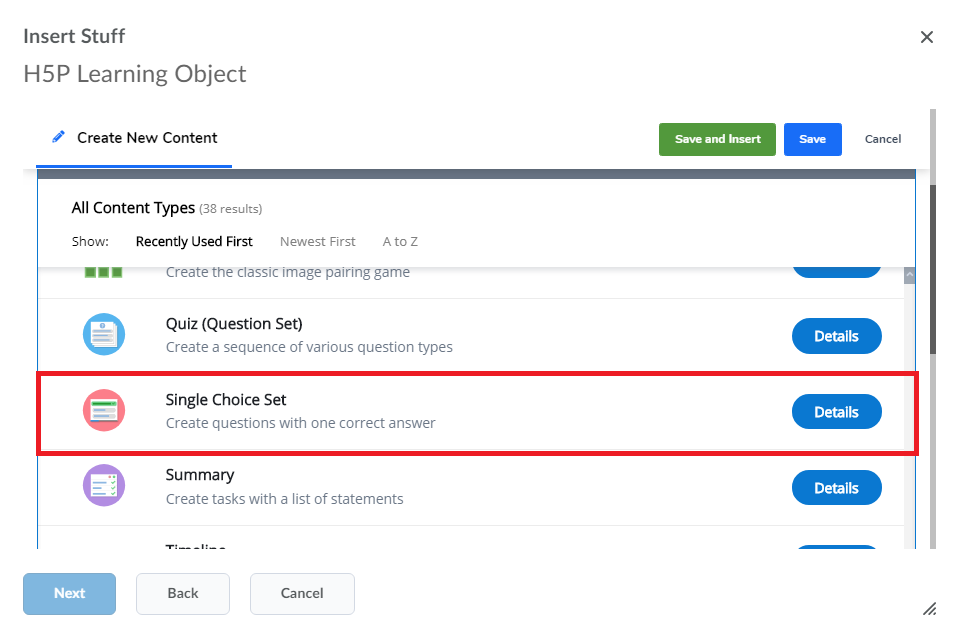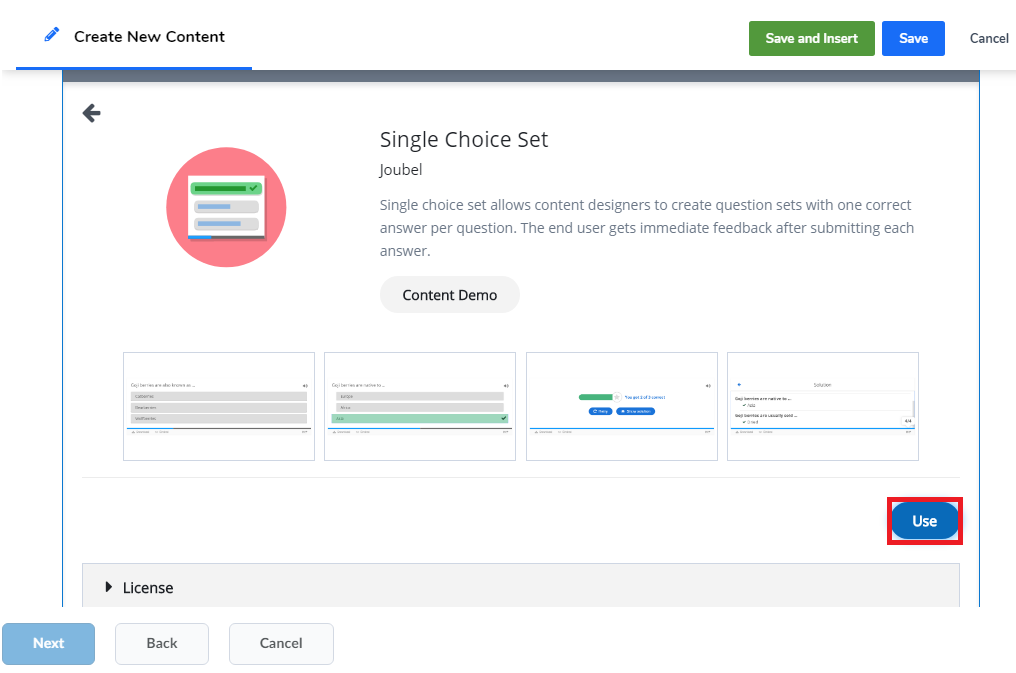 ---
Single Choice Set questions are composed of a Question and Alternative answers. The first answer you enter is always the correct option (H5P will shuffle these answers when they are displayed to students).
1. Type the Title in the title field.



2. Type a Question into the text field.



3. Click on an Alternative field to enter or edit your answers.



3. If you need to add another alternative (answer to the question), click the Add answer button. You can delete unnecessary options by clicking the X button, and reorder your options by clicking on the up and down symbol.



4. The tool will automatically generate two questions. Add more questions by scrolling down and clicking Add Question.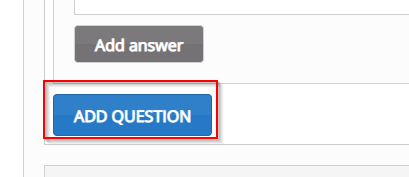 If you only want to insert one question, you can click the round x icon

in the upper right-hand corner of the second question that the tool automatically generates. You can add as many or as few questions and answers as you like before moving onto the next step.
---
Overall Feedback can be designed to appear depending on the percentage of correct answers a student has achieved.
1. Write the Feedback in the text field, the feedback will appear at the end of the task.
2. To add a range, click Add Range and select the minimum and maximum percentage for this feedback. If you would like a specific amount of ranges, H5P will calculate the percentages for you. Click Distribute evenly, to even out the percentage automatically.
3.1 Optional Settings
There are a few behavioural options you can use to determine how students interact with the questions. You might want to give them the option to try again if they get it wrong, or show the solution.
1. Underneath your new questions, click Behavioural settings to expand the area and view options. Some options will already be ticked by default.
2. The Timeout on correct answers or Wrong answers values determines how long a student has to wait to see their results, depending on the result. Setting these values to zero will remove the delay between answers and feedback.
3. Enter the Pass percentage.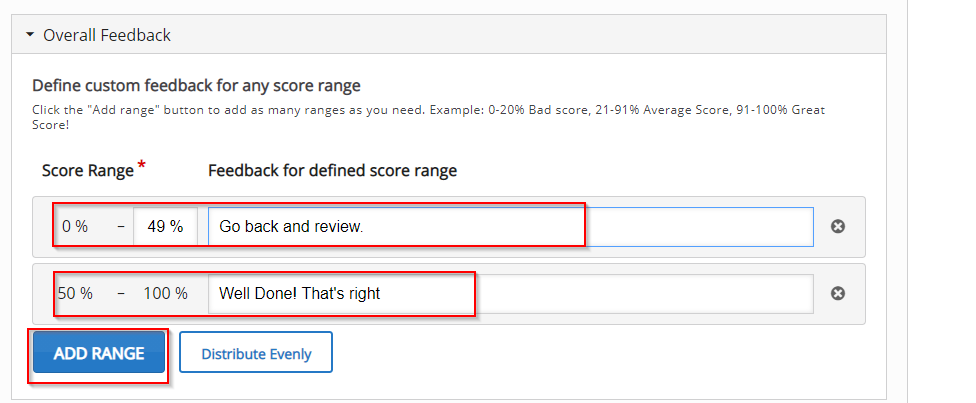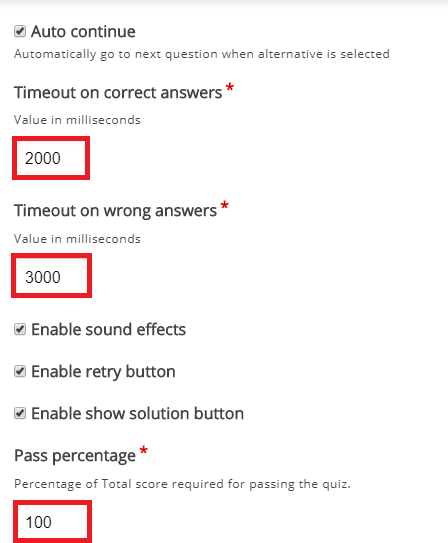 The Enable "Retry" tickbox allows students to try to answer the question correctly multiple times or tick the Enable "Show solutions" button tickbox to show students the answers after the first time they get it wrong. Selecting both of these options will let the student see the answers when they get the question wrong, and then allow them to answer again, effectively ensuring a 100% correct answer rate. You can manipulate these setting to make it tougher.
4. Text overrides and translations allow you to edit additional settings regarding content and naming conventions of buttons provided in the learning interactive. Otherwise, you can leave the settings as they are by default.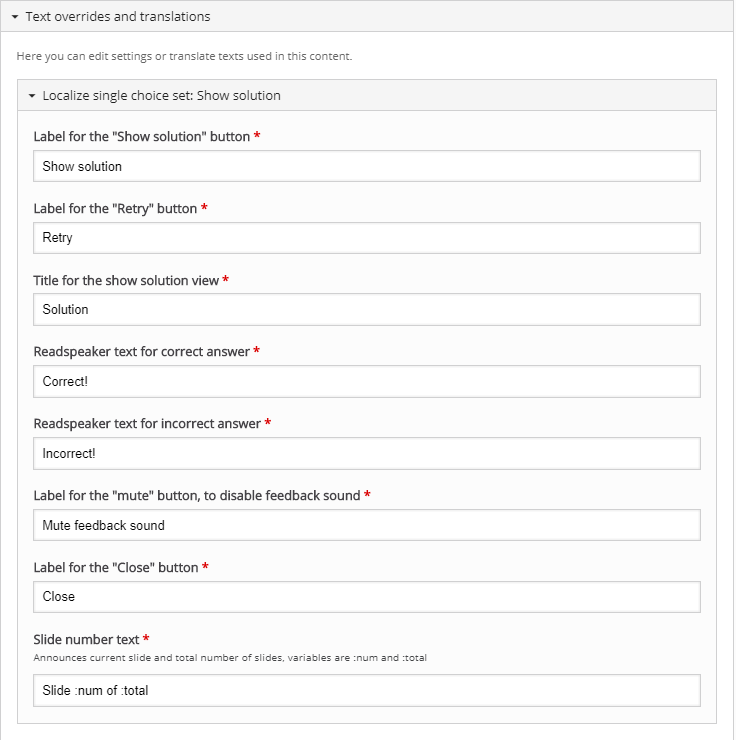 ---
At the bottom of the screen, you can adjust the H5P's settings (you can leave these settings by default or make alterations).
1 - Display options: (previously 'Display and copyright buttons') What options do you want to be visible for the user? For example, you can tick the display download button to enable students/staff to download the H5P to their own computer. You can also tick the Display embed button, which allows the user to embed the H5P into their HTML editor in VU Collaborate for example.
2 - Publish: This option allows you to make the H5P Unpublished (content can not be inserted into VUC), Protected (content can be inserted into VUC) or Public (visible to the public using a content link and the content can be inserted into LMS and be embedded). Protected is the default setting and it is recommended to leave this setting as it is.
3 - Folder: (previously 'My Content') All your content will be saved in one spot, within a root folder.
4 - Collaborators: (previously 'Authors') In this setting you can add and search for other collaborators and give them access to edit your H5P's. For example, if you are teaching a unit with another staff member and you would like them to have access to edit your H5P's, then you can use the search field to locate another staff member by typing in their full name.
5 - Sharing: (previously called 'Select value') This is where you share your H5P with others, so they can view and clone your content. There is a folder allocated for each college, for example, 'Arts and Education'.
To know more about Sharing and Collaborators, please see H5P Sharing and Collaboration.
6 -LTI Settings : (previously 'Send Score to LMS') In this section you can link your H5P directly to VU Collaborate and also link it to your gradebook. It is recommended to leave this setting as it is, and NOT send the results to the gradebook.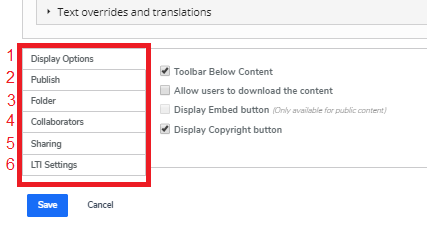 7. After adjusting the H5P, you can click Save and Insert to put the H5P straight into the VU Collaborate space, or Save to save the H5P but not publish it in VU Collaborate.



---
Before any H5P gets inserted into a space, previewing it for any possible errors is a good approach.
You can check settings and make edits to all H5Ps as needed, before publishing them in a space by clicking on the title of the H5P within the H5P Learning Object Settings.
1. Within the document of choice, click on the Insert Stuff button.



2. Select H5P Learning Object.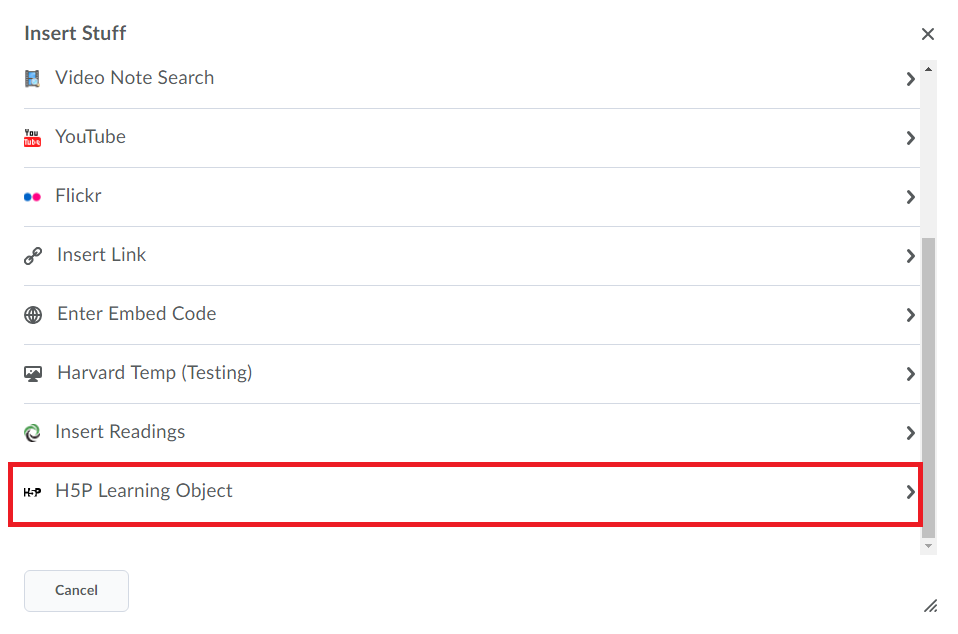 3. In the H5P Learning Object menu, click My Content and then Insert next to the H5P of choice to place that H5P into VU Collaborate.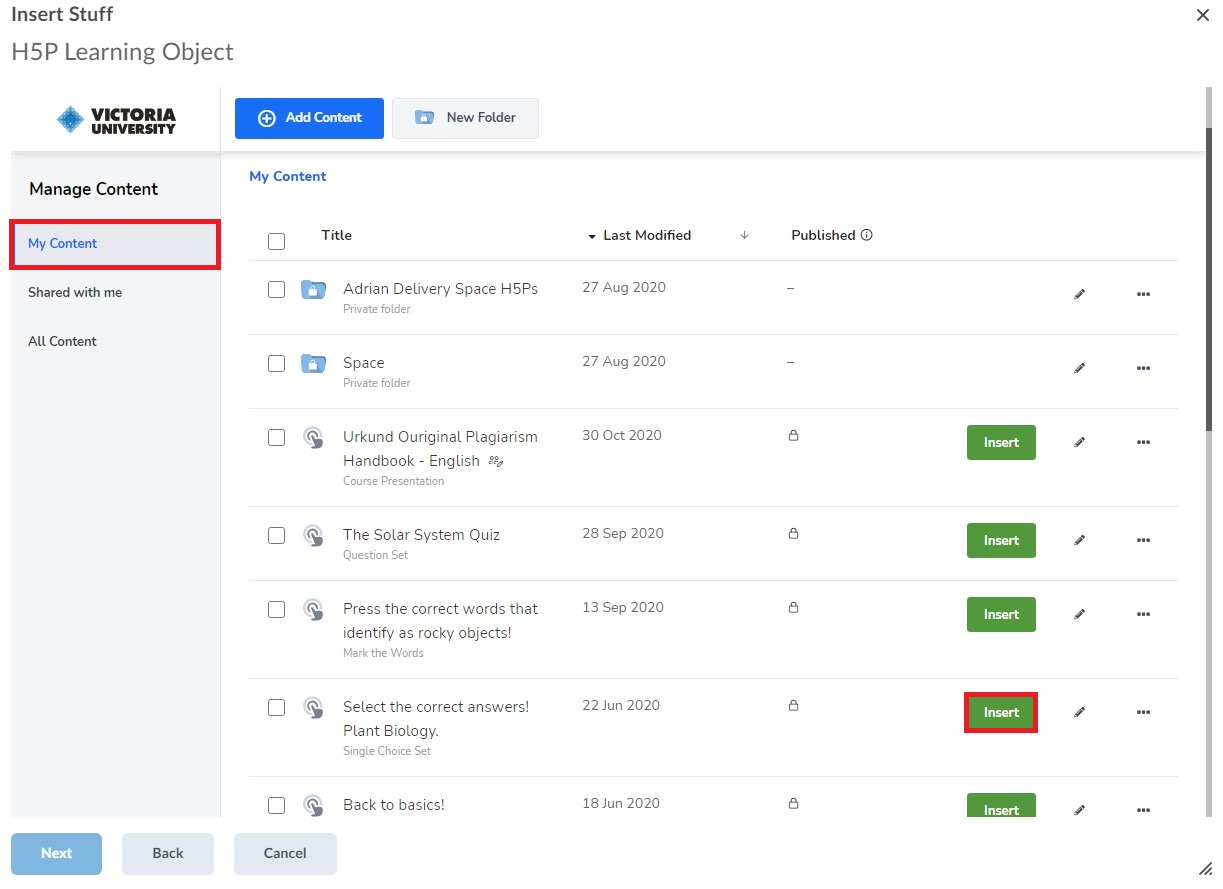 4. To make edits and review the H5P before inserting it within VU Collaborate press the Pen Icon next to Insert.



5. Once all questions, answers and options have been updated, select Save and Insert to insert the H5P into your VU Collaborate Space.


Selecting Insert or Save and Insert will allow you to test the H5P before inserting it within an HTML Document in VU Collaborate.
6. You can now click on all selectable choices to test the questions within the H5P. You should be able to hear sound effects if you have them enabled to indicate correct and wrong answers. The blue bar at the bottom of the question will measure your specified timeout.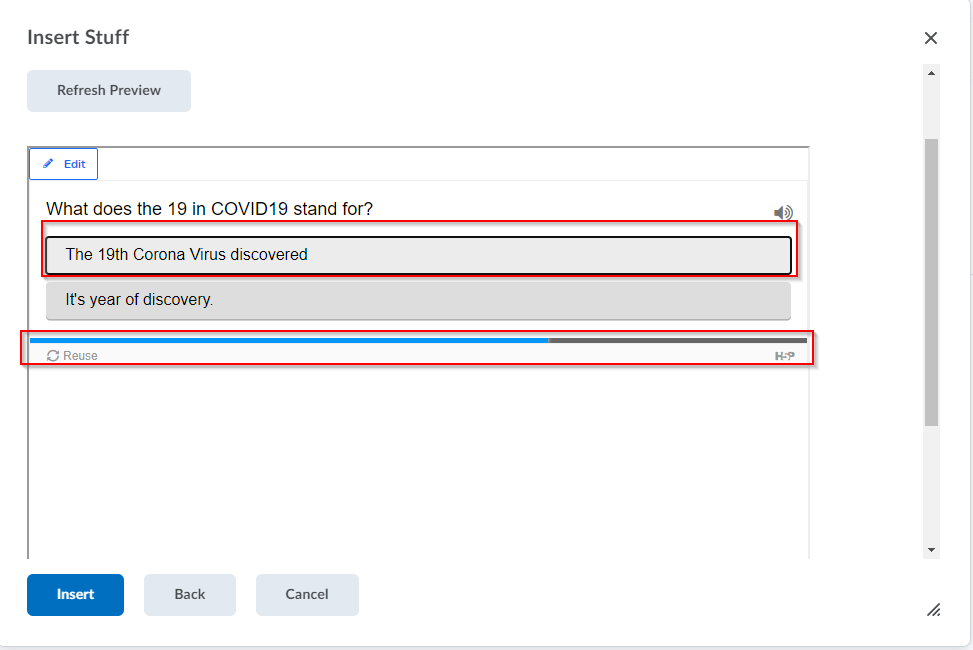 7. Once you've finished checking all of the elements work correctly within the H5P, click Insert to add the H5P to the HTML Document (or other embeddable areas) you are working in.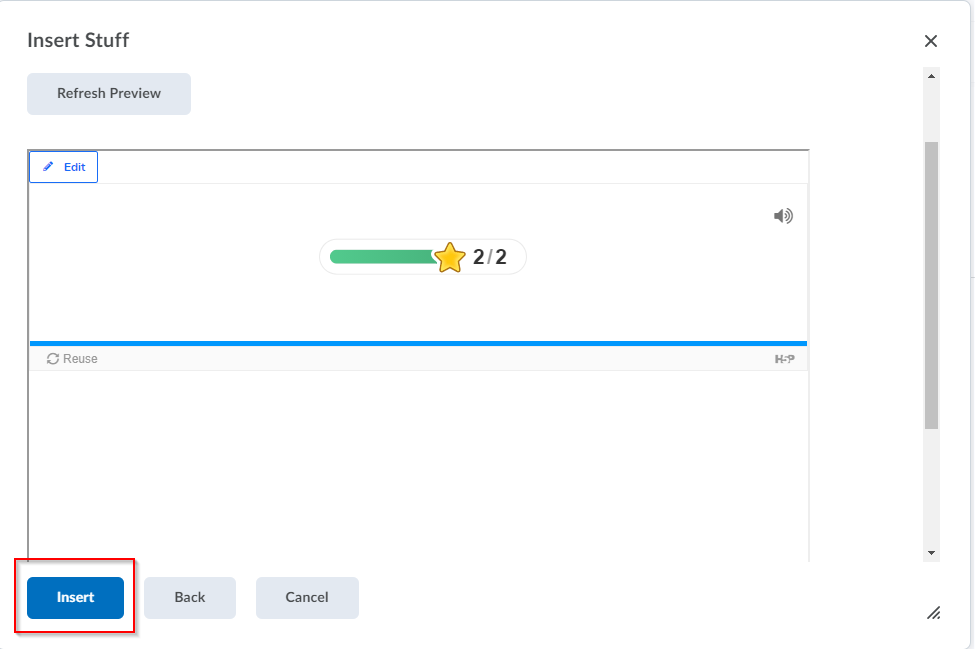 8. The H5P will then be placed within the HTML document, and once saved the H5P should appear like the below, ready for participants.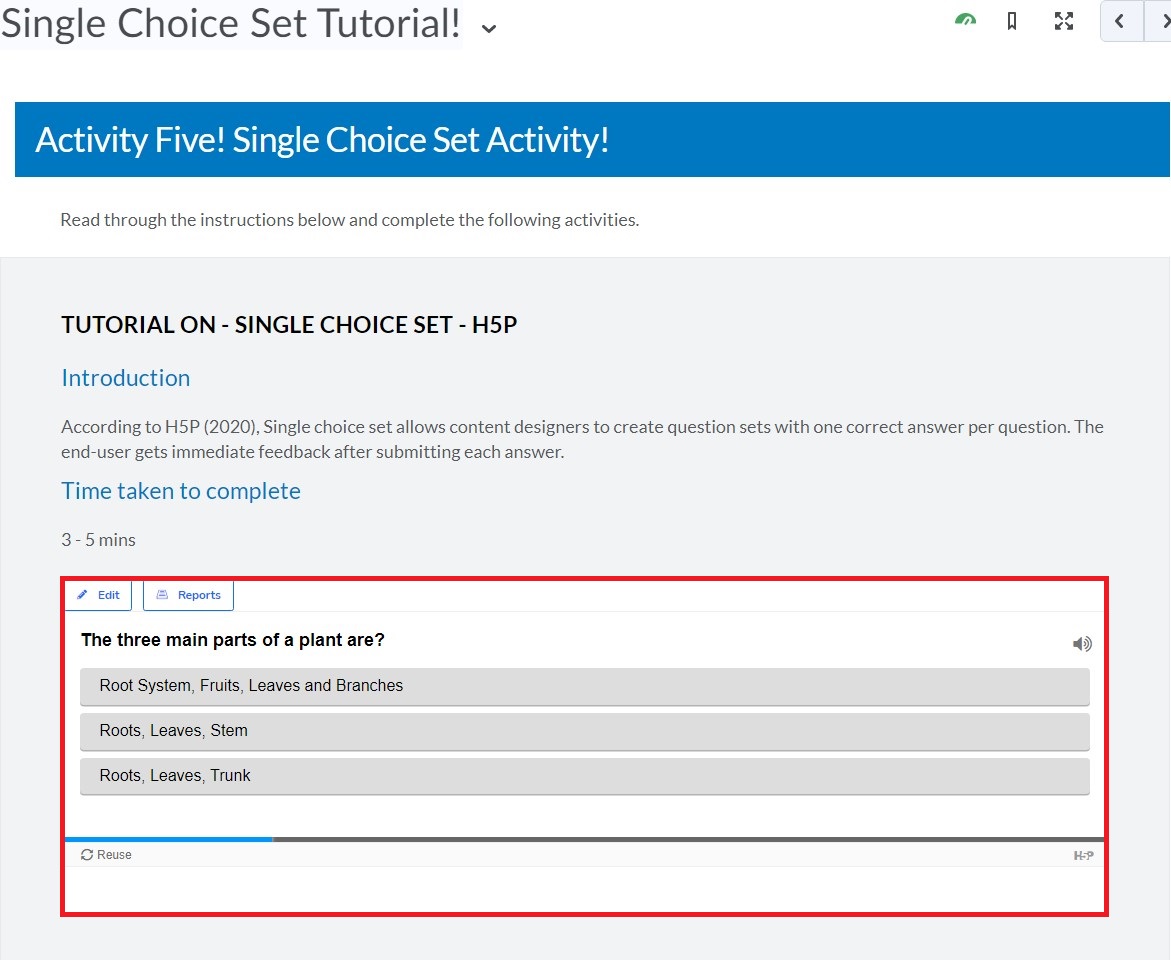 ---
Further Support
Visit the VU Collaborate Help site at https://vucollaboratehelp.vu.edu.au for up to date information and resources on blended learning or email This email address is being protected from spambots. You need JavaScript enabled to view it..
Contact ITS Service Desk on (03) 9919 2777 or via self-service http://servicedesk.vu.edu.au for further technical support.