Using the H5P Branching Scenario Tool
The Branching Scenario tool in H5P provides students with an interactive choice based experience. Like a 'choose your own adventure' story the decisions made by the student will determine their pathway through the exercise. Useful in self-paced scenarios to test a students decision making capabilities.
Here is a short example of a branching scenario H5P.
---
Before you start building your scenario, it is best to plan out how you want it to look first. Consider what type of content you want to include (videos, images, etc.), where your branching questions will be, and what the overall goal will be. You can do this on paper, drawing it out like a flow chart or you may prefer to map it out in a program like a Microsoft Word or a mind mapping tool.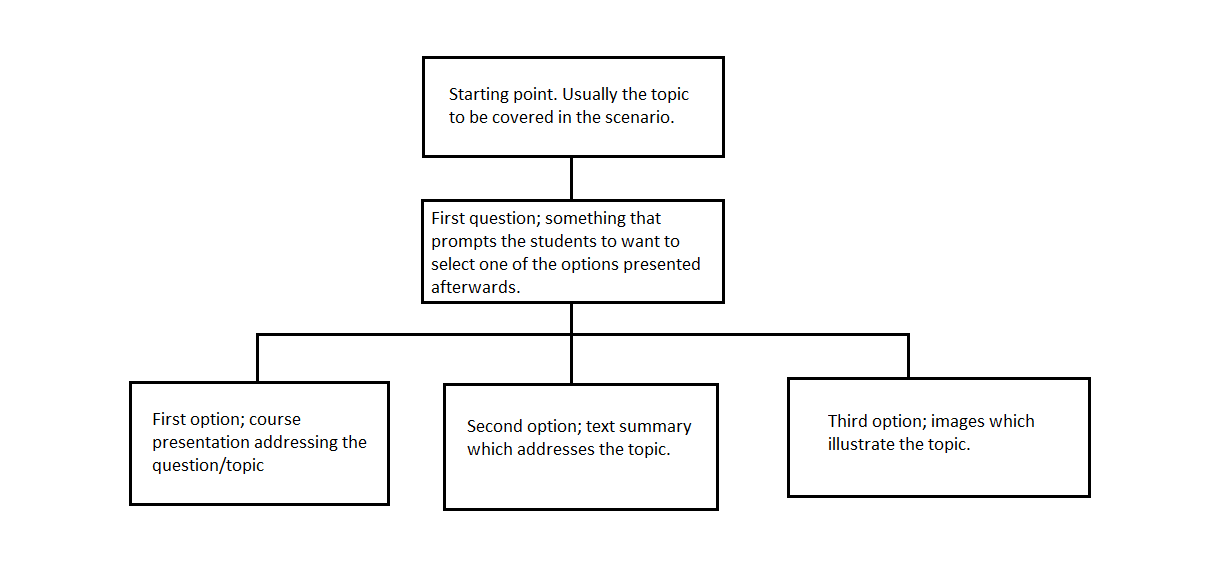 ---
From your unit learning space, create a new document or navigate to where you would like to insert your Branching Scenario and click on New then New Document.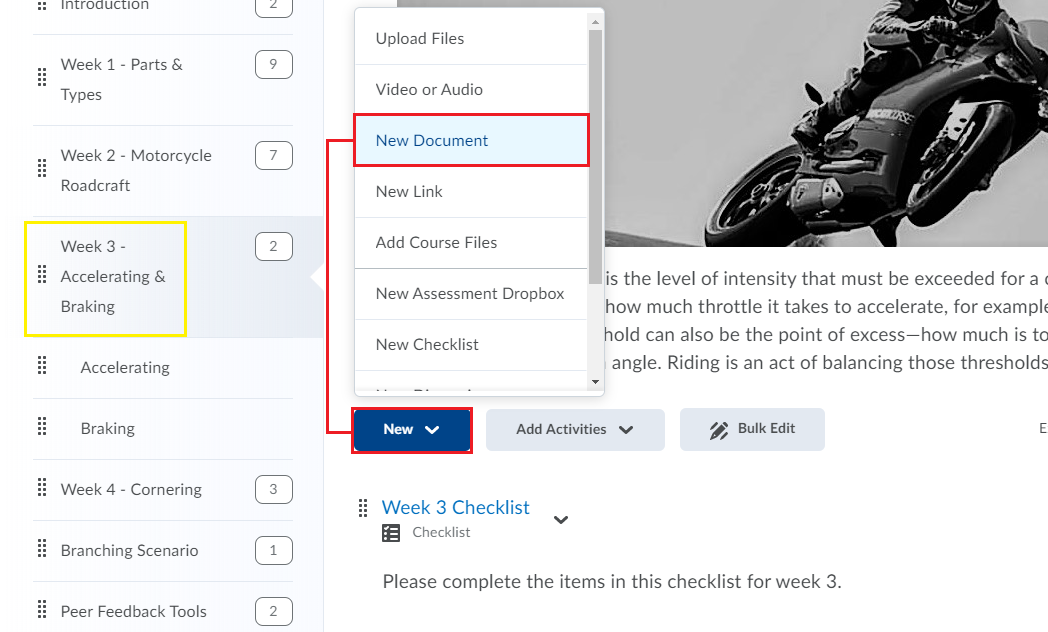 Give your new document a descriptive title (preferably the same title as the H5P so you can find it easily) and then click on the insert stuff button (play icon).





Scroll down the popup page and click on H5P learning object.





On the H5P content window click Add Content.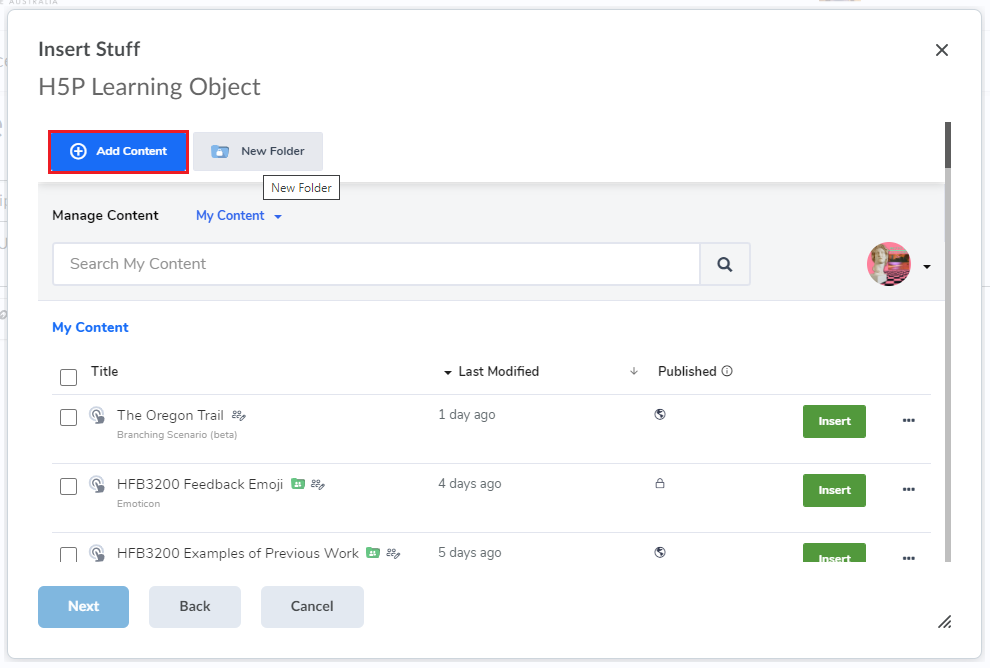 Under the content type, select Branching Scenario or type "branch" unto the search bar to filter the list. This will generate a new Branching Scenario for you to develop your idea.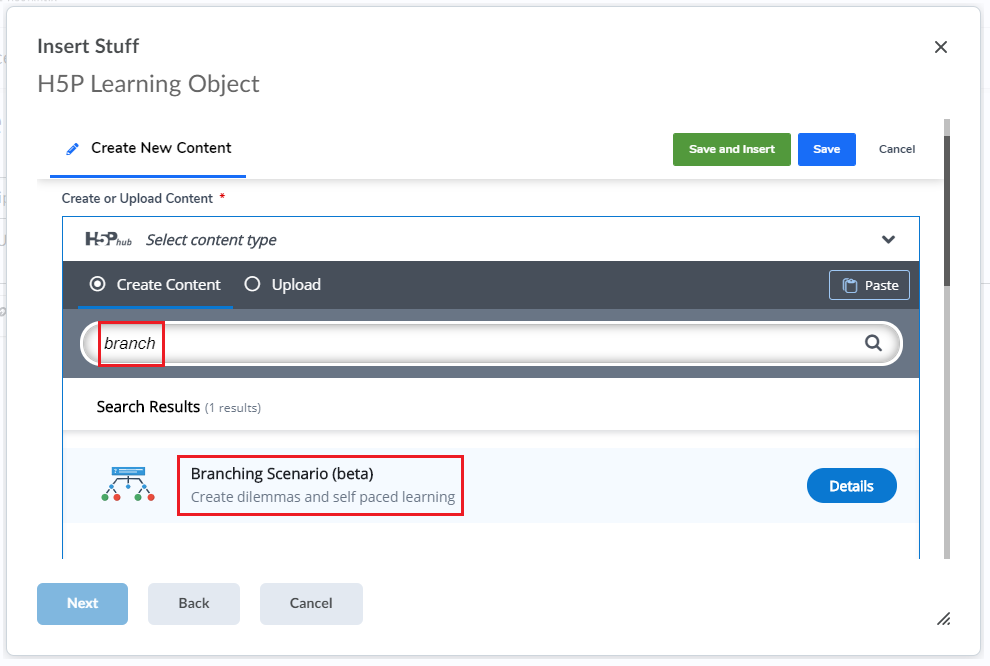 To start off enter a title for the Branching Scenario.



---
When starting your scenario consider using an image or a text page to introduce your Branching Scenario to the student and highlight the goal or learning objective. The information below will detail each content type that can be added to a Branching Scenario. To add one of these to your scenario map, click and drag the content type to the plus symbol that corresponds with the location you desire. This will create a pop-up that allows you to build that content part.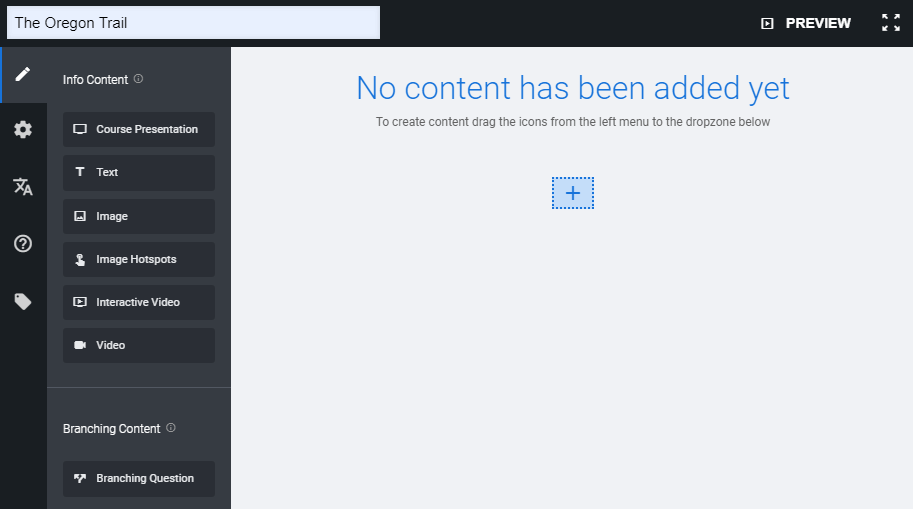 There are six default types of content that can be added to a scenario map. Some of these you may already be familiar with as they are stand-alone content types. See the content types below for more information in an in-depth help guide.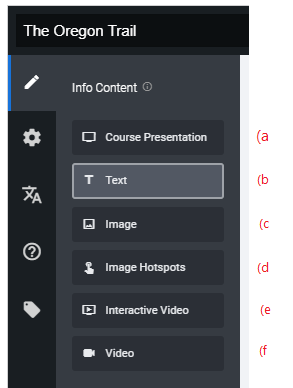 Content Types:
Copy and paste:
The copy and paste function can be used to copy and paste your H5Ps within your Branching Scenario. Some H5P types which cannot be directly added into the Branching Scenario map can be pasted into a Course Presentation instead.

To copy material into the Branching Scenario, simply click the copy button on your H5P found after clicking the Settings icon.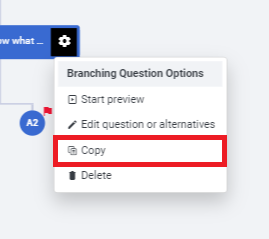 Once the content is copied, click Paste under Reuse Content.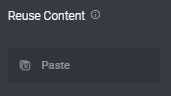 Content Title Names:
The title names of the content inserted into the Branching Scenario map may not have changed to reflect your content titles; this is because these titles are set by the metadata of each item. Click on the settings cog for the content type and then click edit. Click the metadata tag to give the content a title.

Settings Cog > Edit > Metadata Tag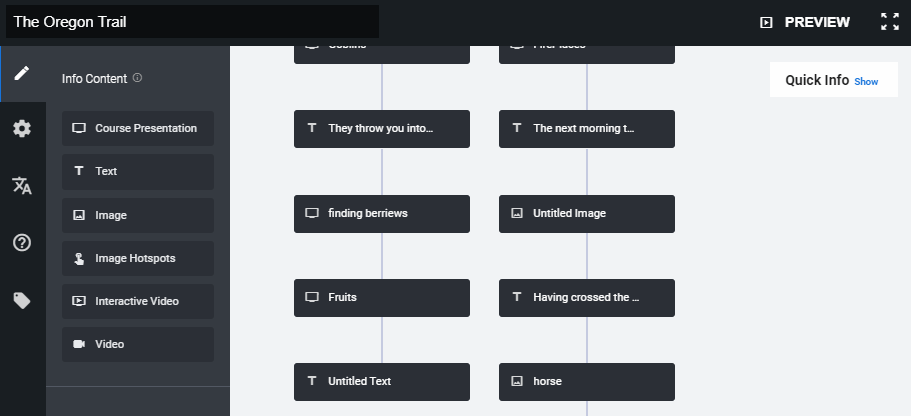 ---
Adding a branching question
To further enhance your branching scenario you can add branching logic questions for the student to answer. The response to each branching questions allows you to direct the student down a separate path to the rest of the content. This can be useful if you wish to include some learning material as to why they got a question wrong. In the example Branching Scenario, if the student chooses not to filter the water, they will inevitably fail the scenario but when they do a video that explains the why and how of filtering water will play, turning this to be a moment of learning rather than a moment of failure.
To add a branching question to your scenario map, drag and drop the selection from the left to the plus icon where you want it situated on your map.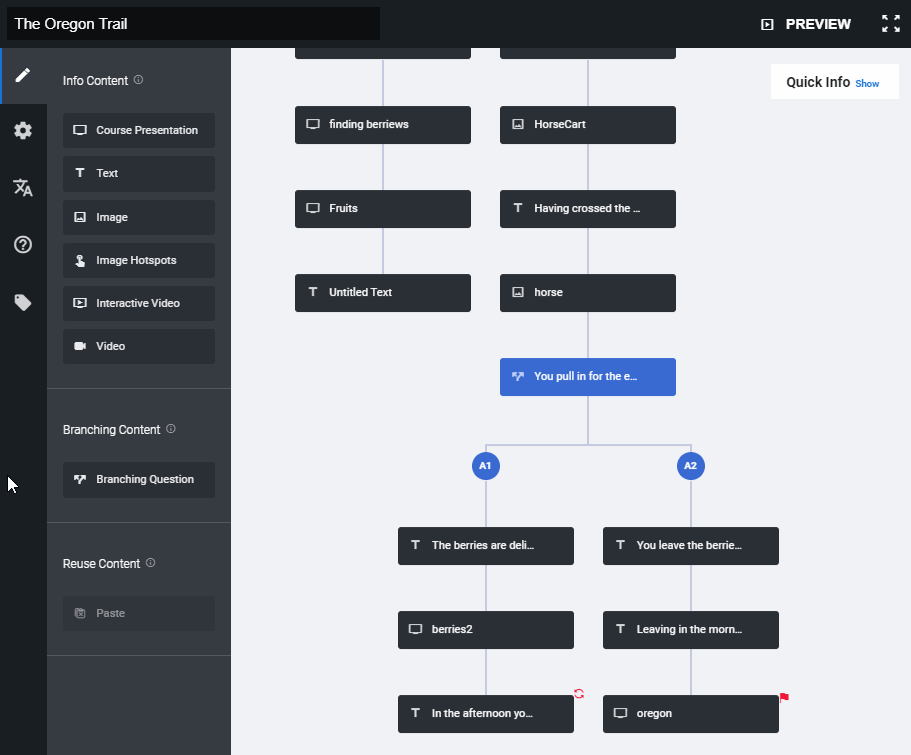 Enter the title and the question posed to students (a) and (b).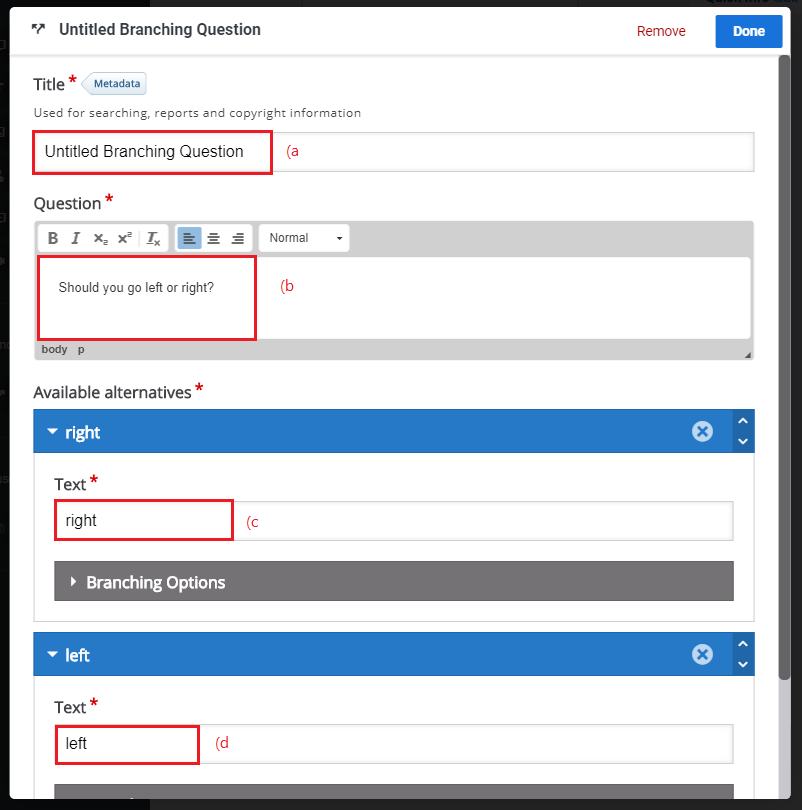 Enter the alternate answers that the student can choose from (c) and (d).
You can set up an alternative answer in a branching question to be a custom end to a scenario. This can be where you can include a video to provide further information or to jump to another branch of your map. Leave it blank if you want to include more content after this question.
Click on the Branching options button to assign a custom end or jump.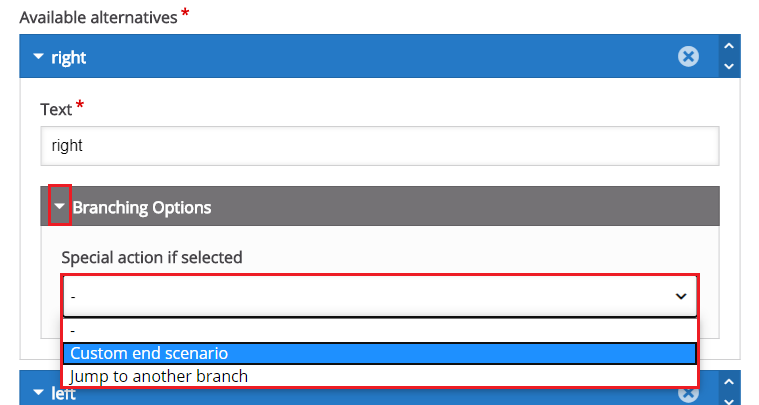 Click the arrow down to open the custom end options. Then fill out the title, text and click Add if you wish to add an image to the custom end.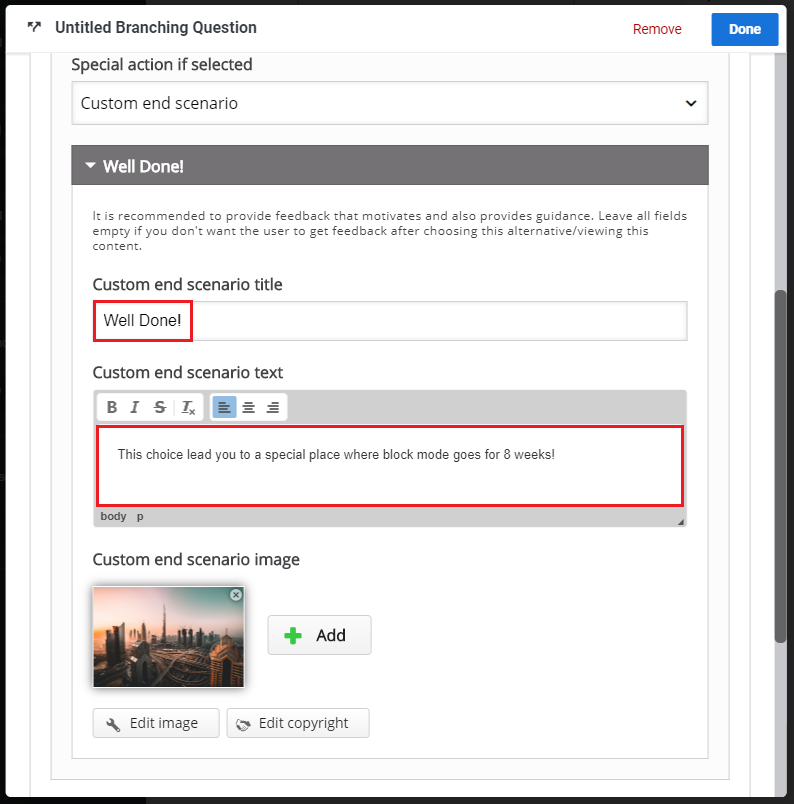 Once you have entered the information, click done and the branching question will be displayed on the screen like so. (note the red flag)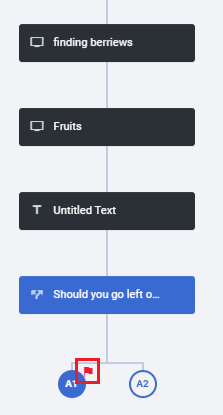 ---
Once an item is placed into your map it is possible to move it should you decide it needs to be connected elsewhere. Simply click and drag the content square onto the plus symbol of where you want to position it. If you drag it onto another content item, it will delete it and replace it with your content.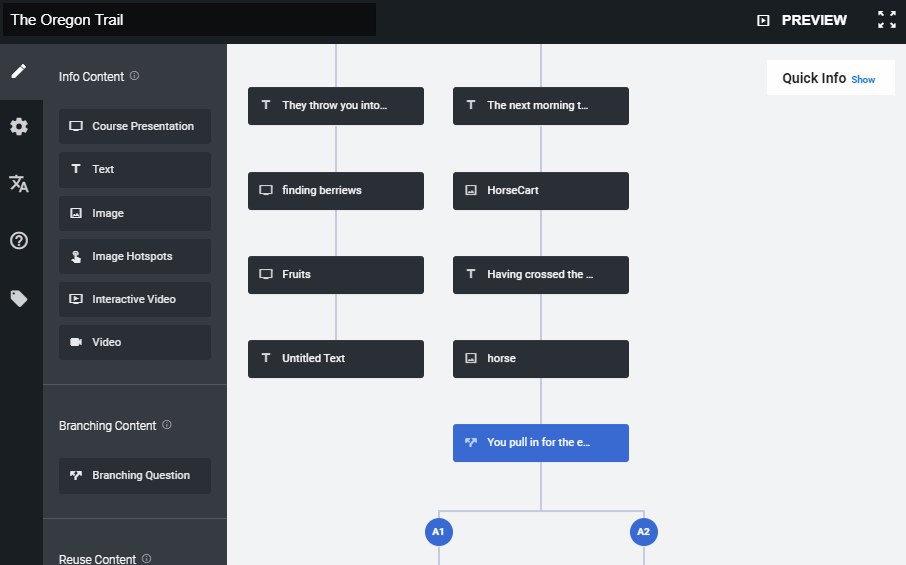 Editing content in your map
You can click on the settings wheel for each content type and then edit to make any adjustments to the content.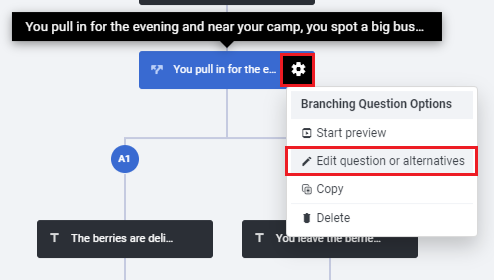 You can also copy or delete the content piece or preview the complete branching scenario starting from this location.
---
Custom scenario ending and beginnings.
There are a couple of ways you can enhance the start and end of your scenario. First is the very start of your scenario, click on the settings cog on the left hand side of the screen.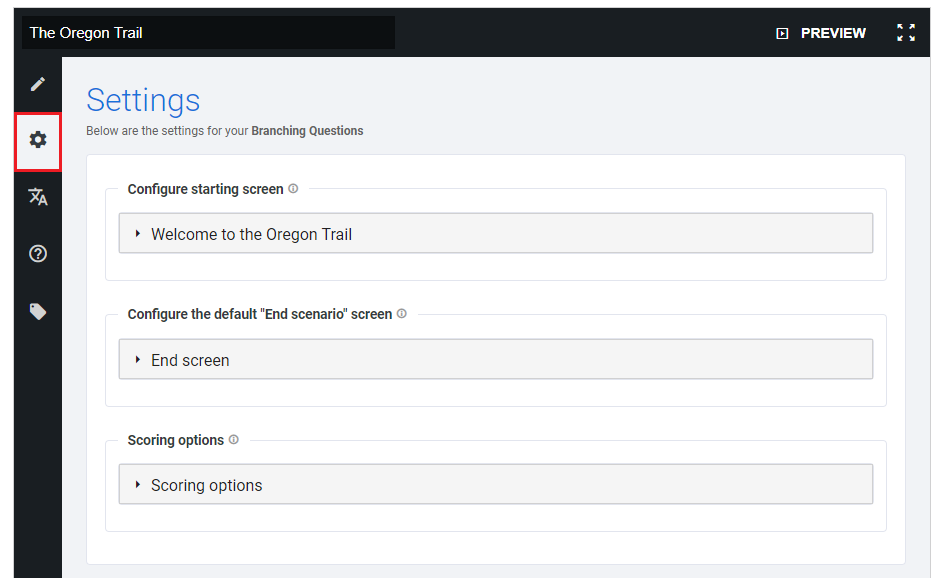 Click on the start screen button.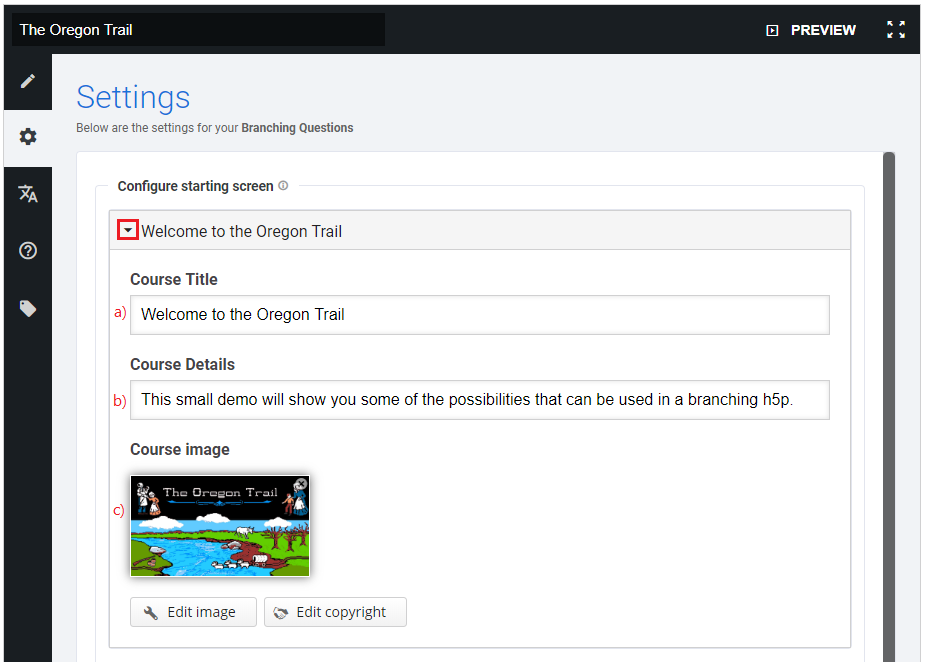 Use this screen to fill out a) a custom title, b) some descriptive course detail text, c) or add an image to represent your scenario.
To add a custom end to your overall scenario (that is the final correct path end) click on end screen.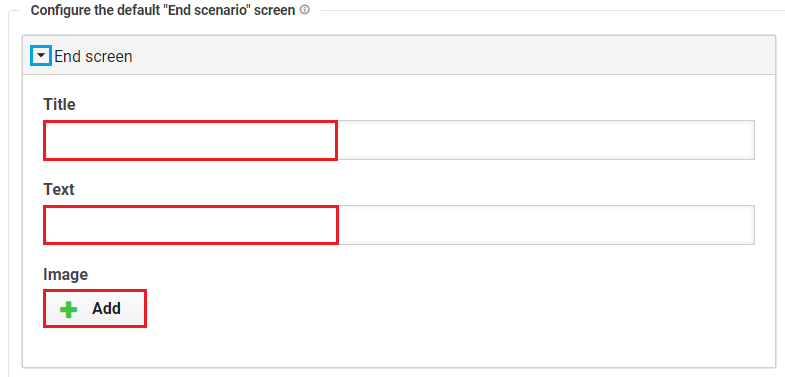 Add the custom end title or description and click add to include an image.
This is an optional step and the same thing can be accomplished as a custom end per content item as above.
Setting scoring options
You can add scores to activities in the branching scenario.
1. Click on the settings cog on the left hand side of the screen. Click on Scoring Options and select Dynamically calculate score from users answers then click Save.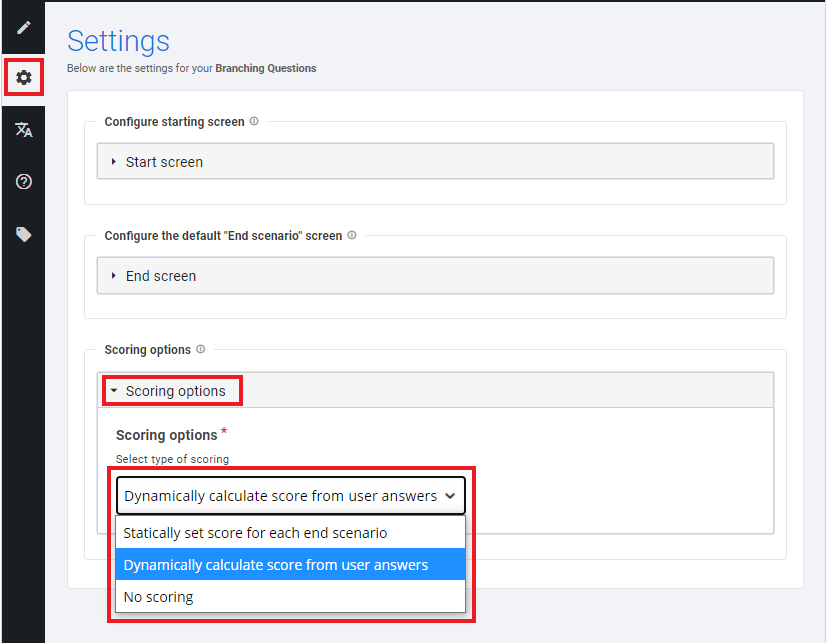 2. Hover your cursor over the activity you want to assign the scroing to and click on this icon

to give you more options.
3. Select Edit Content for more options.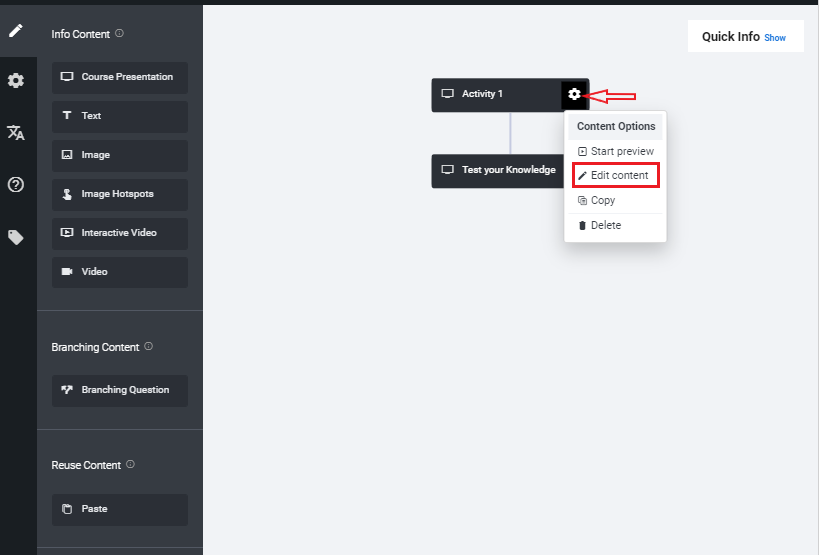 4. Click on the Branching Options dropdown menu and select Feedback then enter your score then save.



---
To preview your Branching Scenario, click the preview button from the top. This will give you an idea of how it runs for students.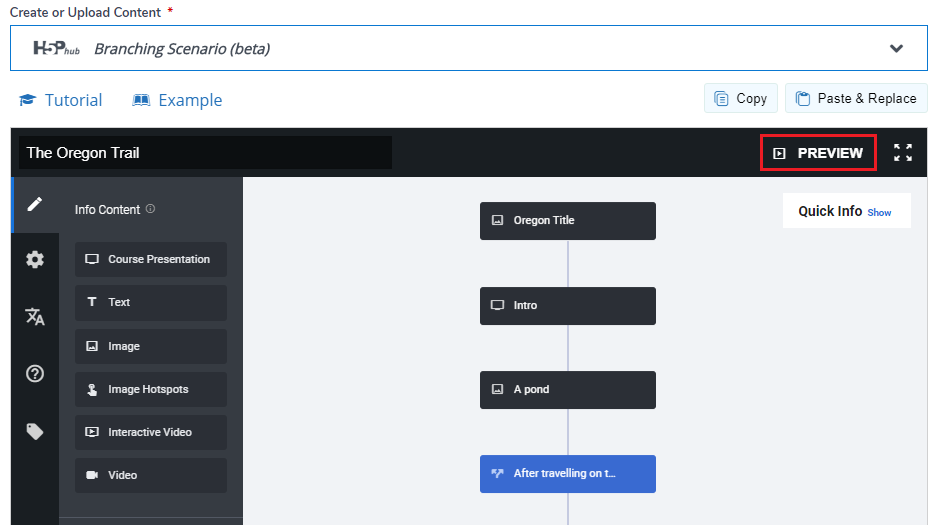 Click on preview from the beginning to start the preview of the scenario from different sections of your scenario. i.e. a branching question.

You can also click Back to edit to return to the scenario map.


---
Use the Inserting an H5P in VU Collaborate help guide for a step-by-step procedure on how to insert your Branching Scenario H5P into your Collaborate space.
Publishing & Collaboration
Once you are satisfied with the layout of your column H5P tool, you can adjust your H5P's settings at the bottom of your column H5P tool's screen (you can leave these settings by default or you can make alterations):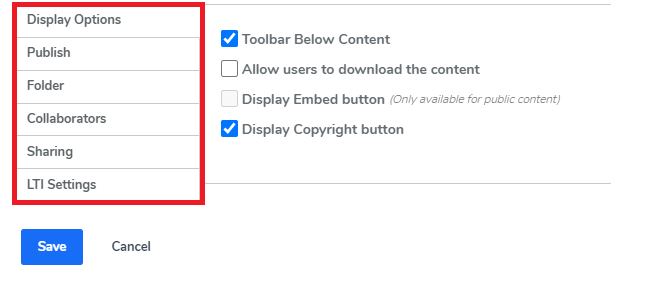 1 - Display options: What options do you want to be visible for the user, for example,, you can tick the display download button to enable students/staff to download the H5P to their own computer. You can also tick the Display embed button, which allows the user to embed the H5P into their HTML editor in VU Collaborate for example.
2 - Folder: All your content will be saved in one spot, within a root folder.
3 - Publish: This option allows you to make the H5P Unpublished (content cannot be inserted into VUC), Protected (content can be inserted into VUC) or Public (visible to the public using a content link and the content can be inserted into LMS and be embedded). Protected is the default setting and it is recommended to leave this setting as it is.
4 - Collaborators: In this setting you can add and search for other collaborators and give them access to edit your H5P's. For example, if you are teaching a unit with another staff member and you would like them to have access to edit your H5P's, then you can use the search field to locate another staff member by typing in their full name.
5 - Sharing: This is where you share your H5P with others, so they can view and clone your content. There is a folder allocated for each college, for example, 'Arts and Education', select your College.
For more information about Sharing and Collaboration, please see H5P Sharing and Collaboration.
6 - Send Score to LMS: In this section you can link your H5P directly to VU Collaborate and also link it to your gradebook. It is recommended to leave this setting as it is, and NOT send the results to the gradebook as the results are very unreliable.
After adjusting the H5P, you can click Save.


---
Once the students have interacted with the tool, you can access a report of their progress.
1. Click on Reports tab.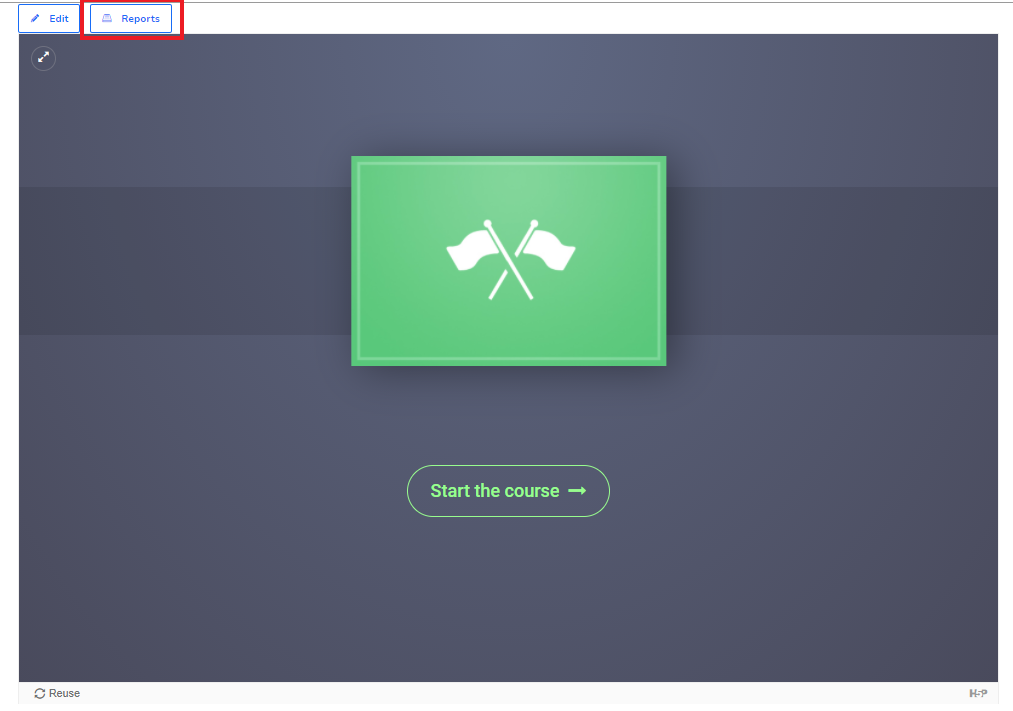 2. Select the student report you want to view. Click Close once you have finished reviewing the report.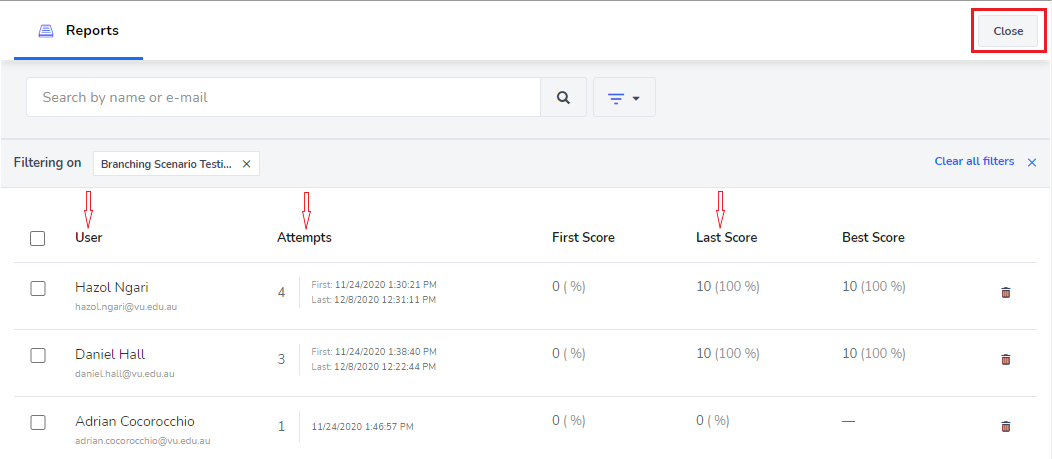 User- Lists the student/user's name and email address they were logged in with.
Attempts- Gives you the number of times the student has attempted the activity. It also lists time taken by the student while interacting with the tool.
Score- Highlights the score achieved by the user. The branching scenario does not always show a score.
---
Further Support
Visit the VU Collaborate Help site at https://vucollaboratehelp.vu.edu.au for up to date information and resources on blended learning or email This email address is being protected from spambots. You need JavaScript enabled to view it..
Contact ITS Service Desk on (03) 9919 2777 or via self-service http://servicedesk.vu.edu.au for further technical support.