Using the H5P Documentation Tool
This guide is about using a H5P learning object. For instructions on how to find and create H5P Learning Objects in your space, please see Inserting H5P in VU Collaborate.
The Documentation Tool provides students with a clear structure for the development of a project. This tool can be used to help students with project management activities, to provide an example of how to write a document or to provide the steps required for the completion of written work. It creates assessment "wizards" that give students step-by-step writing instructions to help build interactive, goal-driven student activities. You can add multiple steps to the wizard, which the student will work through in sequence. For example, you could add a section where the student lists their goals, which leads into the next step with text fields to answer specific planning questions.
For each step presented in the documentation tool, it is possible to provide help to students on how to fill-in the document by using the Read more option. Students can also assess themselves using the documentation tool. The tool provides a small quiz activity for the student to self-assess their achievements, helping them to reflect on their work, so they improve and perform better the next time.
This tool can help students write content in the structure required. Students can then export the document on to their own devices. This allows them to continue with the work in their own time, print it, or submit it for a final assessment.
Below are the steps to use the H5P documentation tool:
---
1. In the Learning Space choose the module you want the H5P to be in, click on New then New Document.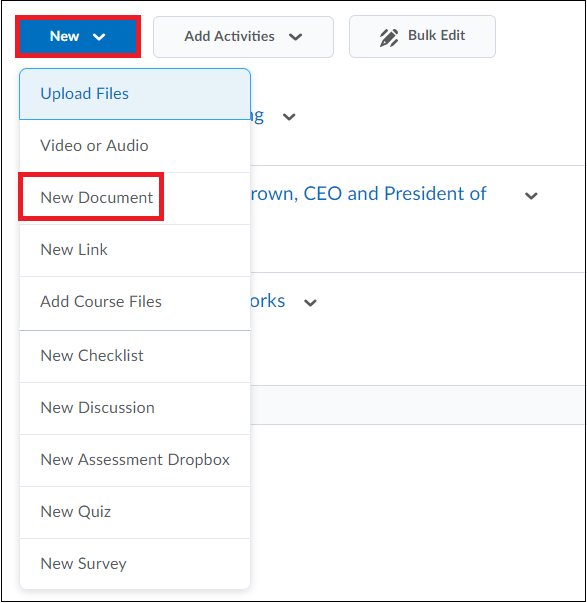 2. In the Insert Stuff menu, click to open the H5P Learning Object.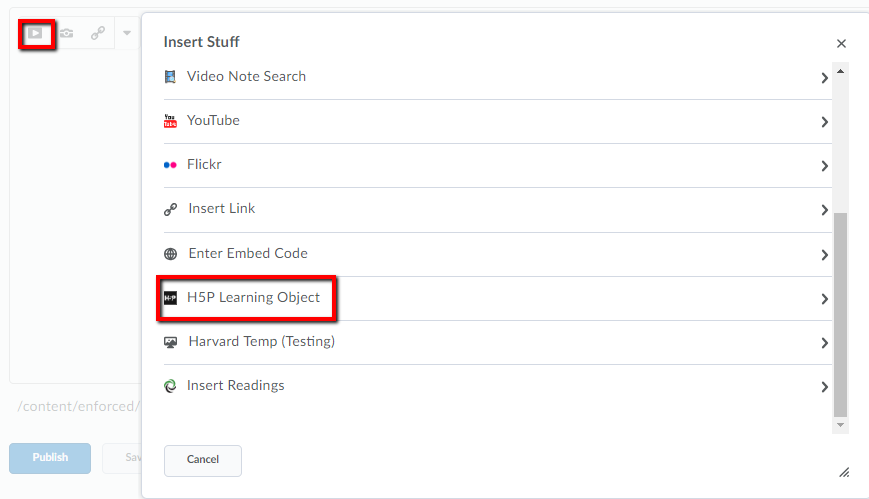 3. Using the dropdown menu, set your Content Type to Documentation Tool.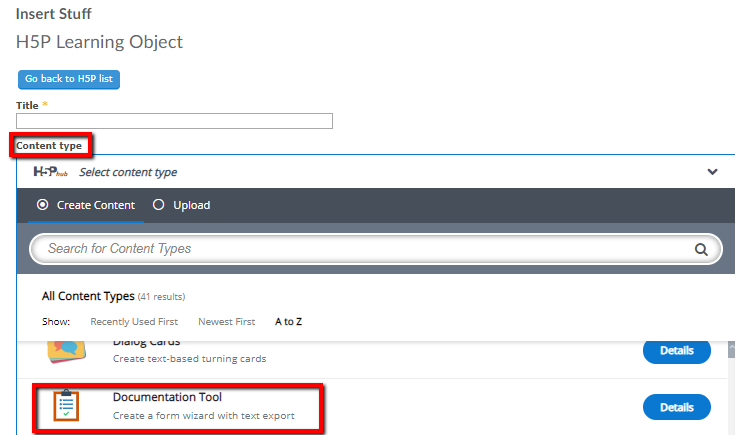 4. Add a Title for the new object that will be easy to remember and find.
5. Scroll down and enter your relevant Discipline/Area and College in the fields provided and write a Description for your activity, to provide context for the object if you're sharing it with other staff.

6. The H5P options that appear at the bottom of the screen determine the accessibility of the tool. Set your preferences now, depending on how you want this tool to be used.
Select Shared to enable other staff to copy this learning object to use in their spaces. Leave this unticked to keep the object private to you and your spaces.
Select Send Grades to VU Collaborate if you have a grade item enabled and would like the marks to be sent straight through to a connected gradebook.
Display buttons will give users clickable buttons to embed your learning tool elsewhere, download the learning tool, and assign copyright to your tool. 
Copyright button enables users to display copyright button as part of the learning tool. 
Click Add another Author and type the name of the staff member that you wish to add as an additional or co-editor / author for this H5P interactive. You can add multiple additional authors. This will allow another staff member to edit, clone, save and use your H5P object.

Remember to Save regularly as you move on to creating the documentation elements.
---
Start creating pages that will appear in the tool by selecting a type of page. There are four types to choose from: a Standard page, Goals page, Goals assessment page, and a Document Export page. You can make up your new documentation tool using any or all of these types, but we're going to start with the standard page.
1. In the Elements section, you can see your first page has already been created. To choose a template for this page, click the Content type dropdown menu and select Standard page.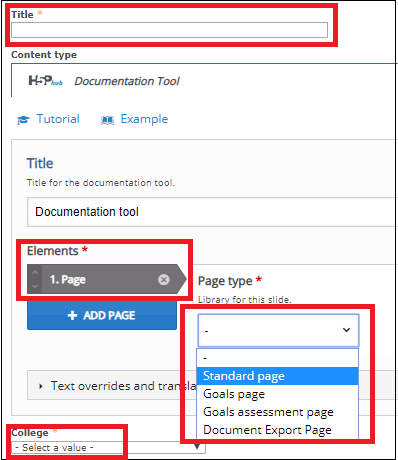 2. This will make your first page a Standard page. Enter a Title for the page that will help students understand its purpose.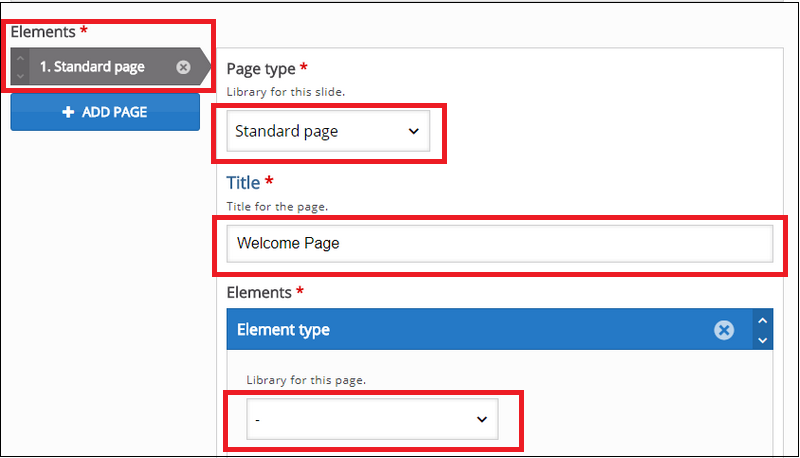 3. Pick a Content type to start the new page. You can add multiple different types to each page. The first option is Text, which allows you to enter text that will be displayed to the user (like instructions or a subtitle). The second option is the Text editor field input element, which allows you to create text fields for the student to enter their own text (for example, in response to a question). The third element you can select is an Image, which will add an image of your choice into the page.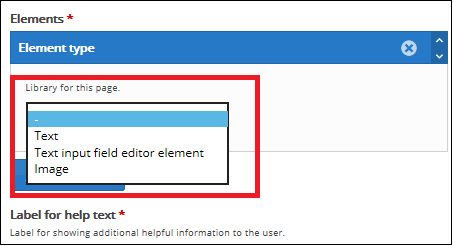 4. To add any text, image, or input field element to a page, click Add Element.

2.1 Add a Text element
1. From the Content type dropdown menu, select Text.
2. Enter the text you want the student to see at the start of the page. You can add links and headings using the editor.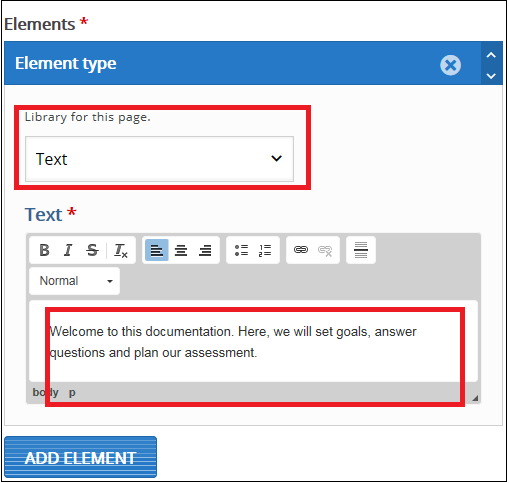 You can leave the page with only this text, or add more elements by clicking Add Element.
2.2 Add a Text editor field input element
This element allows students to enter their own text into the tool.
1. Select the Text editor field input element from the Content type dropdown menu.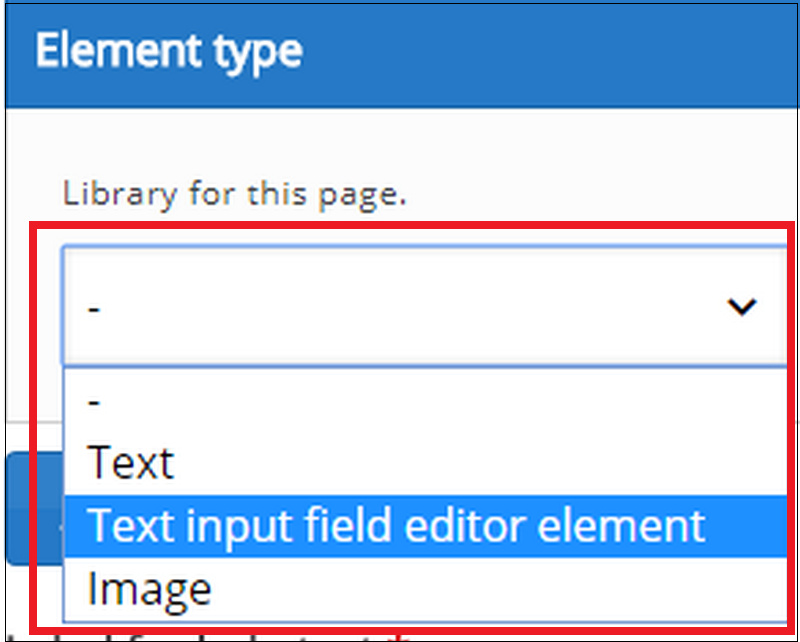 2. Write a task Description of input field so that the student understands what to write in the field.
3. The object will automatically generate some Placeholder text as an example for the student of what to write in the field. This can help you make it even clearer what this particular field is intended for.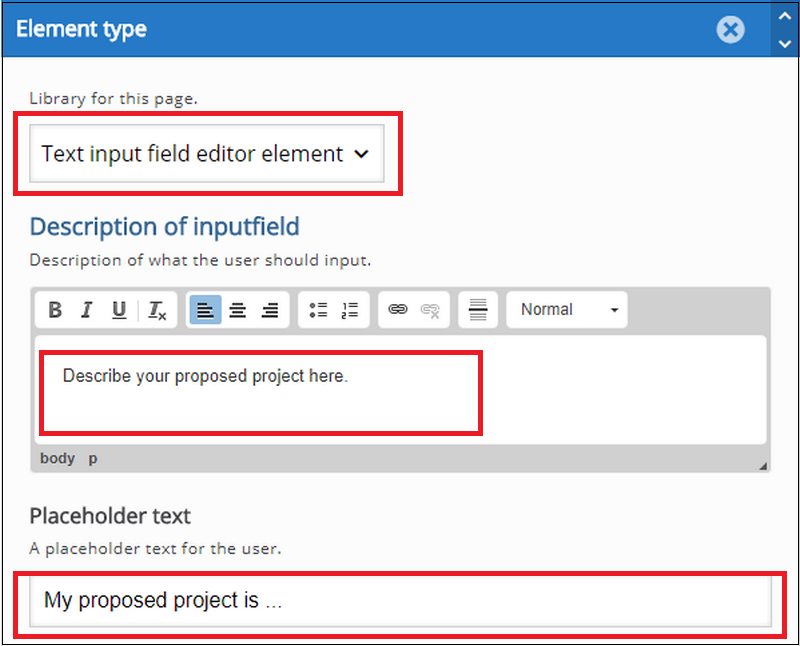 4. Under the Input field size section, select a number of lines that the student can enter in this field. If it's a simple item like the project title, you might want to leave it at the default 1 line -- but if it's a project summary, you can use up to 10 lines to give the student plenty of space.

5. Use the Required field tickbox to determine whether this field is mandatory. The student won't be able to export their answers unless they have filled out all of the required fields.
2.3 Add an Image element
You can add images to illustrate your page's purpose and tasks, or remind students of useful visual information associated with the project.
1. Click the Add element button to create a new element and from the Content type dropdown menu, select Image.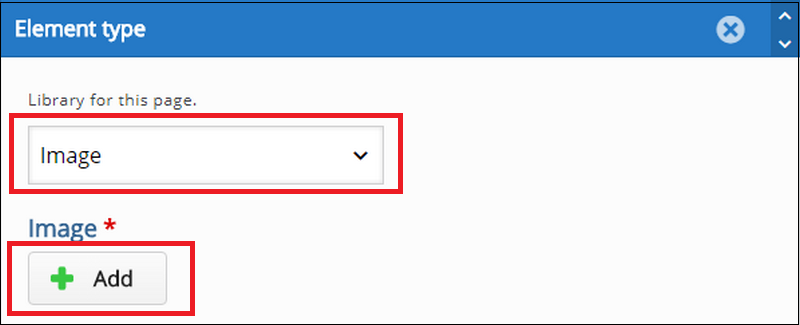 2. Click Add to browse for an image to upload from your desktop.
3. Enter some Alternative text for the image. This helps if the image can't be loaded and for visually impaired students to understand the image.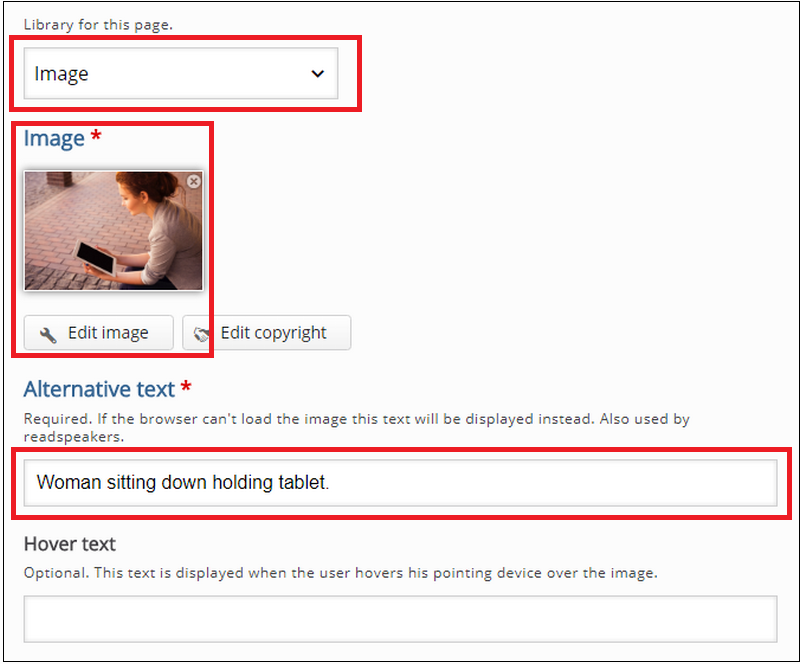 4. Add some hover text that will appear when the viewer puts their mouse over the image. This is optional, but can be used to add some more context.

You can add more images or other content types to the page, or move on to the next type to create new kinds of pages.
---
The final version of the documentation tool will usually have a few different pages depending on what you want to achieve. There are four page content types: Standard pages are fully customisable and covered above; Goals pages help students track their aims and progress; Goals assessment pages allow students to rate their progress and self-assess their learning; and a Document Export page at the end of the tool allows students to download their entries as a document and work on it further.

1. Click Add Page to create a new page.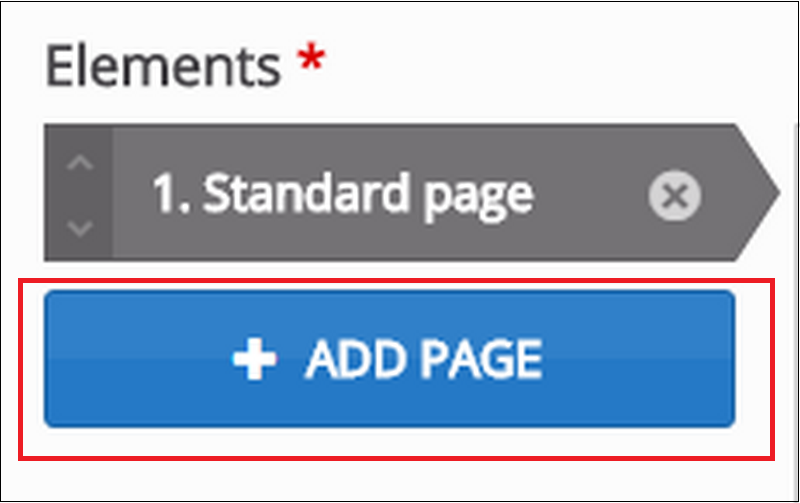 2. In the Content type dropdown menu, select your desired page type.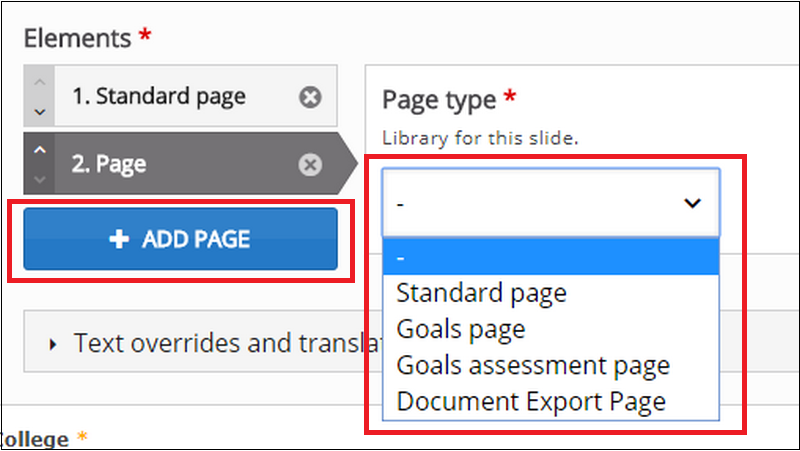 3. All pages have an area where you can enter help text for that page. This is usually at the bottom of the page editor. If there's something that won't seem immediately obvious to the student, scroll down and enter it in here before you save the page.
3.1 Goals pages
1. The H5P object will automatically generate a Title and Description, which you can edit to tailor the tool to your students.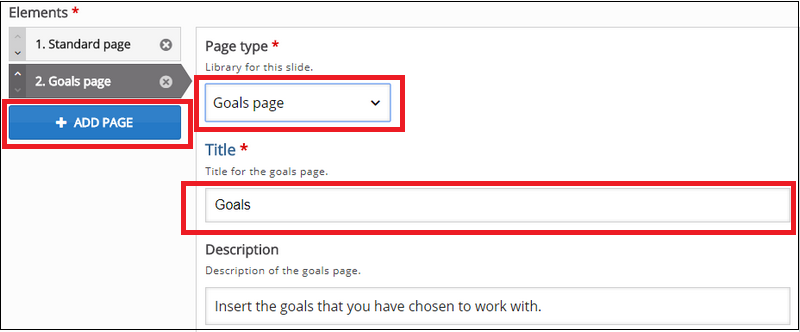 2. You can define custom Goal Link Text (what the student will click to make a new goal) and the label that appears on User Defined Goals, new goals that the student creates.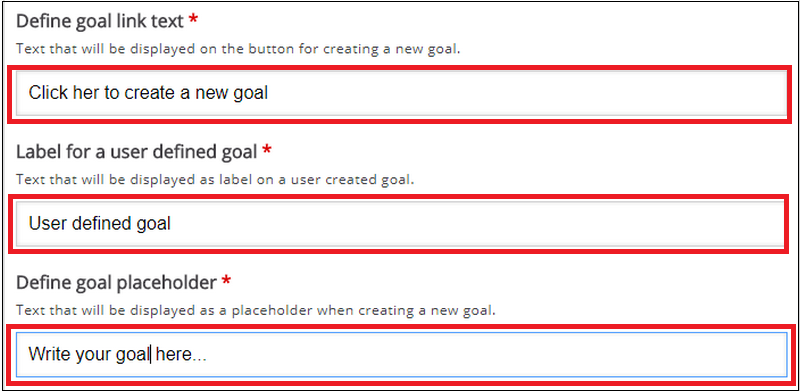 3. You can enter custom placeholder text (indicating what kind of phrasing should go into the field) to help students understand what to write. This is optional.
4. A standard set of options will be available to the student as they go through the necessary steps to create their goals. You can customise the text on any of the buttons that will appear to them on their Goals page, but remember to keep it simple! This is optional.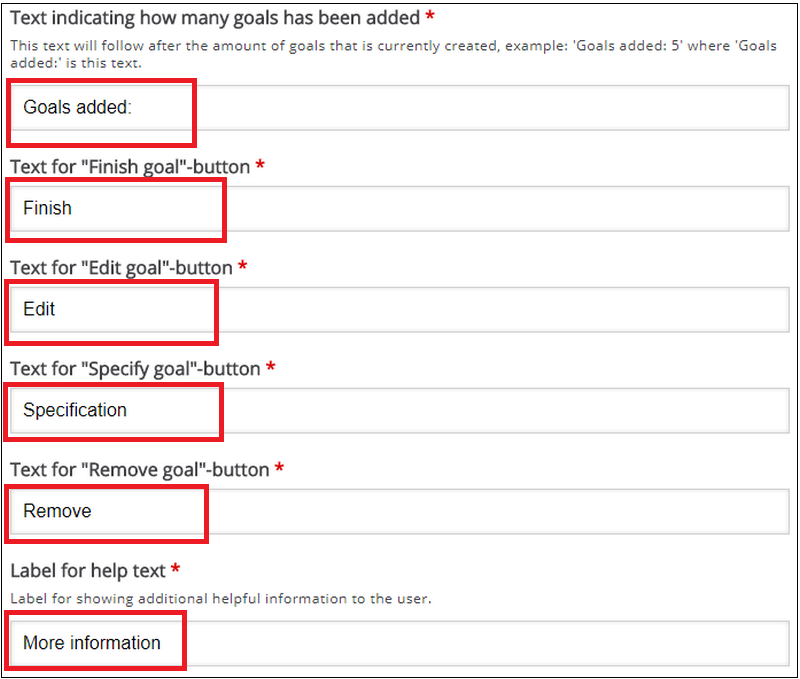 Now the page is set up and ready for students to interact with.
3.2 Goals assessment pages
Goals assessment pages work in conjunction with Goals pages to let students self-assess.
1. The H5P object will automatically generate a Title and Description, which you can edit to tailor the tool to your students.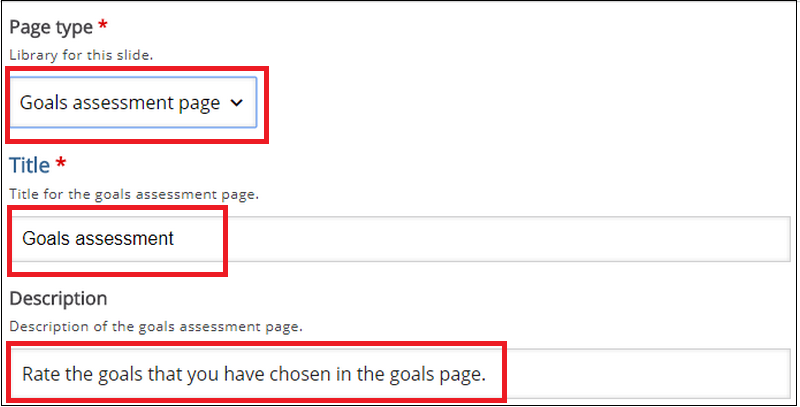 2. Students can rate their goals Low, Medium or High. If no goals have been entered yet, No goals text will be displayed. You can customise any of these options, or leave them as they are.
Note: Goals assessment pages will not work if a Goals page has not been added to the documentation tool.
When you're finished adding your additional help information (where applicable), the page is set up and ready.
3.3 Document Export pages
The Document Export page usually sits at the end of the tool and lets students download their work.
1. Edit the Title and Description text to suit your coursework. The H5P object will automatically generate these for you, and customising them is optional.

2. As on the Goals and Goals assessment pages, there are a set of button labels you can edit or leave as preset. When you're happy with these, make sure all your pages are in the right order, and the activity should be complete.
Note: The document export page should be positioned at the end of the tool so that students have access to all of their work.
3. Click Save to finish the editor and finish creating the object. You can come back and Edit it at any time.
---
Now that all the pages have been created, we can preview and test the tool before it is published to students in your space.
1. In the main H5P object menu, click Insert to the right of your new object.

2. This will open a preview of the object. Click through each step and check it is working as expected.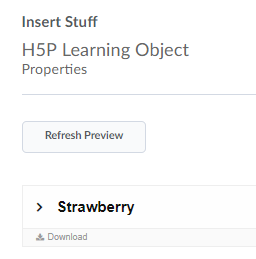 3. If you need to start again at any time during the preview, click Refresh Preview in the upper left-hand corner of the screen.
4. When everything is in working order, click Insert in the bottom left-hand corner of the screen. This will add the object to wherever you're working, and you can see it as it will appear to the student.

---
Further Support
Visit the VU Collaborate Help site at https://vucollaboratehelp.vu.edu.au for up to date information and resources on blended learning or email This email address is being protected from spambots. You need JavaScript enabled to view it..
Contact ITS Service Desk on (03) 9919 2777 or via self-service http://servicedesk.vu.edu.au for further technical support.