Using the H5P Drag & Drop Tool
This guide is specifically for the Drag & Drop Questions questions with an image. The response requires the student to drag an answer into the image from a pool of responses. Drag and drop questions can help students to review and measure their understanding of the concepts presented.
This type of exercise can add interactivity by asking students to drag items on the page to their correct destinations. Use a drag and drop question to review something in your course and provide immediate feedback and scores. Students can be given the option to answer the question various times until they get it right. H5P.org also offer their own tutorial on using this interactive with extra details about drag and drop objects.
This guide uses an H5P object. For getting started on placing H5P into a space, please see Inserting H5P in VU Collaborate.
Below are the steps to use the H5P drag and drop tool:
---
1. In the Learning Space choose the module you want the H5P to be in, click on New then New Document.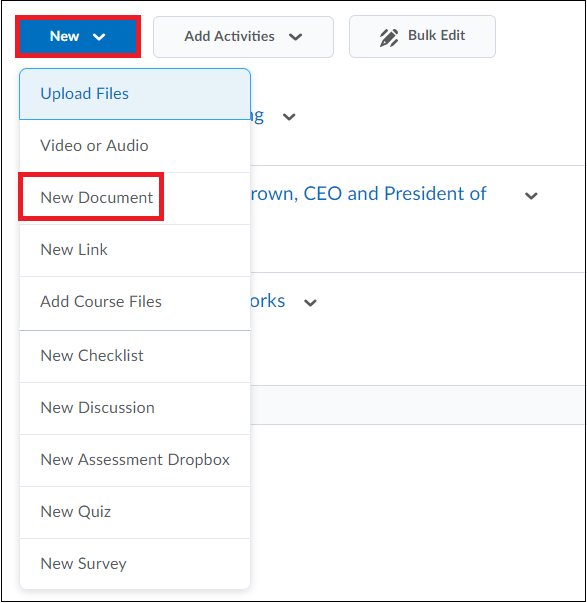 2. Click the Insert Stuff

button.
3. In the H5P tool, click Create new Learning Object.

4. Using the dropdown menu, set your Content Type to Drag and Drop.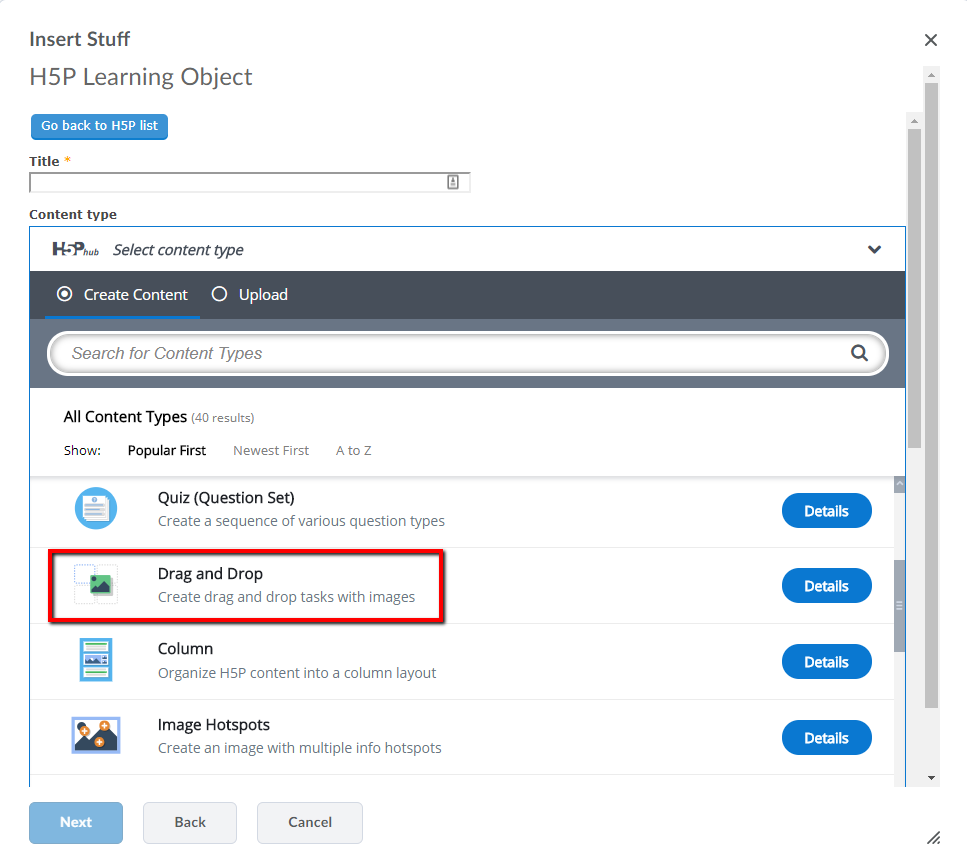 Note: If you click on the details tab next to the prefered tool, a summary of the tool and an option for a demonstration will appear. If satisfied with your tool selection, click Use. If you do not require this step, click Use from the content type menu.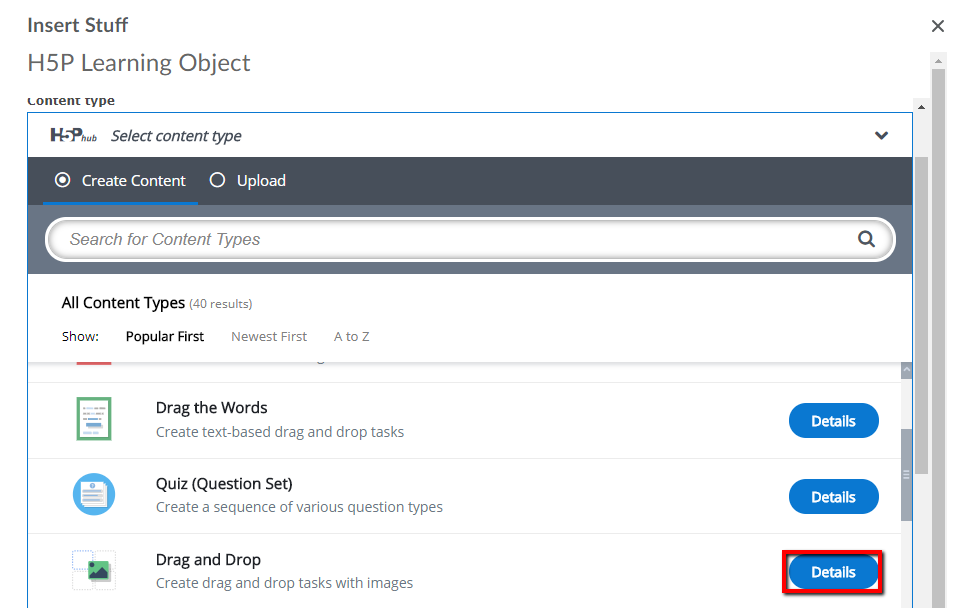 5. Add a Title that will be easy to remember and find.



---
Now, in the settings tab, we have the ability to add a question title, image, and change the size and behavioural settings.

1. Write a short title that you'll recognise while grading in the Title field.
Select Show Title to have this displayed or uncheck if you do not want it visible.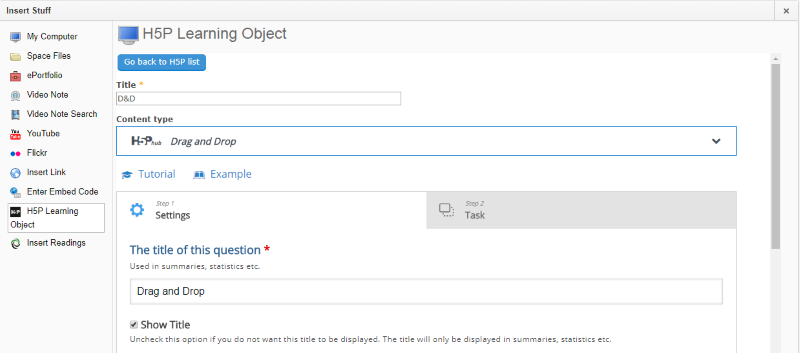 You can also add some custom feedback depending on the percentage a user gets correct. To do so, click Add Range and fill in the feedback for your preferred percentage.



2. Click on the Add icon to add a background image. This is optional, but highly recommended to illustrate your question.


3. Set your preferred Behavioural settings. These determine how the user interacts with the question. All boxes are checked by default.
Enable Retry will allow infinite attempts.
Require user input before the solution can be viewed ensures that users must enter something before the solution is available.
Give one point for whole task disables individual answer scoring and penalties for inccorect answers. This will score one point for the task in its entirety.
Apply Penalties will lower the score of users who drop elements in the wrong zones
Enable Score Explanation displays the breakdown of reasons for the final score (this can only be applied when Apply Penalties has been selected).
Background opacity for draggables is the level of transparency for the draggable elements. This should be a number between 1 and 100.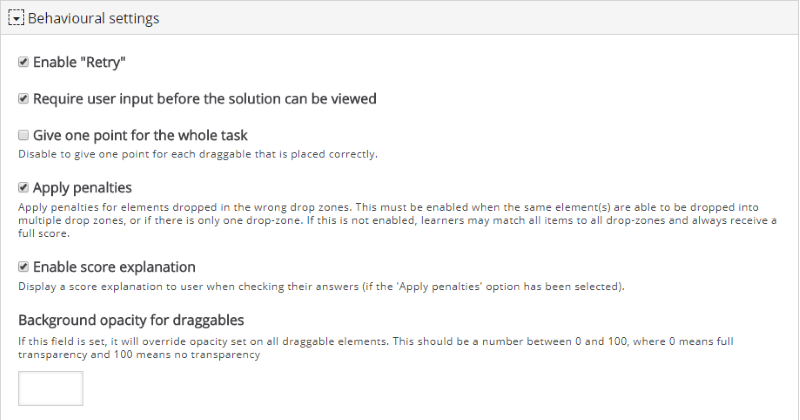 Drop Zone Highlighting options are When Dragging, Always or Never. These determine when the drop zones will become highlighted.
Enable Fullscreen will display a button for users to view the object in full screen.
Show score points shows each answer's allotted score.


4. Text overrides and translations are used to change the text of buttons on the object. We recommend leaving these at their default setting unless there is something specific you would like on the buttons.




5. Scroll back up and click Task to continue to the next step.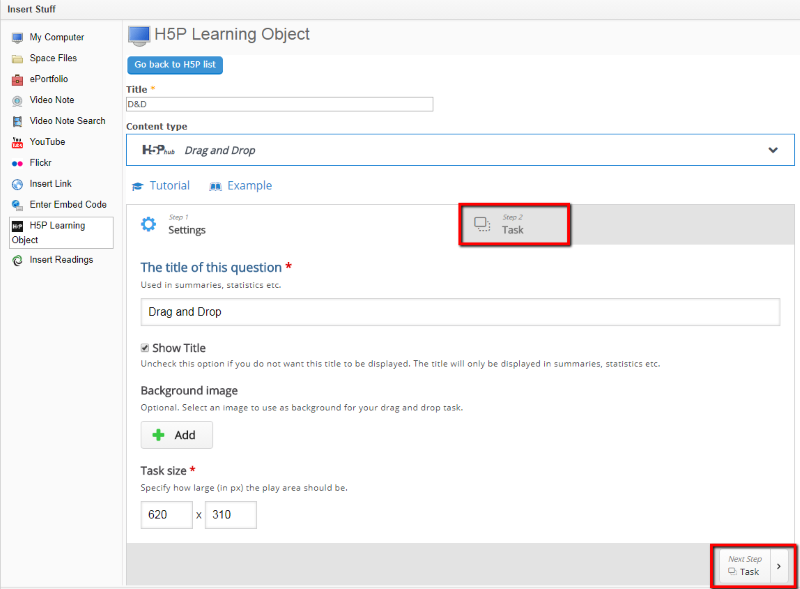 2.1 Placing the Drop Zones

1. Below the task tab, we can see the image we uploaded earlier. The taskbar at the top of the image has three buttons: Drop Zone, Insert Text, and Insert Image. Click the Drop Zone button.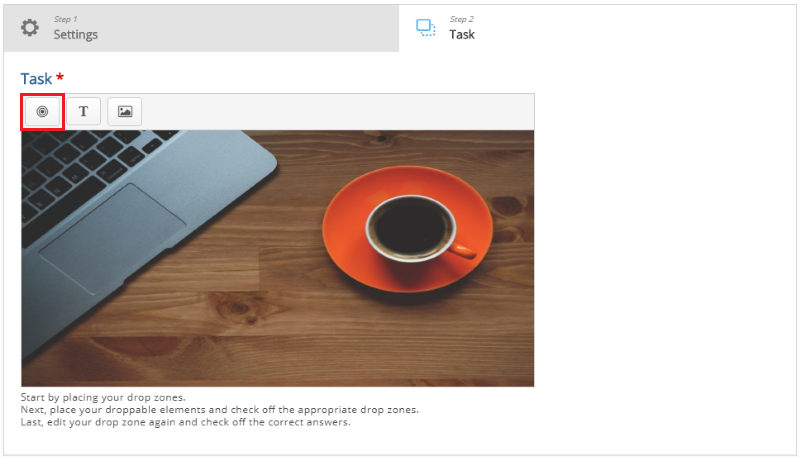 2. This opens up an edit screen for the new drop zone. Enter a label, but leave the Show Label box unchecked to prevent giving students any extra clues.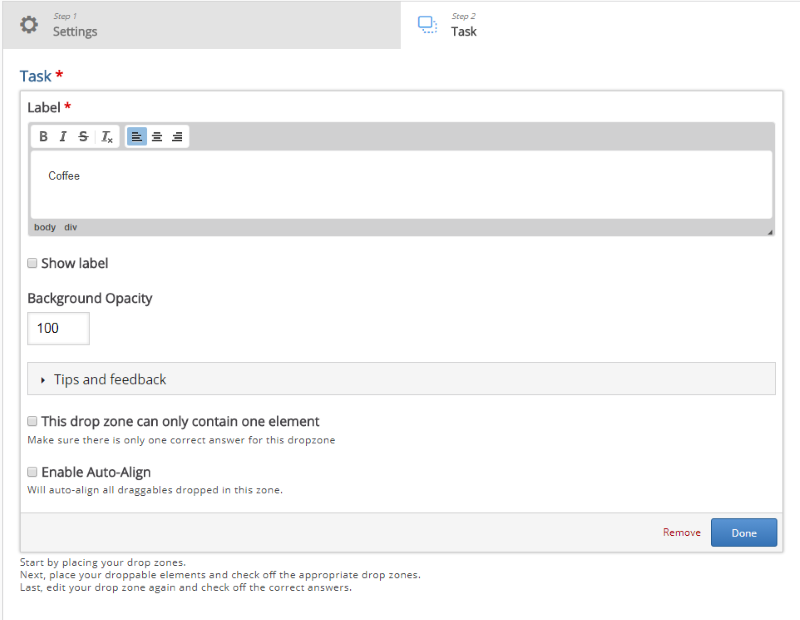 3. You can add a tip if you want to. Click on Tip to open the Tip text field and enter a handy hint. This is optional.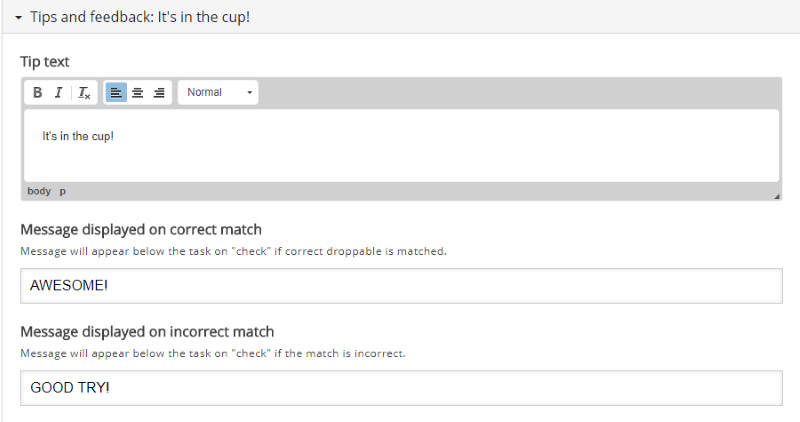 4. Use the tickbox to determine whether you want the drop zone to accept multiple answers, or just one. You can also enable or disable auto-aligning answers.
Tip: If this is your first drag and drop activity, we recommend you check these options to keep things simple.

5. Click Done to save your drop zone and add it to the activity. You can add as many drop zones as you like, to be filled with draggables in later steps.

6. Your drop zone will appear in the activity. You can change its size and position using the pop-up menu, or delete it.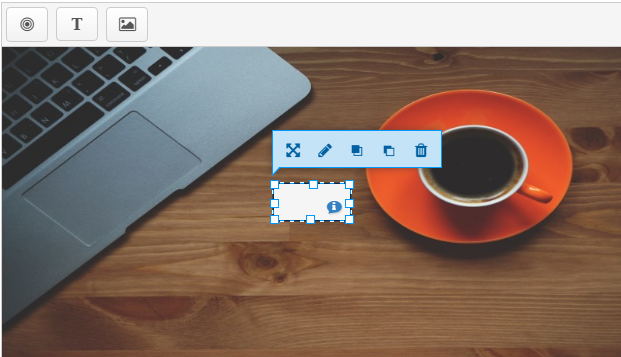 2.2 Adding the draggable
Draggables are images or pieces of text that correspond with your drop zones.
1. To add a text draggable, click the Text icon in the toolbar.
2. Enter your answer in the Text field. This can be as many words as you like, and a range of colours and sizes, but be mindful of space restrictions and readability.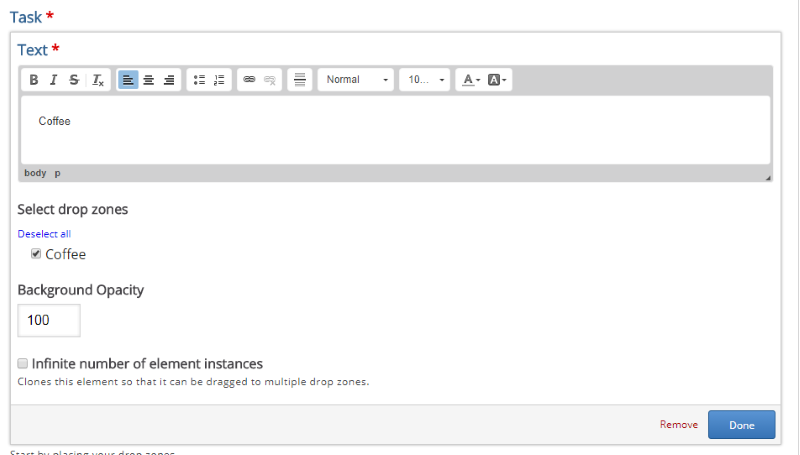 3. Tick the drop zone that the text draggable corresponds to.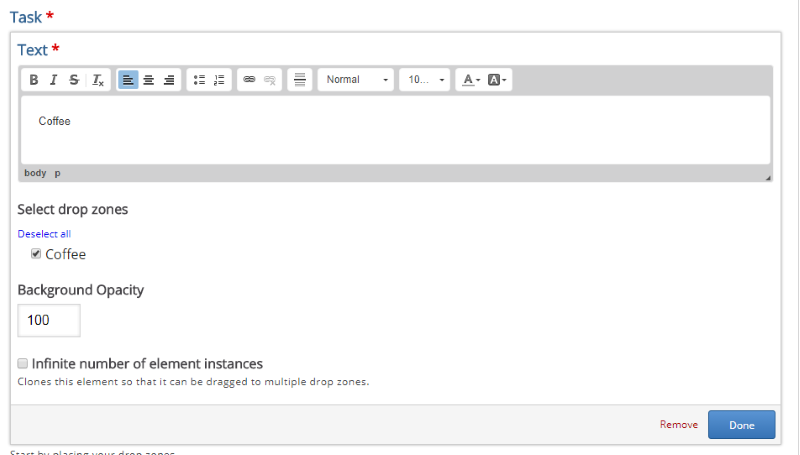 4. Click Done to save your changes and create the draggable.




5. This will insert the draggable into the activity. Use the menu to resize, move or delete the draggable.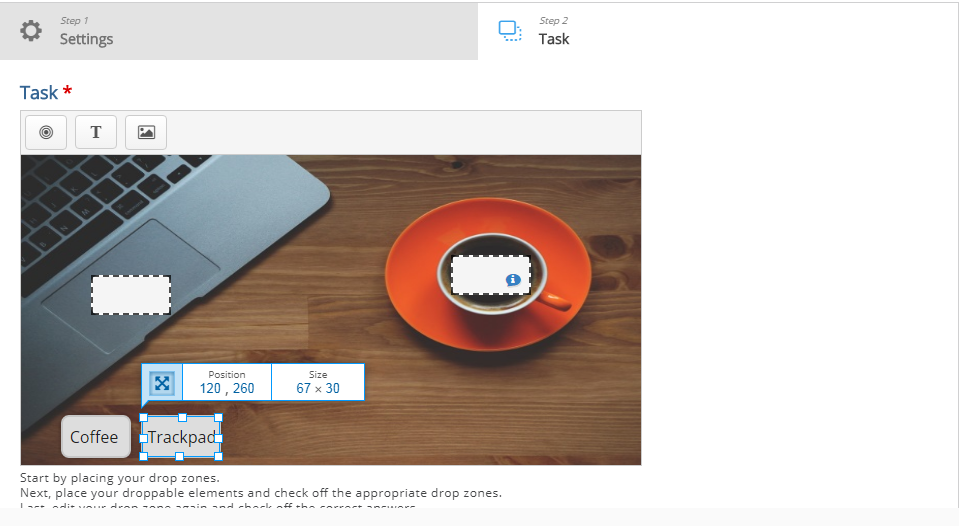 6. Keep adding draggable until you've created enough to fill all of your drop zones.
Note: You can set a draggable to correspond with multiple drop zones, but for the purpose of this guide we have used one for each drop zone.
7. Make sure each drop zone is connected to a draggable by clicking on them and checking the selected corresponding item.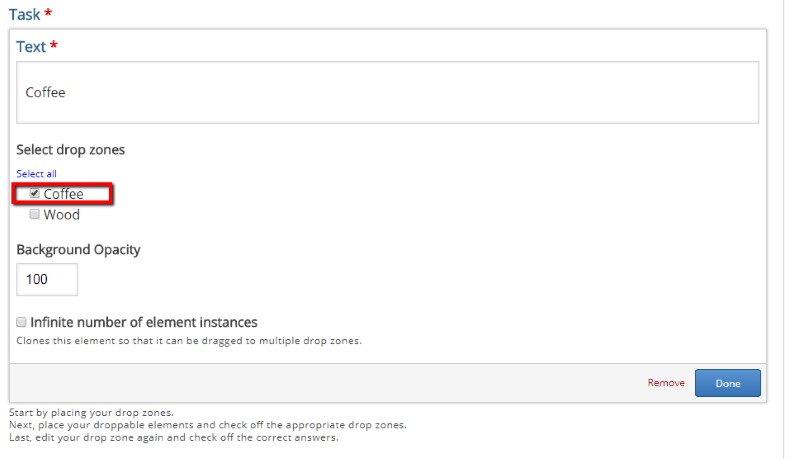 8. Click Done to save your changes.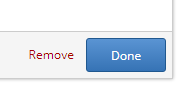 ---
Scroll down to find the final settings of your object.

1. Write a Description for your activity, to provide context for the object if you're sharing it with other staff.
2. Enter your relevant Discipline/Area and College in the fields provided.




3. The H5P options that appear at the bottom of the screen determine the accessibility of the tool. Set your preferences now, depending on how you want this tool to be used.
Select Shared to enable other staff to copy this learning object to use in their spaces. Leave this unticked to keep the object private to you and your spaces.
Select Send Grades to VU Collaborate if you have a grade item enabled and would like the marks to be sent straight through to a connected gradebook.
Display buttons will give users clickable buttons to embed your learning tool elsewhere, download the learning tool, and assign copyright to your tool.
Copyright button enables users to display copyright button as part of the learning tool.
Click Add another Author and type the name of the staff member that you wish to add as an additional or co-editor / author for this H5P interactive. You can add multiple additional authors.

This will allow another staff member to edit, clone, save and use your H5P object.




4. Click Save to return to the H5P main screen, where you can Edit, Clone, Insert or Delete your object.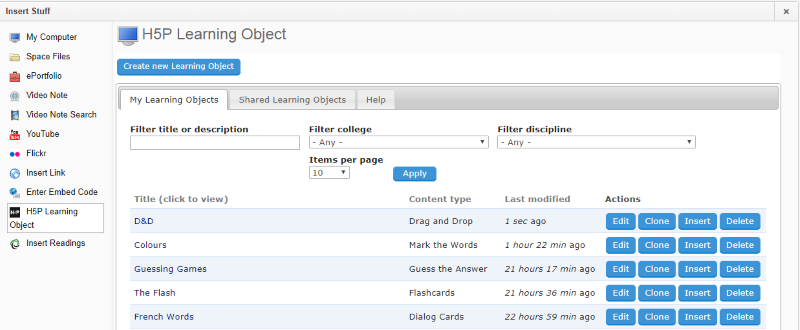 5. Locate your new object under the Title column and click Insert.
6. A preview of the new drag and drop activity will appear. You can test the object by dragging the corresponding answers into drop zones, and click Check to make sure everything is working correctly.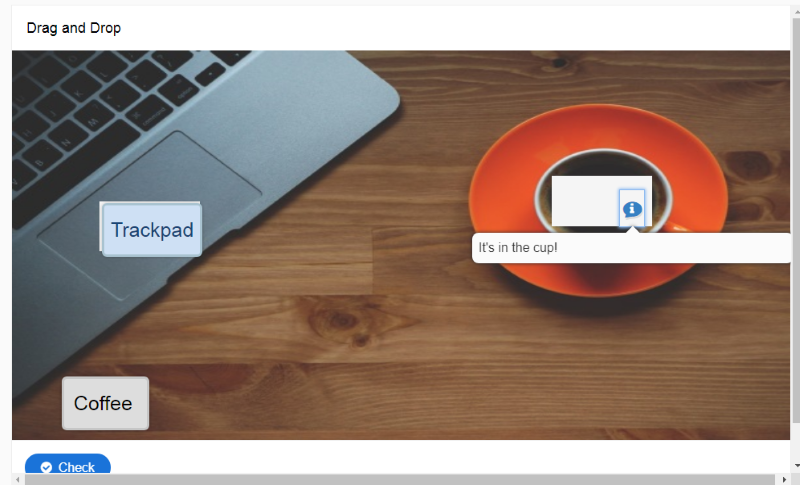 7. The activity is now ready to add to your space. Click Insert to add the drag and drop to the document (or other embeddable area) you are working on.



---
Further Support
Visit the VU Collaborate Help site at https://vucollaboratehelp.vu.edu.au for up to date information and resources on blended learning or email This email address is being protected from spambots. You need JavaScript enabled to view it..
Contact ITS Service Desk on (03) 9919 2777 or via self-service http://servicedesk.vu.edu.au for further technical support.