Using the H5P Fill in the Blanks Tool
The H5P Fill in the Blanks tool can be used to create longer, text-based questions with multiple blank sections. Students are required to type the correct responses in each blank space.
These questions offer a useful alternative to multiple‐choice because it prevents students from simply guessing an answer. Additionally, students are required to read the whole text to understand the context and to provide the correct answer. Students are notified immediately if their response is correct or incorrect. Also, the question can be responded to more than once, and students are also able to find out the correct responses if they need to. In addition to the information in this guide, H5P has it's own tutorial on using this interactive.
This guide uses a H5P object. For getting started on placing H5P into a Space, please see Inserting H5P in VU Collaborate.
An example of a Fill In The Blank H5P:
Step One: Create a New Fill in the Blanks Question
---
1. In the Learning Space choose the module you want the H5P to be in, click on New then New Document.

2. Click the Insert Stuff menu, and open the H5P Learning Object.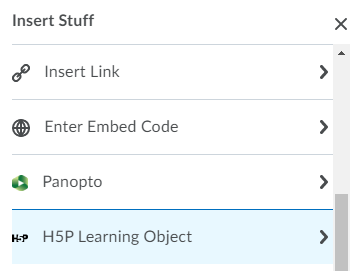 3. Click Add Content and locate Fill in the Blanks.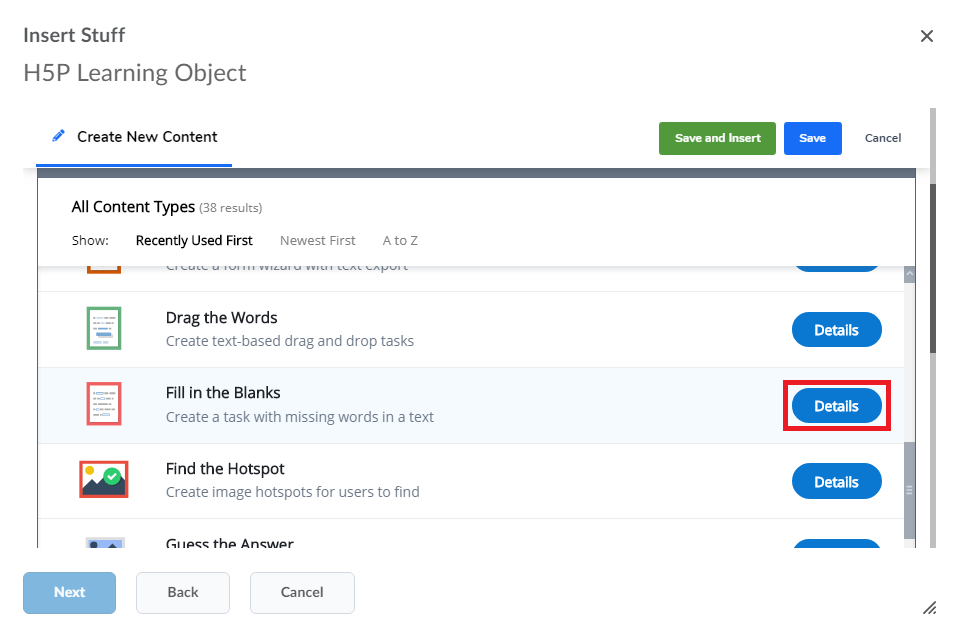 If you click on the name of the object type, a summary of the tool and an option for a demonstration will appear. If satisfied with your tool selection, click Use. If you do not require this step, click Use from the content type menu.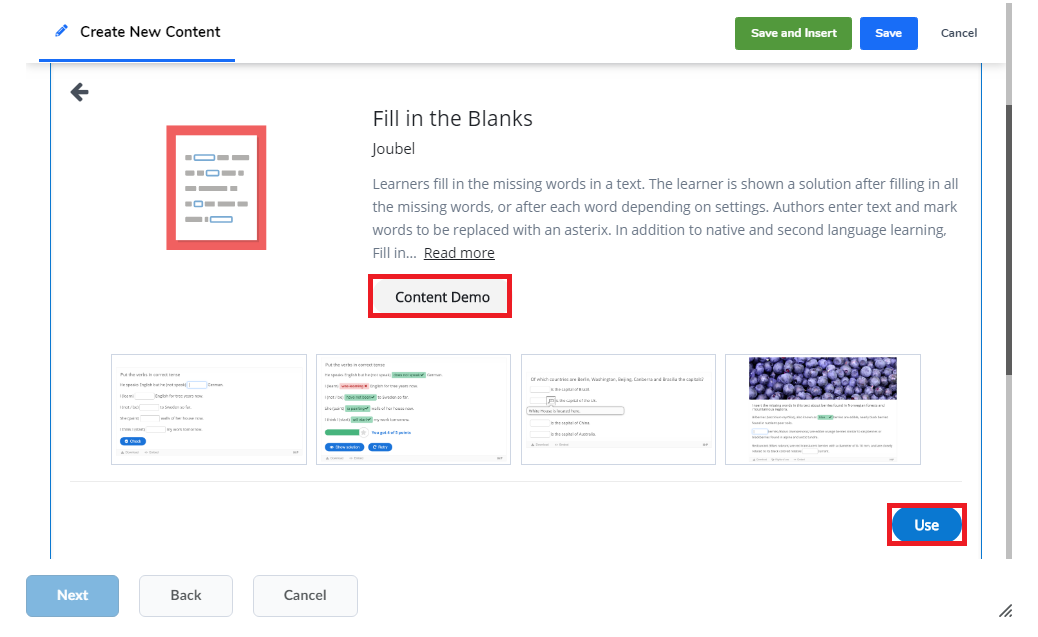 4. Add a Title for the new object that will be easy to remember and find.

Step Two: Create Sentences and Blanks
---
1. Scroll down to start adding content. In the Task Description section, you can enter a short instruction for the task. This will tell the student what they need to do. H5P automatically writes "Fill in the missing words" in this field, but you can customise this message for your students.

2. Read the instructions and then write a line of text that will contain a blank for the student to write in, and put asterisks ** around the word that you would like to appear as a blank.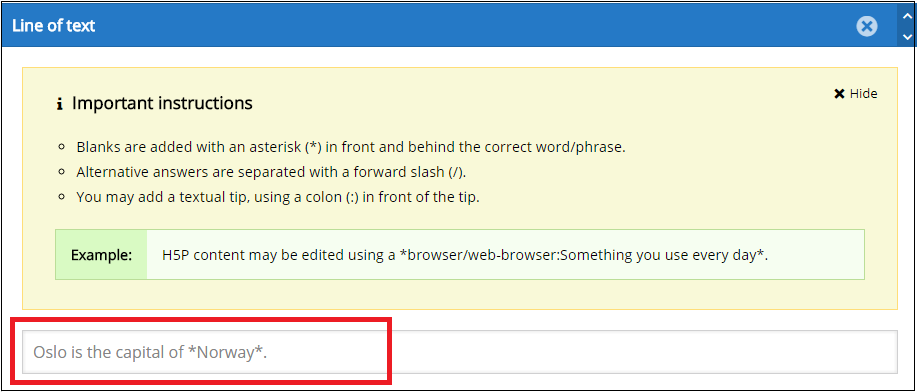 3. If you want to add a tip to your question, use a colon inside the asterisk area. This is optional.
You can add multiple answers in the asterisk area using forward slashes to separate them, ex: *red/crimson/pink*

The tip will appear to the student as a small thought-bubble icon, which expands when clicked. This is useful for students who might not immediately grasp the task's purpose.
4. You can add as many lines as you like to the activity. Click Add Text Block to create a new field to enter another Fill in the Blank question.

Step Three: Configure Behavioural Settings
---
There is a range of behavioural options you can use to determine how students interact with the Fill in the Blanks object. You might want to give them the option to try again if they get it wrong, which is particularly useful if your answer is case-sensitive (for example, the name of an organisation or notable figure).
1. Underneath your new questions, click Behavioural settings to expand the area and view options. Some options will already be ticked by default.
2. Tick the Enable "Retry" tickbox to allow students to try to answer the question correctly multiple times. Tick the Enable "Show solutions" button tickbox to show students the answers after the first time they get it wrong. Selecting both of these options will let the student see the answers when they get the question wrong, and then allow them to answer again, effectively ensuring a 100% correct answer rate. You can manipulate these setting to make it tougher, especially if you are grading the item.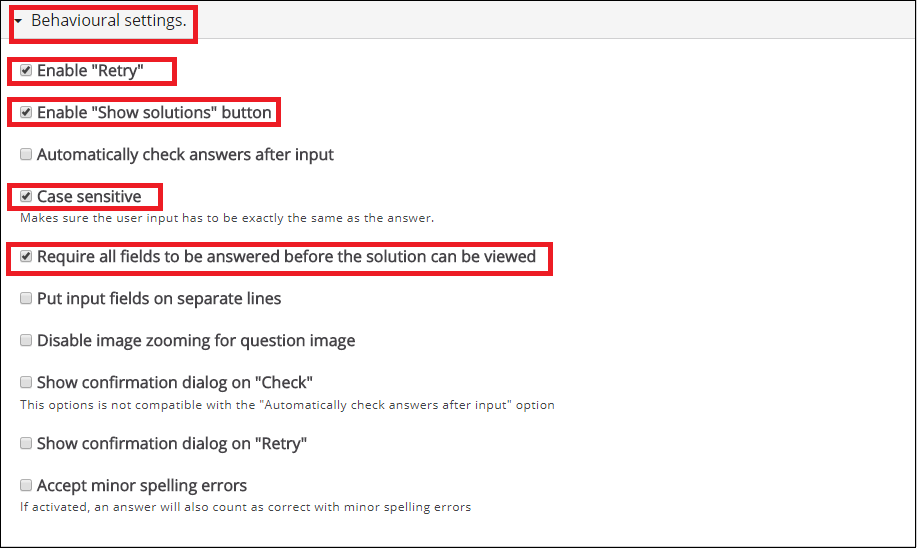 3. The Case sensitive tickbox will be automatically ticked. You can disable this to make it easier for students to get the correct answer without worrying about the wrong capitalisation. For example, if the answer is "United Nations", unticking the box will also allow the object to recognise "united nations" or "United nations" as an answer. This is similar to the Accept minor spelling errors button.
It is worth noting that in regards to spelling error H5P will count 3-9 characters: 1 spelling error, more than 9 characters: 2 spelling errors. It is recommended that the wording is not too complex in this case.
4. There are two different ways for the student to check their answers in this object.
Automatically check answers after input will check whether the word is correct after each entry, which is useful if you haven't enabled Retry and have multiple fill in the blank sentences.

Show confirmation dialogue on "Check" will create a pop-up when the student clicks Check to see if their answers were correct.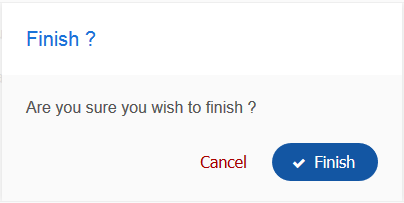 If you leave both of these options unchecked, the Fill in the Blanks object will still function perfectly fine. There are several other settings we haven't explored in this guide, but feel free to experiment and find what works for you.
At the bottom of the screen you can adjust your H5P's settings (you can leave these settings by default or make alterations):
1 - Display options: (previously 'Display and copyright buttons') What options do you want to be visible for the user, for example, you can tick the display download button to enable students/staff to download the H5P to their own computer. You can also tick the Display embed button, which allows the user to embed the H5P into their HTML editor in VU Collaborate for example.
2 - Publish: This option allows you to make the H5P Unpublished (content cannot be inserted into VUC), Protected (content can be inserted into VUC) or Public (visible to the public using a content link and the content can be inserted into LMS and be embedded). Protected is the default setting and it is recommended to leave this setting as it is.
3 - Folder: (previously 'My Content') All your content will be saved in one spot, within a root folder.
4 - Collaborators: (previously 'Authors') In this setting you can add and search for other collaborators and give them access to edit your H5P's. For example, if you are teaching a unit with another staff member and you would like them to have access to edit your H5P's, then you can use the search field to locate another staff member by typing in their full name.
5 - Sharing: (previously called 'Select value') This is where you share your H5P with others, so they can view and clone your content. There is a folder allocated for each college, for example, 'Arts and Education', select your College.
To know more about Sharing and Collaborators, please see H5P Sharing and Collaboration.
6 - LTI Settings : (previously 'Send Score to LMS') In this section you can link your H5P directly to VU Collaborate and also link it to your grade book. It is recommended to leave this setting as it is, and NOT send the results to the grade book.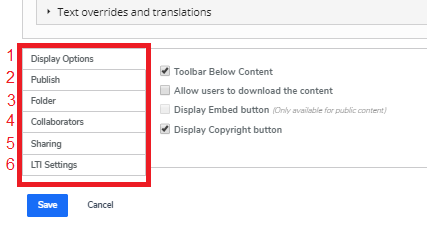 After adjusting your H5P object, you can click Save and Insert or Save.
Step Five: Test and Publish the Question
---
Before the object gets inserted into the Space, previewing it for any possible errors is a good idea.
1. In the main H5P object menu (which will appear when you save the object), click Insert to open a preview of your new object.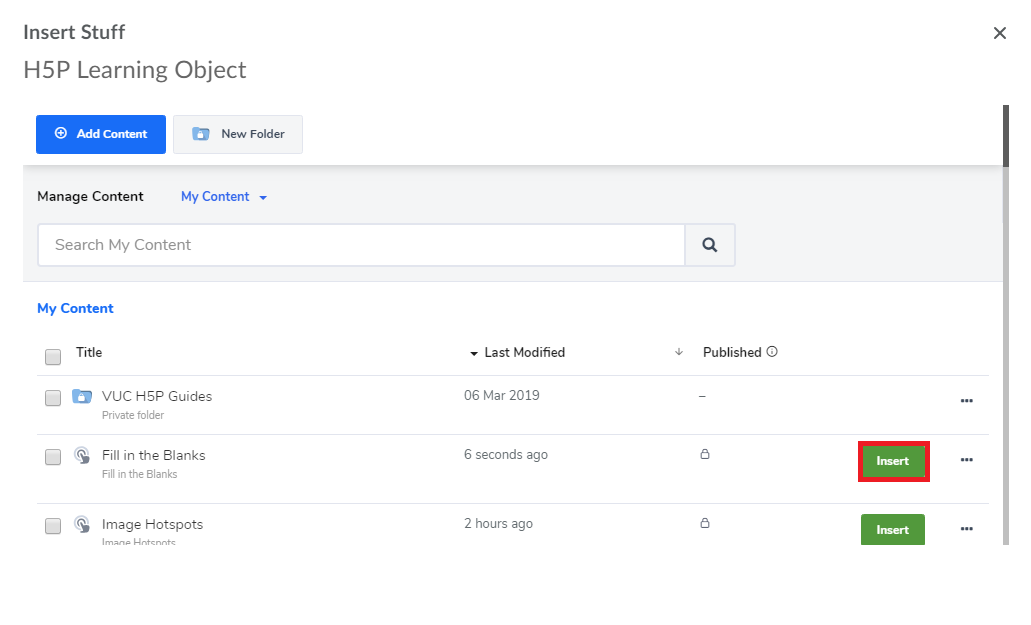 2. In the preview area, you can see all of the elements of your new object as they will appear to the student.
3. Click around and test the different elements of the activity. If you have added a tip, click the thought bubble icon to check that it works correctly.

4. Once you've finished checking all of your elements work correctly, click Insert to add the question to the document (or other embeddable areas) you are working on.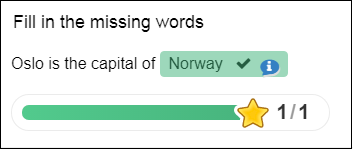 ---
Further Support
Visit the VU Collaborate Help site at https://vucollaboratehelp.vu.edu.au for up to date information and resources on blended learning or email This email address is being protected from spambots. You need JavaScript enabled to view it..
Contact ITS Service Desk on (03) 9919 2777 or via self-service http://servicedesk.vu.edu.au for further technical support.