Setting Due Dates with Calendar
The Calendar is a tool which allows you to create, view and organise events for a course. This guide demonstrates how you can set, edit and manage due dates with a Calendar.
Following are the steps to Setting Due Dates with Calendar:
---
1. Go to Space Admin and click Calendar.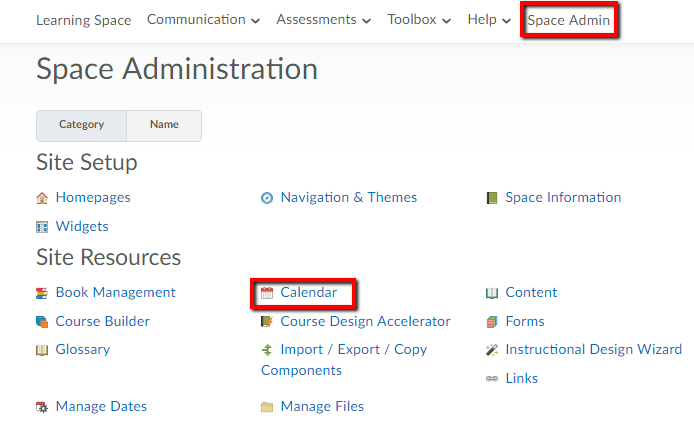 ---
1. Click Set Due Dates.


2. A new window will pop up, which lists all the items/content in your course.
3. Select the radio button next to the item in order to associate it with the chosen due date.
4. Click Add to complete the process and close the window.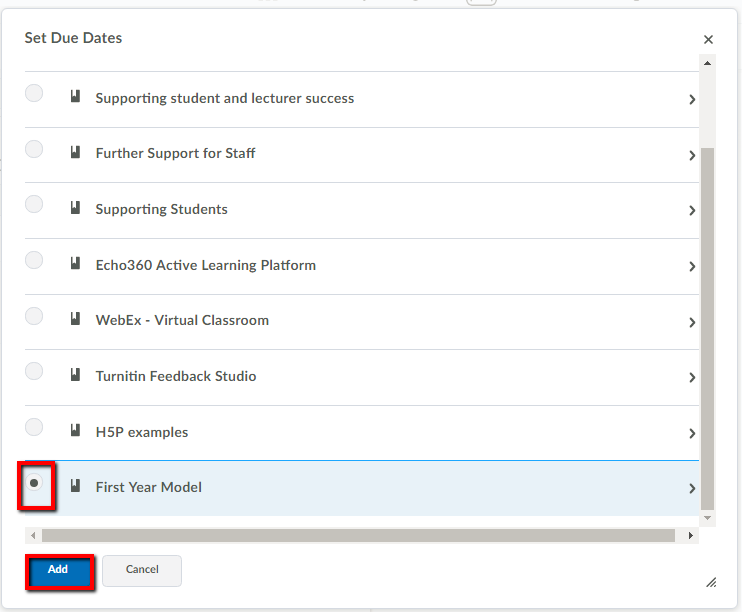 If you would like to set a due date on lower levels of categories (indicated with > on the right), keep clicking onto the > this will take you to the next level. The number of levels you have gone down is indicated at the top of the window.
---
By clicking, you will be taken to another area where you can edit the task.
1. Give a Title and Description.
2. Click No Due Date to set a due date of the task.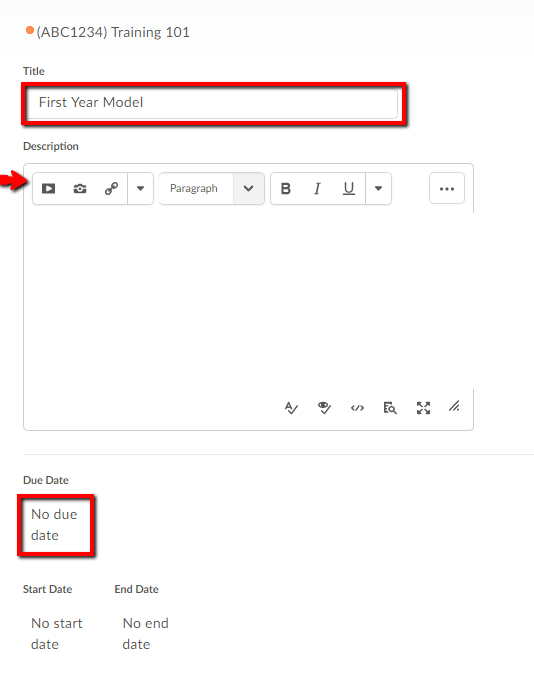 3. Set the due date by entering date and time.
4. Select No Start Date to set the date the task will be available in your VU Collaborate space, providing date and time.
5. Click on No End Date to set the last day the task will be available in VU Collaborate space, providing date and time.
6. Once everything has been set click Save.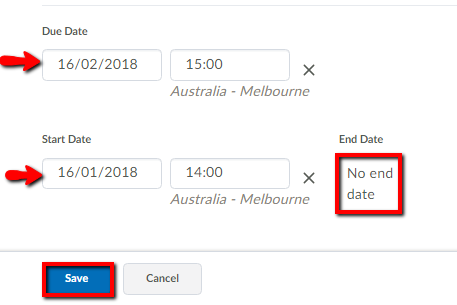 3.1 Edit due date
1. Once the item is saved, it is still possible to edit the due date.
2. Go into the Calendar area and click on the Event.
3. This will give you a pop-up window. Click Edit to go to edit the content.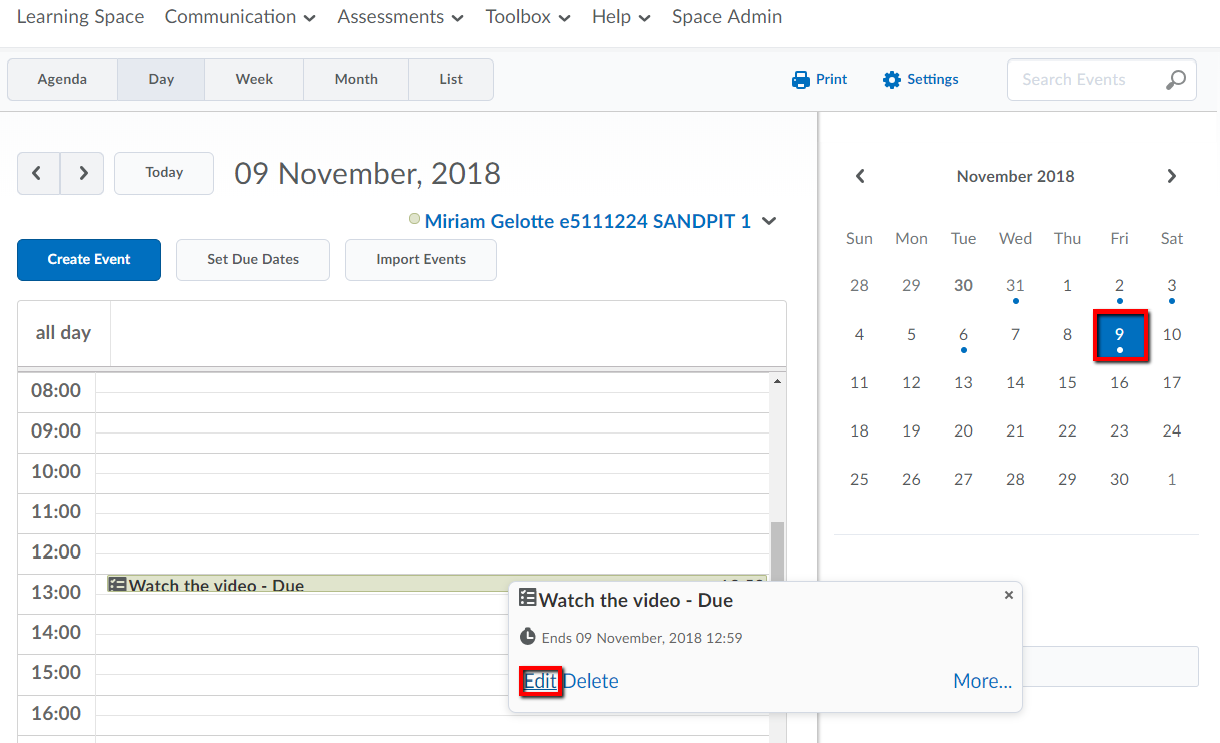 3.2 Delete due date
Deleting due dates follows a similar process to editing:
1. Click on the event in the calendar.
2. Click Delete.
3. Click Yes, when prompted to confirm.


3.3 Bulk Delete Calendar Entries
The Calendar tool now offers a Delete interface. Previously, it was impossible to bulk delete calendar items. This change enables users to multi-select and delete calendar items using the More Actions menu.
1. Select List to view all upcoming events.

2. Select the events you wish to delete by clicking in the checkbox/es on the left. You can then select More Actions and then Delete.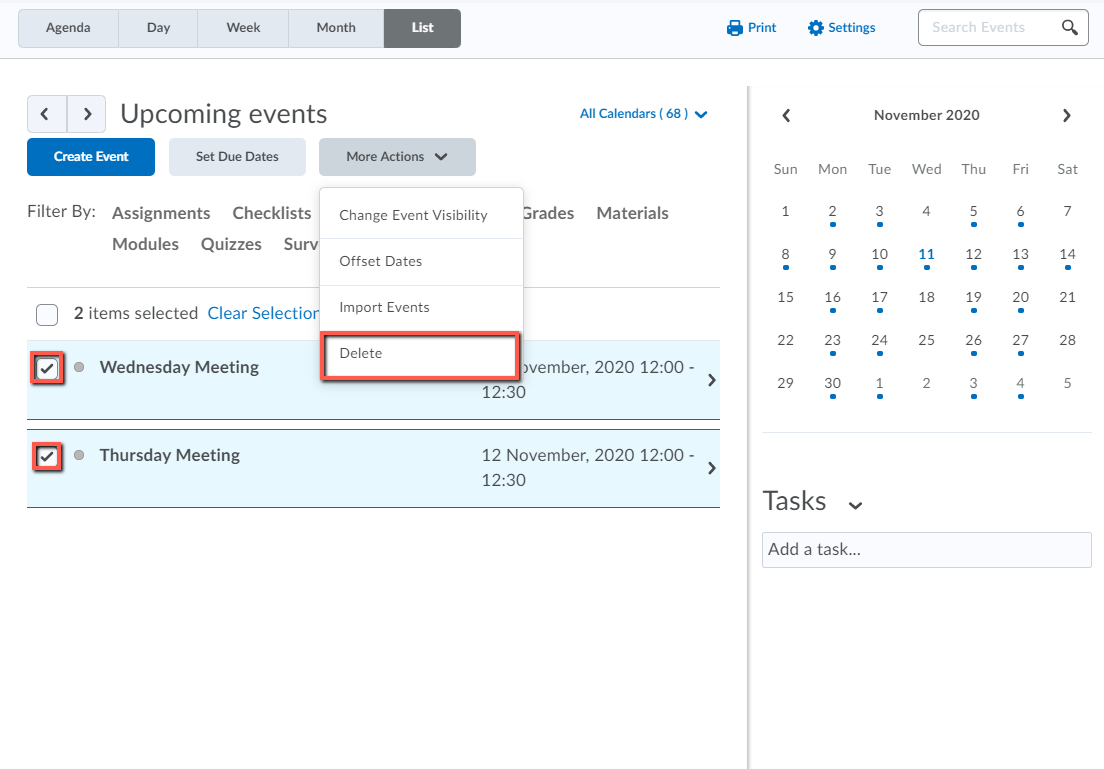 3. Confirm and delete the scheduled events.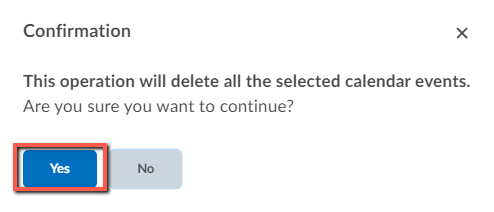 ---
Further Support

Visit the VU Collaborate Help site at https://vucollaboratehelp.vu.edu.au for up to date information and resources on blended learning or email This email address is being protected from spambots. You need JavaScript enabled to view it..
Contact ITS Service Desk on (03) 9919 2777 or via self-service http://servicedesk.vu.edu.au for further technical support.