Understanding the Classlist
The Classlist allows you to see who is enrolled in a Unit Delivery Space, check if students are online and send emails or instant messages. This guide lists the various features available within the Classlist tool.
Following are the steps to Understanding the Classlist:
---
1. Navigate to Space Admin.

2. Click Classlist, which is located in the Learner Management section.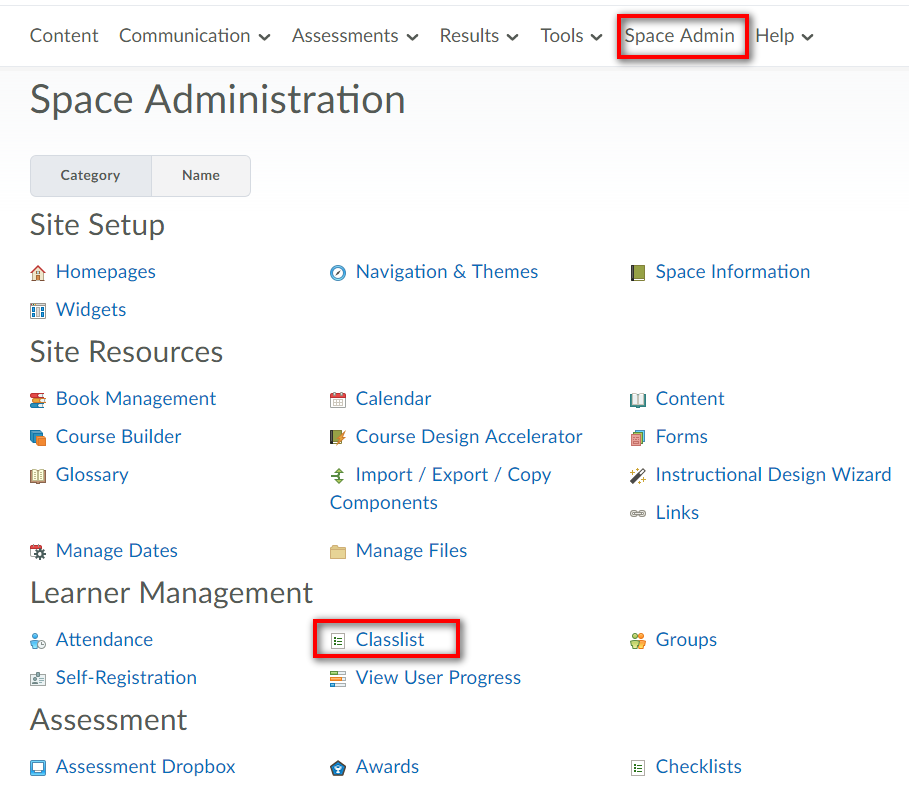 ---
In the Classlist you can:


1. Add Participants to enrol another staff member into the space. View the for more information.
Note: You are unable to manually add students to a space. This will occur automatically when VU Connect syncs with VU Collaborate (approximately 4 times per day).
2. View enrolment statistics which provide detail on enrolments and withdrawals in a unit delivery space.
3. Email all students in a space at once.
4. Switch between different lists - students, teaching staff, support staff, withdrawn students, and All (includes admin staff and all others from each list).

5. Choose to view Classlist information by User or Group.
6. Use search options, this will allow you to search for students and staff by name, role, flagged status, online status or dates of access.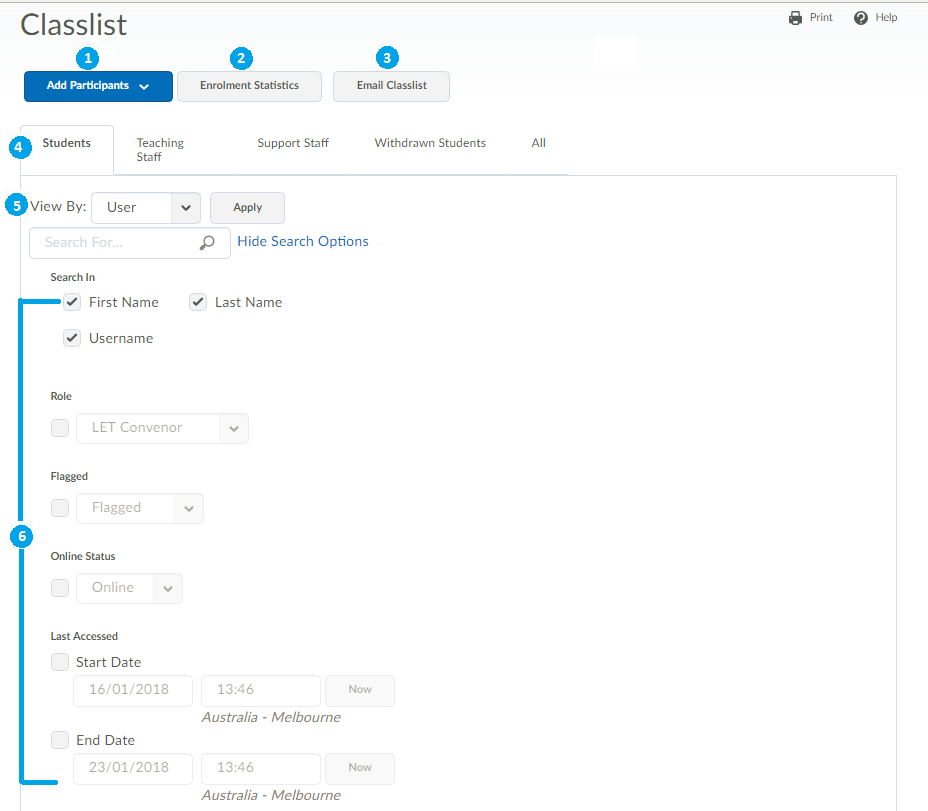 Note: When you email students, it is sent to their VU email address by default.
---
For more specific information about users enrolled in your Space, you can:


1. View a list of all participants enrolled in your Space.

You can either select the whole classlist to Email or Instant message, by ticking the box located underneath Email. Or if you want to select a specific box, tick the box located next to the users name.
2. Click Email to email the whole classlist or selected users.
3. Click Instant Message, to message users that are currently online.
4. Print the Classlist.




5. View whether participants are online by seeing the green online indicator.
6. View the Role of each participant and the time and date they last accessed your Space.


---
Further Support
Visit the VU Collaborate Help site at https://vucollaboratehelp.vu.edu.au for up to date information and resources on blended learning or email This email address is being protected from spambots. You need JavaScript enabled to view it..
Contact ITS Service Desk on (03) 9919 2777 or via self-service http://servicedesk.vu.edu.au for further technical support.