Search, Update or Delete a Space (VE)
From time to time you may be required to make changes to the core data of a delivery space. For example, changing a unit description. Searching for and updating a space is a very similar process to creating space. This guide will run through how to search for a unit space and how to make changes to the data already entered.
Step 1: Search for a space
---
1. Under the "Search For Units" section click search box and select Unit Code.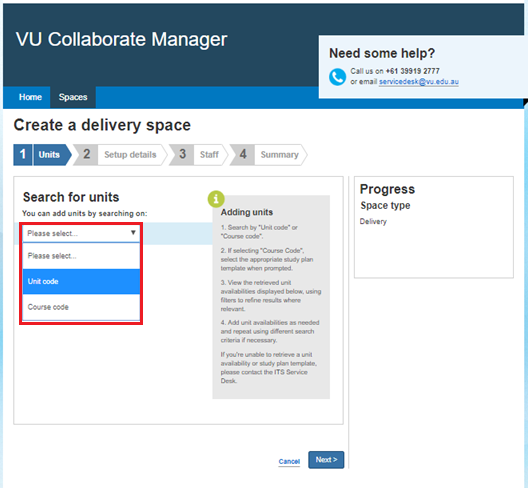 2. After selecting the Unit Code, select the Available Year.

3. Select the Study Period.
4. Enter the Unit Code and click Search.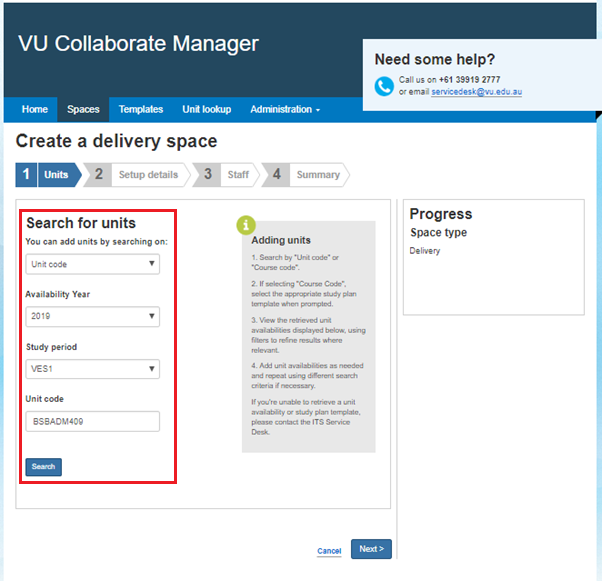 5. Select the unit Location
6. This will return all available units. Click Add All to include all available units or click the individual Add button to include single specific units.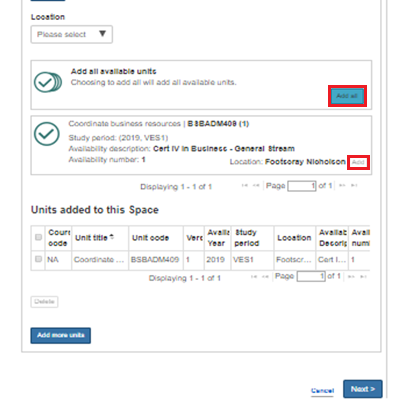 [Note: If you wish to add more units from other courses click Add More Units and search via the course or unit code.]
7. Once you are satisfied with the unit/s selected click next.
Step 2: Update a space
---
1. After clicking next on your unit selection you will be taken to the setup page for the space.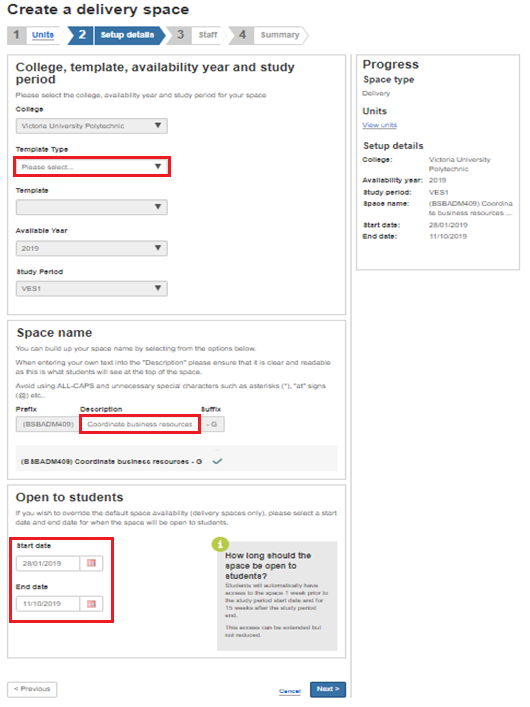 2. On the setup page, you can edit the Template Type, Space Description and, course dates.
3. Click Next.
4. From the staff page, you can edit the roles of staff that are enrolled in this space.
5. Once finished clicking next will take you to the summary page where you can save your changes.
Note: To arrange for a space to be deleted, please contact the ITS Service Desk.
---
Further Support
Visit the VU Collaborate Help site at https://vucollaboratehelp.vu.edu.au for up to date information and resources on blended learning or email This email address is being protected from spambots. You need JavaScript enabled to view it..
Contact ITS Service Desk on (03) 9919 2777 or via self-service http://servicedesk.vu.edu.au for further technical support.