Getting Started with the Dashboard and Library
This guide explains how to use the dashboard and library in Echo360.
Note: Please see Echo360 Active Learning Platform Introduction, to learn how to access Echo360. For more information about Echo360, also check our other help guides.
Step One: Using the Dashboard
---
The dashboard is the home page for Echo360, and contains a snapshot of the status of each of the instructor's sections.
1. The dashboard appears automatically when you log in. You can also click dashboard from the main menu to return to it. You can use the Term list located in the upper right corner to change which sections are being shown on the dashboard.




Note: By default, only Active Terms will show.
2. There is a range of options from here. For each unit listed on this page, the instructor can:
Quickly access the Last Class that occurred, or prepare for the next class.
See if the Next class will be streamed live (a grey LIVE badge appears with the class date).
Find out if students or other instructors have posted any new questions.
Notice how many students are struggling (falling below 60% of engagement as an instructor has defined it). Review the last class and prepare for the next class.
See how the engagement of the whole student roster of that section has changed over the semester, plus see the average engagement score.
Sort the view of this data by the term.


Step Two: Understanding the Library
---
The Library page is the repository for all of your content, whether or not it is currently published to a class or is available to students. This topic provides an overview of this page.

There are four ways content gets added to an instructor's Library page:
You are the primary instructor for a class and are identified as the instructor for the capture.
Captures created for the class automatically appear in your library. Furthermore, they remain there, even if removed from the class.
You upload content to your library.
You create or upload a presentation or video directly to a class.
If another instructor adds content to a class, it appears in their library but not in your library. If you would like to add this content in your library, request the other instructor share it with you, or you can download it from the Class list page and then upload it to your library.
Someone shares content with you. These appear in the Shared with me section of the Library page.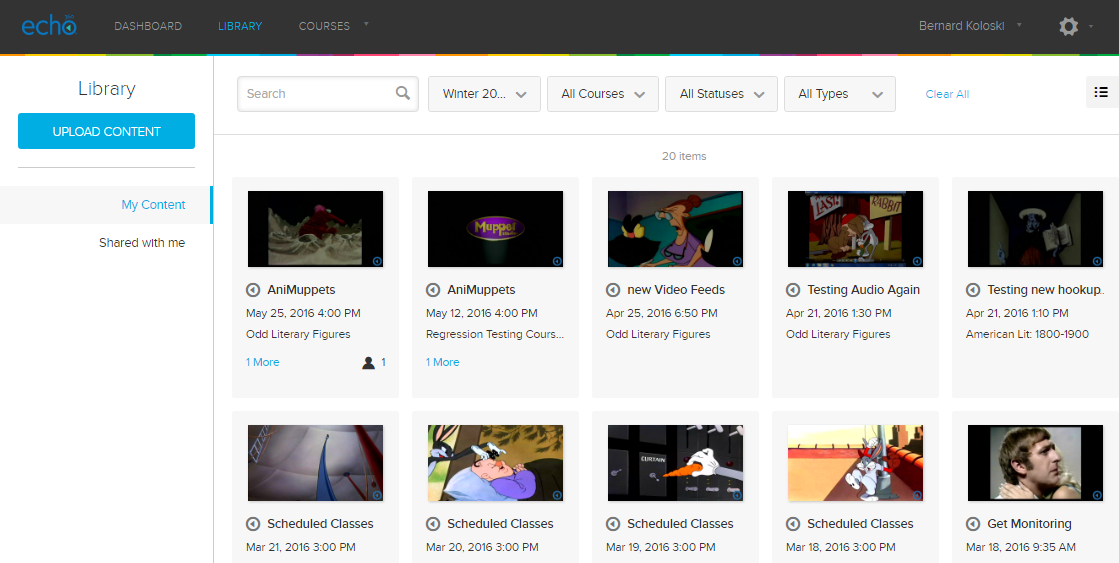 ---
Further Support
Visit the VU Collaborate Help site at https://vucollaboratehelp.vu.edu.au for up to date information and resources on blended learning or email This email address is being protected from spambots. You need JavaScript enabled to view it..
Contact ITS Service Desk on (03) 9919 2777 or via self-service http://servicedesk.vu.edu.au for further technical support.