Understanding Course and Student Analytics


For information on how to access Echo360, please see Echo360 Active Learning Platform Introduction.
The Analytics tab for a Course provides information and feedback regarding student engagement and classroom participation.
Instructors can view analytics for all classes in a course, for individual classes, and student engagement information about students for the whole course, or students for a single class. These analytics are filtered by engagement, attendance, content views, questions asked, notes taken, and overall participation.
Note: In Echo360ALP, Course refers to the groupings of Classes; in most cases, this will relate to a unit of study
Step One: Accessing Analytics
---
1. From your Echo360 dashboard, click Courses and then choose your desired course.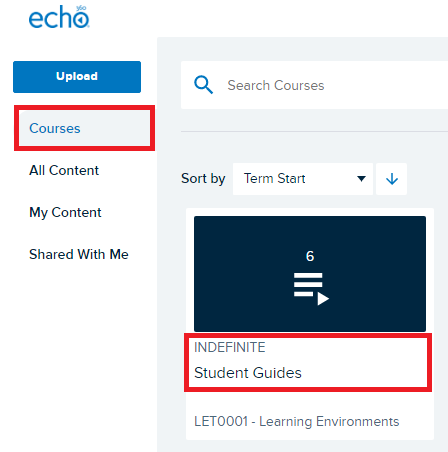 2. Click the Analytics tab.

3. The Analytics tab will show the analytics of all classes.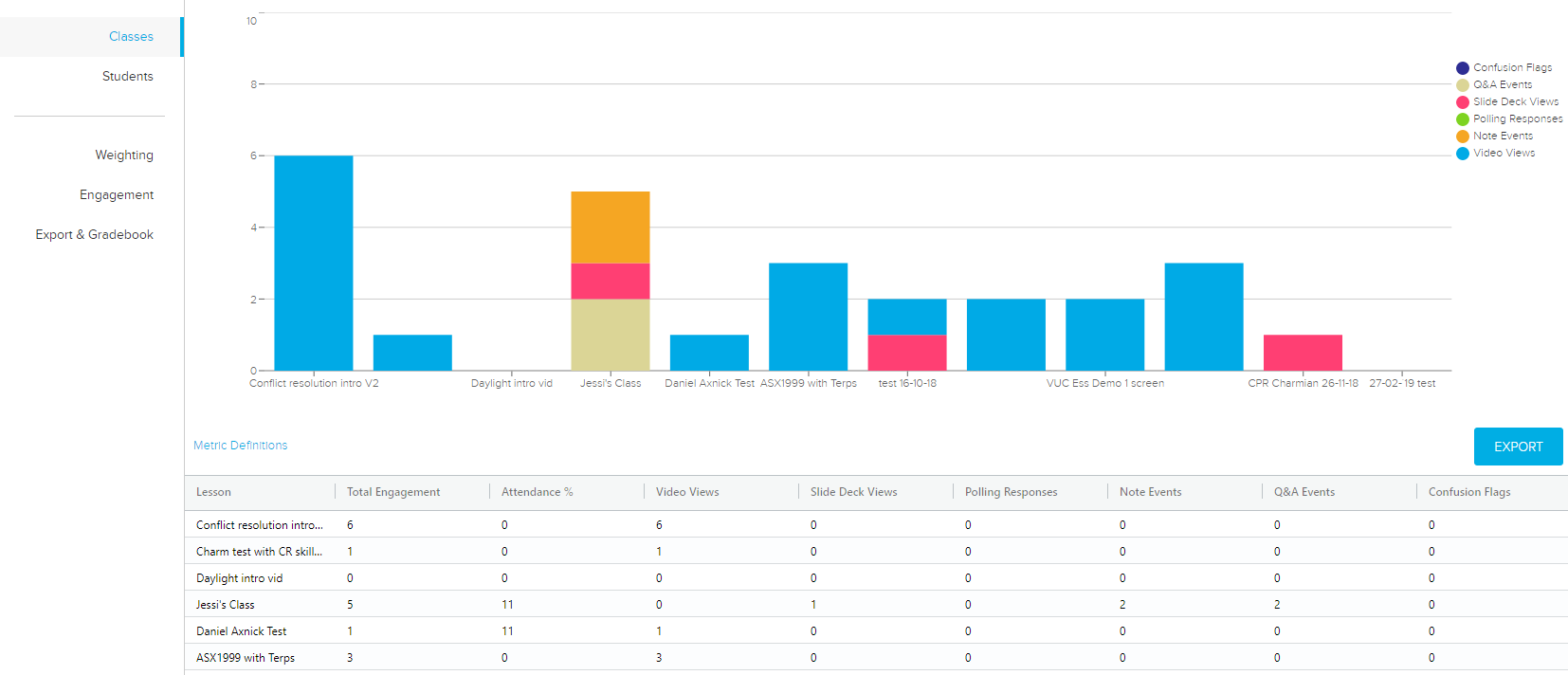 Hover over a metric label for a brief description of the value being shown.
See What do the analytics mean? for a detailed description of each of the tracked metrics, and how to view and interpret them for both classes and students.


Step Two: Utilising Analytics
---
The selections on the left side of the page allow you to select to view analytics for Classes or for Students.
1. Click students to see statistics for students. Statistics can be viewed for all classes or an individual class.

2. Click the dropdown arrow and choose a specific class for statistics for that particular class.
Clicking Engagement lets you customise the "importance" of certain aspects of participation, depending on what is most important to you as the instructor. This can help you identify which students are not active in the way you want them to be.
Instructors can customise what engagement means to them. They can select preset engagement profiles or customize individual metrics to achieve meaningful engagement scores.
Step Three: Analytics for Live classes
---
There are some student participation statistics that cannot be applied or are tracked differently for live-streamed classes, because Echo360 has no concept of a "time stamp" of a live-stream. For example, "video views" apply to a processed video, not to a live-stream. If the student views the capture of the class again later, they will get credit for a video view. The graph (shown in the Step 1 image) identifies time or location stamps for student activity in the class, but a live-stream doesn't have a trackable "time" until the capture is processed and published as a video. Notes word counts are tracked, as well as questions and responses. Activity participation and Presentation views are counted for any presentation also published to the class.


---
Further Support
Visit the VU Collaborate Help site at https://vucollaboratehelp.vu.edu.au for up to date information and resources on blended learning or email This email address is being protected from spambots. You need JavaScript enabled to view it..
Contact ITS Service Desk on (03) 9919 2777 or via self-service http://servicedesk.vu.edu.au for further technical support.