Echo360 (ALP) - Uploading Content to your Library
Any content you add to a class automatically appears in your Library. In fact, the My content section of your Library is the primary location for all of your content. It includes any media you have uploaded. If you have lectures in a lectures enabled theatre, it also includes captures for your lectures. You may want to upload content to your library to edit it or to hold it until you are ready to publish it to a class or share it with another user.

The file you upload must be one of the Supported Content Formats (see picture in Step Two) or it will not be uploaded or processed.
Tip: Troubleshooting: If you use a plug-in (such as ChemDraw) to generate equations, molecular drawings, or other items for your PowerPoint presentation, you may find these are altered when you upload a file. In this case, convert the PPT to PDF and upload the PDF.
Note: Exported graphics to PDF format is not supported. Some graphics programs will allow you to export or save a graphics file (.png, .jpg, .gif, etc.) as a .pdf file. While Echo360 will recognise it as a PDF and allow you to upload it, the media processing may look different or not work at all. The best practice is to upload pictures using the media slide.
Step One: Uploading Content to your Library
---
1. Click Library from the main menu to navigate to your library page. My content appears by default.
2. Click Upload, located in the top left corner of the library page.




3. When you go to choose your file for upload, use the location selection on the left to identify where the file you want to upload resides, then follow the prompts. If the file is saved locally, select 'My computer' at the top, then click the Select File button.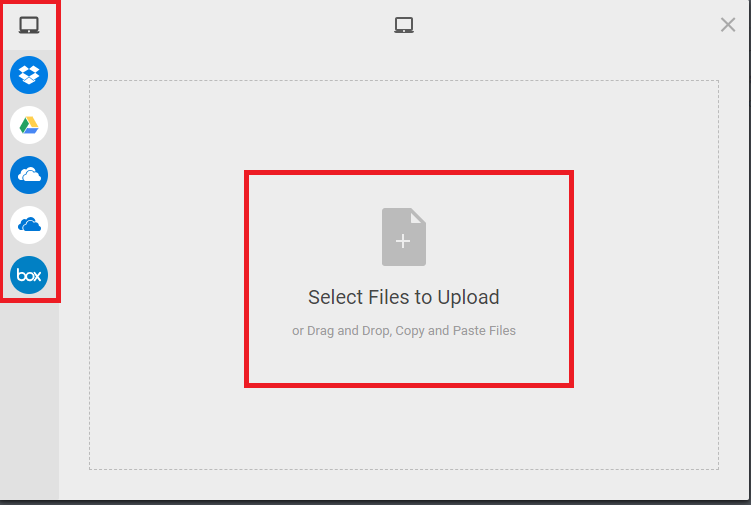 4. Once the file is identified, the window changes to provide an upload progress bar. When finished, the window disappears.

5. The newly uploaded file appears in the Library page, but is dimmed while it is processed. Once processing is finished, the menu changes to show the options for the content.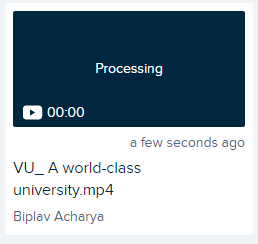 Step Two: Supported Content Formats
---
You can upload content for slides and presentations to Echo360 both from your computer and from popular cloud options such as Dropbox, GoogleDrive, Box, and OneDrive.
Note: See Adding Presentations to your Echo360 Class for more information.
The following content formats are accepted: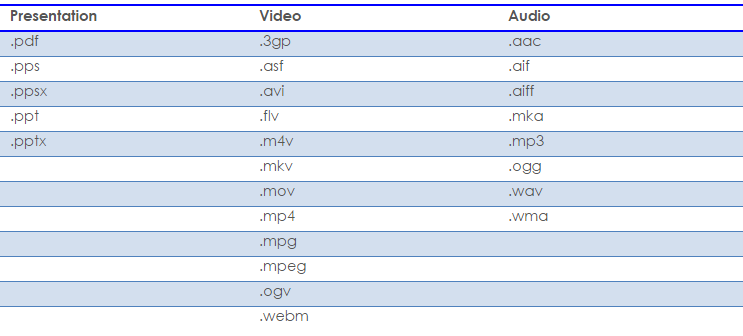 ---
Further Support
Visit the VU Collaborate Help site at https://vucollaboratehelp.vu.edu.au for up to date information and resources on blended learning or email This email address is being protected from spambots. You need JavaScript enabled to view it..
Contact ITS Service Desk on (03) 9919 2777 or via self-service http://servicedesk.vu.edu.au for further technical support.