Adding a Video to your Class and Selecting its Availability
A video can be the recorded capture of a past class, an instructional video you have recorded, or any other video that you want to share with students. Once added, you can change its availability or schedule it using an availability schedule, allowing the item to be viewed beginning on a certain date and/or for a set period of time.
Each class can contain ONE video. The effects of this are as followed:
You cannot add videos to classes that are generated by scheduling lecture captures for the section. The video slot for those classes is reserved for the lecture capture.
You can replace an existing video with a new one, but all associated data, analytics, notes, etc., for the original video are removed, although the video remains in your library.
If you need to provide multiple videos for a particular class, create a new class with the same date or title to contain the video.
Step One: Add a Video to a Class
---
1. On the Echo360 Dashboard, select Courses.

2. Find the course containing the class you want to edit and click on the title.

3. Icon definitions:
Video - A drop-down menu with quick links to various video settings.
Presentation - A drop-down menu allowing you to copy, edit or hide a presentation.
Content - A button used to add content to a class.
4. The icons on the right side of a class entry, regardless of colour, indicate what content already exists for the class. If the class does not yet include any video or presentations it will only have the content icon. Click the content ico4 to add a video or presentation.

5. Select Add content, then click Add Video.





6. From the Add a video dialogue box, select Upload a file or Import from your Library.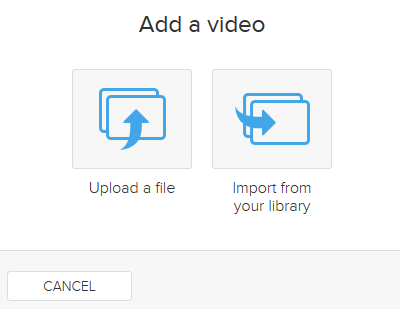 7. If you select Upload a file, the upload window appears. You can upload from your Desktop or Phone. You can also upload from Dropbox, Google Drive, OneDrive, and the Box mobile applications.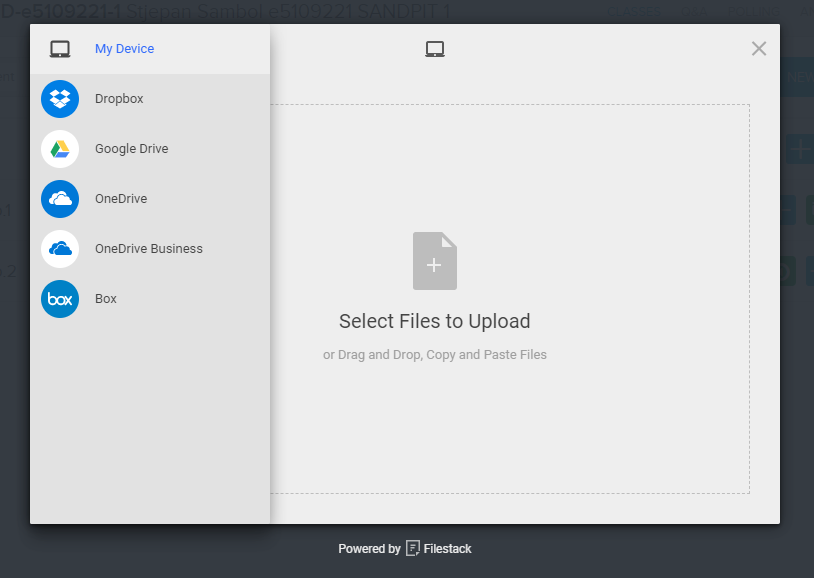 If you select Import from your library, a library content section list appears, allowing you to select the item to publish to the class.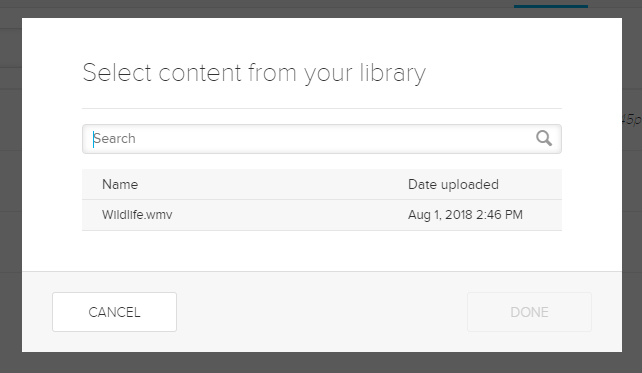 8. The selected video content now appears in the class. If you uploaded a video, it will need to finish processing before you or students can view it in the classroom.
Tip: After adding the video, add tags to it so that you can easily find it later in your library. Click the video icon in the class content list, then select Edit details from the menu that appears. Enter tags in the tags box.
Step Two: Making Content Available (or unavailable) to Students
---
Even after you have published your content to a course, you can make an individual video or presentation available or unavailable immediately or on a specified date. To make content available or unavailable to students:
1. Find the course containing the class you want to edit and click the title.
2. The content icons in the class list indicate the current availability status:
Grey presentations or video icons indicate that this content is not available to students.
Green presentations or video icons indicate that the content is available to students.
3. Click the video icon to show a thumbnail of the content and a menu of options for that content. (The same can also be done for the presentation icon).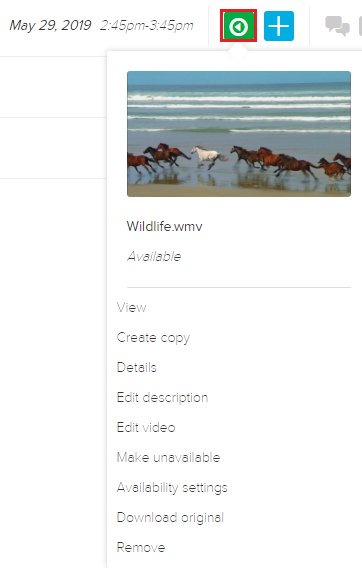 4. Select Make available or Make unavailable (depending on current availability status).
5. Click Ok to confirm your choice for this file.
Tip: You can also select Availability Settings and schedule future start and/or end dates for the content's availability.
---
Further Support
Visit the VU Collaborate Help site at https://vucollaboratehelp.vu.edu.au for up to date information and resources on blended learning or email This email address is being protected from spambots. You need JavaScript enabled to view it..
Contact ITS Service Desk on (03) 9919 2777 or via self-service http://servicedesk.vu.edu.au for further technical support.