Echo360 (ALP) - Introduction to
Active Learning Platform
Echo360 ALP is an updated version of Echo360 named ReVU. If you are familiar with ReVU, you will be glad to know that Echo360 ALP has been made easier to use, more interactive and more pleasant to view. The standard aspects of Echo360 that you know how to use such as lecture capture, personal capture, and editing videos, are still available. One key difference that saves you time is that you no longer have to book a recording if your class is a lecture, it is now done automatically.


Step One: Accessing Echo360 ALP
---
To access Echo360 ALP, go to your unit in VU Collaborate. The Home page will have a widget on the right-hand side shown as below.

1. Log in to VU Collaborate and navigate to your unit space.
2. Click on Lecture Recordings and Presentations.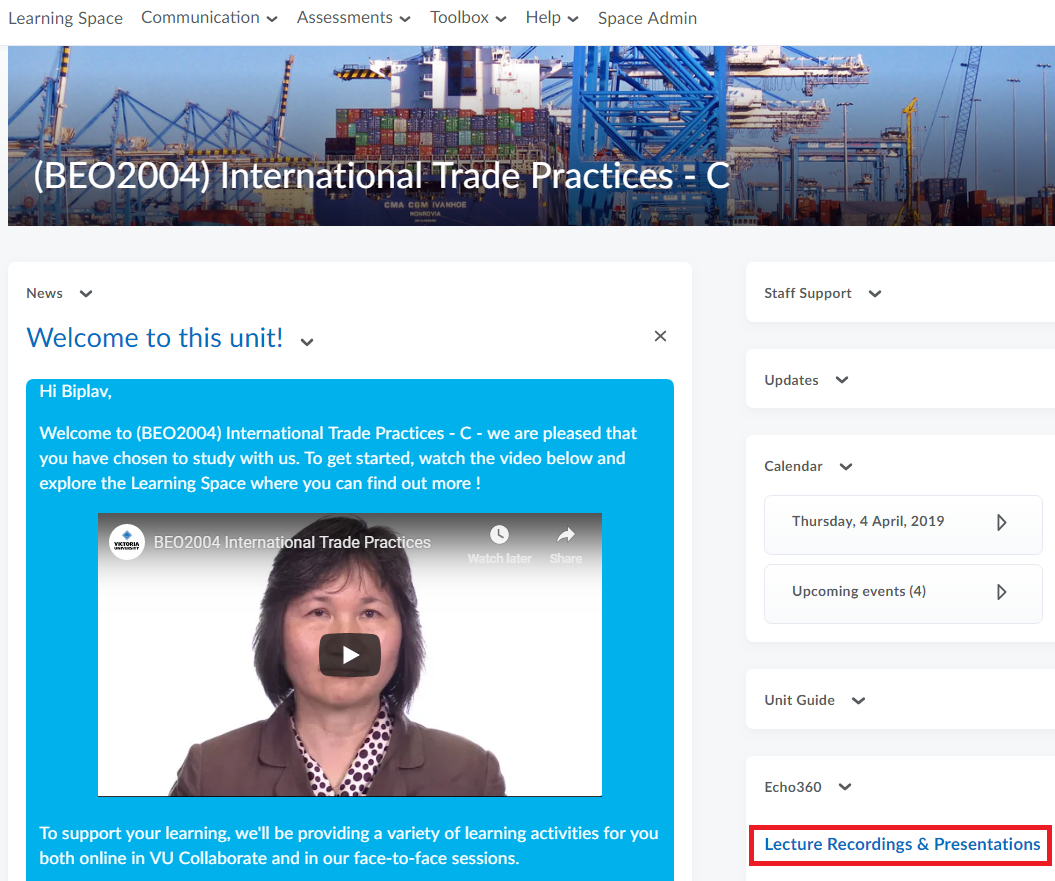 When you get into Echo360 ALP, you will be taken straight to your Dashboard which gives you an overview of your units. If you only have one unit, you will be taken directly to that unit.


3. Click on the relevant unit to enter a unit.




4. Click on either the view video or presentation icons

to view the desired content.

Step Two: Linking Echo360 ALP Content into a VU Collaborate Space
---
Once you have found your way around Echo360ALP and created your content, it is a simple process to link it to your space in VU Collaborate.
1. Navigate to the space that you would like your video content to appear, and select the module you would like to place it in.
2. Click Add Activities and from the dropdown, select External Learning Tools.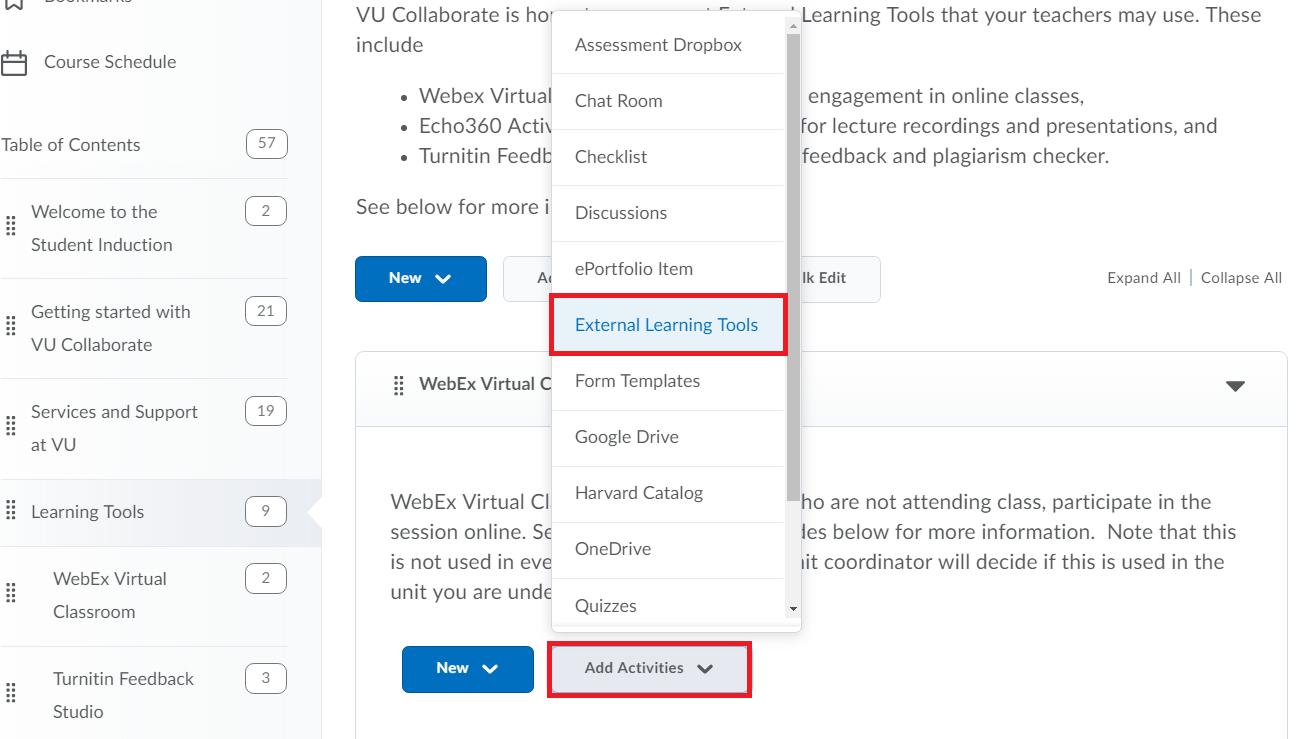 3. From the options of external tools, select Echo360 Active Learning Platform. This will create a topic entitled Echo360 Active Learning Platform.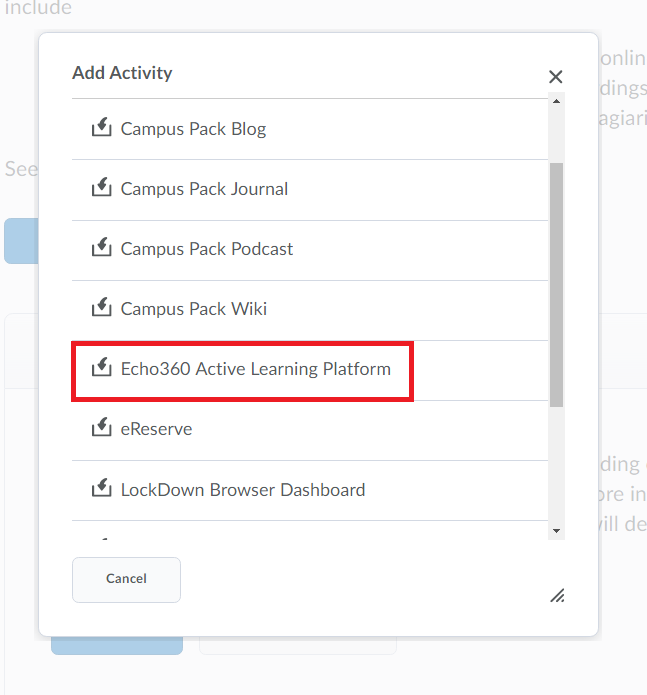 Step Three: Edit Properties
---
1. Navigate to the Echo360 Active Learning Platform item created in your Module and click on the drop-down menu next to the item.


2. Select Edit Properties.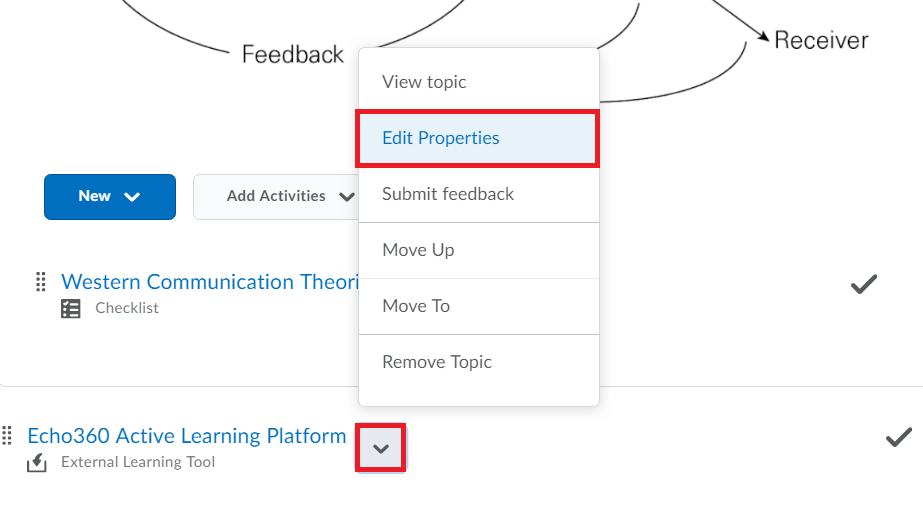 3. Tick the checkbox beside Open as External Resource.


4. Finally, check if the Echo360 ALP content is linked by clicking on it in your unit space.


---
Further Support
Visit the VU Collaborate Help site at https://vucollaboratehelp.vu.edu.au for up to date information and resources on blended learning or email This email address is being protected from spambots. You need JavaScript enabled to view it..
Contact ITS Service Desk on (03) 9919 2777 or via self-service http://servicedesk.vu.edu.au for further technical support.