Echo360 (ALP) - Removing and Downloading Content from a Class
If you have already delivered a presentation or video in class, it is better to make it unavailable rather than removing it. Making an item unavailable removes it from the class, but the content itself remains in your library and can be published again to a section, or shared with an individual.

You cannot remove content that was published to the class by another instructor. You also cannot remove appliance-generated videos (captures of the lecture) for the class. You can make these items unavailable for student viewing as needed. Removing content also removes any student notes or bookmarks, as well as class Q&A and all analytics associated with the item.
Note: See Adding a Video to your Echo360 Class and Selecting its Availability for more information about this.
Step One: Removing Content from a Class
---
1. On the Dashboard, select the relevant course you want to edit from the Courses tab.

2. The class list page appears. Click the Content icon to show a menu of options for that content.




3. Select Remove. A confirmation message appears, warning you that associated items such as bookmarks, questions, student notes, and analytics are deleted from the content if you remove it. if appropriate, click OK. The content is removed from the class but remains in your Library.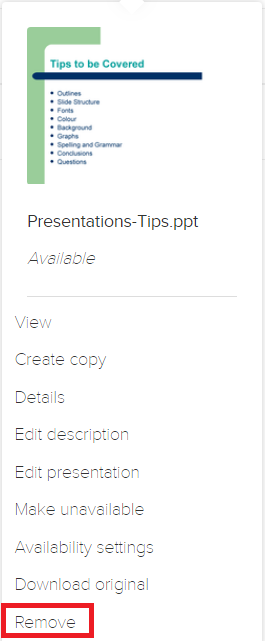 Step Two: Downloading Content from a Class
---
You can download content from Echo360 from the Class List page if you need or want a local copy of the media. This also allows you to download a local copy for offline viewing, or to upload the content so it appears in your own Library. The file that is downloaded will be the file that was originally uploaded. It will not include any added slides and will show slides if you have deleted them within Echo360. If the file was created in Echo360, the Download option is greyed out as these presentations do not have an originally uploaded file to download.
Note: When downloading presentations, the item downloaded is the original file that was uploaded.
To download original content from the class list page:


1. On the Dashboard, select Courses and click the course with the class you wish to edit. The class list page appears.
2. Click the content icon to show a menu of options for that content. (Clicking the icon opens the classroom page with that item maximised for viewing.)

3. Click Download original.
Note: Depending on your browser settings, you may be prompted to save the file to a specific location, or the browser may automatically save it to your Downloads folder.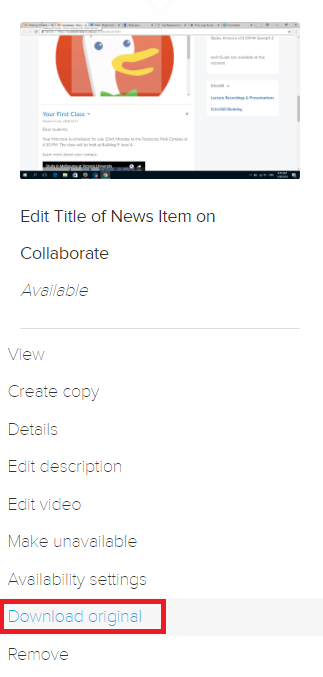 ---
Further Support
Visit the VU Collaborate Help site at https://vucollaboratehelp.vu.edu.au for up to date information and resources on blended learning or email This email address is being protected from spambots. You need JavaScript enabled to view it..
Contact ITS Service Desk on (03) 9919 2777 or via self-service http://servicedesk.vu.edu.au for further technical support.