Recording a Video Using Panopto for Windows
Panopto for Windows is very small and very easy to install. It can only be installed on computers using Windows 7, 8.1, or 10 (32 and 64 bit). For detailed steps on the installation process please refer to the Installation Guide.
Below are the steps to recording a video on Panopto in Windows:
There is now Failsafe Recording, which ensures that no content will be lost if your browser or computer experiences an unexpected failure. For example, recording with Capture and your computer reboots due to pending Updates, the recording will be uploaded the next time you load a capture in the browser.
---
1. Once Panopto is installed, log into your VU Collaborate space and click on Video.



2. Next click on the Create button at the top of your page. Select Record a New Session.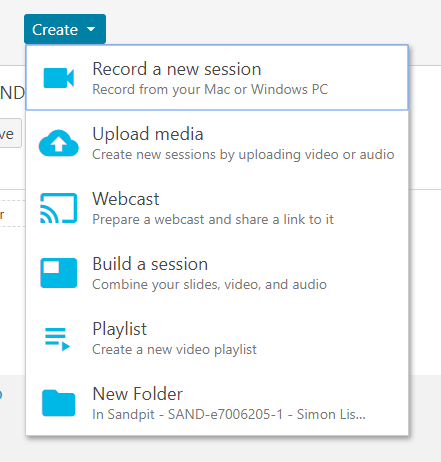 3. Click on Open Panopto in one of the two prompts that may show up, to launch the recorder.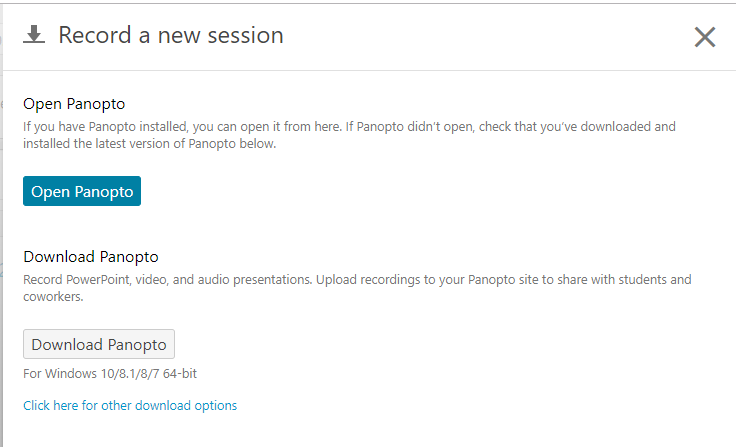 You can also open the Recorder directly from your computer app and login.
---
1. When you first log in to the recorder you will be prompted with three different tours that further explain all of the different areas of the recorder.
2. The first tour will go over the 3 steps to recording.
Step 1: Name your recording
Step 2: Choose your sources
Step 3: Start recording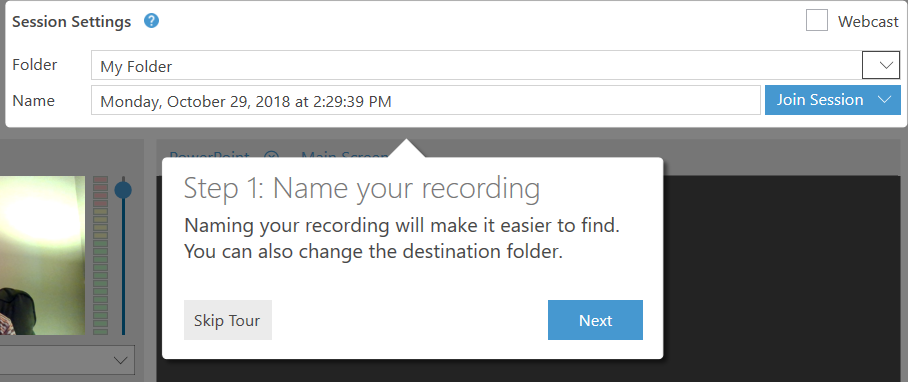 3. The second tour will go over the Primary source settings:
Capture computer audio: Use this setting to capture audio from your PC applications
Audio volume: The color bars show the volume of the audio being captured. Too loud or too quiet? Use the slider to adjust the volume

4. The third tour will go over the Secondary source settings:
Video resolution: Controls the size of the video that is captured
Framerate: A higher number of frames per second (fps) that captures results in a smoother motion
Bitrate: Controls the file size of the resulting video. Larger files are able to capture more detail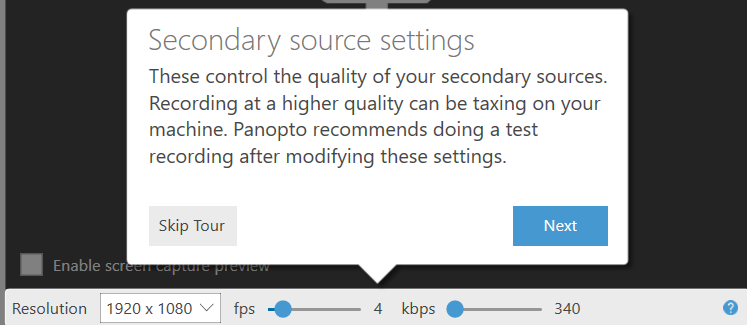 You can skip the tours and always go back and click on the blue info button to get the information again.
---
1. Click the drop-down arrow so that you can set the folder where the recording will be saved.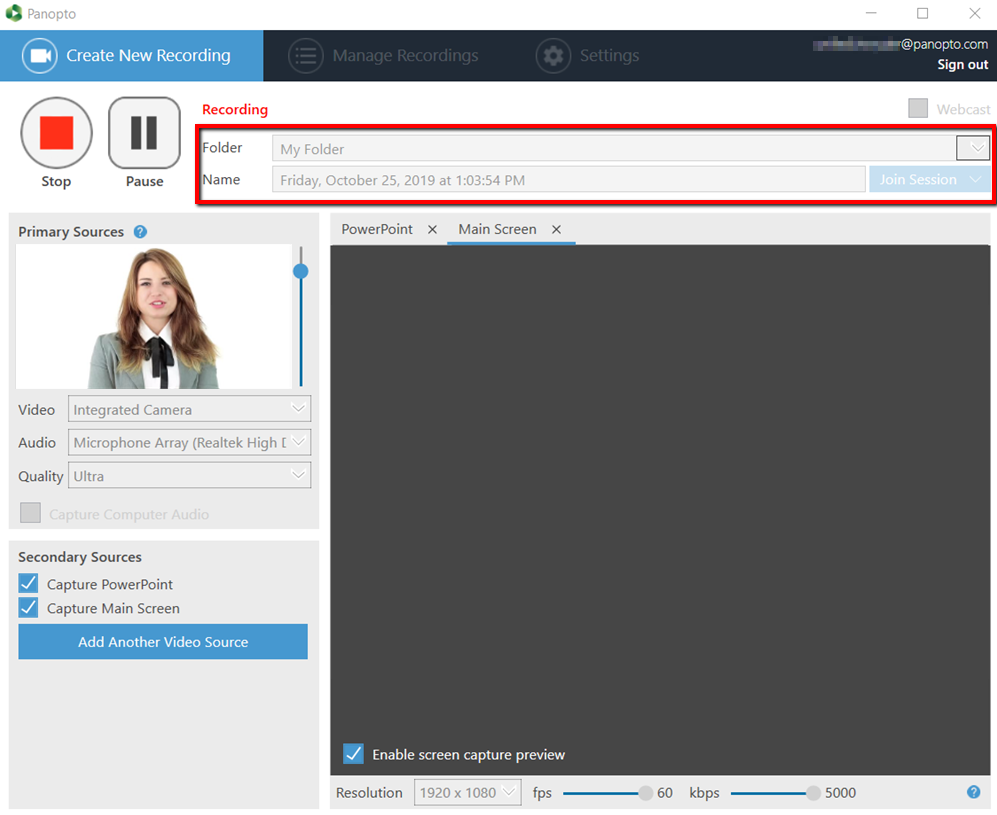 2. You can have the option to name your video here as well. If you do not name your video, the title will automatically be the date and time it was recorded.



---
1. Under the Primary Sources, select the drop-down under Audio. Select a microphone that is connected to your computer. You must select a primary audio source for a successful recording.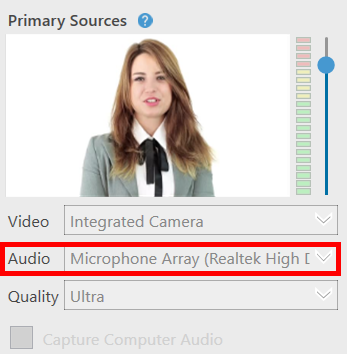 2. After selecting your audio, test your audio by talking in a normal voice to test the volume. You should see a few green bars appear as you talk. If you don't see any, or see the red and yellow bars highlighted, adjust the volume by using the slider.



3. If you would like to record a video of a presenter, you can select a primary video source under the Video drop-down. Although this is optional, most people prefer to see the person who is talking.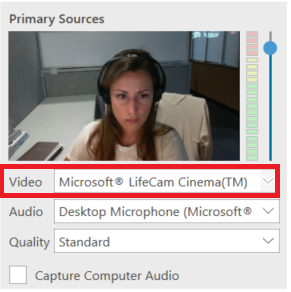 If you want to record a video and audio, not your screen/monitor or a PowerPoint, these three things are all you need to select. An example of this type of video would be a welcome video that is in the Getting Started module in VU Collaborate delivery spaces.
4. Quality Setting: There are three different quality settings available to help you determine what will be best to record a high-quality video.
Standard Quality:
Audio Only - 64 kbps
Primary Video Resolution - Up to 640x480
Primary Video and Audio - 600 kbps
Primary Video, Audio, and Secondary Video (640x480, 10 FPS, 340 kbps) - 1240 kbps

High Quality: This is the recommended option.
Audio Only - 96 kbps
Primary Video Resolution - Up to 1024x600
Primary Video and Audio - 1000 kbps
Primary Video, Audio, and Secondary Video (1024x768, 15 FPS, 1000 kbps) - 3031 kbps

Ultra Quality:
Audio Only - 128 kbps
Primary Video Resolution - Up to 1280x800 (typically 720p)
Primary Video and Audio - 1500 kbps Secondary Video (1920x1080, 19 FPS, 1500 kbps) - 4664 kbps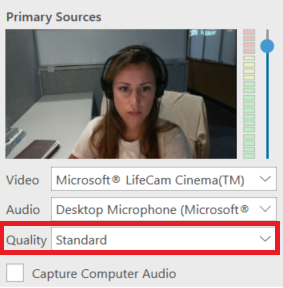 The best setting to use is High Quality for VU Collaborate.
---
1. After you have selected your video and audio inputs, you can choose to record what is displayed on your screen. You can select the checkbox to preview your screen before recording.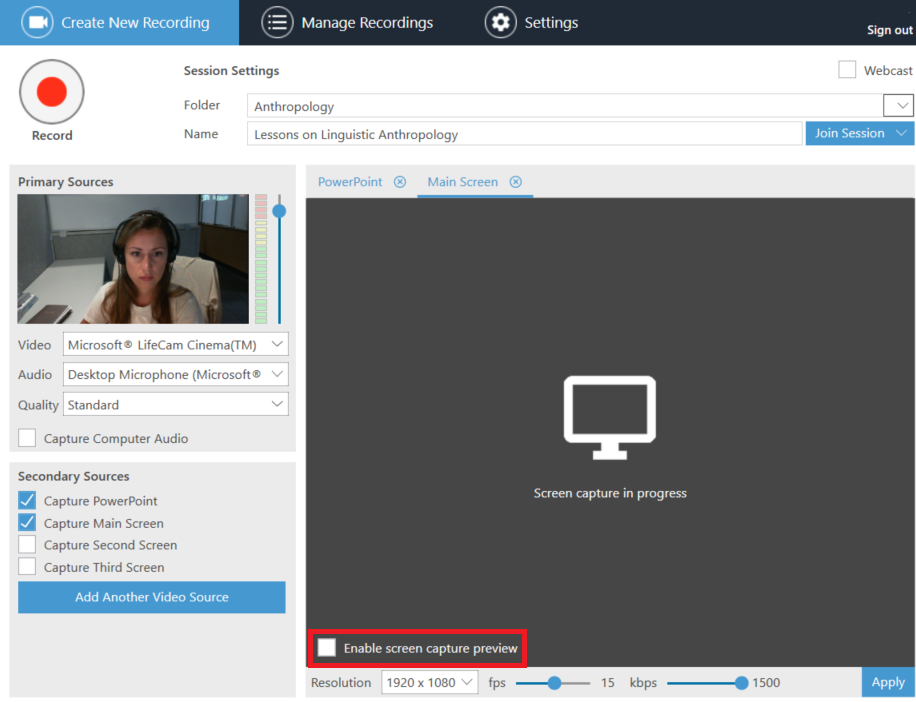 If you want to record a video and audio, not your screen/monitor or a PowerPoint, untick all of the Secondary Sources. An example of this type of video would be a welcome video that is in the Getting Started module in VU Collaborate.

2. You can also add an additional video source here if you have more than one camera plugged into your computer.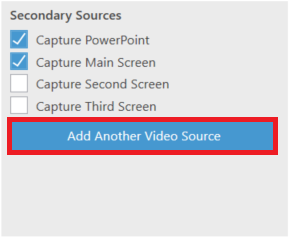 3. To adjust screen capture resolution, click the drop-down next to Resolution and choose the resolution you desire.
If you select a smaller resolution it will make items on the screen appear larger in the final recording.These djustments are optional, you can use the default settings if you do not wish to make any changes.


4. You can also adjust the fps (frame rate per second) by dragging the sliders. For a lot of movement on the screen an fps of 15 is recommended, and for showing a video during screen capture an fps of 30 is recommended. Not selecting a high enough fps can cause the secondary video to appear choppy.




5. The kbps (kilobyte per second) will adjust automatically based on the settings for resolution and fps.




6. Click Apply to save changes.
7. PowerPoint: You can select a PowerPoint animation if you have one. Note: If your PowerPoint contains any motion on the slide, embedded video in the slide, or someone is annotating over the slide, then screen capture (Capture Main Screen) must be selected to be able to capture that content.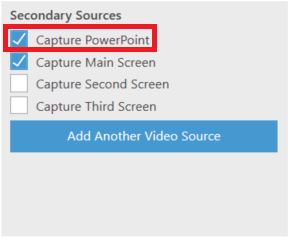 8. You can also open a presentation from the recorder. Click on the PowerPoint tab in your secondary sources, then click on Open a Presentation to launch PowerPoint.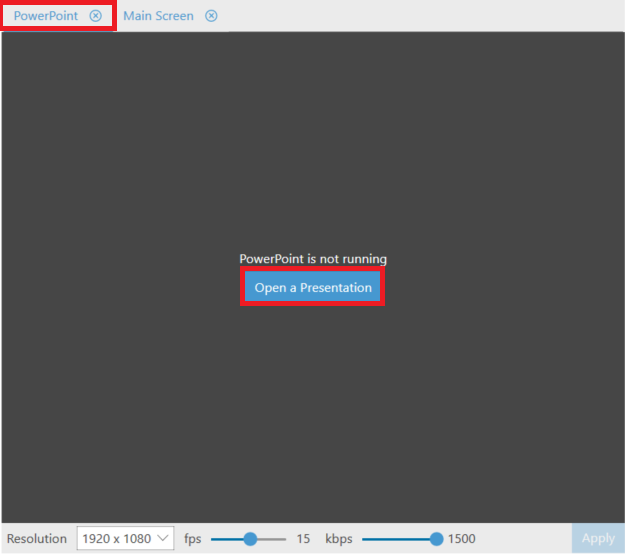 9. After you open a presentation, you will be prompted with a selection box asking if you want PowerPoint to start presenting as soon as you click on Record.
In order to properly record PowerPoint presentations, after you have launched PowerPoint, you must have it in full-screen presentation mode.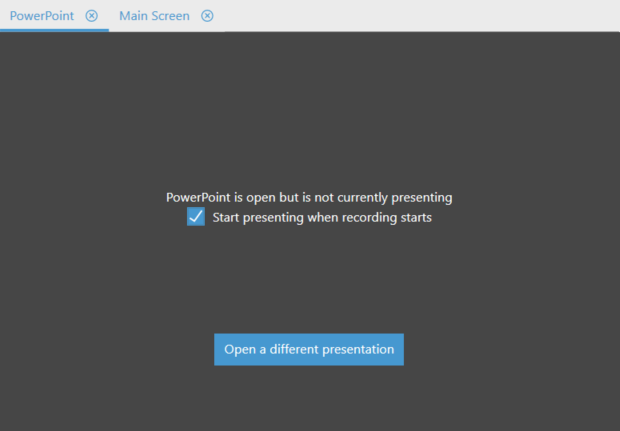 ---
1. Click on the red Record icon. Once your recording has started, that icon will change into Pause and Stop.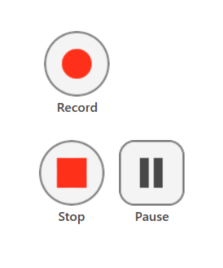 2. Click Stop to stop the recording. You will have the option to upload the recording or delete it and start again.
3. Click the Pause button to have a section of your recording automatically edited out. When the recording is paused, Panopto is continuing to record, but that section will be edited out of the final version. You can always get this content back by using the editor.

4. You can use Panopto for Windows hotkeys to start a recording, pause and stop, all with a few keys so you don't need to minimize the content you're recording to click the buttons.


Record: F8 Key
Pause: F9 Key
Stop: F10 Key
---
1. Once everything has been recorded and you have stopped your recording, you will be taken to the Manage Recordings page.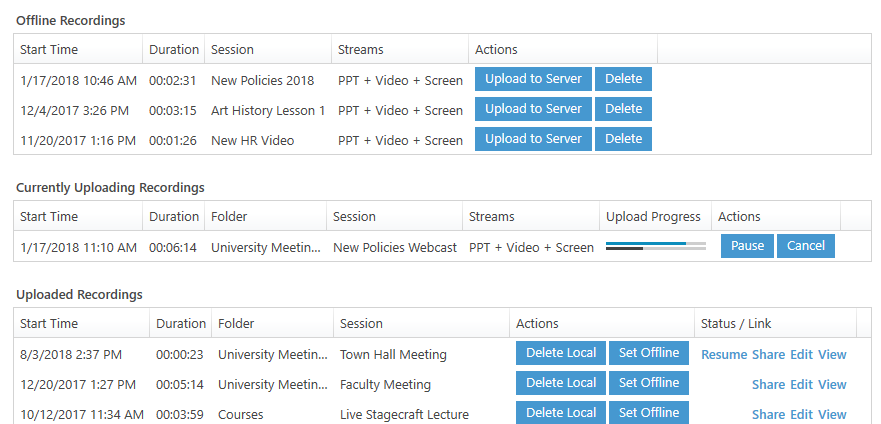 2. Offline Recordings are recordings that do not have a folder selected in Panopto, so they are only on your computer. You can select Upload to Server to select a folder and add them to your video library.
3. Currently Uploading Recordings will show the video that you just completed and its status.
4. Uploaded Recordings will show the recordings that you have already recorded, picked a folder for, and uploaded to the server. If you have access to the video in the library, you can open the video or settings using view, edit, or share. You can also continue recording to the same session by selecting resume. And if you need to make space on your computer, you can delete the local files, as long as you no longer need them.
It is possible to delete recordings. If they have been uploaded already, you can delete local and the recording will still be located on the server. If you delete a recording that has not yet been uploaded, that recording will be lost.
---
1. There are two different warnings that may appear while you are recording. These are for low audio and low disk space. For example, if your audio isn't working you will see a banner at the top of the recorder and a pop-up on the desktop.




2. These notifications are to help you resolve the problem so you can go back to recording a high quality video.
---
Further Support
Visit the VU Collaborate Help site at https://vucollaboratehelp.vu.edu.au for up to date information and resources on blended learning or email This email address is being protected from spambots. You need JavaScript enabled to view it..
Contact ITS Service Desk on (03) 9919 2777 or via self-service http://servicedesk.vu.edu.au for further technical support.