Using Discussions
This guide shows how to create and manage discussions, forums and threads in your space content. It is helpful to provide a central repository for questions, comments and to encourage online socialising amongst students.
To see a short video on how to create a discussion forum and discussion topic, see the video below:
Below are the steps to use Discussions:
---
1. Click the Communication tab, then select Discussions.



Tip: Setting up a Forum and Topic: forums are used to organise your discussion topics into categories. You must create a forum before you can create a topic as all topics belong to forums. For example, week one would be a forum and within the week one forum, there are discussion topics relevant to that week.
---
1. Click New, then New Forum.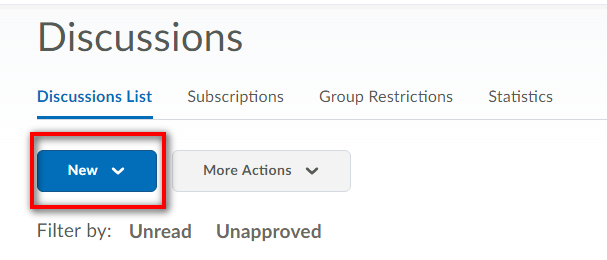 2. Give the discussion forum an appropriate Title and Description.

3. When finished click Save and Close.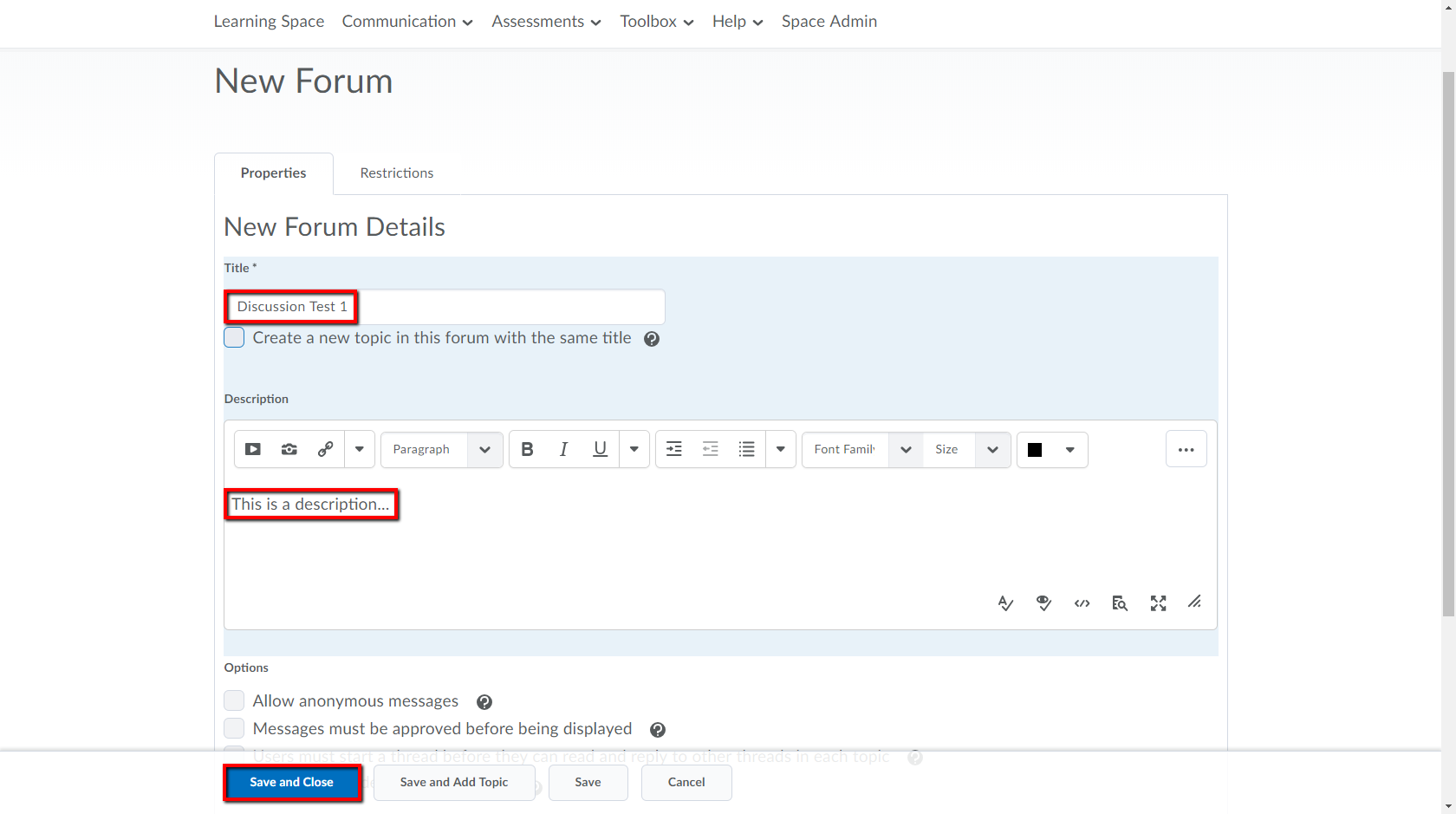 ---
1. Click New Topic.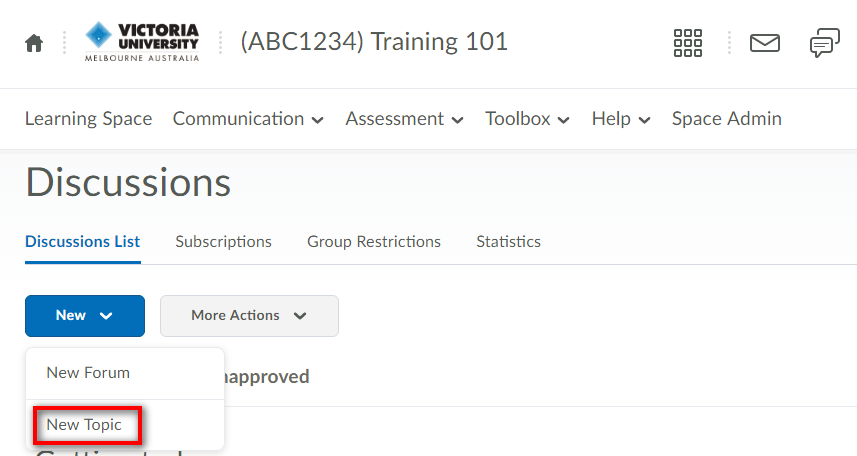 2. Give the discussion topic an appropriate Title and Description.

3. Select which forum you would like to attach the topic to, from the dropdown list. In the example below, we have picked General Discussion Forum for the Unit.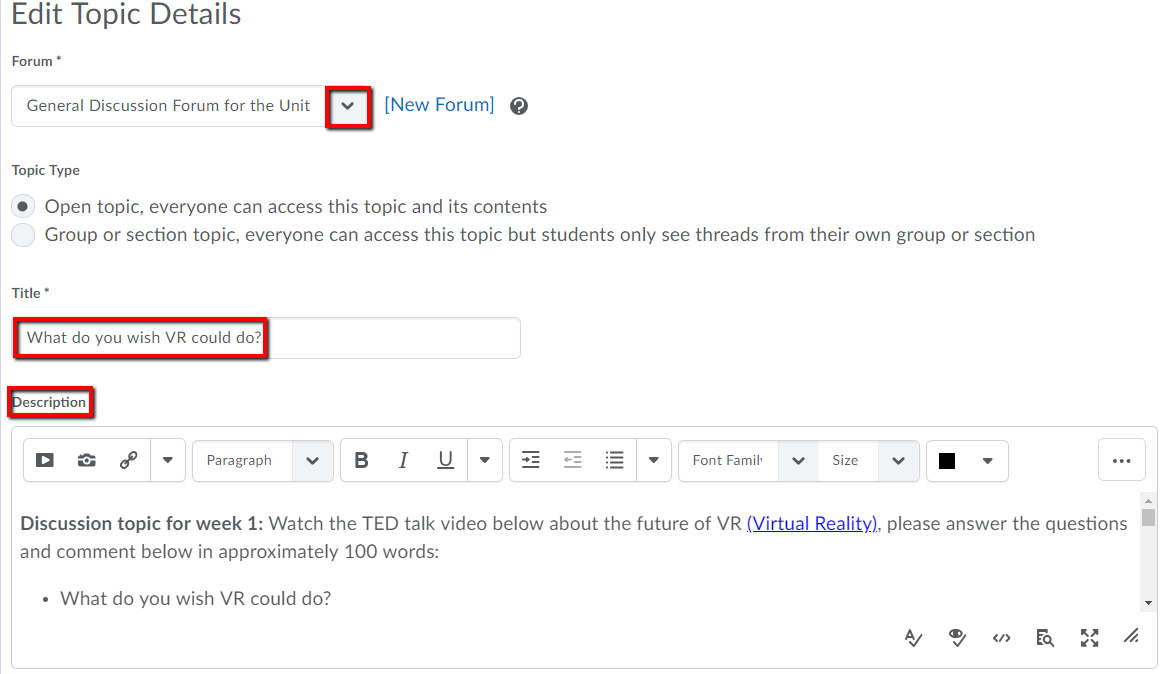 ---
You can select different Visibility and Locking Options in the Availability section. Visibility settings control when the forum or topic can be viewed by the users. Locking Options control when users can contribute to the forum or topic.


1. Edit Options for the topic, in this example we have ticked that a user must compose a message before participating in the topic.

2. You can change the Availability and Locking Options manually or you can use the specific date range options to make changes automatically.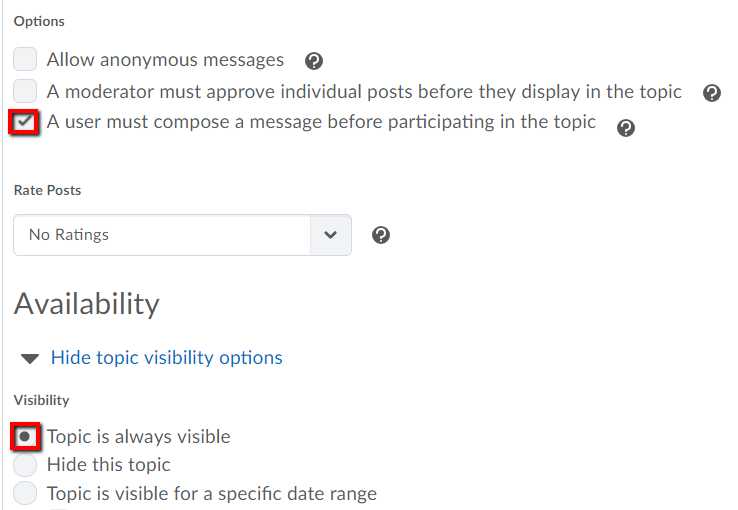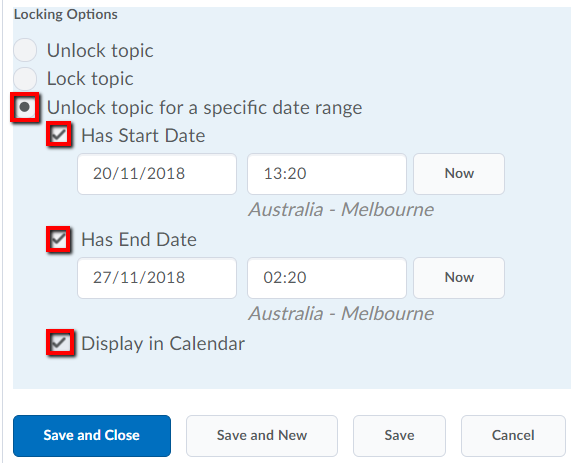 3. Click Save.

4. Click the Assessments tab.




5. Associate with the appropriate Grade Item. See Numeric Grade Item for information on how to set this up.
6. Enter a Score Out of.
7. Select how you would like to assess the individual messages from the options below.
8. Click Save and Close when finished. To grade this completed topic, see Assessing and Grading Discussions.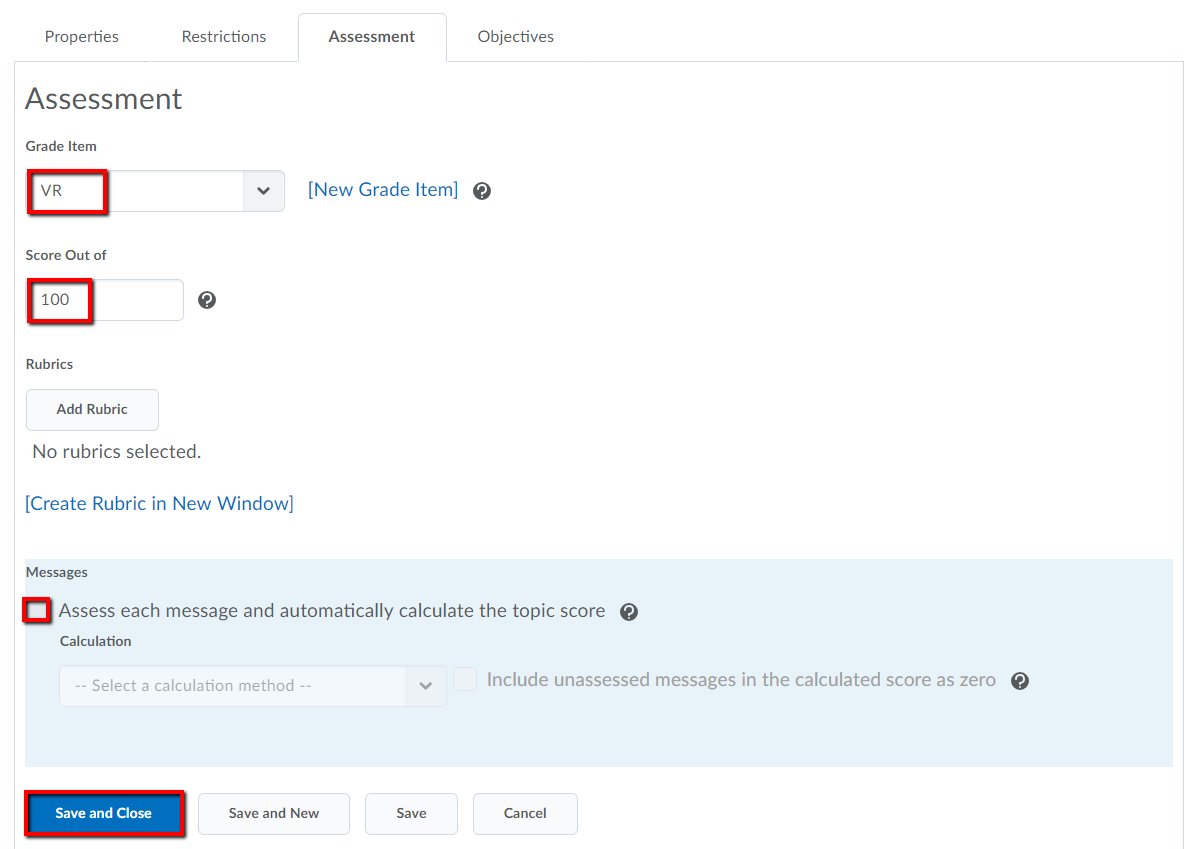 ---
Go to the Communication tab and click Discussions in the navigation bar. The More Actions function allows you to Copy, Reorder and Restore previously deleted messages.


1. You can copy and reorder the forums and topics by selecting the Copy and Reorder buttons.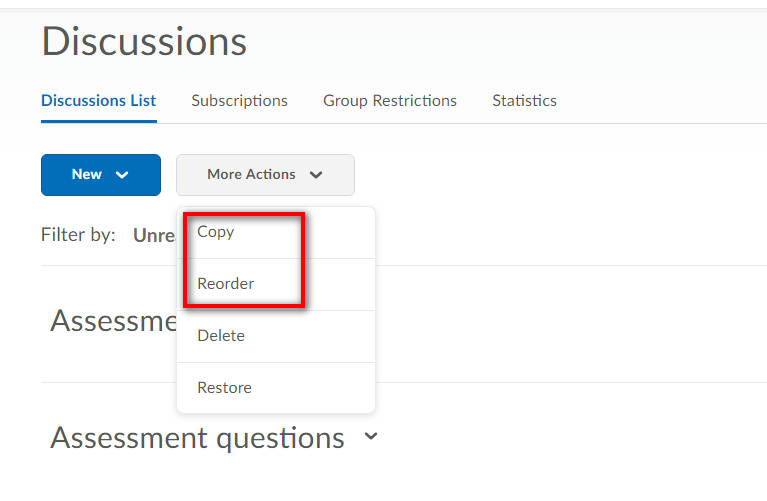 ---
You can also respond to students discussion board comments.


1. Select the discussion topic you wish to view, by clicking on the title of the topic.
2. Click on Start a New Thread to respond to the students discussion board message.



Note: You can write your response like an email when responding to discussion board messages. All the functions of the HTML editor are available (insert links, images, video). Once you have composed your message just click Post.
3. Enter a Title.
4. Enter your message.
5. Tick subscribe to this thread, if you want to get notified when students replies to your thread.
6. Post your reply.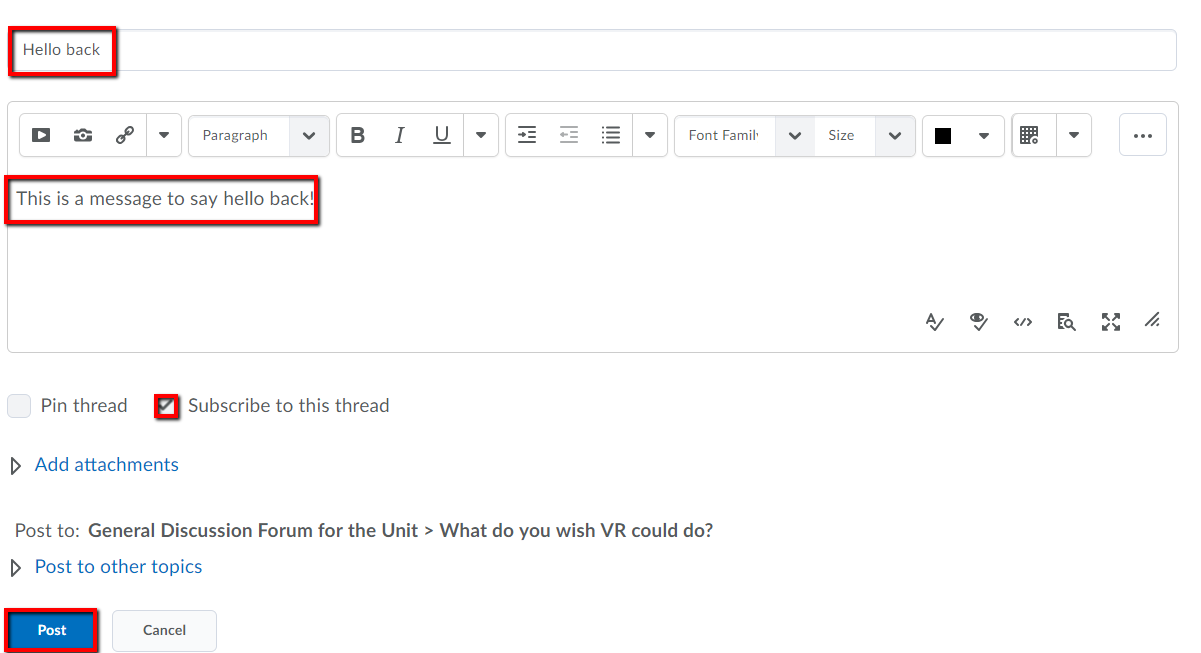 ---
You can add your discussion forums and topics to the content area of a VU Collaborate Space. This helps students find the relevant discussion board. It also helps you plan where in the content the discussion is to be displayed.

1. In the Learning Space, select where in the content you wish the discussion forum or topic to be linked.
2. Click on Add Activities and select the Discussions option.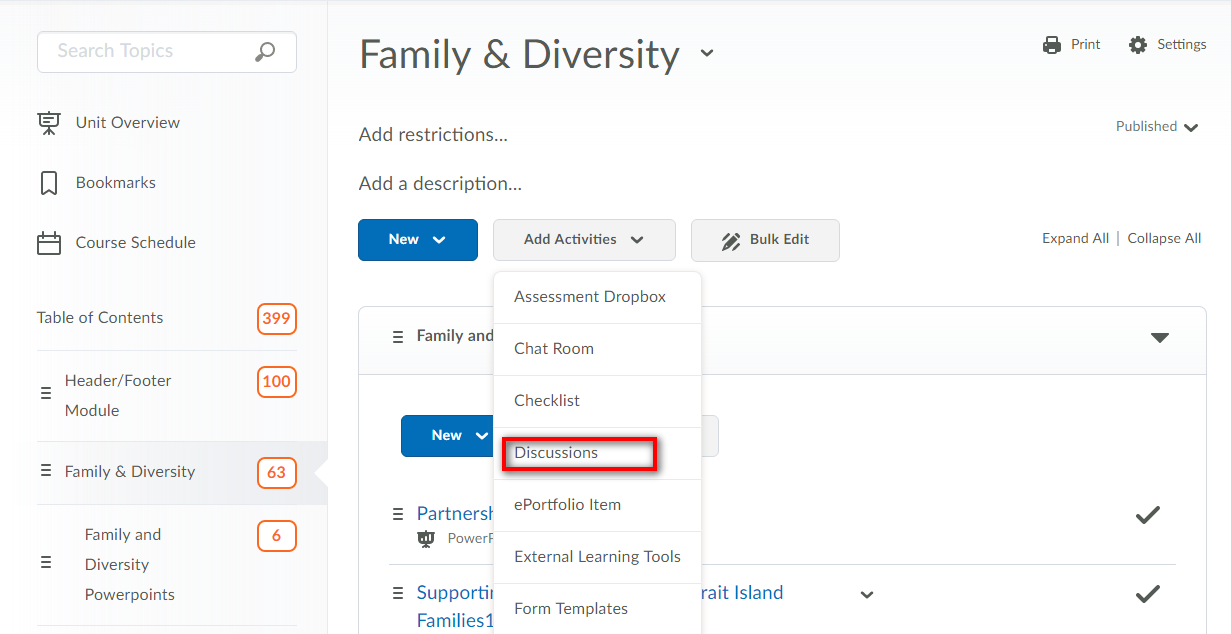 3. A popup menu will appear. From here, click on the discussion Forum, which will take you to another page, where you can select which topic you wish to embed into your content area by clicking on the topic title.

4. Or you can Create a New Discussion Forum, if applicable.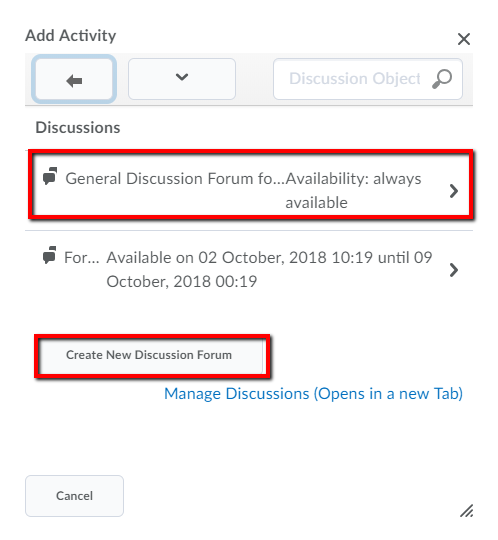 Tip: You can also drag and drop content in your Learning space, by holding down the left click on your mouse.
4. Once selected, it will appear at the bottom of the content module. A message will appear to confirm that the topic has been Saved.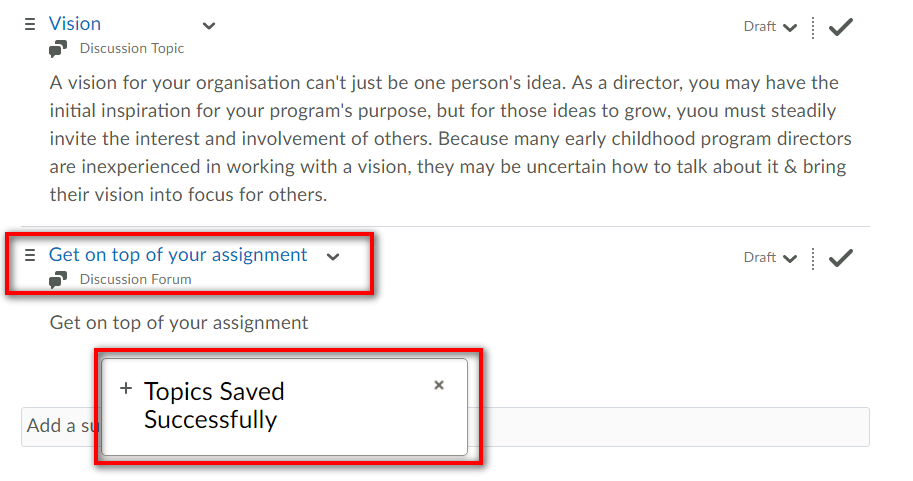 ---
1. Click the dropdown arrow next to the topic's title.
2. To edit or add restrictions to the discussion topic, choose Edit Properties in the drop-down menu.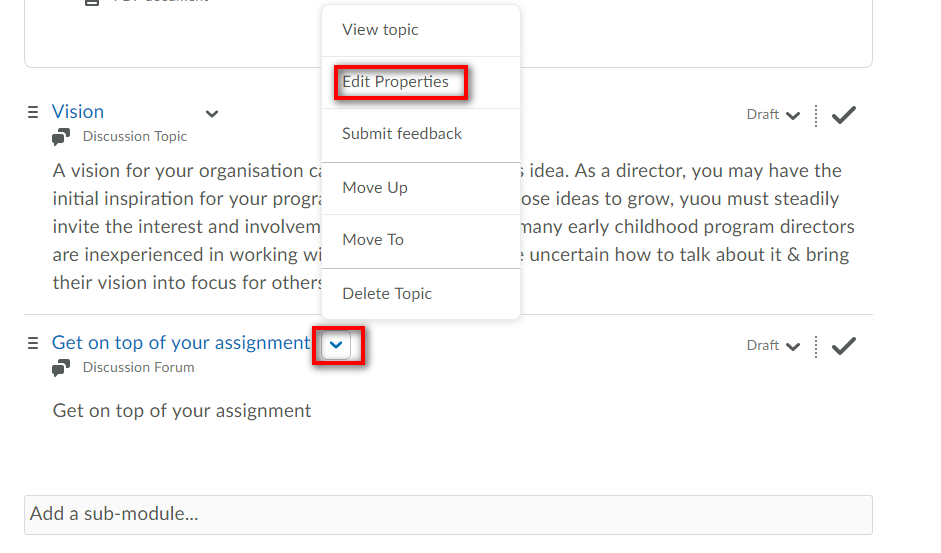 2. When clicked, you will see new options appear. Click Restrictions.




Here, you can change the Start Date - the time from which it is available to the students, the Due Date - when it must be viewed/submitted/engaged with by, and the End Date - the final day and time that it will be visible. This section works similar to editing the dates for the forum. Below this are the options for Release Conditions, Description and Completion Method.

3. Once completed, click Save and Close or Cancel to abandon them.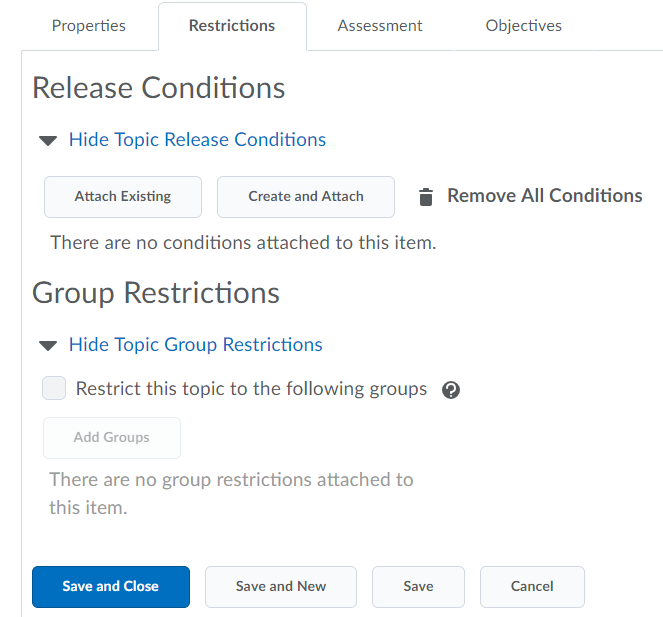 Note: To create release conditions, see Using Release Conditions help guides.
---
Further Support
Visit the VU Collaborate Help site at https://vucollaboratehelp.vu.edu.au for up to date information and resources on blended learning or email This email address is being protected from spambots. You need JavaScript enabled to view it..
Contact ITS Service Desk on (03) 9919 2777 or via self-service http://servicedesk.vu.edu.au for further technical support.