Linking a Rubric to an Assessment Dropbox Folder
Rubrics is an assessment tool used to evaluate an activity or item based on a predefined set of criteria. They help ensure that activities and items are evaluated fairly and consistently.
Prior to reading this guide, please ensure that you have created an Assessment Dropbox folder. You will also need to create a rubric before attaching it to the assessment drop-box folder. View the How-to guides on Creating a Holistic Rubric or Creating an Analytic Rubric for more information.


1. Accessing the assessment drop-box
2. Editing the assessment drop-box
This can only be done in the Master Space by the Block convener, Convener, Block Instructor or Key Block Academic.
---
1. Select Dropbox from the Assessments menu.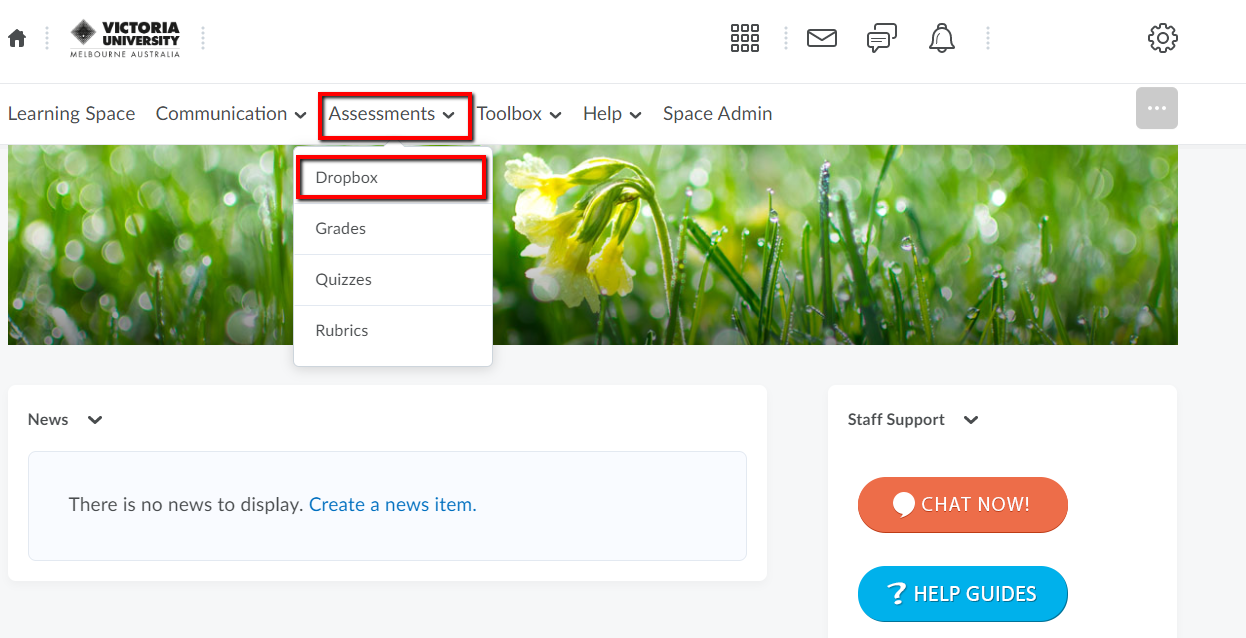 ---
1. Click on the drop-down menu next to the Assessment Dropbox you would like to attach the rubric to.
2. Select Edit Folder from the menu.



---
1. Click on the Add Rubric button in the edit folder properties tab.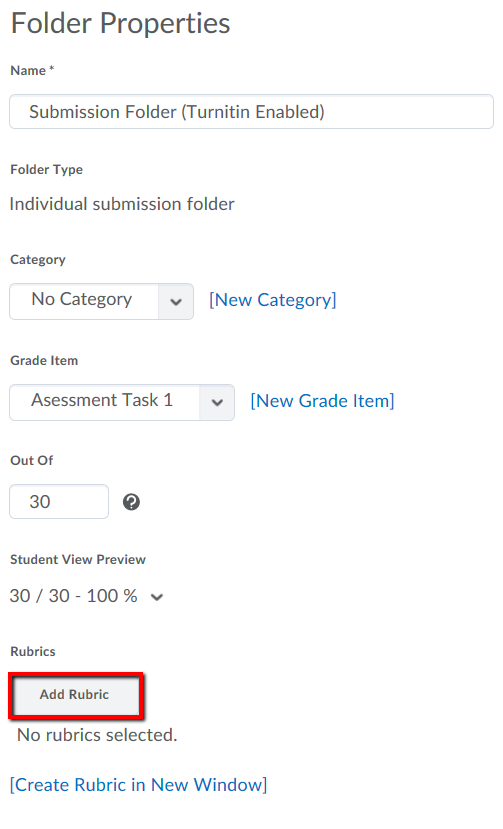 2. A pop-up window will appear. Select the rubric you wish to attach from the list and click Add Selected.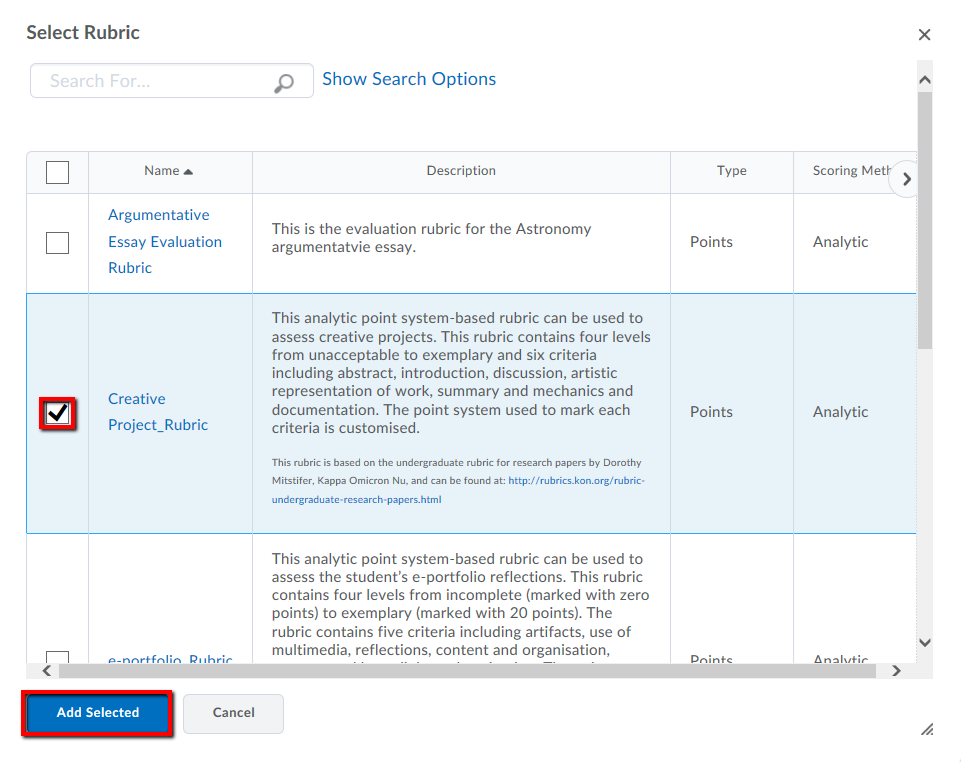 If you do not see your rubric listed, your rubric may be listed as Draft or Archived. Please ensure that the status is Published. To check the status of your Rubric, go to the Rubrics tool, clicking on the arrow next to the rubric name and select Set Status, changing it to Published.
3. Your rubric will now be listed in the Rubrics section. Leave the Default Scoring Rubric as No Default selected.

Only one rubric can be used for each assessment. If more than one rubric is added, only one rubric result will be entered into the Gradebook.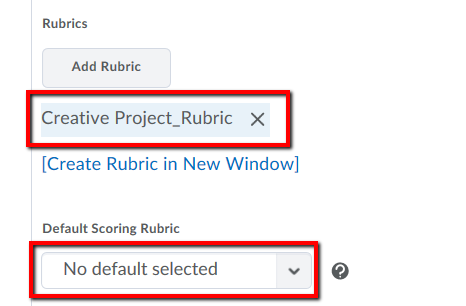 4. Click on Save and Close to save your changes.



View the guide on creating an analytic rubric or creating an assessment dropbox for more information.
5. Once the rubric has been saved, the students can click on Show Rubrics to view the rubric from their dropbox.
If the rubric has been linked to a group assignment dropbox, students need to first be enrolled into a group to access the dropbox and the rubric.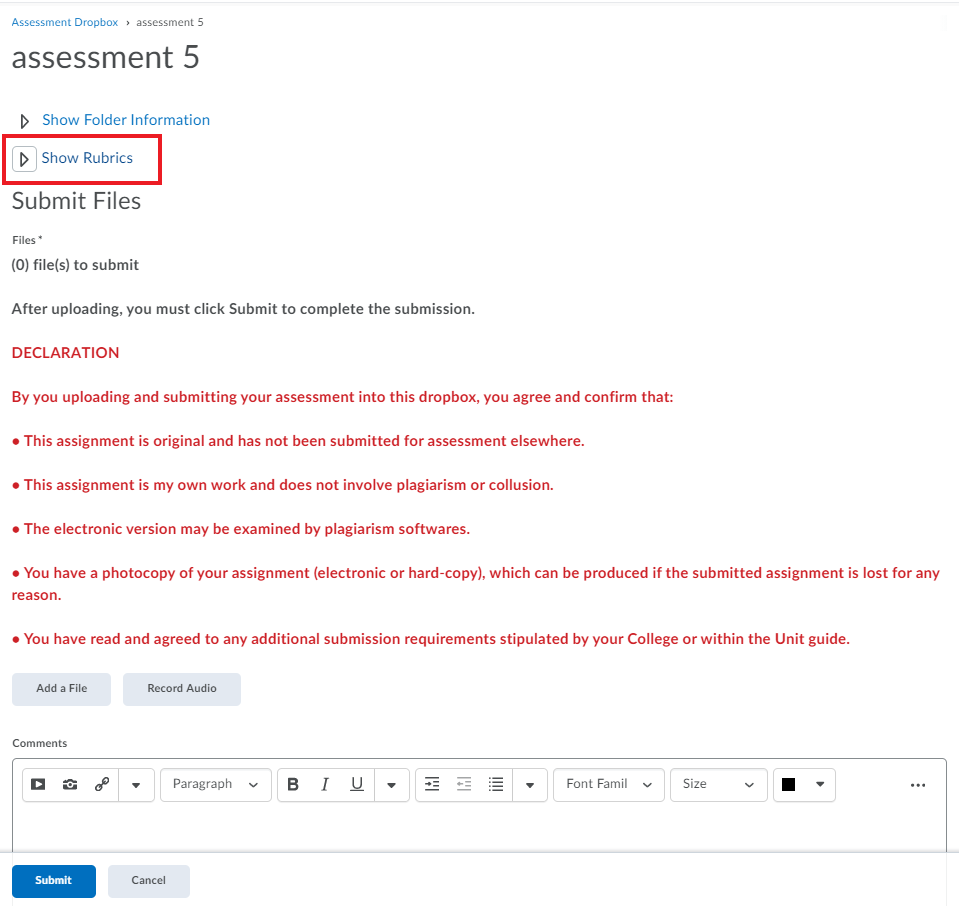 ---
Further Support
Visit the VU Collaborate Help site at https://vucollaboratehelp.vu.edu.au for up to date information and resources on blended learning or email This email address is being protected from spambots. You need JavaScript enabled to view it..
Contact ITS Service Desk on (03) 9919 2777 or via self-service http://servicedesk.vu.edu.au for further technical support.