The HTML Editor is a tool continuously used in conjunction with a range of VUCollaborate functions. It is simple to use but includes a broad range of features and components.
To see a short video on How to Use the HTML Editor, see the video below:
Tip: To print or save any one of these guides - you will need to use Google Chrome - click on the print icon located to the right of a guide's title. You will then need to click on another print icon. If you wish to save this file, instead of printing to a printer, change it to "Save As PDF". You can then save it on your computer or USB as a PDF.

Using HTML Content Templates
This guide explains how to use the HTML content templates to provide staff with a good content structure, ensuring to meet online and accessibility standards.
VU Collaborate contains examples of HTML content templates that you can use to create your content. These templates are easy to use, and you can edit their content to best suit your teaching practice. This guide explains how to create and edit a new HTML document using an HTML content template.
Selecting your HTML Content Template
You can choose HTML content templates to create content that follows a good structure, consistency and complies with online and accessibility standards. There are three types of templates to choose from:
Contact - shows how you can organise staff names, contact hours and expectations.

Content Page - provides an example of how you can create and organise your educational content.

Assessment - presents an example of how to write the details for your assessment tasks. The content of these templates can be edited to suit your context.
Following are steps in using HTML content templates:
---
1. Access the content in the Space by clicking on the Learning Space located on the navbar.



---
1. Navigate to a module from the Table of Contents area.
2. Click New on the right-hand side of the screen.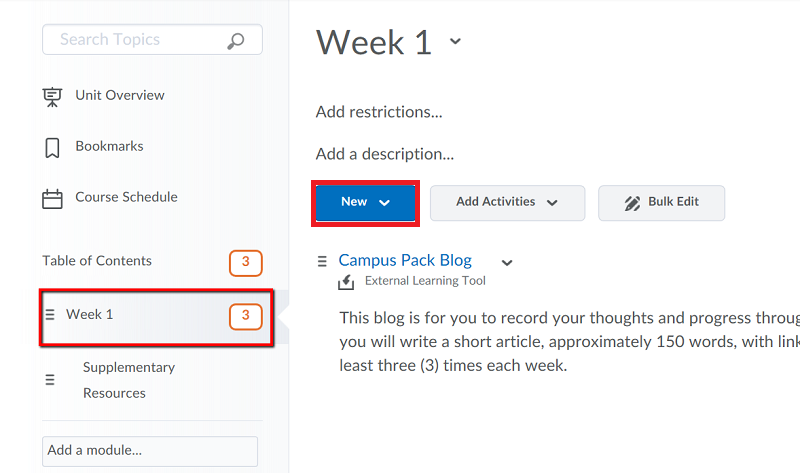 3. Select New Document to create a new HTML document.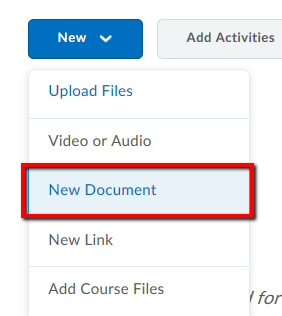 Note: You can only use the templates for new HTML documents created in VU Collaborate. These templates cannot be applied to documents that you have uploaded including pdf, doc and ppt files.
---

1. From the editor screen click Select a Document Template.
2. Five options will appear to select a page. For this example, we will choose Daylight Content Page.
3. Write a Title for the new document.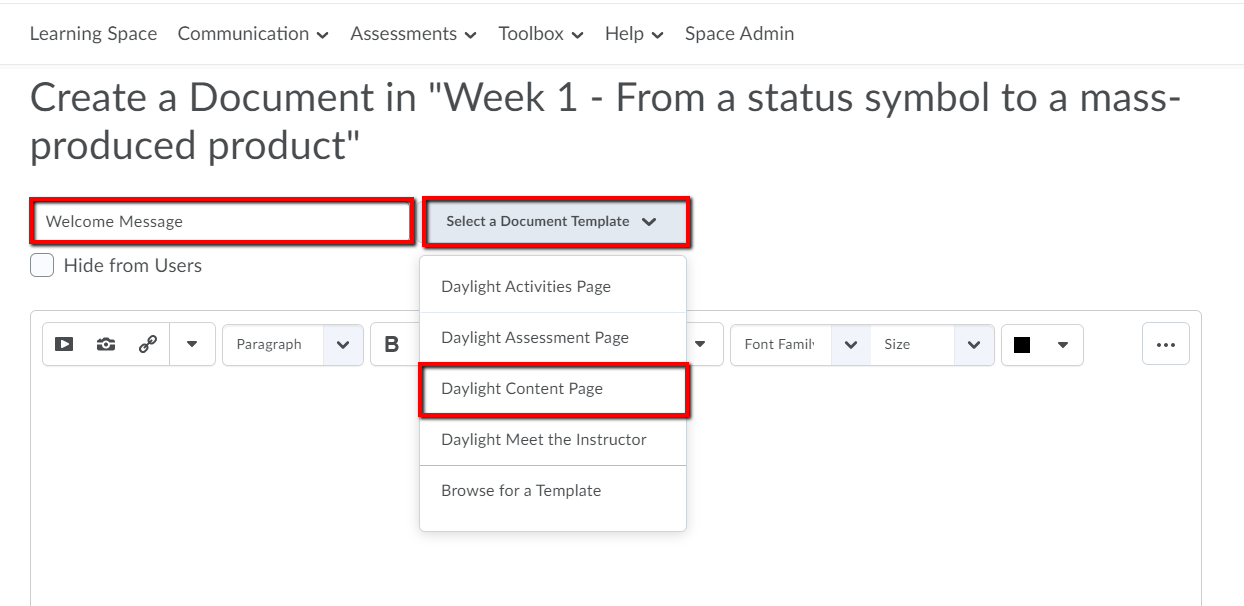 ---
An example of a Daylight Content Page is provided to show you the main areas that you can consider to write your content.
1. Edit the content by selecting the text and adding your content.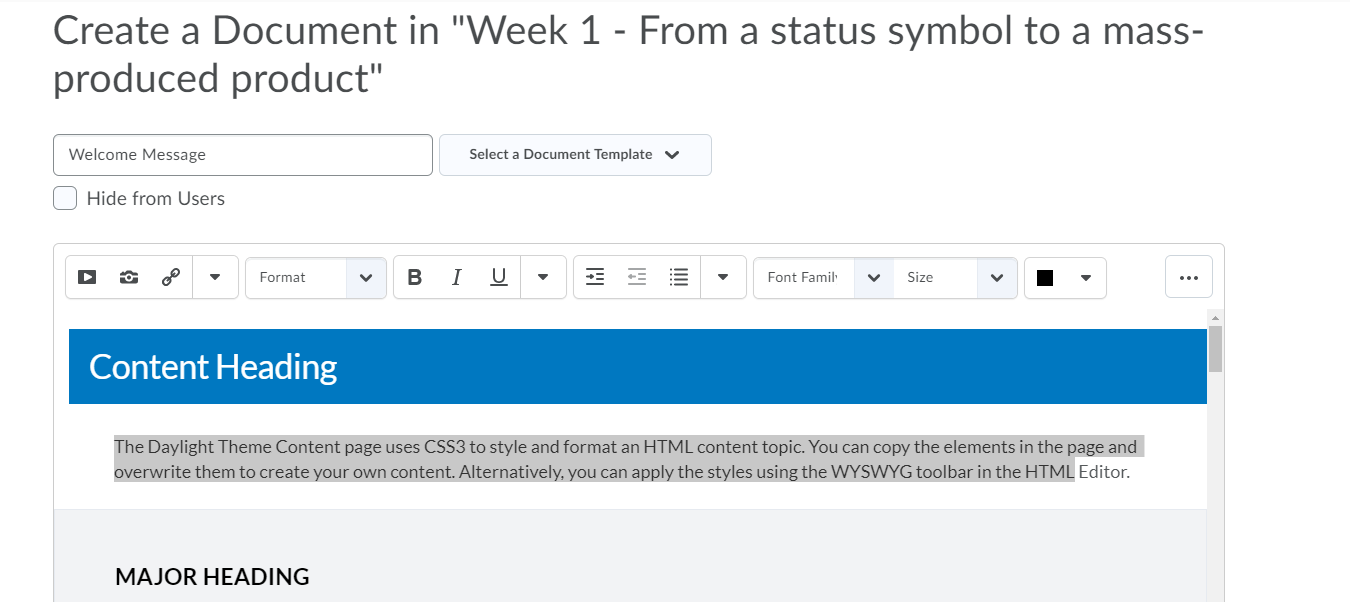 ---
1. You can use the Paragraph dropdown menu to change the formatting of the text.
Try each option to find out what formatting text options are available.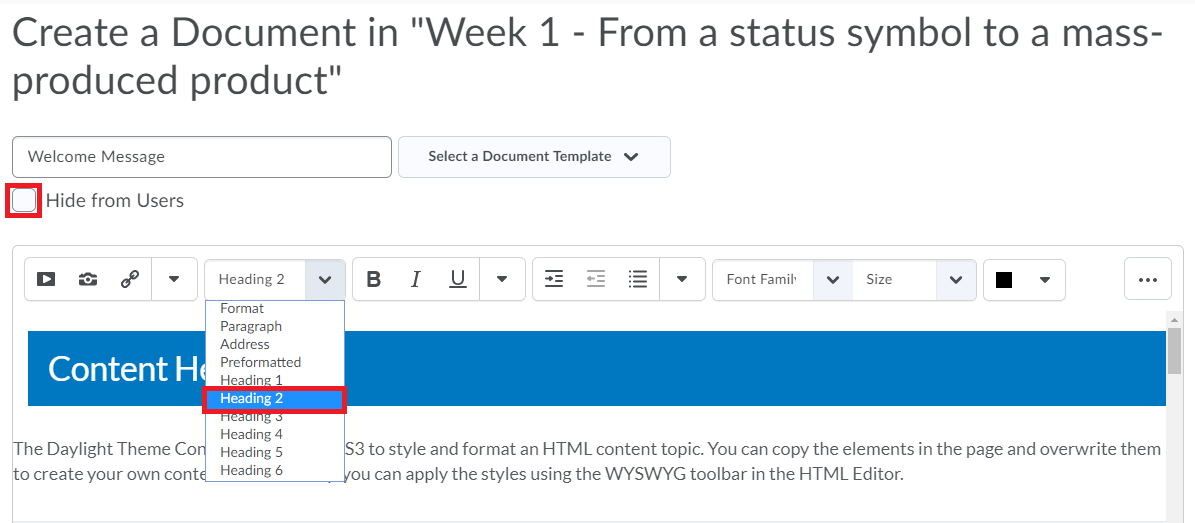 If you wanted to save it as a draft, click in the checkbox beside Hide from Users.
Once you have finished editing and formatting the text, click Save.
Note: Repeat the entire process to create more HTML Content Template pages.
---
Further Support
Visit the VU Collaborate Help site at https://vucollaboratehelp.vu.edu.au for up to date information and resources on blended learning or email This email address is being protected from spambots. You need JavaScript enabled to view it..
Contact ITS Service Desk on (03) 9919 2777 or via self-service http://servicedesk.vu.edu.au for further technical support.