VU Collaborate provides a comprehensive suite of assessment tools.
A key feature of Assessment in VU Collaborate is the Assessment Dropbox. The Dropbox tool is where you view student assignment submissions associated with each assessment. Student submissions associated with an assessment is located in a dedicated folder. To submit an assignment, students simply upload their assignment document to the relevant Dropbox folder and click on the Submit button. Here is a link to a Comment Bank you can use to assist you with providing feedback on students assignments. It can be used with the annotation tool or rubrics.
Dropbox - Originality Check is the text matching tool that VU uses to detect plagiarism and help students learn how to better utilise academic integrity.
The Gradebook is a repository for student grades. It is possible to link the Assessment Dropbox to the Gradebook so that grades are published automatically to students.
The Quiz Tools category includes instructions for standard quizzes, self-assessments, surveys and use of the Question Library.
Attendance can be marked within VU Collaborate by using an attendance register.
Awards and badges can be awarded to students as they progress through online content or complete a task.
ePortfolio is a powerful tool that can be used by staff and students for storing, organising, reflecting on and sharing items. ePortfolio items can be submitted to the Assessment Dropbox.
Assessment should follow the expectations set out in the Assessment for Learning – Standards for Assessment Procedure, read in conjunction with the Assessment for Learning Policy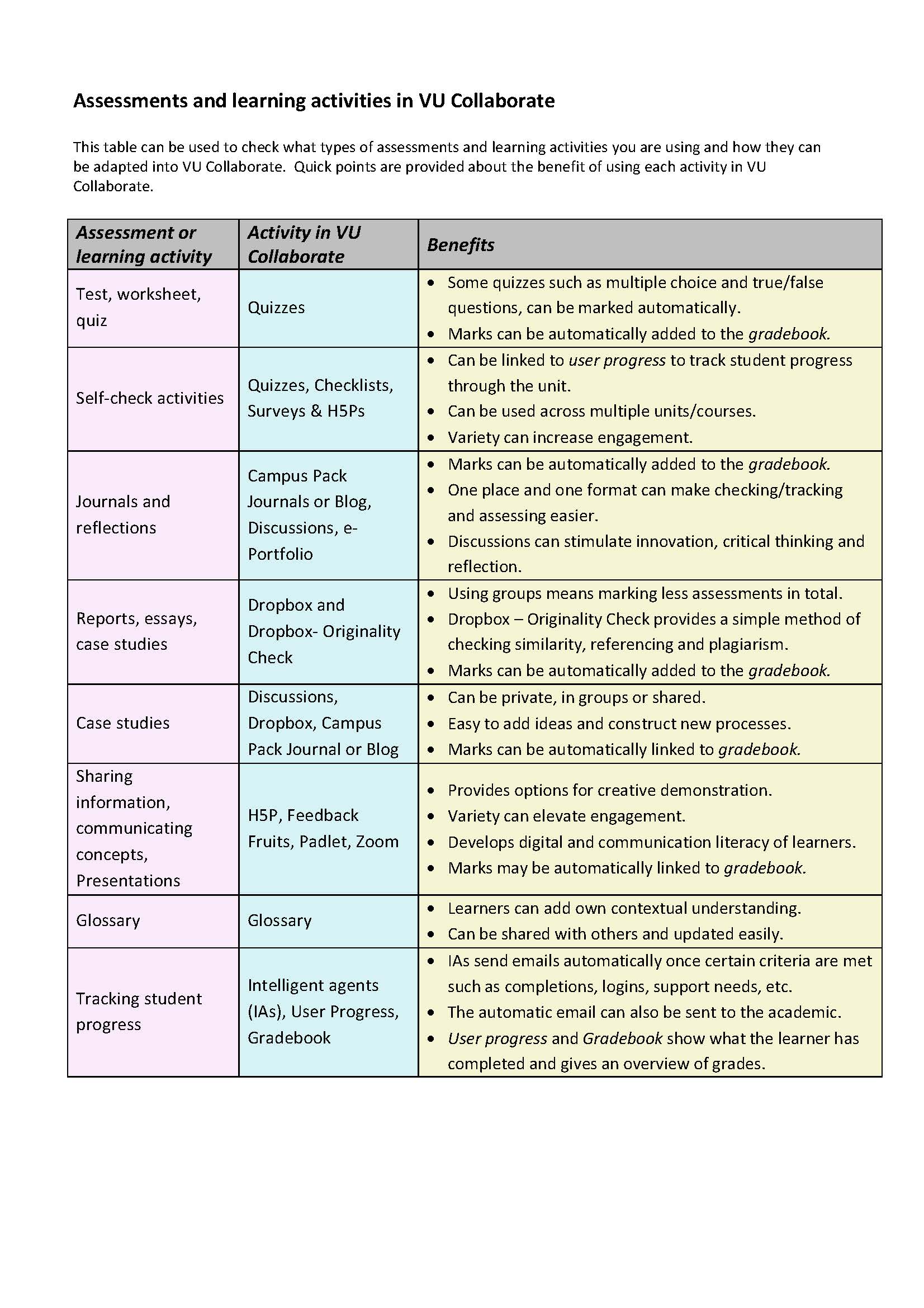 ---
Further Support
Visit the VU Collaborate Help site at https://vucollaboratehelp.vu.edu.au for up to date information and resources on blended learning or email This email address is being protected from spambots. You need JavaScript enabled to view it..
Contact ITS Service Desk on (03) 9919 2777 or via self-service http://servicedesk.vu.edu.au for further technical support.