Navigating Around VU Collaborate Home
VU Collaborate Home is your starting point when you log in. It is where you can access your Spaces, organisation-level content, and other available resources. See the following video for a quick tour of VU Collaborate.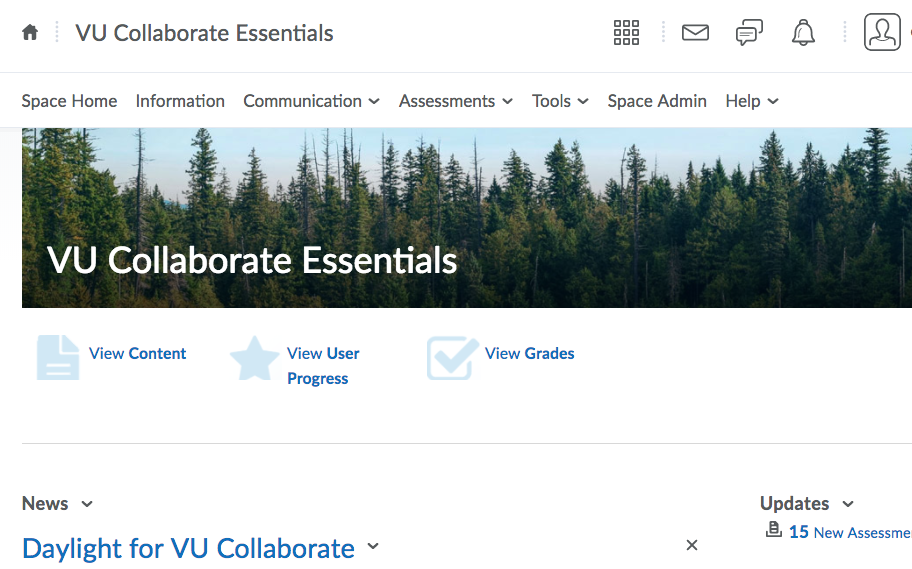 The Minibar
The minibar at the top of the screen is always available to you.
VU Collaborate Home – clicking here will bring you back to the VU Collaborate homepage
The Waffle - your spaces are listed when you click here.
Message alerts – email, instant messages, My ePortfolio invitations
Updates – new and updated news posts, due dates, grades, and My ePortfolio item
Subscription alerts – new discussion posts and My ePortfolio subscription notifications
Note: If you have unread alerts, a red circle appears on the appropriate alert icon
Personal menu – click here to adjust your notification settings and to logout
Information – contains Help resources, links to ITS service desk, Library and other resources

VU Collaborate Home Widgets
On the VU Collaborate homepage you will see:
My Spaces widget – links to all of your spaces
News widget – displays news from all your spaces plus organisational news
My ePortfolio widget – links to your ePortfolio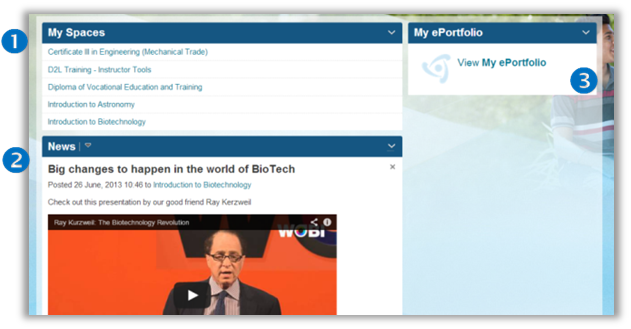 Space Home
The Navigation Bar (Navbar)
The navbar is made up of 6 dropdown menus that link to all the tools and features of VU Collaborate; it is available to navigate from wherever you are in the Space.

Title of your Space
Navbar – click on each menu to access tools and features
Quicklinks – View Content, View User Progress and View Grades
Space Homepage Widgets
News items that you have posted in this particular Space
Updates widget – provides updates of new discussion posts, assessments submissions and more
Calendar widget - Send your students reminders
User links – add useful links for you and your students
Role Switch – use this tool to get a student view of the Space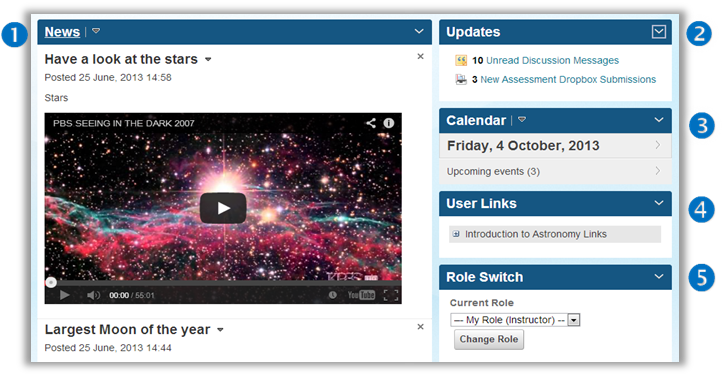 ---
Further Support
Visit the VU Collaborate Help site at https://vucollaboratehelp.vu.edu.au for up to date information and resources on blended learning or email This email address is being protected from spambots. You need JavaScript enabled to view it..
Contact ITS Service Desk on (03) 9919 2777 or via self-service http://servicedesk.vu.edu.au for further technical support.