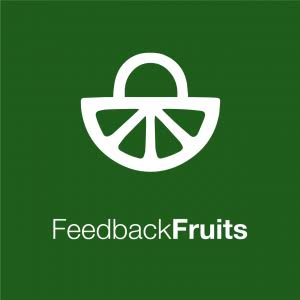 What is FeedbackFruits?
FeedbackFruits is a suite of a) interactive peer engagement, and b) interactive content tools. We currently have access to Peer Review and Interactive Study Materials (however due to COVID-19 their team has offered to many any of their suite of tools available on request). Peer Review allows students to review each other's work using defined criteria, discussion and annotations (much like we would mark students work with comments and rubrics). Interactive Study Material allows you to upload documents, video or audio for class or group engagement during or before class. See the links below for more information. Be in touch if you would like help using these tools in your class
Contact This email address is being protected from spambots. You need JavaScript enabled to view it.
FeedbackFruits FAQ
Can you use audio and video?
Yes. All major video and audio file types are supported (like .mp4 and .mp3), as well as all major document types (like .docx and .pdf).
Which tool should I use? Free access during COVID-19 lockdown
Online Video Resources - Find out more