Training & Support

The Connected Learning Team provides staff members at Victoria University with support, training and professional development sessions in using VU Collaborate. We offer various types of services and resources.
See the available professional development sessions in the Training Calendar.
---
Drop-In Days
We know you don't always plan to have to troubleshoot something in VU Collaborate, and sometimes you may just want to sit down and work through a task whilst having someone you can ask questions of along the way. The Connected Learning Team have set aside daily times for you to be able to literally drop into the Zoom room and on-campus hives where we are. You can drop in and ask a quick question, work through an issue you are having, or stay for a while and build some content in your space with us.
Bookings are not needed for drop-ins.
---
Virtual Hives
Join our half-hour sessions where Connected Learning staff are available to answer all of your VU Collaborate and Zoom questions. These are held at 11 AM and 3 PM on each working day. You can drop in with one question or several, no booking is needed.
Get access by going to the VU Collaborate Essentials space (external link), selecting the Communication tab then choosing Zoom Classroom from the dropdown list. You then click on Join next to the title and date of the drop-in session to get started.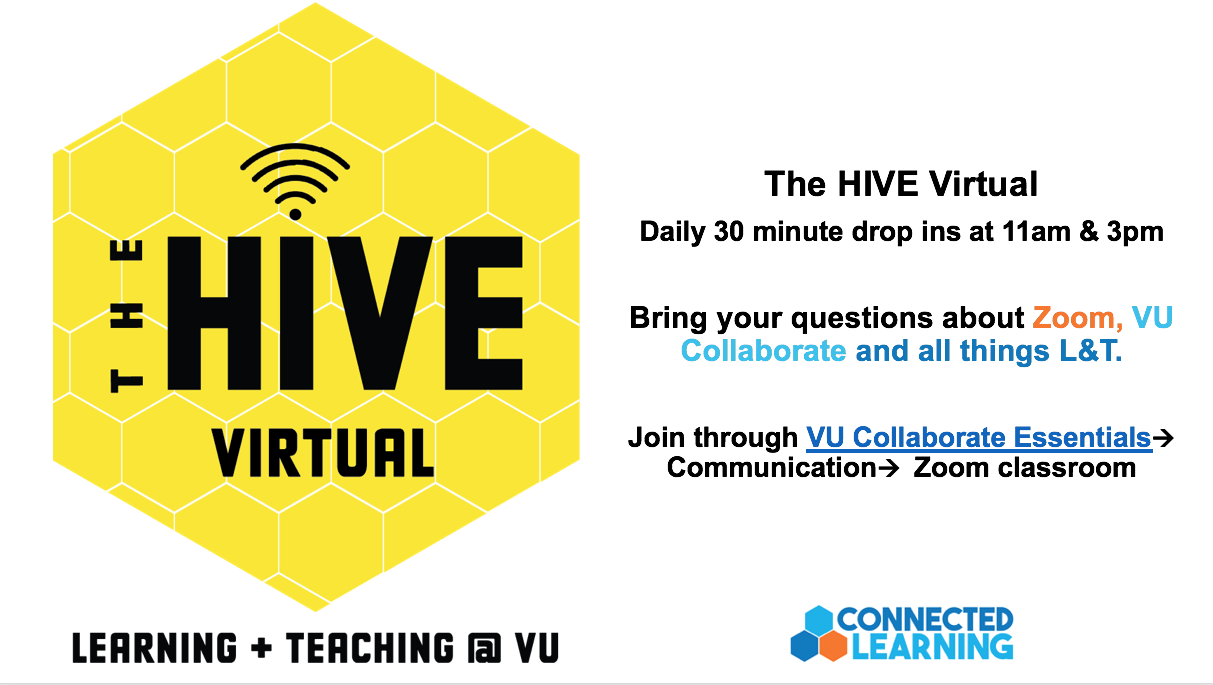 ---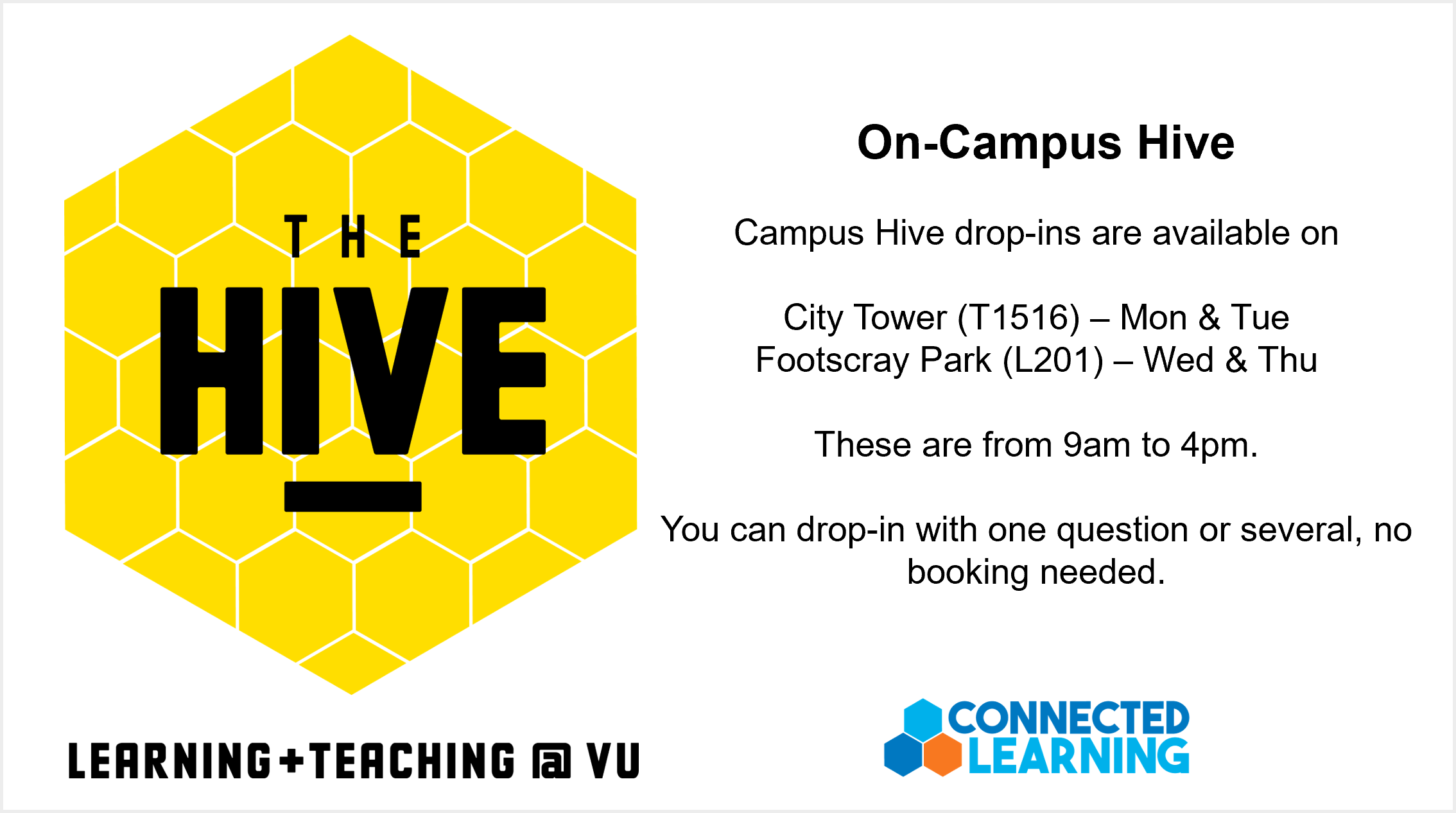 On-campus Hives
Our on-campus drop-in sessions are back and available to all VU staff who have a question about VU Collaborate.
It runs from 9:00 am to 4:00 pm:
every Monday & Tuesday at City Tower in T1516.
every Wednesday & Thursday at Footscray Park in L201.
You can come in to get a straightforward answer about something specific in 5 minutes, or you can bring your laptop to work on building content or assessments for an hour. You can also work alongside a team member in order to ensure your questions are answered as you work.
No bookings are necessary.
---
Online Support
The Connected Learning team offer 30-minute online support sessions, conducted via Zoom. Book a session to work on a specific issue in VU Collaborate, such as quizzes, H5P, Panopto, or setting up groups or assessments.
Book an Online Support session via our online booking system. To learn how to book online, see book an online support session.
Workshops
The Connected Learning Team conduct Workshops on various aspects of VU Collaborate and have the following workshops available at agreed time:
Introduction to VU Collaborate
Creating quizzes
Creating interactive learning activities with H5P
Building and managing learning materials
Attendance, student progress and checklists
Creating rubrics
Communicating in VU Collaborate
Zoom virtual classrooms
Panopto and screen capture videos
Using Urkund Originality Check
Workshops can also be developed for any other area of VU Collaborate as well as a number of useful iPad apps for teaching.
If you have a group of 5 or more that would like to learn more about VU Collaborate contact us at This email address is being protected from spambots. You need JavaScript enabled to view it. to organise a bespoke workshop specifically suited to your team.
---
Further support options
Chat Now! on the VU Collaborate homepage and in the VU Collaborate Help site (instant support for quick questions)
Extra resources
Support for students
Step-by-step help guides in the student VU Collaborate Help site
The Student Induction space - viewable by all VU students (not staff)
VU Collaborate and Zoom support from 2 - 2:30 pm in the Student Induction space in the first week of each block.
---
Further Support
Visit the VU Collaborate Help site at https://vucollaboratehelp.vu.edu.au for up-to-date information and resources on technology-enhanced learning or email This email address is being protected from spambots. You need JavaScript enabled to view it..
Contact ITS Service Desk on (03) 9919 2777 or via self-service http://servicedesk.vu.edu.au for further technical support.