Using HTML Content Templates
This guide explains how to use HTML content templates. These templates provide a good content structure to ensure that online and accessibility standards are met.
VU Collaborate contains examples of HTML content templates that you can use to create your content. These templates are easy to use and you can edit their content to best suit your teaching practice. This guide explains how to create and edit a new HTML document using an HTML content template.
Following are steps in using HTML content templates:
---
1. Access the content in the Space by clicking on the Learning Space located on the navbar.



---
1. Navigate to a module from the Table of Contents area.
2. Click New on the right-hand side of the screen.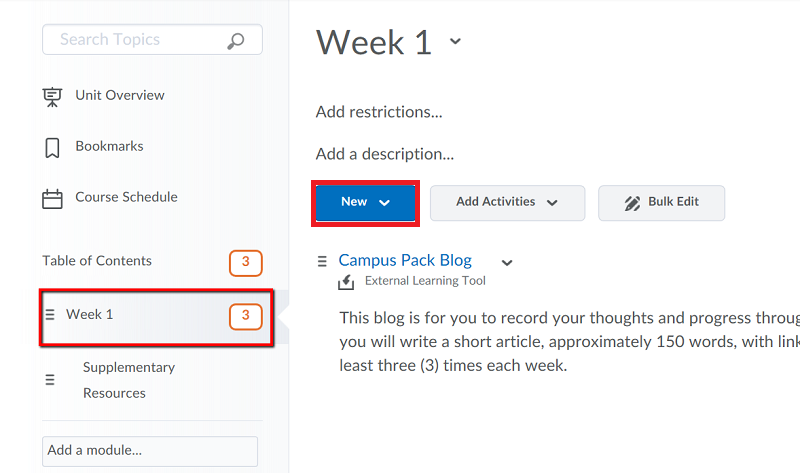 3. Select New Document to create a new HTML document.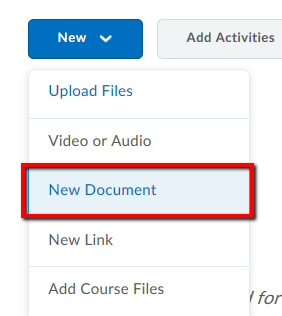 You can only use the templates for new HTML documents created in VU Collaborate. These templates cannot be applied to documents that you have uploaded including pdf, doc and ppt files.
---
1. Name the document by entering a title.
2. From the editor screen click Select a Document Template.
3. Current templates will be displayed from the dropdown menu.
4. Select the template you wish to insert or select Browse for a Template to search for another template already in the space.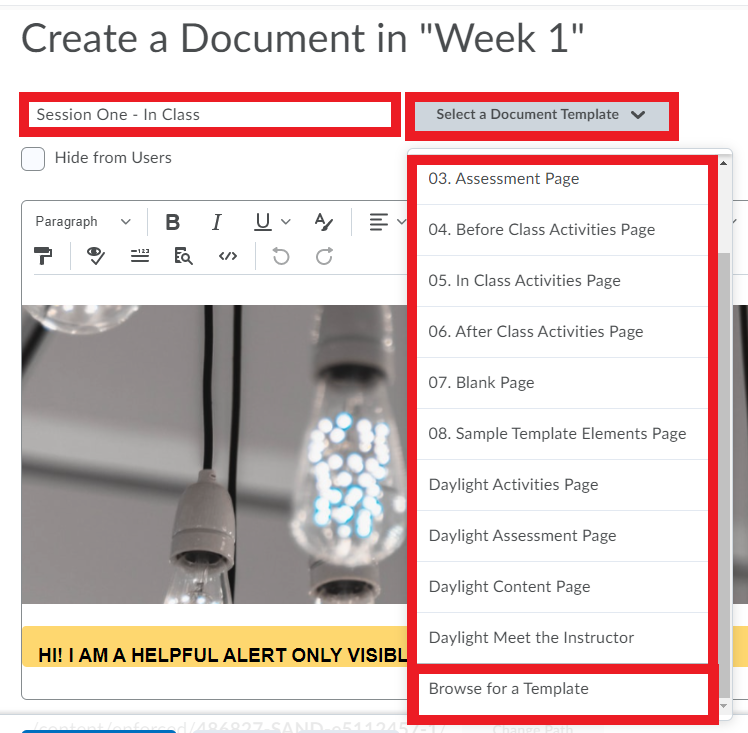 ---
The next stage is to input a template. These templates can be used to set a level of consistency across unit spaces, provide academics with guidance on how to enter content and a clear design to utilise. An example of the template titled Intro Teacher Page is shown below.
1. All text in yellow boxes are not visible to students or others viewing the material; it is only there for the person editing the HTML page.
You are able to add your own information into pages simply by clicking in the area of text and typing, the same as you would in other documents.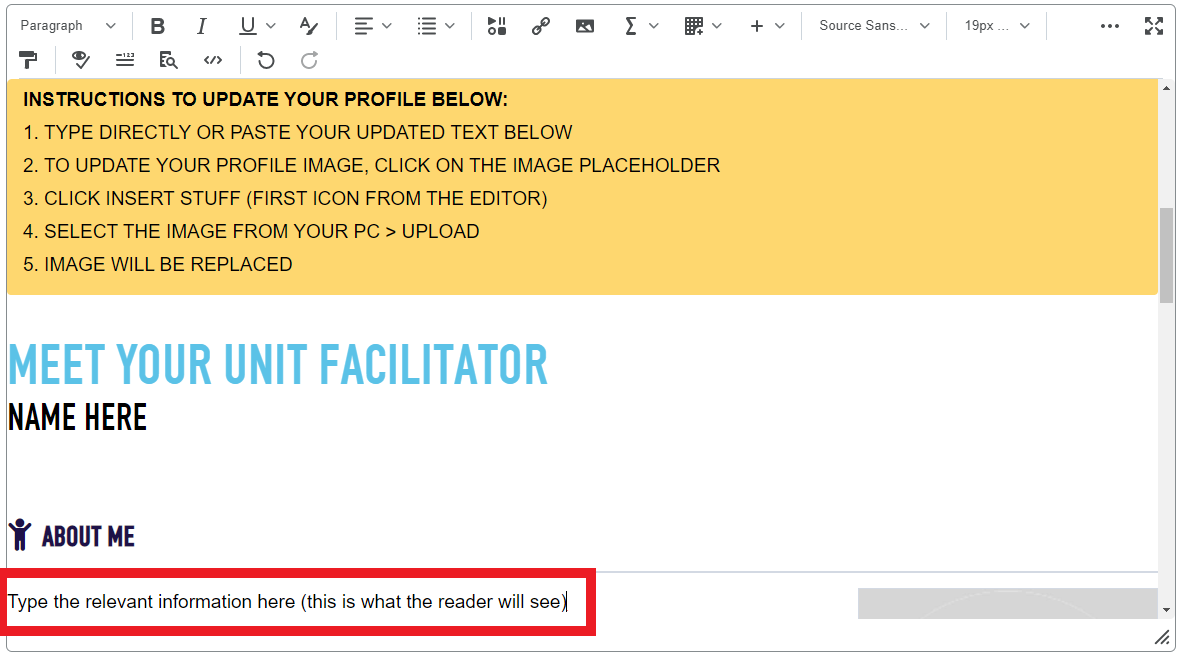 ---
1. Select Paragraph to change the formatting of the text. Using the "headings" options here (e.g. Heading 1, Heading 2 etc.), instead of using bold font or underlines, increases the accessibility of the document as it will help standardise the headings across the space.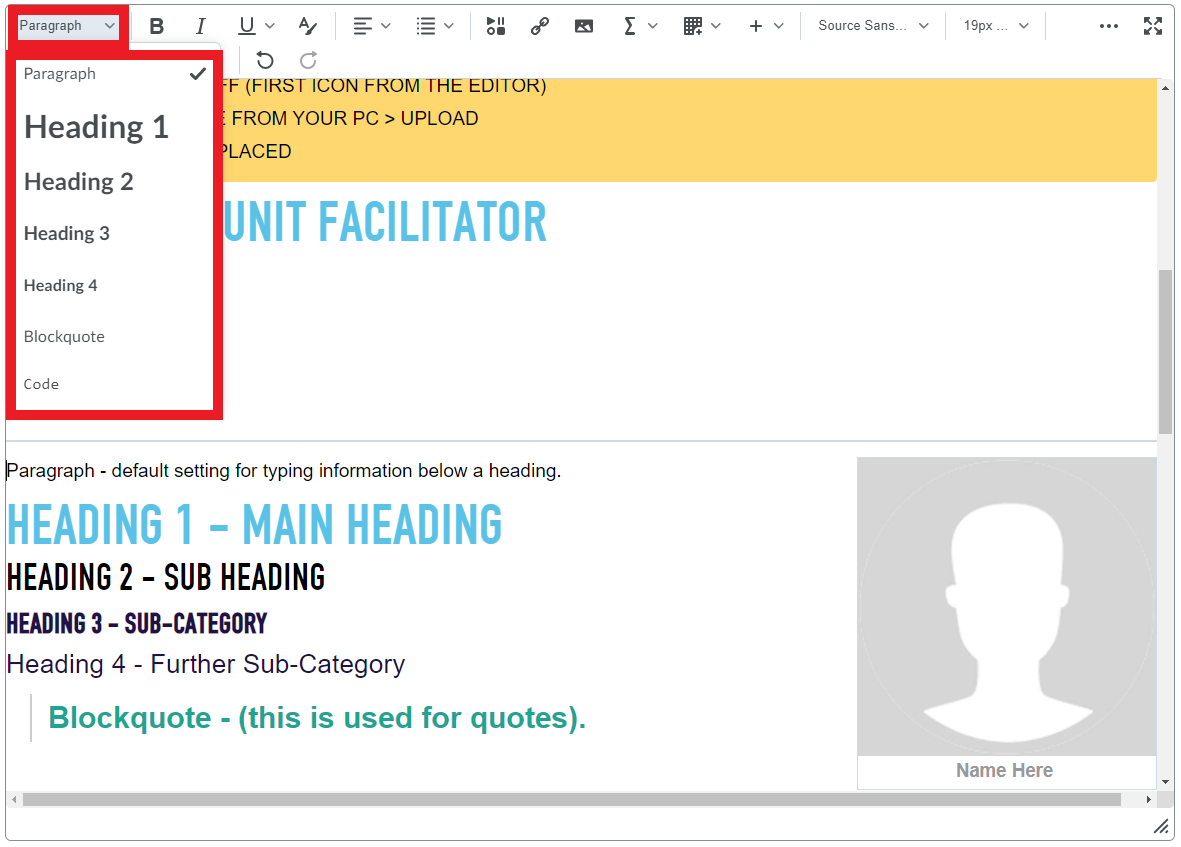 2. Once you have finished editing and formatting the text you have three options:
Save and Close saves the page and closes the editor.
Save, saves the page but does not close the editor.
Cancel omits any changes and exits the editor.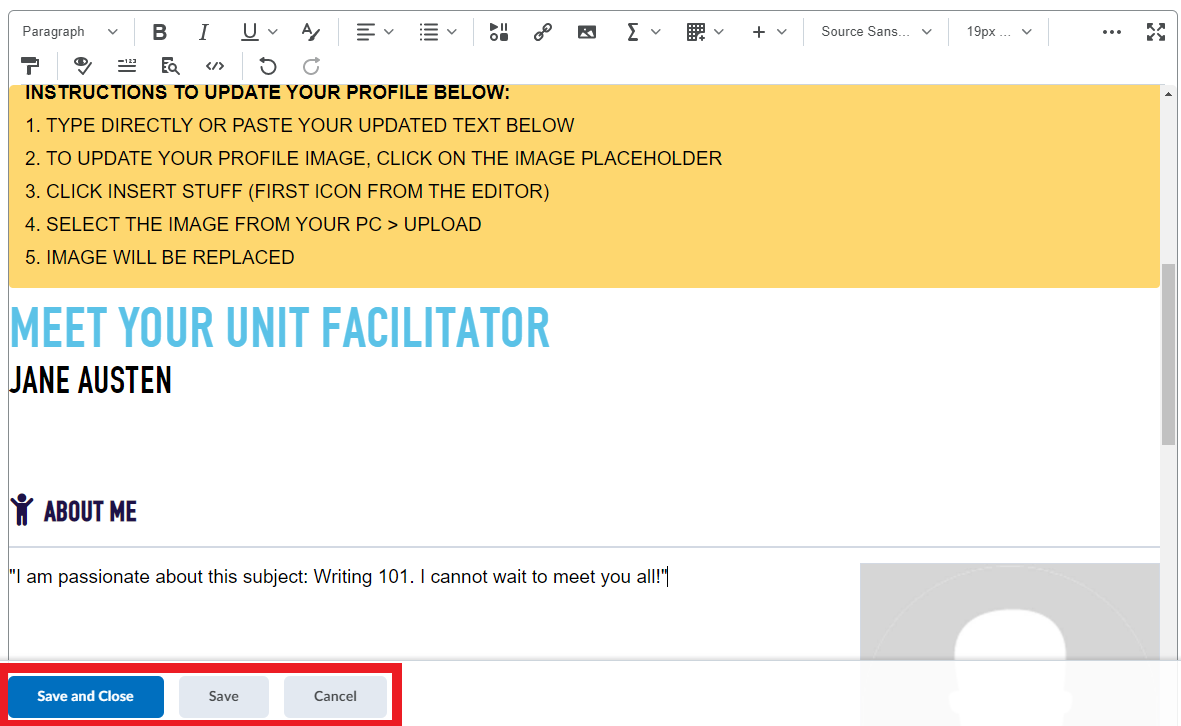 Please watch the video down below on Editing A Webpage in VUC for some tips on how to edit your HTML page.


---
Further Support
Visit the VU Collaborate Help site at https://vucollaboratehelp.vu.edu.au for up to date information and resources on blended learning or email This email address is being protected from spambots. You need JavaScript enabled to view it..
Contact ITS Service Desk on (03) 9919 2777 or via self-service http://servicedesk.vu.edu.au for further technical support.