Creating an Analytic Rubric
Analytic rubrics allow you to grade assessments tasks such as a dropbox submission or a discussion post based on a pre-defined set of criteria. Levels of achievement are displayed in columns and the assessment criteria are displayed in rows. Analytic rubrics may use a points, custom points or text only (no score) scoring method. Points standardise the values for all criteria listed in the rubric. Custom points allow you to nominate different values for different criterion, giving you complete flexibility. For both points and custom points, an overall score is provided based on the total number of points achieved.
It is best that you have a fully designed rubric for your assessment before creating it within VU Collaborate. For tips on creating rubrics refer to this article on 5 Ways to Create Great Rubrics.
Analytic Rubrics can only be created in the Master Space by Block Convenors, Block Key Academics, Convenors and Instructors. If you want to know more about roles, check the Roles and Permissions in VU Collaborate Guide.
To see a short video on How to Create an Analytic Rubric, see the video below:
The following are the list of steps and guides you can view to help you with creating an Analytic Rubric:
---
1. Select Rubrics from the Assessments menu to access the rubrics tool.

---
1. Click New Rubric to create a new rubric.
---
1. Edit Rubric page will open. Enter a descriptive Name for your rubric. This should be the same name of the assessment in the dropbox and in the gradebook.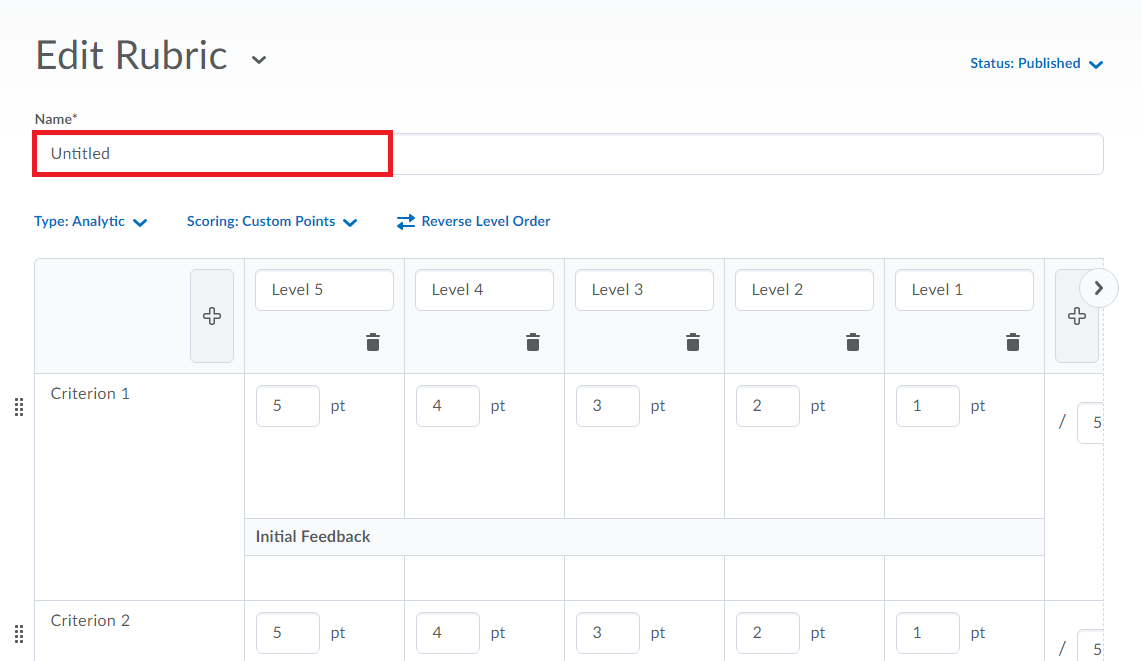 2. Click on the drop-down menu under Status.
3. Select a Rubric status published, archived or draft. It is recommended that you keep it as a draft until you have completed your rubric.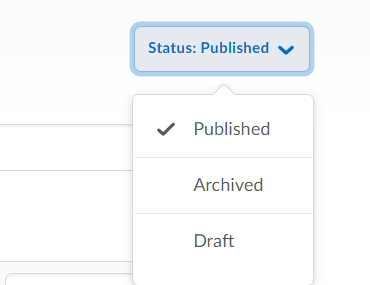 Draft: use if you are not ready to link your rubric with an assessment tool.
Published: use if you are ready to link it to a dropbox and start evaluating.
Archived: hides your rubric from being found in the search results and is not available to link with assessment tools.
Note: Once it has been published, it can be associated with assessment dropbox folders and other tools.
4. Select Analytic from the rubric type drop-down list.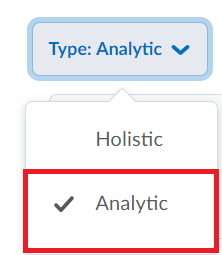 5. Select the type of Scoring Method from the drop-down list. We recommend that you create Analytic rubrics using Custom Points. This allows you to easily change points for each criteria. Only use Points if all of your rubric criteria have the same amount of points. No Score is where the levels are indicated by Text Only. For example, three performance levels for a rubric can be "Poor", "Good", and "Excellent".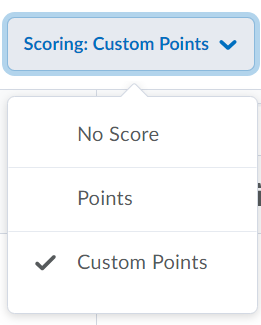 6. Select the arrow to expand Options. You are able to change the default selections but it is not recommended that you do.
Competencies needs to be selected to ensure that assessment drop-boxes can be associated with the rubric.
---
1. An empty rubric shell with criteria, levels, a criteria group and overall score will be created. The example below uses the Custom Points Rubric type.
You will still need to input all scores yourself as the calculations within the rubric are unlikely to match the scores for the levels you need to provide.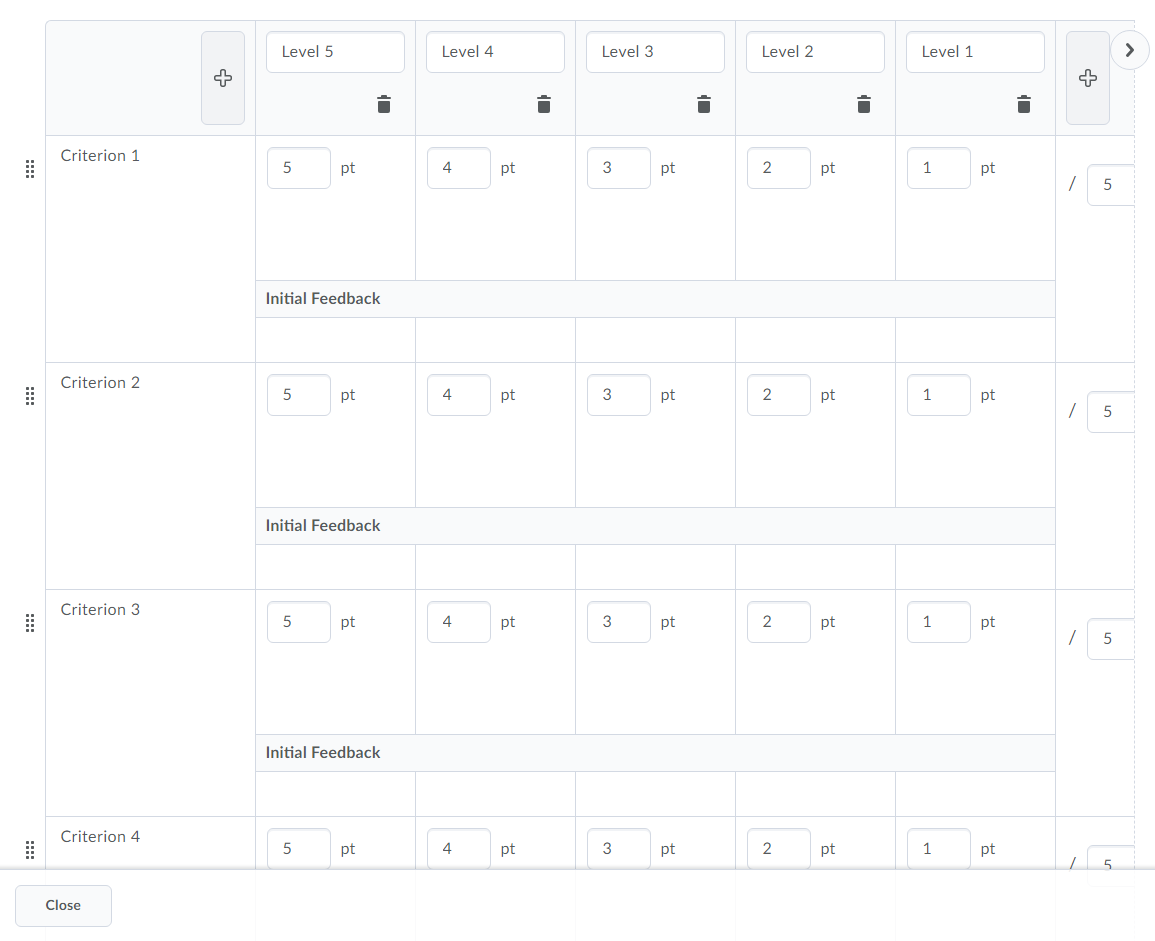 2. To add or delete levels, use the

icon to add a level before or after. Use the

icon to delete level.
3. To add new criteria click Add Criteria. Use the

icon to delete criteria.
If the delete icon for criteria is not visible, use the left and right arrows

to scroll within this screen.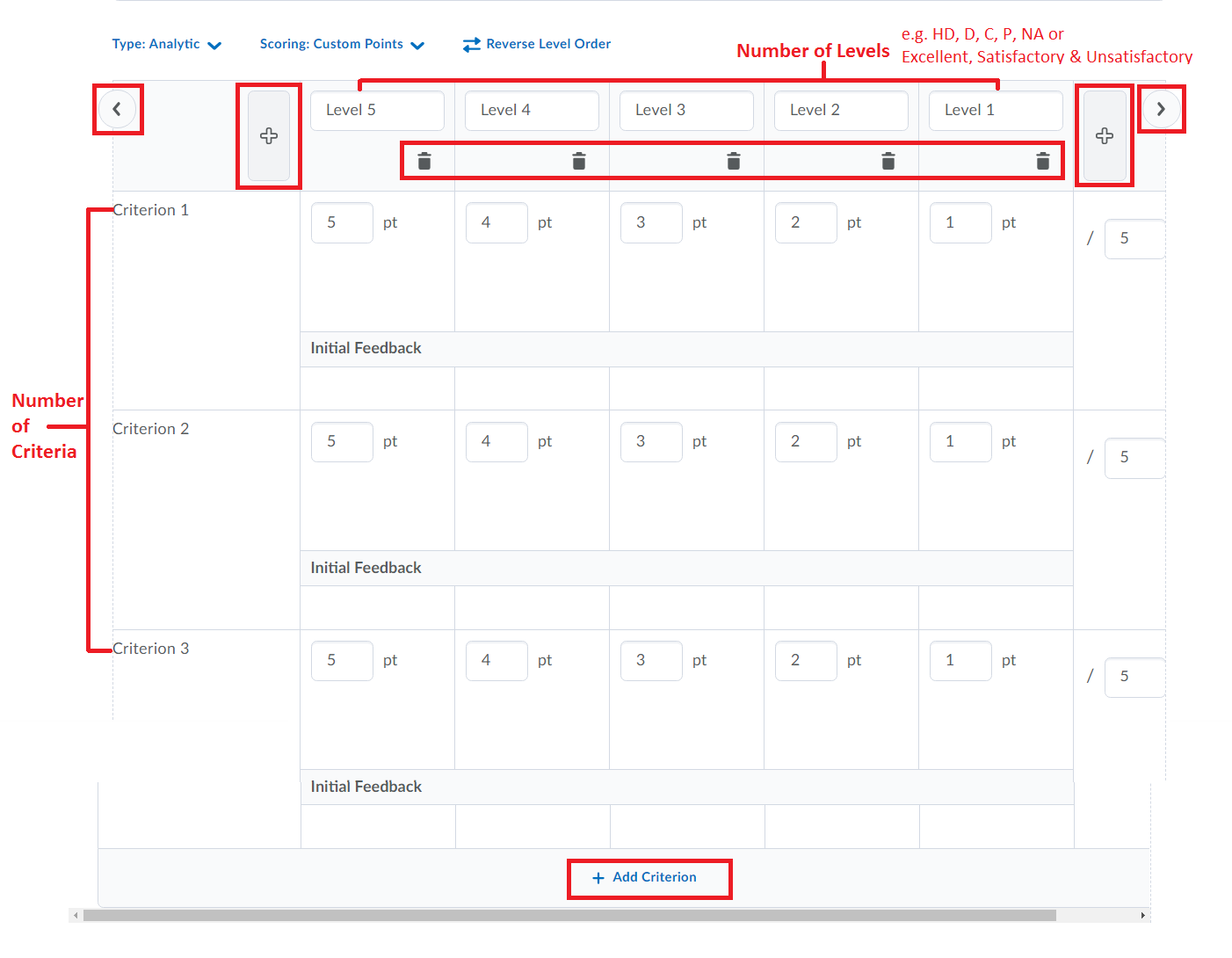 4. To update the Level and Criteria names, click the respective input field and start typing.


5. Once you have renamed your Criteria and Levels, add description and initial feedback for each of the levels. Click the respective input field to edit it. Enter description required to achieve the level for each criterion and a score.
Descriptions help evaluators determine which level best reflects an assessment criterion. The more detailed the descriptions, the more consistent evaluations will be. Additionally, if there is a range of scores, add this to the level description.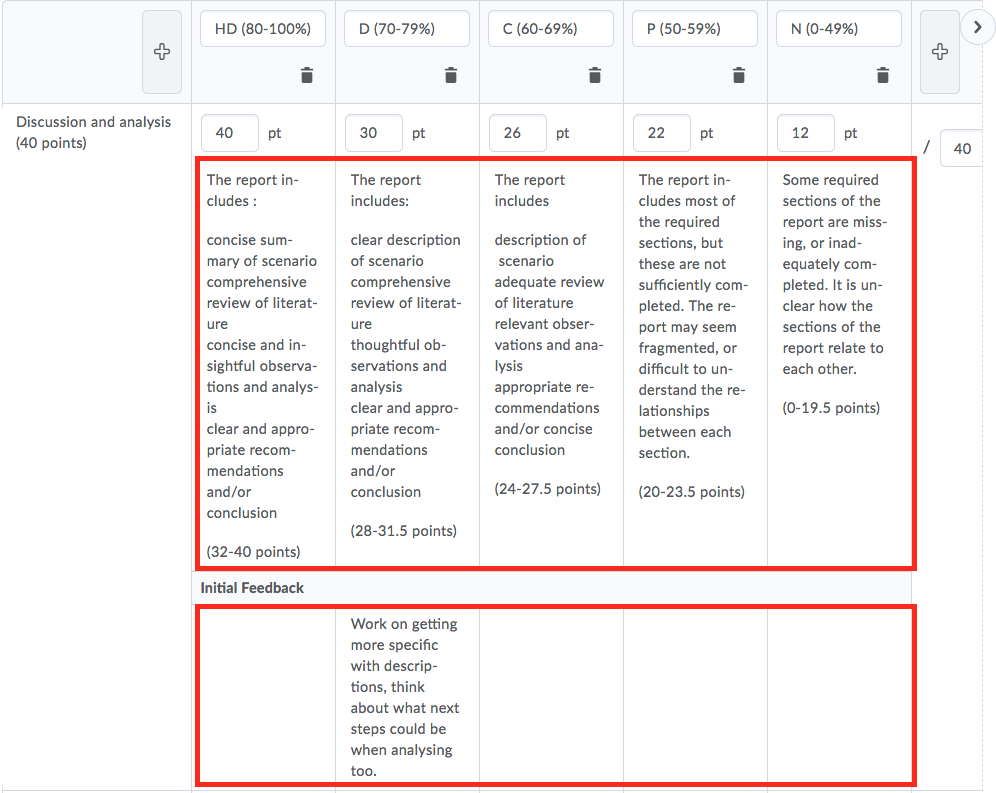 6. When entering scores ensure that the maximum score for each criterion is prescribed to the highest level (eg. HD) while minimum/mid-range points are prescribed to every other level (eg. D,C,P,N).
You need to input all scores yourself as the calculations within the rubric are unlikely to match the scores for the levels you need to provide. See the table at the end of this guide for points in each level.

The maximum score must be prescribed to the highest level because the system assigns the weighting of criteria using the highest level points.
---
Next, you are required to prescribe an overall score, this is found at the bottom of the rubric. The overall score provides students with which level or grade they have achieved in their assessment. Below are some examples of overall scores:
Example 1: A rubric with 3 levels - Exemplary, Satisfactory, Unsatisfactory.
This rubric awards students with a maximum of 100 points. It does not match the standards for HE grading.

Example 2: A rubric with 5 levels: Fail, Pass, Credit, Distinction and High Distinction
This rubric uses the VU Grading Scheme. It awards students with a maximum of 100 points.

To add your Overall Score at the end:
1. Fill in your Level names. These should be the same as the level names you have used at the top of the rubric.
2. Fill in the Start Range for your level. This should be the minimum score for the level.
3. You can fill in the description for achieving the level beneath the score.
4. Check that the Rubric has the correct points and information as you will not be able to make changes to the rubric once it is linked to an assessment dropbox/ gradebook item.
5. Click on Close.
If you need to make changes to a rubric after being linked to a dropbox/gradebook item, make a copy of the rubric and link it again.
---
1. Once you are certain that you have finished editing the rubric, click on the drop-down arrow beside it then click Set Status and select Published.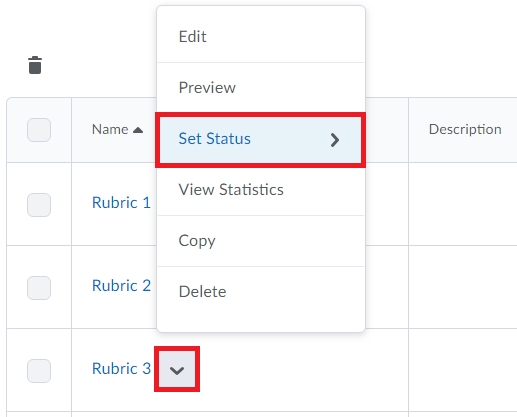 2. Select Published to publish your rubric.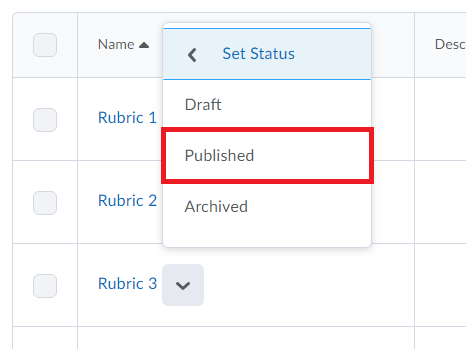 ---
Now that you have created your rubric, you can use it by attaching it to an assignment in the Assessment Dropbox/Gradebook item.


1. Click Assessments on the navbar, then select Assessment Dropbox.
2. Click on the drop-down arrow beside the desired Assessment Dropbox and select Edit Folder.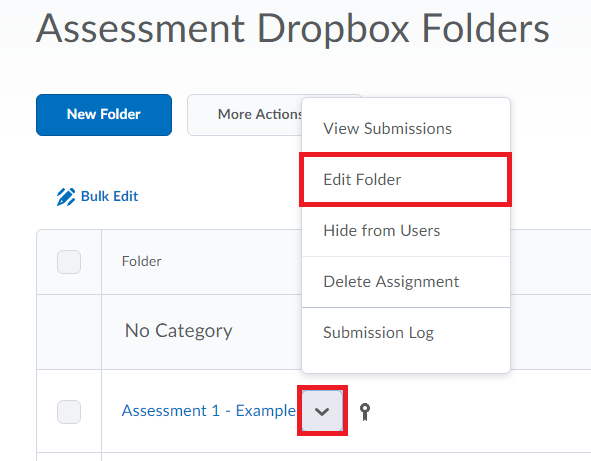 3. Scroll down to find Rubrics, then click on Add Rubric.
4. Click on the checkbox beside your desired rubric then click on Add Selected.

If you do not see your Rubric, your Rubric status may still be set to Draft.
5. Click Save and Close. Your Rubric is now linked to the Assessment Dropbox.
---
Below is a Points Allocation/Range Guide for a Rubric:
The HD column must include the highest value attainable (however, can be edited/marked down when marking). This is done to make the rubric work correctly in VU Collaborate, due to technical specifications. All other levels are set at the starting point or a mid-point score. Please email This email address is being protected from spambots. You need JavaScript enabled to view it. if you would like some assistance when building a rubric in VU Collaborate.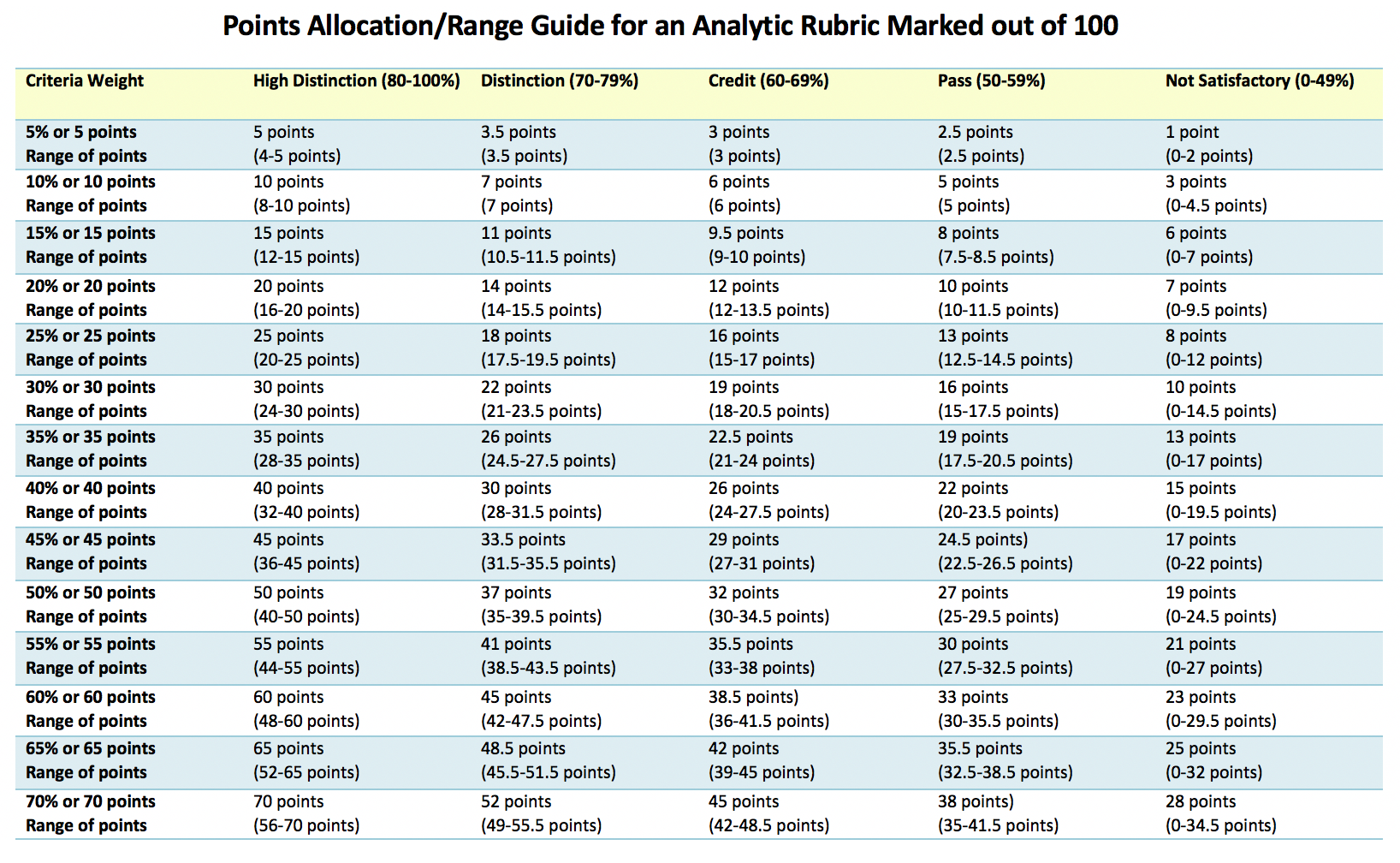 You will not be able to change the name, description, levels and criteria after you have started marking using the rubric. If you want another rubric of the same, make a copy by clicking on the dropdown arrow next to the rubric title and selecting copy.
---
Further Support
Visit the VU Collaborate Help site at https://vucollaboratehelp.vu.edu.au for up to date information and resources on blended learning or email This email address is being protected from spambots. You need JavaScript enabled to view it..
Contact ITS Service Desk on (03) 9919 2777 or via self-service http://servicedesk.vu.edu.au for further technical support.