User roles and permissions in VU Collaborate
As a VU staff member, you have access to VU Collaborate. You may have access to 'spaces' for a unit or course, particularly if you are involved in teaching or supporting learning and teaching. This guide outlines the roles available in VU Collaborate and the types of staff these roles best apply to. For instructions on how to enrol teaching and support staff (e.g. Tutors, Academic Support), refer to the Enrolling Users guide.
---
Glossary of terms used in this document
Space: An online collaborative area in which you can build and deliver your unit or course (known as a shell in WebCT).
Enrol: Refers to enrolling users into the VU Collaborate space, not into the unit or course itself.
Classlist: A VU Collaborate tool that allows you to view who is enrolled in the space, and depending on your permissions, add participants to the space.
View-Only: Refers to the permission to be able to view space content but not to modify it.
People enrolled as Convenor or Instructor in Block Master spaces will be transitioned to Block Convenor, Block Key Academic or Block Instructor. Block convenors will be automatically enrolled in master spaces based on the unit convenor role in CAMS. Refer to the below table for what access these new roles have in VU Collaborate.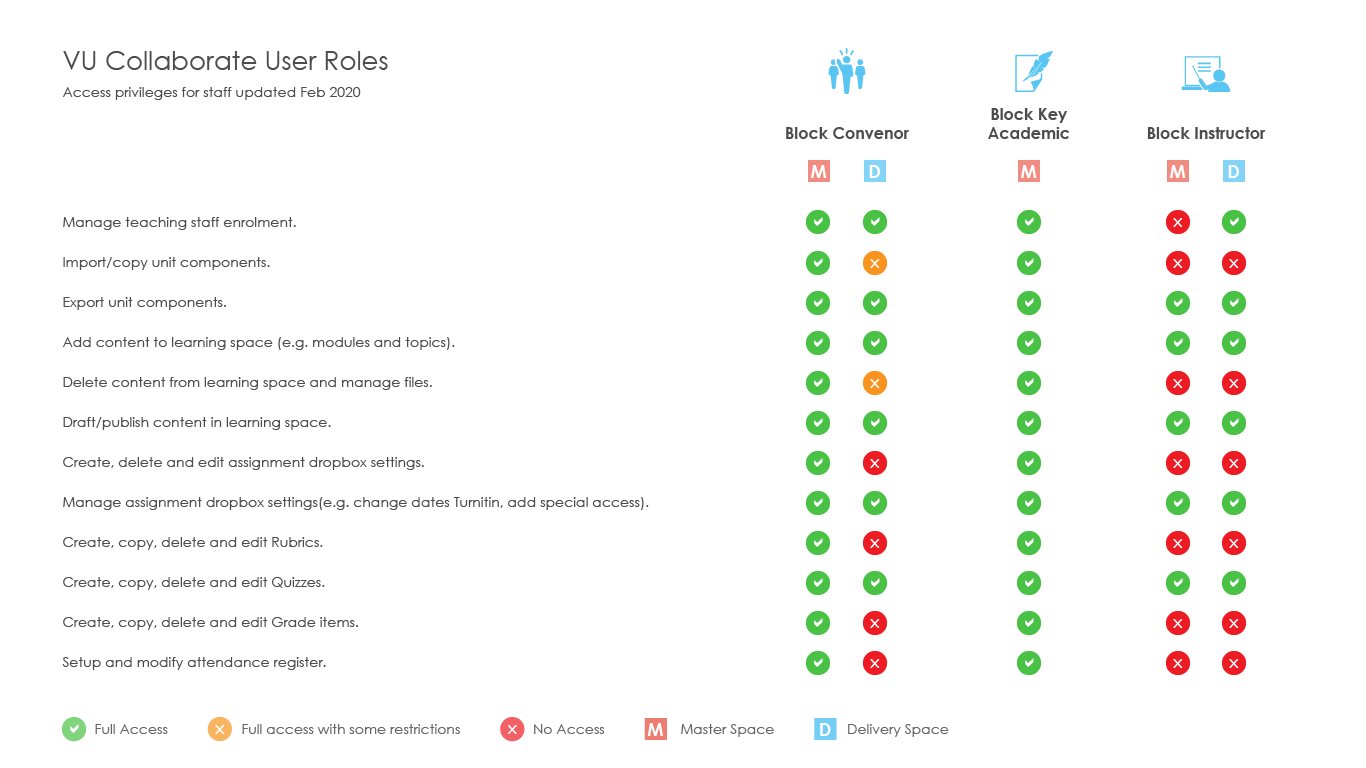 Tutor and non-teaching roles (Space Reviewer, College Librarian, College Coordinator etc.) will remain unchanged.
VU Collaborate Roles
---
Instructor
Instructors have full control of a unit space, they are able to create and modify course content, and perform grading and assessment. They can enrol the Space Reviewer into their space, but cannot enrol/un-enrol students or other teaching staff. The Instructor will appear in the Classlist for students to contact.
Who might use this role?
Instructors
Lecturers
Sessional staff
Example: You are a teacher (sessional or contract), delivering a unit as part of a teaching team or independently, and are responsible for designing course content and running learning activities.
Convenor
The Space Convenor is responsible for managing and supporting the space at an administrative and oversight level. This includes enrolling and un-enrolling Instructors, Tutors and other roles in the space. They have full rights in the space as per the Instructor role so they can manage content and activities.
Who might use this role?
Education managers
Unit coordinators
Other non-teaching administrators.
Example: You are a Unit Coordinator, coordinating one or more units, or perhaps a teaching team and need to support the space at an administrative level.
Tutor
Tutors are able to interact with students via email and discussions, manage student groups and grade students. Tutors can view content but are not able to create and modify content or assessment tasks. The role is visible in the Classlist.
Who might use this role?
Tutors
Teaching assistants
Offshore teaching staff
Example: As a Tutor, you work with an instructor who coordinates multiple tutors within one large unit. The Instructor designs the space by creating content and assessment material but you are responsible for communicating with students and assessing their work.
Space Reviewer
The Space reviewer role is designed to enable information exchange between teaching staff members. Space Reviewers have view-only access to content but cannot view student grades. They are added by the Space Convenor or Instructor do not appear in the Classlist.
Who might use this role?
Teaching staff
Staff responsible for reviewing and auditing
Example: As an Instructor, you would like a colleague to give you some feedback on the space you have designed. You enrol your colleague as a Space Reviewer so that they can view your work.
Guest Instructor
Guest Instructors are able to interact with students and view content. They are not able to add or modify content, and cannot view or edit grades. Guest Instructors are visible in the Classlist and will require a staff number to be enrolled.
Who might use this role?
Guest speakers
Industry partners.
Example: A key speaker is invited to address and engage with your students.
Non-Teaching Roles
---
Learning Support
The Learning Support role is enrolled in a unit space through negotiation with the Convenor and Instructor. They provide support to teaching staff in the development of content for the unit space or support for students (particularly those in need) and are visible in the Classlist.
College Librarian
The College Librarian is enrolled by ITS eLearning in all spaces within a College and is designed to assist teaching staff with the development and distribution of content. The College Librarian can add content and interact with students but is unable to view student grades or assessments. The role is visible in the Classlist.
College Coordinator
The College Coordinator is automatically enrolled in all spaces within a College with the ability to view and modify content. This role is not visible in the Classlist. The College Coordinator is able to assist with reporting on learning and teaching activities across a College.

---
Further Support
Visit the VU Collaborate Help site at https://vucollaboratehelp.vu.edu.au for up to date information and resources on blended learning or email This email address is being protected from spambots. You need JavaScript enabled to view it..
Contact ITS Service Desk on (03) 9919 2777 or via self-service http://servicedesk.vu.edu.au for further technical support.