Creating an Assessment Dropbox
The Assessment Dropbox is a useful tool that creates a container for students to submit their assignments which can be checked against Turnitin for originality.
The Dropbox tool allows you to set up assignments that students can submit online. You can set up separate Dropbox folders for each assignment and set up start dates and deadlines. Once assignments are submitted, you can view them online, download them, check submission times, enter a score, add qualitative feedback, and return submissions with comments, all from within the Dropbox tool.
You can also check for potential cases of plagiarism by enabling Turnitin Feedback Studio, which will check each student submission against vast databases of previous student submissions, journal articles and other web references.
To see a short video on How to Create an Assessment Dropbox, see the video below:
Below are steps to walk you through creating an Assessment Dropbox Folder and enabling Turnitin Feedback Studio:
This can only be set up by block convenors and key academics in the master space. Visit User Roles Explained for more information.
---
1. Click Dropbox from the Assessments menu.

2. Click the blue New Folder icon.

3. Insert the folder Name.
Note: Ensure the assessment name is the same as the unit guide, grade item and rubric.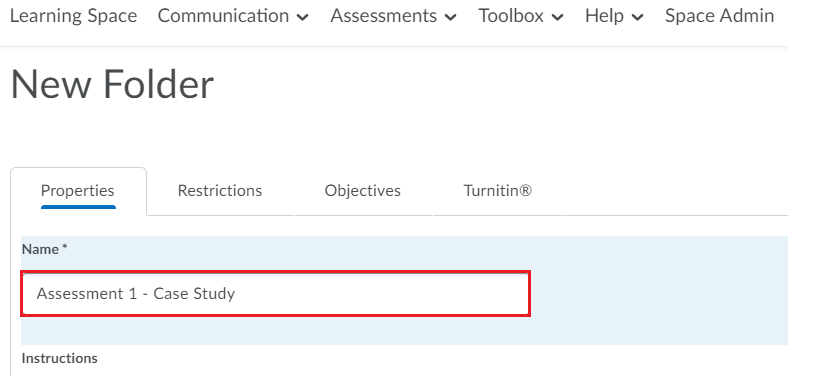 4. Enter additional instructions or attach supporting files to further inform students on what's required for the assessment task.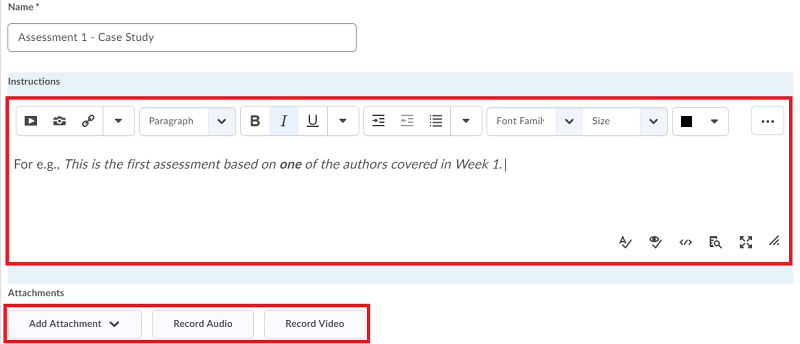 ---
1. Select Folder Type.
Individual submission folder will be selected by default. Students will have the ability to submit their own assignment. If you wish for students to submit group assignments, select Group Submission Dropbox and proceed to select the Group Category.

Groups must be created prior to creating a Group Submission Dropbox. Visit the Creating and Managing Custom Groups in VU Collaborate Manager for more information.
2. Click the down-arrow icon

under Submission type to expand further options for your Assessment Dropbox Folder.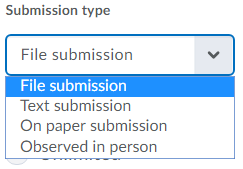 File submission: Students upload their assessment to the Dropbox folder.
Text submission: Students type their assessment within the Dropbox folder and then submit. Useful for when you just need a link to another site where a student has created something such as a YouTube clip.
On paper submission: Students completed a paper based assessment and don't need to submit anything. The dropbox is used to register completion of the assessment with marks and feedback, use a rubric if wished and have grades added to the gradebook.
Observed in person: Students completed their assessment under the observation of an assessor and didn't need to submit anything. The dropbox has the rubric for each student, register completion of the assessment with marks and feedback, and have grades added to the gradebook.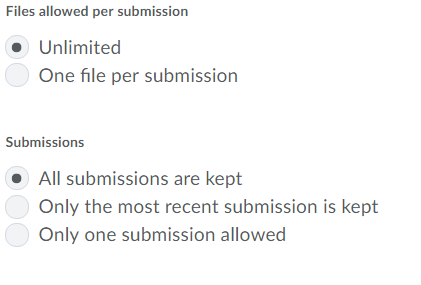 Note: These file formats are compatible:
a) Text Document- RTF, PPT, PPS, PDF, DOC, DOCX, PPTX, XML, XLS, TXT, WPD
b) Image- JPG, JPEG, PNG, GIF, BMP, TIF, TIFF
c) Media- SWF, MPG, MPEG, RM, MP3, MP4, M4V, M4A, AVI, WAV, RAM, ASF, MOV, RA
3. Control how many files students can submit at any one time in the Files allowed per submission setting.
4. Choose if students can re-submit to the Dropbox Folder through the Submissions setting.
All submissions are kept: Students can re-submit as many times as they desire, showing all previous submissions to teaching staff.
Only the most recent submission is kept: Each time a student submits to the Dropbox folder, it replaces the previous submission.
Only one submission is allowed: Students are not able to re-submit to the Dropbox folder.
---
1. Enter Out Of Score. This should be the same Out Of score as the Grade Item and is the total points someone can get for the assessment. This may be different to the weight of an assessment. For example, you could score the assignment (and rubric) out of 100 and have it weighted at 25% of the total score for the unit.
2. From the Grade Item drop-down menu, select the Grade Item that you want to be linked to the Dropbox Folder. By linking a Grade Item, you will have the ability to transfer marks and feedback given to students to the Gradebook within your Space.
Although you are able to create a Grade Item in the dropbox folder here, it is better if you have all Grade Items created before you create the dropboxes. Visit Setting up the Gradebook to learn how to manage your grades for all assessment activities effectively.
3. If you have not created a Grade Item for your Dropbox Folder, click on New Grade Item, entering the corresponding point value for the assessment task. This will create an additional row in your Gradebook.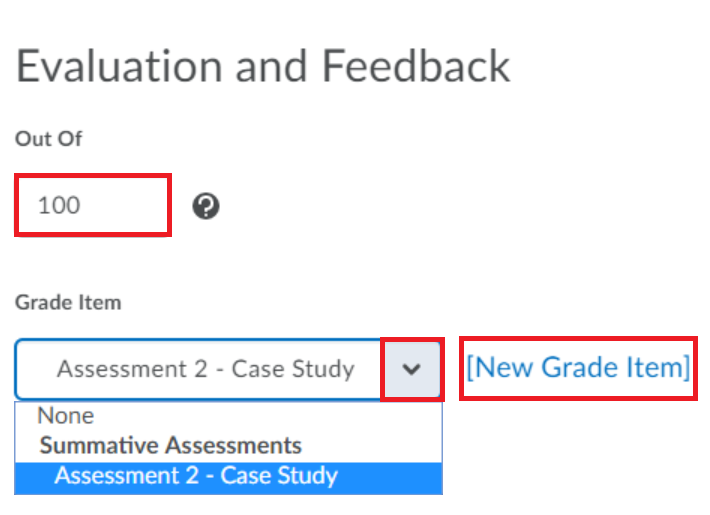 ---
Create the rubric first, ensuring the name of the rubric matches the assessment name i.e., Assessment 1 - Case Study.
1. To assist in the evaluation, marking and provision of feedback for student submissions, you can use a Rubric. Click Add a Rubric to select an existing Rubric or click on Create Rubric in New Window if you do not have one created and want to create one now.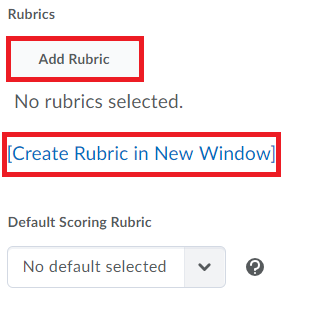 Once the rubric has been added, it will appear as follows (below). To delete the rubric simply click on the x icon.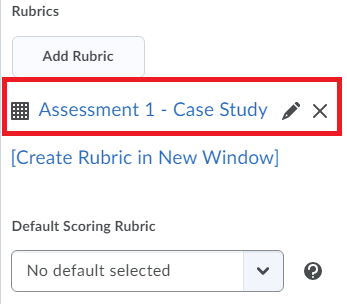 ---
All Assessment Dropbox folders are hidden from student view by default. To ensure that students can see the Assessment Dropbox on VU Collaborate:

1. Click on the Restrictions tab.
2. Uncheck the tickbox next to Hidden from users.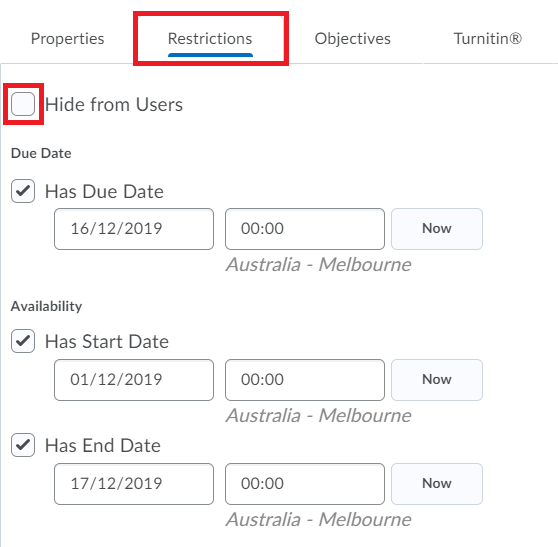 Due Date: Once this date lapses, students that submit to the Dropbox Folder will be flagged in red as late.
Start Date: When students can start submitting to the Dropbox Folder.
End Date: Once this date lapses, students can no longer see the Dropbox Folder.
All of these dates need to be selected if you are also going to use Turnitin.
---
6.1 Add Release Conditions
1. Using Release Conditions, you are able to make the Assessment Dropbox Folder open to certain students.
2. Click Create and Attach to add a new condition. See the guide Using Release Conditions for further information.

6.2 Add Special Access
1. Special Access allows you to add students to a whitelist, which allows them to bypass the availability dates listed above.
2. You may find this useful later on in the semester when students are requesting assignment extensions. Visit the guide Add Special Access for more information.

---
Text only dropboxes restrict ssignment submissions to text that can be entered in the submission process. This can be useful when you require links from students to files hosted outside of VU Collaborate, such as to a website or if the assignment is a video. The method for creating a text-only dropbox is very similar to creating a regular dropbox and only requires a small change in the submission type.
To enable Text Only Submissions, click the Submission type dropdown arrow

under the submission options subheading and select Text submission.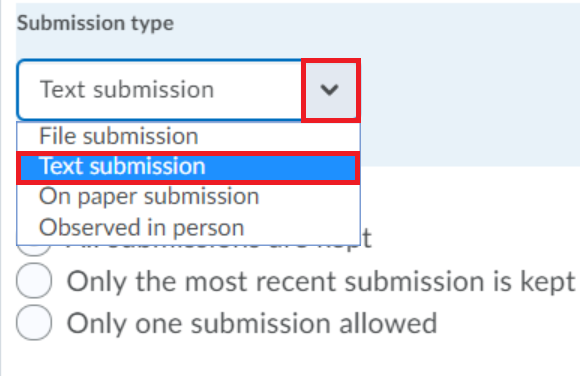 2. If you have finished creating your dropbox, click the Save and Close button.



---
Further Support
Visit the VU Collaborate Help site at https://vucollaboratehelp.vu.edu.au for up to date information and resources on blended learning or email This email address is being protected from spambots. You need JavaScript enabled to view it..
Contact ITS Service Desk on (03) 9919 2777 or via self-service http://servicedesk.vu.edu.au for further technical support.