New to VU Collaborate
Welcome to VU Collaborate, Victoria University's Learning Management System (or LMS). This LMS incorporates technologies to help you facilitate teaching and learning in an online and blended environment. VU Collaborate is Victoria University's implementation of the Brightspace Learning Management System, created by D2L Brightspace.
VU Collaborate is available here: https://vucollaborate.vu.edu.au. You can also access VU Collaborate via the MYVU Portal which provides links to a range of VU online applications, including VU Collaborate.
To see the Introduction to VU Collaborate video, click here.
To login, use your VU username and password.
VU Collaborate Home is the first page you will see after logging into VU Collaborate. On this page you will see a list of your spaces, an events calendar, and various other links.
You can use the waffle to select a delivery space, or search for master spaces by typing the unit code into the search bar under the My Master Spaces search bar. A delivery space is an online collaborative area for teaching and learning in a unit. The Master Space is where you build what will be used in the delivery space such as content, assessments, etc. There are other types of spaces, such as personal "Sandpit" spaces and Support spaces such as VU Collaborate Essentials. If you do not have access to your Master space(s), please email This email address is being protected from spambots. You need JavaScript enabled to view it. or contact the Unit Coordinator or College Manager.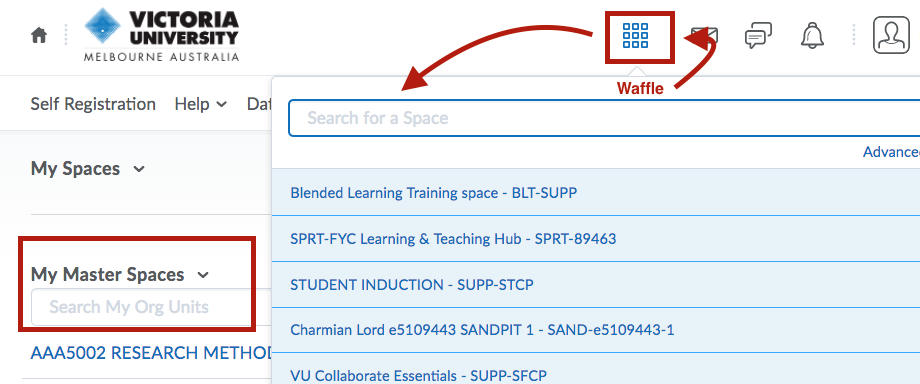 To see a short video on VUC Introduction, see the video below.


The following sections provides you with instructions on how to get your delivery space(s) up and running as quickly as possible. Information has been categorised into four broad categories. You can follow these categories from left to right, or dip into the section where you need help.
Please be aware that VU Collaborate automatically releases spaces to students one week prior to the formal start dates of each teaching period. The Space Creator can override the start date in VU Collaborate Manager to make it earlier, but the date cannot be pushed back.
The first section "Setting Up" provides you with a basic introduction to the layout of the VU Collaborate user interface, and will help you to familarise yourself with your delivery space(s) within VU Collaborate.
Once you have familiarised yourself with the layout and features of VU Collaborate, you can look at populating your unit with content. VU Collaborate supports many different types of content, including documents (e.g. Word, PDF), video (e.g. LinkedIn Learning videos), and interactive content such as H5P learning objects which you can build from with the VU Collaborate environment.
Communicating With Students
Having effective communication strategy is of paramount importance, especially in an increasingly digital world. VU Collaborate provides a number of communication tools to help facilitate effective communication. Through effective facilitation, use of these tools should have a positive impact on student learning.
VU Collaborate's Assessment Dropbox tool allows you manage student assignment submissions. This section covers setting up of Dropbox folders and quizzes, creating rubrics, using Turnitin to detect and prevent plagiarism, and grading student submissions using TurnItIn's GradeMark tool.