Creating Reflections in ePortfolio
ePortfolio is a tool that allows you to represent your learning by creating, organising and sharing artefacts including presentations.
Use reflections to discuss items in your portfolio, record your thoughts on topics that interest you, set goals, and think critically about your learning.
Here are the steps to create reflections in ePortfolio:
---
1. To access the ePortfolio, click Toolbox in the main navbar in your space.


2. A drop-down menu will appear. Click on My ePortfolio.

---
1. Click My Items tab, then click Add button.

2. Click Reflection.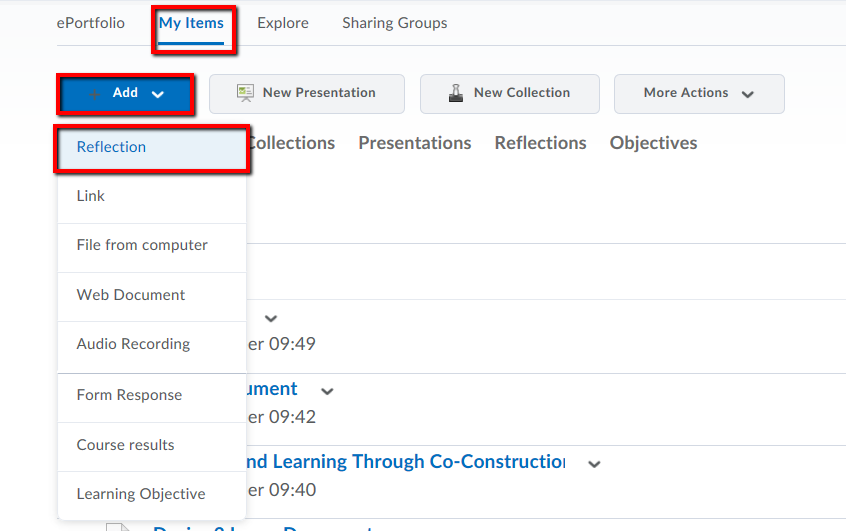 3. Give your reflection a Title.

4. Enter your thoughts in the Reflection Field.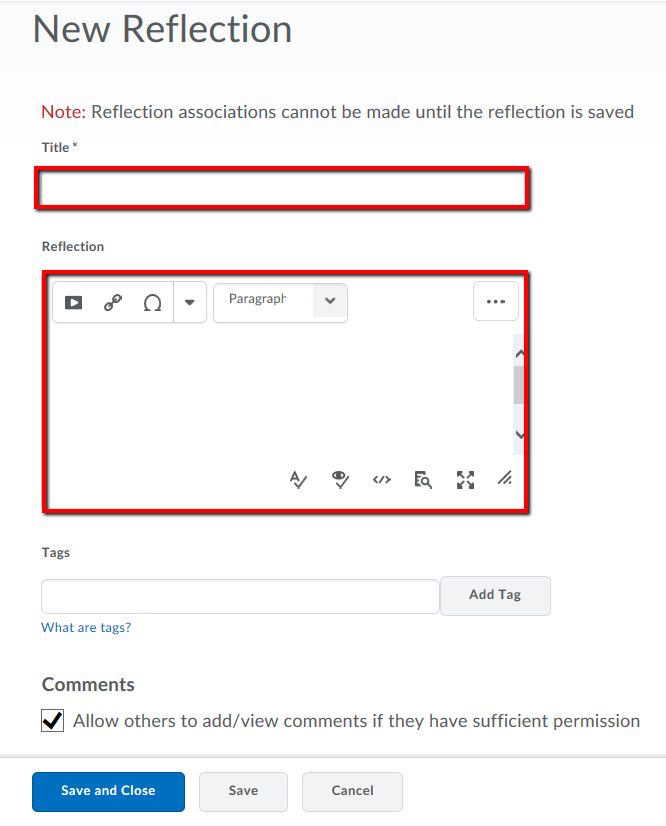 5. Add any Tags you want the reflection to have.

Note: Tags are words you associate with an object to make items easier to find. You can search for items with specific tags, and other users can use your tags to search for items.
6. Select Allow others to add/view comments if they have sufficient permission if you want to provide others the option to comment on your reflection.



7. Click Save and Close.


---
Reflections may be independent My ePortfolio items or associated with artefacts, learning objectives, collections, or presentations. Associating reflections with other items helps other users see the relationship between the items and makes it easier to revisit your goals and assumptions later.
Reflections are only visible to other users if you share them, associate them with an item, or add them to a collection or presentation. When you share a reflection that is associated with an item, users can only view the name of the associated item unless that item is also shared with them. Sharing an item associated with a reflection allows users to view the reflection as part of the item. If you include a reflection in a collection or presentation, it inherits the permissions of that collection or presentation.
See Sharing ePortfolio artefacts with individuals for more information about how associations affect sharing in My ePortfolio.

1. Click Edit from the context menu of an existing reflection.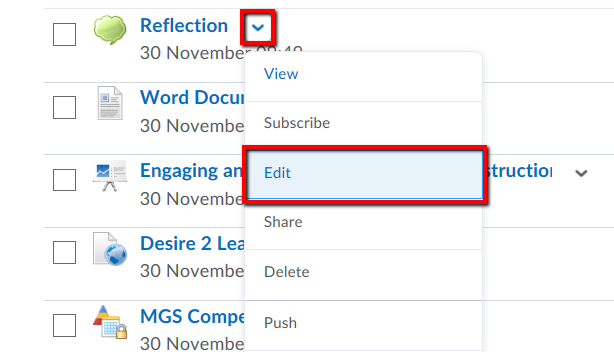 2. Click the Add button in the Associated Items section.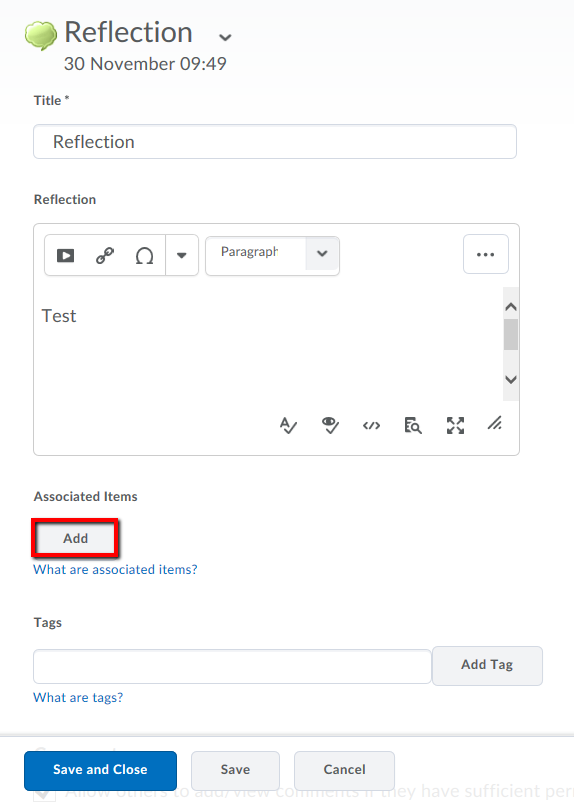 3. Select whether you want to associate the reflection with an Artefact, Collection, Presentation, or Learning Objective.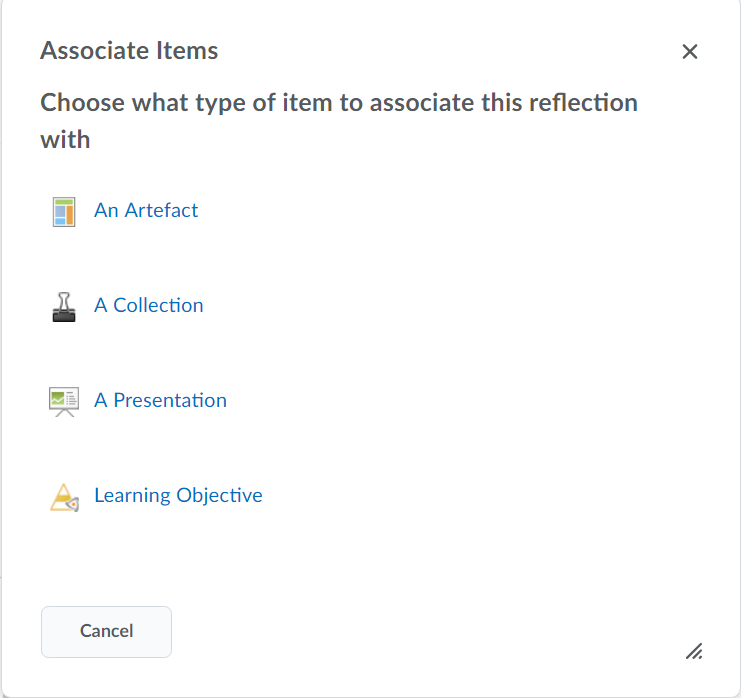 4. Select an item from the list of items that appears, then click Add.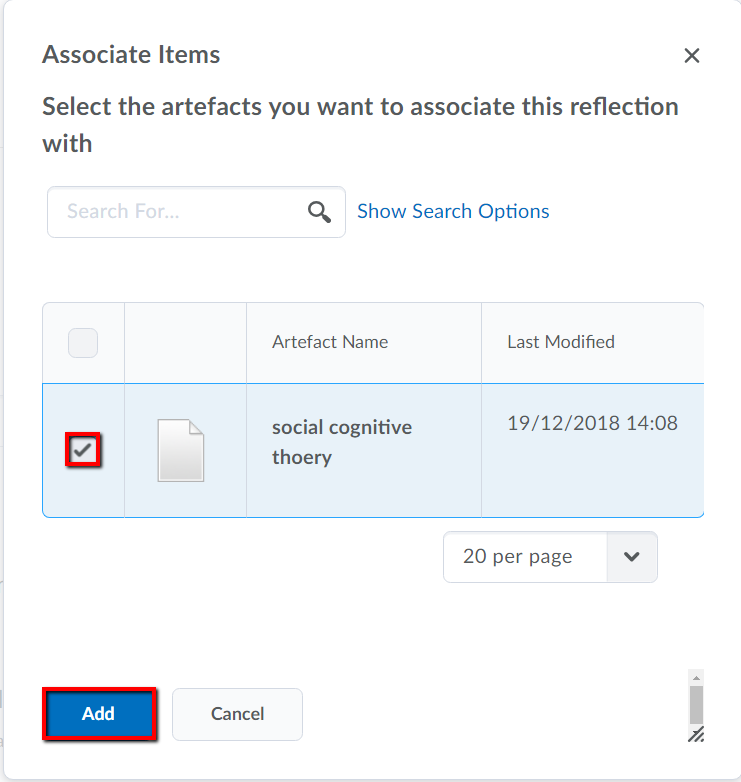 5. The Artefacts or any other item that you added, will appear under the add button. You can delete any of the added items by clicking

on the right side of each item.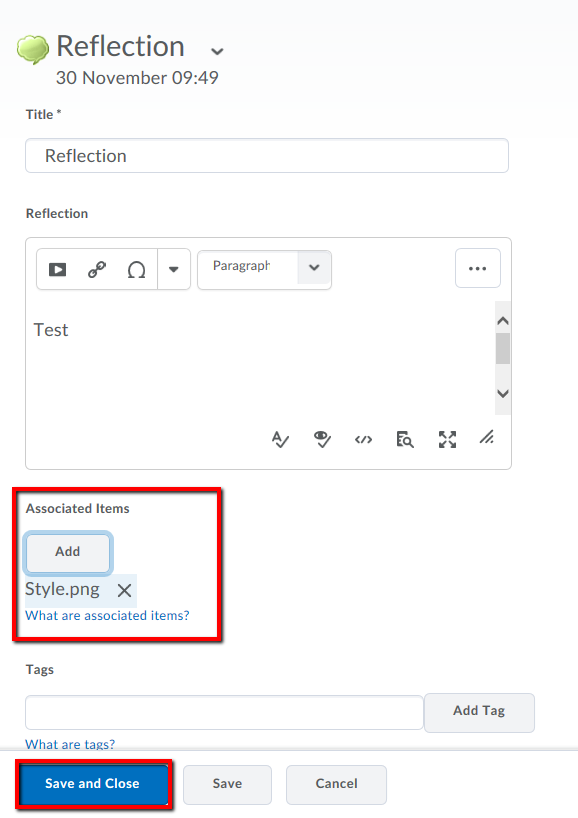 6. On the Edit Reflection page, click Save and Close.
---
Further Support
Visit the VU Collaborate Help site at https://vucollaboratehelp.vu.edu.au for up to date information and resources on blended learning or email This email address is being protected from spambots. You need JavaScript enabled to view it..
Contact ITS Service Desk on (03) 9919 2777 or via self-service http://servicedesk.vu.edu.au for further technical support.