Using Quick Eval
This guide will show you how to use Quick Eval to quickly view, prioritise and access all student submissions waiting to be marked.
Access Quick Eval
1. Log in to VU Collaborate and click on Quick Eval.

Submissions view
Sort and filter submissions
The Submissions tab displays all the ungraded students' submissions.
Click on the column headers to sort by First or Last Name, Activity Name, Course or Submission Date.
Select the Filter
Filter by Activity Name, Course, or Date range (last 24 hours, last 48 hours, last 7 days, or more than 7 days)
Tick to select multiple selections, then wait a few seconds for the filter to be applied.

Access and grade submissions
Click on the student name to directly access the grading view
Submissions saved as draft will have a draft icon next to the student name.
Any submission that has been published will no longer appear on the list.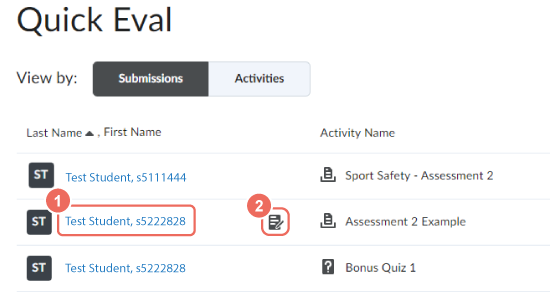 Activities view
Access Activities view to get an overview of outstanding submissions by assessment task
View a dashboard overview of submissions completed, evaluated (graded) and published.
Hover your mouse over the dashboard gauges to access the grading view to evaluation all submissions
View the submission list, or
Select to publish all grades and feedback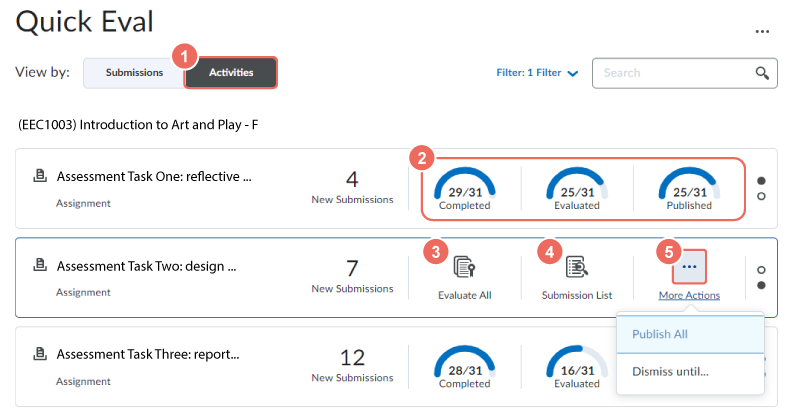 Marking complete
Once all submissions have been marked, you will have a "You're all caught up" message on display.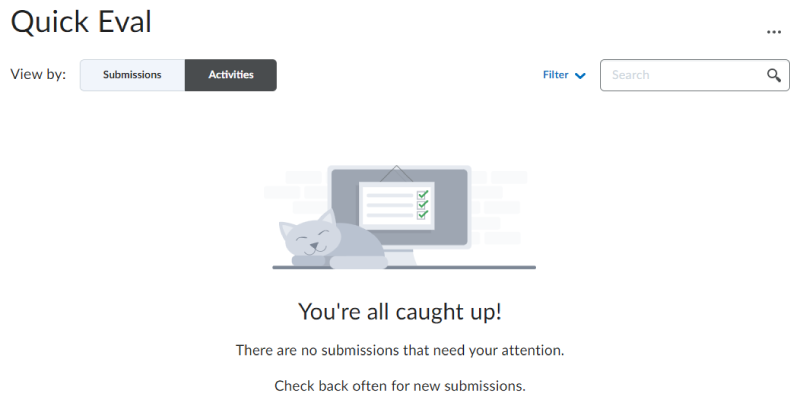 ---
Further Support
Contact us This email address is being protected from spambots. You need JavaScript enabled to view it., for information and resources on technology-enhanced learning, or visit VUCollaborateHelp.vu.edu.au.
Contact ITS Service Desk on (03) 9919 2777 or via self-service servicedesk.vu.edu.au for technical support.