Respondus Lockdown Browser (RLDB)
Learners must use Respondus LockDown Browser (RLDB) to take the quiz when enabled. The tool prevents students from using other applications, accessing other websites (unless access is granted), copying questions, taking screenshots or navigating away from the quiz until it has been submitted.
Respondus Lockdown Browser (RLDB) is available for all Higher Education spaces. It is recommended you only use RLDB for on-campus invigilated tests with a final weight of 20% or more.
On this page:
Related Guides
Watch a short introduction video by Respondus (3 min).

How LockDown Browser works
Displays the quiz in full-screen and prevents screen minimisation.
Menu and toolbar options are removed, right-click and shortcut keys are disabled.
Printing and screen capture is disabled.
Quiz cannot be closed until submitted.
Test preparation
Tests taken on student's own device
Practice test - ensure student have access to a practice test in the unit space, or take the practice test (Sample Quiz – Respondus LockDown Browser is required ) in the Student Induction space.
Install LockDown Browser - ensure students have downloaded the LockDown Browser (can be accessed from a practice quiz).
Test taken in a computer lab
Check with the IT Service Desk that Respondus LockDown Browser (RLDB) is installed in the computer lab.
If required, book an ITS Service request for Block Exam ITS Support. ITS team requires 5 days of notice so equipment/staffing could be arranged for the day
Respondus LockDown Browser (RLDB) must be enabled in the unit Delivery Space, by a Block Convenor (or Convenor).
1. In a Unit Space on the navbar select Assessments, then Quizzes.
2. Select LockDown Browser (1) (allow 15 seconds to load).

3. If Respondus LockDown Browser (RLDB) asks for access permissions, select Yes.
4. Ensure Dashboard (1) is selected, to view a list of quizzes in the unit.
5. From the dropdown list before the quiz name, select Settings (2).

6. Select Require Respondus LockDown Browser (RLDB) for this exam (1).

7. Optional: Set a Password, students will need to enter the password before being able to access the quiz.
This password matches (syncs) with the password entered when setting up the quiz in VU Collaborate.
To ensure students attend a lab session, you could give the password out just before starting the quiz, or take an attendance list.
8. Click on Advanced Settings (2) to view further setting options.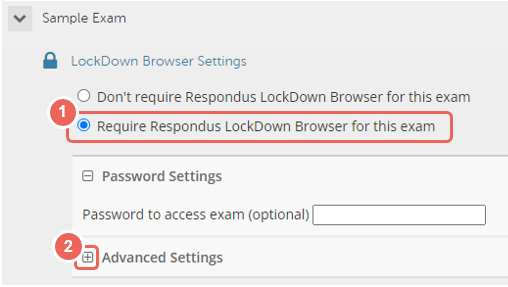 Advanced Settings
9. Required Settings
Un-tick Require LockDown Browser to view feedback and results (1).
Tick Lock students into the browser until the exam is completed (2).
Enter a 'proctor exit' password (highly recommended).
This password can be used by staff to restart a quiz, if there has been a technical issue in an in-class test.
For more information, see FAQ: How to Close the Browser if a Technical Issue Occurs.
Proctor exit password: if set, ensure that someone at the on-campus test knows the password, to assist if needed.
10. Optional settings:

Allow students to take this exam with an iPad - is beneficial for students who use an iPad in class and do not have access to a laptop.
Allow access to specific external web domains - usually when a quiz contains a web link within the quiz, students can access the given page, but not navigate to other pages. If access requires navigation within the domain, or requires access via login pages, then add the external domains to allow access. See Allowing External URLs and using a Domain Spotter (external link), by Respondus to learn more.
Enable Calculator on the toolbar - allows students to access either a standard or scientific calculator whilst taking the quiz.
Enable Printing from the toolbar - A print button icon is enabled on the navigation bar, allowing students the option to print the exam screen (not recommended).

11. Ensure Don't require respondus monitor for this exam is selected.

IMPORTANT - Do not enable Respondus Monitor!
12. Click Save and Close (allow up to 30 seconds).

If you wish to take a practice test, first download Respondus LockDown Browser (RLDB)
Go to Respondus website
Access Respondus LockDown Browser download from:
Option 1: VU Collaborate Essentials (Student Induction space for students) or
Option 2: Navigate directly to Respondus website.
1. Go to the VU Collaborate Essentials Space.
2. On the Navbar select Assessments (1) then Quizzes (2).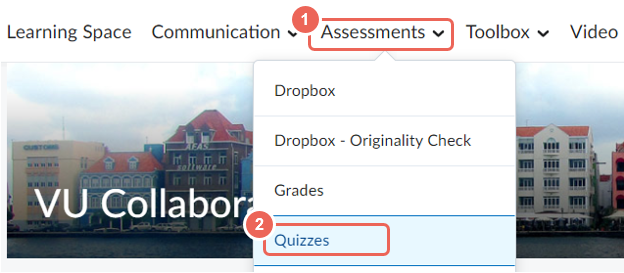 3. From the Quiz List select the quiz that Requires Respondus LockDown Browser.

4. Scroll to the bottom of the page and select Download Respondus LockDown Browser.

1. Go to Respondus LockDown Browser Download.
Download Respondus
1. Review the overview, and check your system requirements. When ready, select Install Now.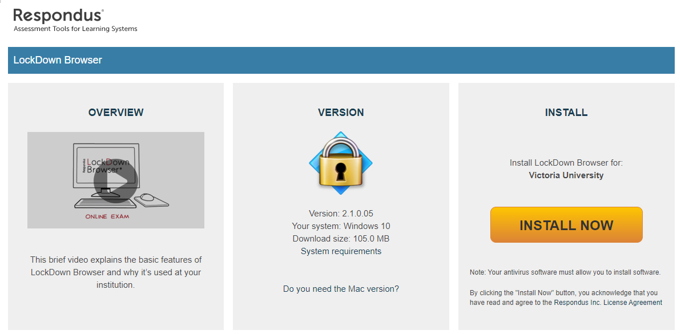 3. Once downloaded, double click the installer.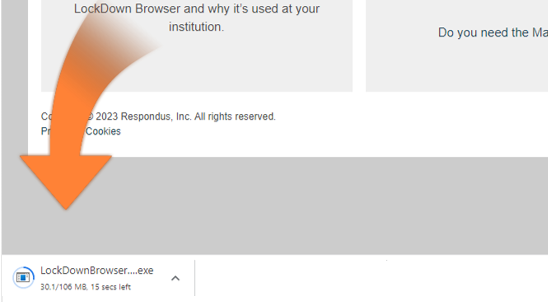 4. Follow the installation instructions.
5. At the end of this process you can go to the quiz and select Launch LockDown Browser to start the quiz.

Windows
1. For Windows computers: Click the Information icon.

2. Select Proctor Exit.
3. Enter the 'proctor exit' password, then select OK.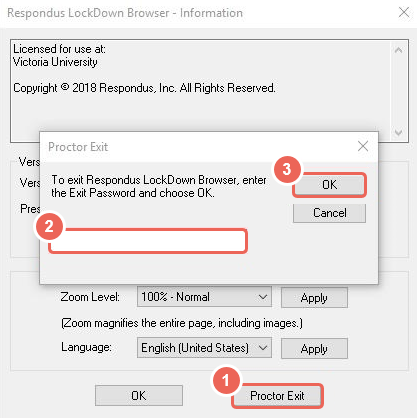 4. The quiz can now be relaunched and continued from where it was last saved.
For Mac computers
1. Click the Globe icon.

2. Select Proctor Exit.
3. Enter the 'proctor exit' password, then select OK.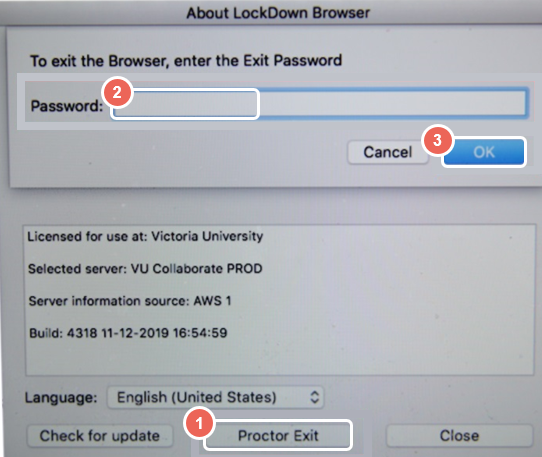 4. The quiz can now be relaunched and continued from where it was last saved.
---
Further Support
Contact us This email address is being protected from spambots. You need JavaScript enabled to view it., for information and resources on technology-enhanced learning, or visit VUCollaborateHelp.vu.edu.au.
Contact ITS Service Desk on (03) 9919 2777 or via self-service servicedesk.vu.edu.au for technical support.