Emailing Students Using the Classlist
The Classlist provides a complete list of who is enrolled in your VU Collaborate Space. You can use the Classlist tool to change enrollments, check student's online status, and send emails or instant messages. This guide will outline how to use the classlist to send emails to students in a space.


Step One: Accessing the Classlist
---
1. Navigate to your desired space on VU Collaborate.
2. At the top of the space, you will find the navigation bar. Click Space Admin.



3. Under the Learner Management section, click on Classlist.

Step Two: Filter Students
---
This will bring you to the classlist for your unit. There are five tabs across the top that each represents a user type. By default, you are on the student classlist. To enable advanced options for searching, click Show Search Options.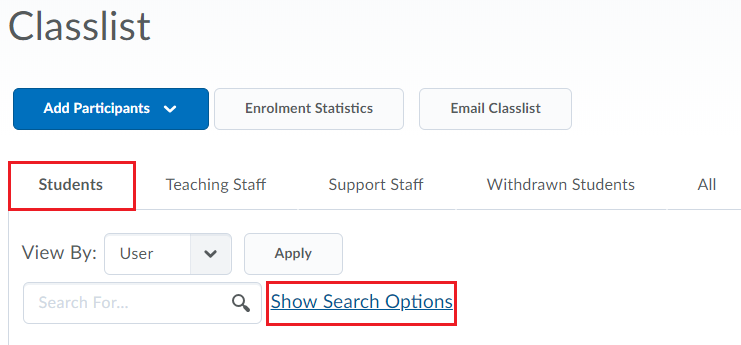 Search options:
1. Search box. Enter the student's name or id in this box. You can search only via first, last or user name by unticking the relevant Search In boxes.

2. Role. If you have assigned roles to any students you can search by these assigned roles. This is most useful when searching for staff via their roles.

3. Flagged. Search between flagged and unflagged users.

4. Status. Exclude online or offline users from your search.

5. Last Accessed. Use this section to refine your search to particular dates that users have logged in.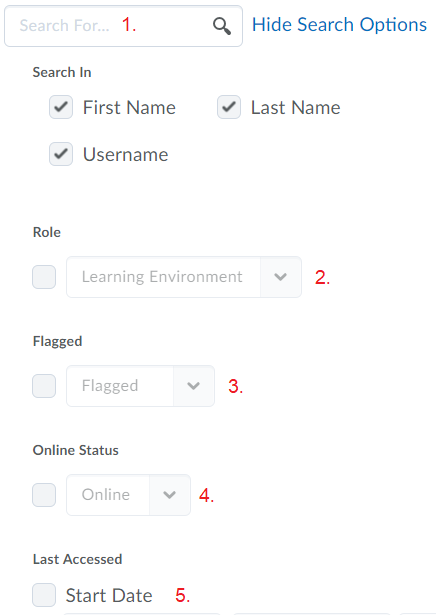 If you wish to e-mail everyone enrolled in the Space, click the Email Classlist button at the top of the page.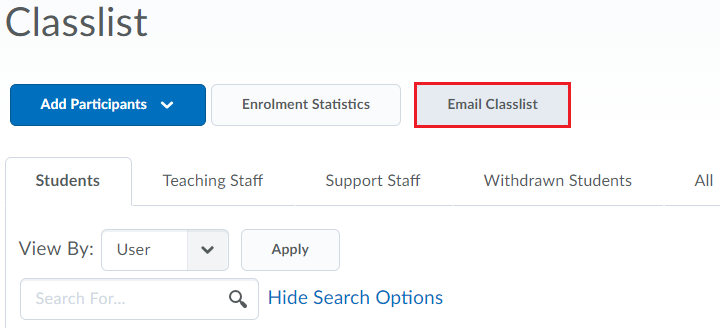 Step Three: Email selected students
---
1. Select the tickbox next to the students you wish to email, and click Email.




2. A new e-mail window will appear. All selected users will be added to the BCC field, to protect anonymity. You can also manually add users.
3. Enter a title into the Subject field, type your message into the Body field, and attach any files necessary. Once complete, click Send.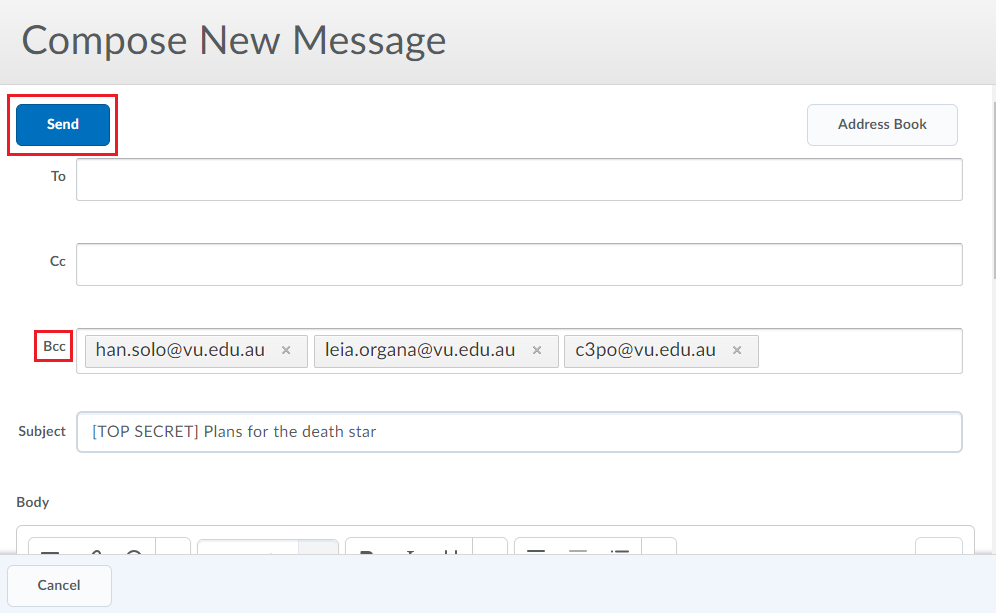 Note: VU Collaborate will show 20 results per page by default. You can increase this to a maximum of 200 in the bottom right-hand corner of the Classlist page.
---
Further Support
Visit the VU Collaborate Help site at https://vucollaboratehelp.vu.edu.au for up to date information and resources on blended learning or email This email address is being protected from spambots. You need JavaScript enabled to view it..
Contact ITS Service Desk on (03) 9919 2777 or via self-service http://servicedesk.vu.edu.au for further technical support.