Providing live transcripts and captions for Zoom Classrooms
Live transcripts and captions provide an immediate text version of spoken words in the Zoom classroom, making your session accessible and easier to follow and understand.
This guide shows how to enable live transcripts, closed captions, and the ability to save transcripts .
On this page:
To enable live captions and transcripts in your zoom sessions, you first need to enable the settings in the Zoom Portal.
Sign in to the VU Zoom Web Portal with your VU username and password.
Select In Meeting (Advanced) (1), from the side menu.
Scroll down to the caption options.
Check that Automated captions (2) and Full transcript (3) options are selected.
Toggle on Save Captions (4), to allow users to save a download of the transcript.
If you can't toggle on Save Captions, log an IT service request, asking that the Zoom Save Captions option be enabled.
1. In your Zoom session click Captions (1), then select Enable Captions (2).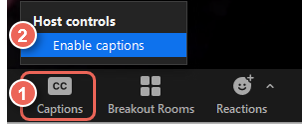 2. Participants can now choose to show or hide Captions (1) and view or close the full transcript (2 and 3).
3. To change the font size of captions, from Show Captions (2), select Caption Settings.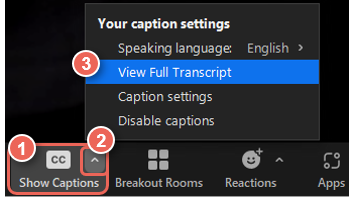 Closed captions (1) will be displayed at the bottom of the screen, and Transcripts (2) in the in-meeting side panel.
Transcripts can be downloaded (if enabled), by selecting Save Transcript (3) at the bottom of the transcript window.