Linking to LinkedIn Learning Resources in VU Collaborate
Use this guide to find and use the most appropriate LinkedIn Learning video resource link. LinkedIn Learning is an online platform which provides video resources. The video resources are organised into courses comprising of several short videos, and there is a capability to link individual videos or full courses in VU Collaborate.
In September 2019 Lynda.com videos migrated to the new LinkedIn Learning where the same video content is available. Lynda.com is no longer available at Victoria University.
Following this process ensures students off-campus link through to the AUTHENICATED instance of the LinkedIn Learning platform which means they will access the full video or course rather than just a preview.
Step One: Access the LinkedIn Learning platform
---
1. Log into the My VU Portal.
2. Scan through the options under Application access.
3. Select LinkedIn Learning videos.
You can also access LinkedIn Learning from the A-Z Databases page on the library website, or go directly to LinkedIn on the website

Step Two: Search for a Linkedin Learning course or individual video
---
2.1a Enter keywords into the search box to find individual videos or courses.
OR
2.1b Browse the LinkedIn Learning options to find courses and the individual videos contained within.

2.2 A search will provide both COURSE and VIDEO results

From this Results page the video option appears in a pop-out window. Navigate through to the Watch full course option to procees through to Step Three below and obtain the relevant link.
Step Three: Linking to individual videos (or course link)
---
The characters &auth=true need to be added to LinkedIn urls to provide authenicated links. (Step 3.6 below)
1. Enter a course from the results screen by selecting the title.

2. Select Contents to obtain a list of individual videos.

3. Select the video you want to link in VU Collaborate
Copy the url link [Crtl-C] at the top of the LinkedIn page. The link url is now in the device memory.

4. Go to VU Collaborate and navigate to the VU Collaborate space where the link will be placed.
Select New and then New Link in the relevant module.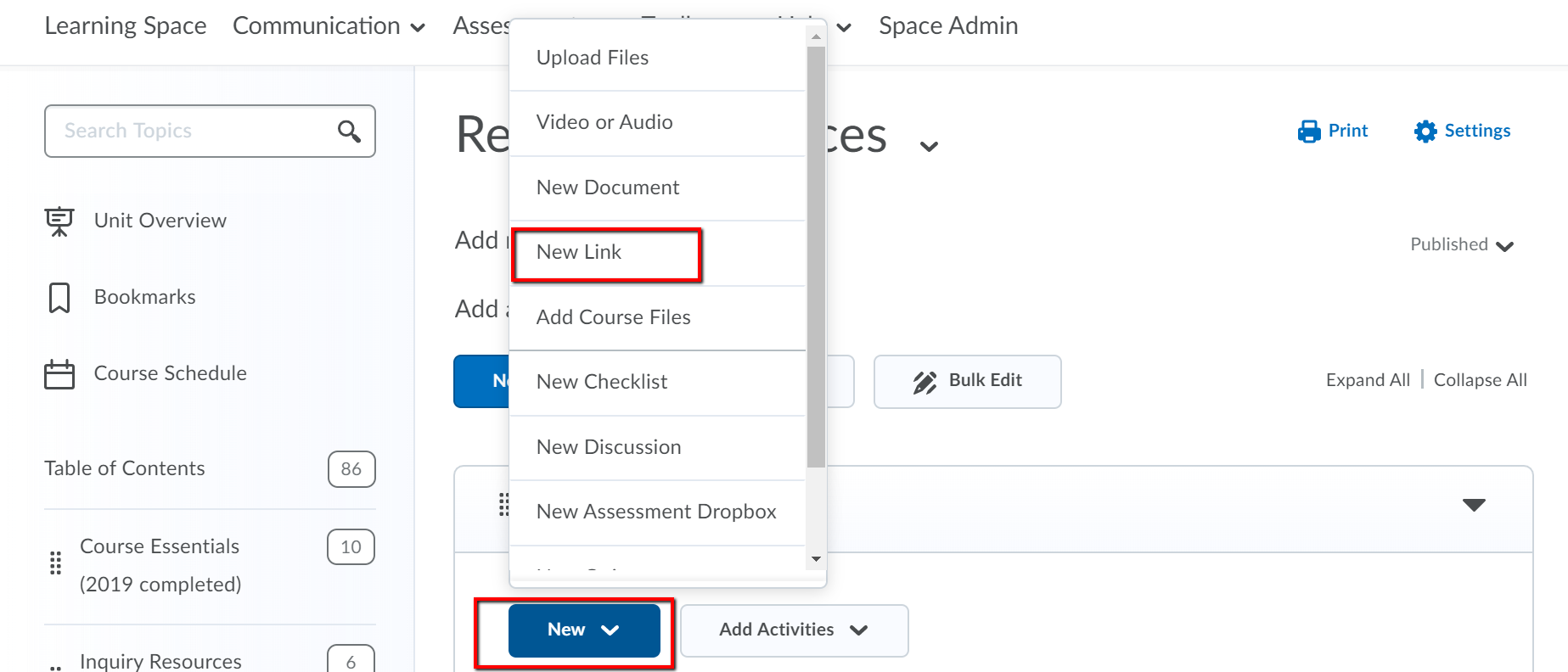 5. Paste the Linkedin Learning link. This url will end with the characters "............?u=22952571"
6. Add the characters &auth=true at the end of the url with no spaces.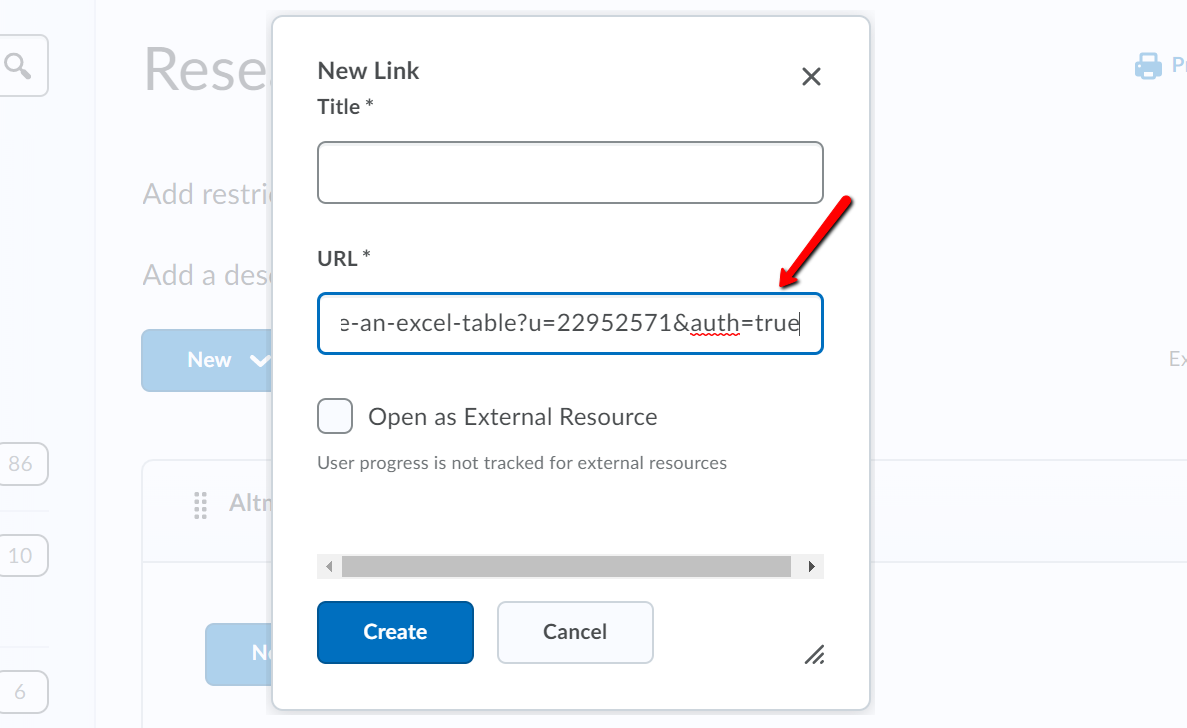 7. Add the Video Title and tick the Open as External Resource box. Select Create.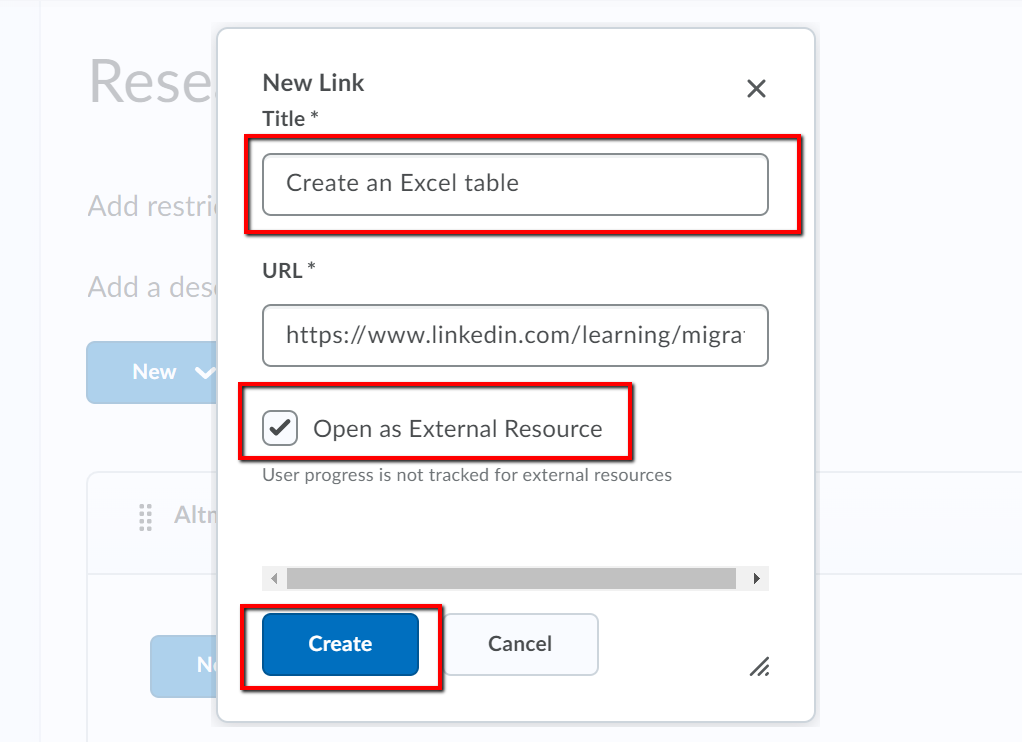 If you want further assistance, contact your College Librarian.
---
Further Support
Visit the VU Collaborate Help site at https://vucollaboratehelp.vu.edu.au for up to date information and resources on blended learning or email This email address is being protected from spambots. You need JavaScript enabled to view it..
Contact ITS Service Desk on (03) 9919 2777 or via self-service http://servicedesk.vu.edu.au for further technical support.