Inserting an H5P in VU Collaborate
H5P is a tool for creating interactive learning content in VUCollaborate. H5P is Open Source software integrated with VU Collaborate which allows the easy and rapid creation of mobile friendly interactive elements. These can form an integral part of your course content. You can use H5P Learning Objects to create, share and reuse interactive content to engage students and stimulate their learning within VU Collaborate.
---
This guide includes
Below are the steps for inserting the H5P into a VU Collabvorate space.
Related guides
To learn how to access and create H5P learning objects in general, see Introduction to H5P.
---
Click on the picture below to see a short demonstration of how to insert an H5P into a space on VU Collaborate.
---
In the Learning Space choose the module you want the H5P to be in, click on New then New Document.

---
1. Select the Insert Stuff button in the HTML editor. You can also add instructions explaining what the H5P is for, or any other information you wish about the subject.

2. Scroll down and select H5P Learning Object.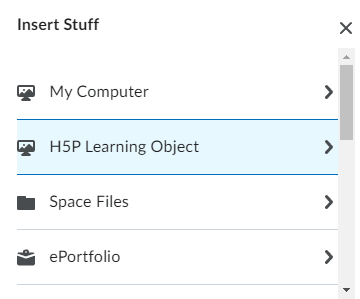 ---
1. If you are creating a new H5P, select Add Content. To search for an H5P that is already created:
1. Type the title of the H5P into the serach bar. You can also type in the unit code to bring up H5Ps that have it in their title.
2. Click on the search icon to start the serach for that H5P, or click Enter.
3. Select the H5P you want to use.
4. Click Insert to place that H5P into VU Collaborate.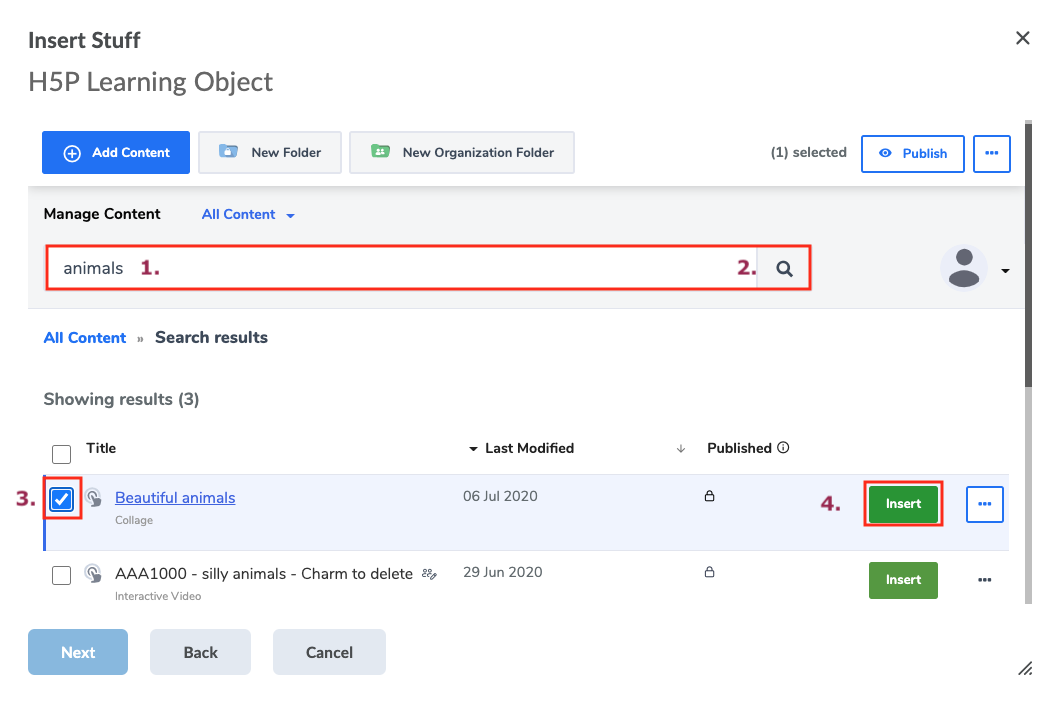 2. You will then have a chance to preview the H5P you have selected, you can also edit it further from here. If this is the correct H5P, select Insert.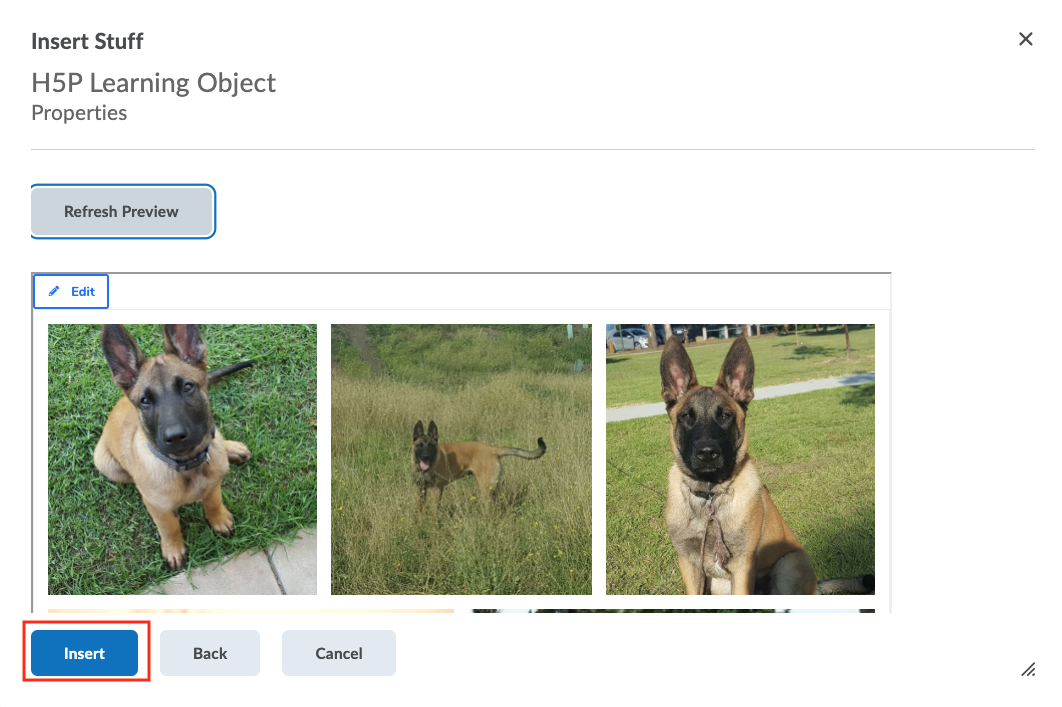 3. You then have the view of the H5P within VU Collaborate. Add a title to match the title of the H5P when you selected it and click on Save and Close.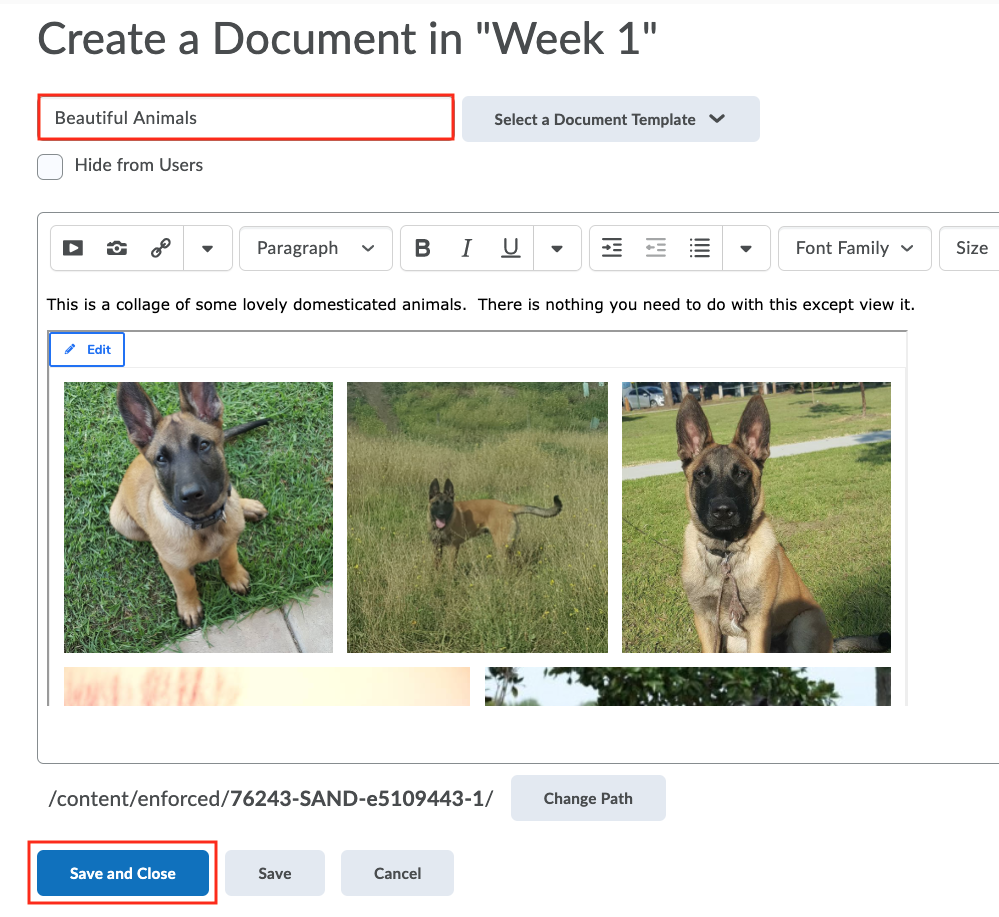 4. Your H5P will now be available for students to view in the module where you started.
You can insert multiple H5P objects into the one HTML. You can also insert an H5P wherever you see the Insert Stuff Icon
---
Further Support
Visit the VU Collaborate Help site at https://vucollaboratehelp.vu.edu.au for up to date information and resources on blended learning or email This email address is being protected from spambots. You need JavaScript enabled to view it..
Contact ITS Service Desk on (03) 9919 2777 or via self-service http://servicedesk.vu.edu.au for further technical support.