H5P Sharing and Collaboration
This guide is about how to share your H5P digital learning objects within the organisation and how to add collaborators to edit your H5P objects together.
This guide will of course be much more useful if you already have an H5P that you intend on sharing. If you have not yet created one you can see the H5P website or VU Collaborate Essentials for examples and then find the guides on how to create them on the VU Collaborate Help site.

Below are the steps to share your H5P digital learning objects and add collaborators.
---
1.1 Add Collaborators
1. After creating an H5P, scroll down to find the final settings of your object. Click Collaborators and type the user's name or email address under Choose who can edit content.
A Collaborator is someone who has access to edit the original H5P.



2. You can delete collaborators by clicking cancel under Users who can edit.


1.2 Add Sharing
1. Click Sharing and pick folders where to share content by clicking on the folder. Click the add/plus icon to check the subfolders within the college folders.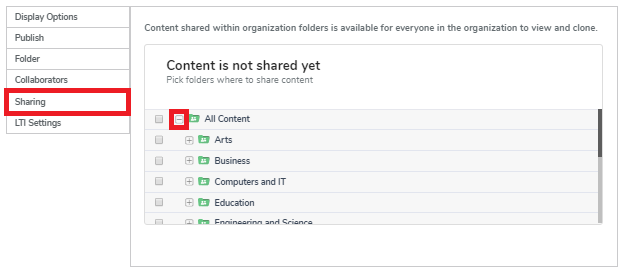 Content shared within organisation folders is available for everyone in the organisation to view and clone but they cannot edit the orignal that you created.
2. Click Save and Insert to save the changes you have made and insert the H5P into the VU Collaborate module.



If you click Save, you can insert the H5P afterwards or make more changes where neccessary.
If you want to make changes regarding sharing and collaboration at this stage, you can click Edit and scroll down to the bottom.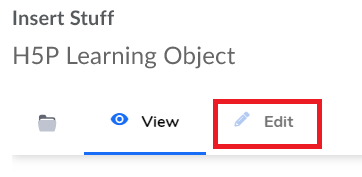 For example, if you chose the wrong folder to share the H5P, you can click Stop sharing.



---
If you have already created an H5P and want to edit sharing and collaboration, here are the steps to follow.
There are three types of content.
- Shared with me: Shared with me tab only shows content you are a collaborator for. It does not show shared organisation content.
- My Content: My Content tab shows content you have created. You can edit sharing and collaboration here.
- All Content: All content shows content you are a collaborator for, content you have created and content that has been created and shared with VU colleges and departments.
2.1 Get Access to My Content
1. In a Learning Space module, click on New then select New Document.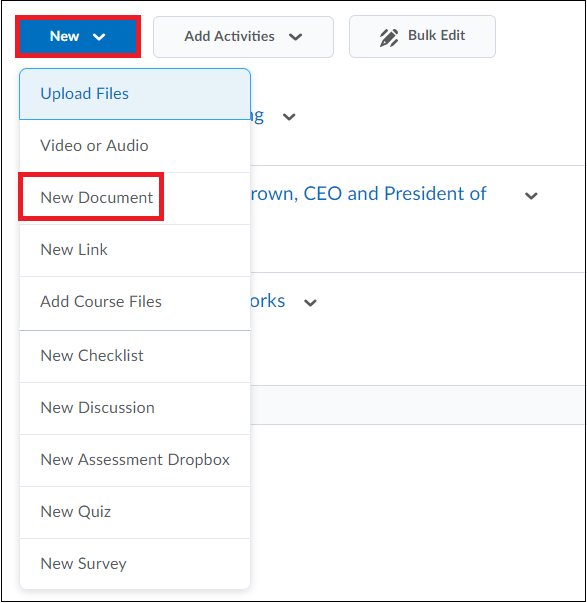 2. Click the Insert Stuff button.



3. Scroll down to select H5P Learning Object.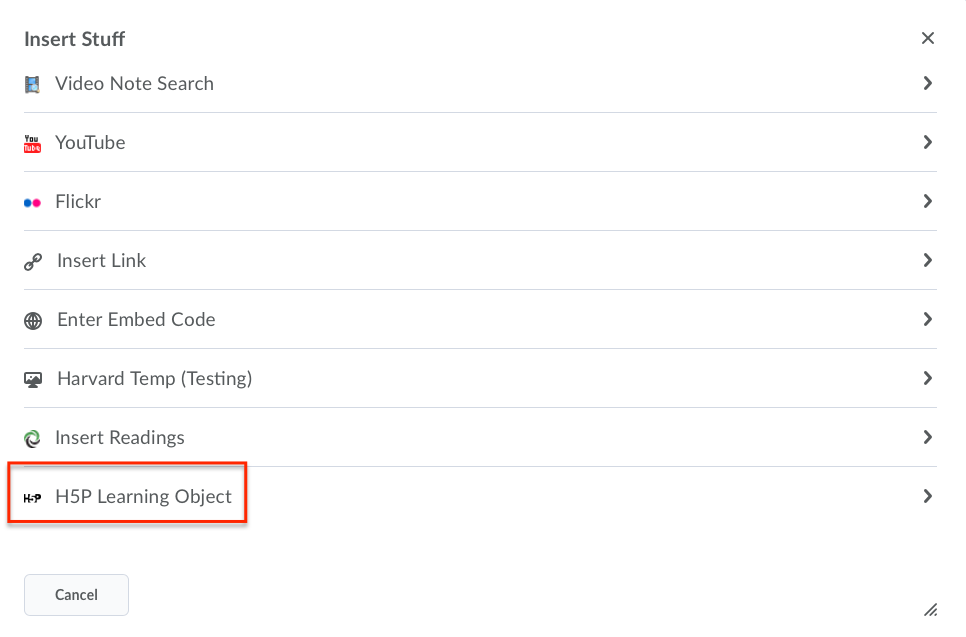 If you have already used the above steps to access H5P, you will be able to also access H5P from https://vu.H5P.com
4. You will now be taken into the My Content page, which will list all the previous H5Ps you have created.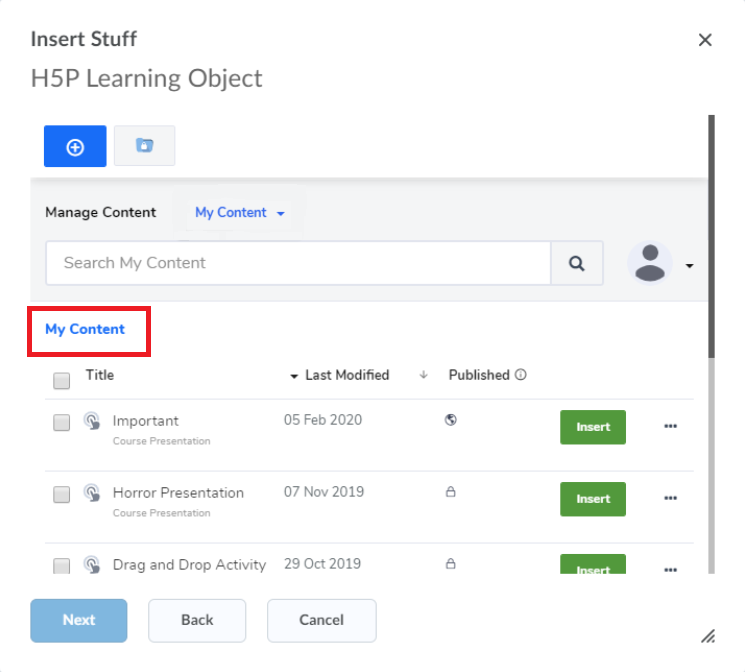 2.2 Edit Sharing
1. On the far right hand-side select the three dot icon

and from the options, select Sharing.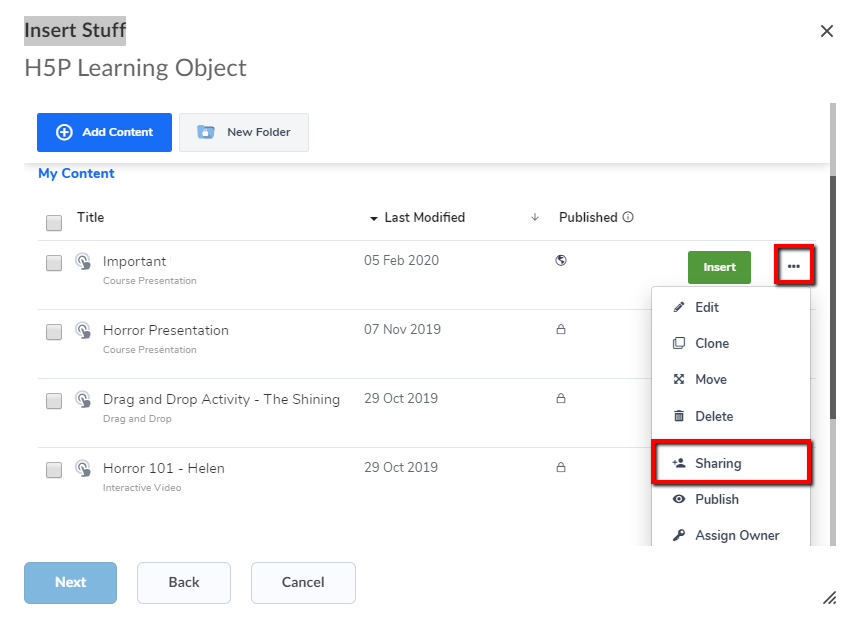 2. Now you can make changes regarding Sharing in the pop-up window. For example, you may click Share more places.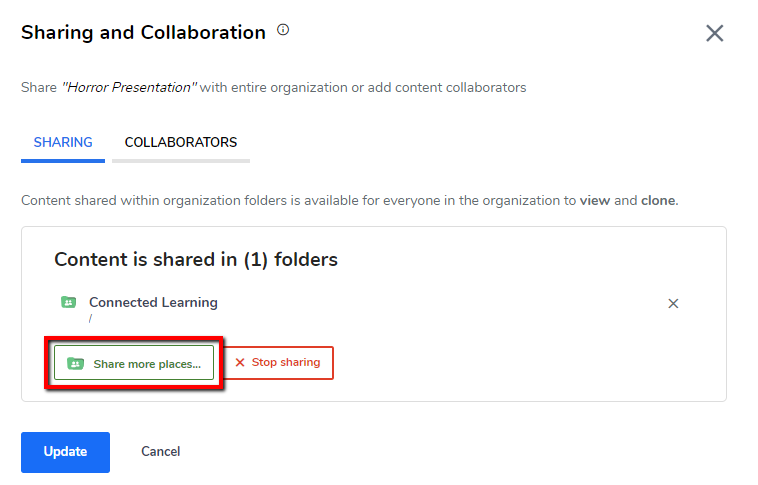 3. Tick the box where you want to share your content, and click Update.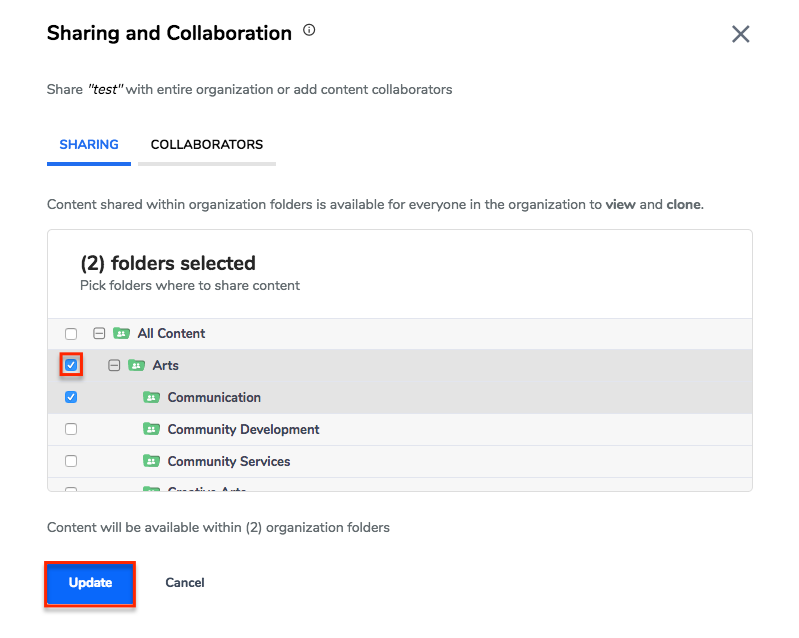 2.3 Edit Collaborators
1. Collaborators are others who can share and edit the original H5P. To make change regarding collaborators, click the Collaborators tab.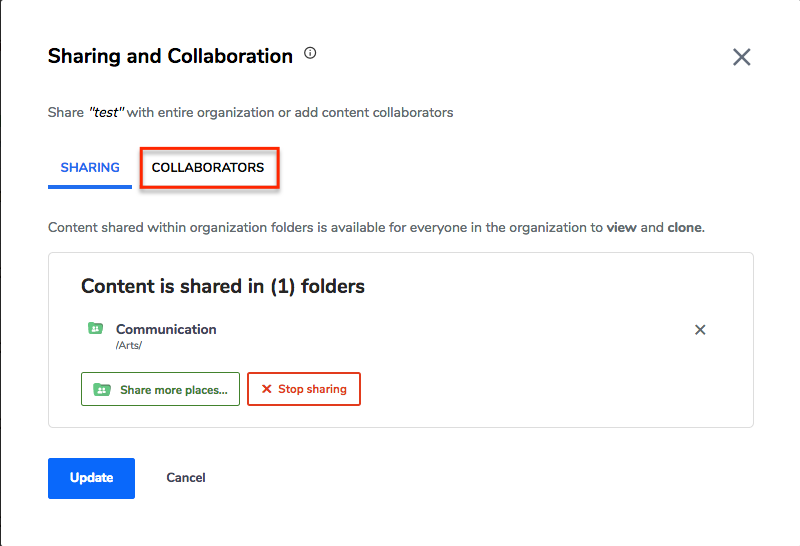 2. Type the person's name or email address to add collaborators. To delete users, click the X. You can add as many collaborators as you like.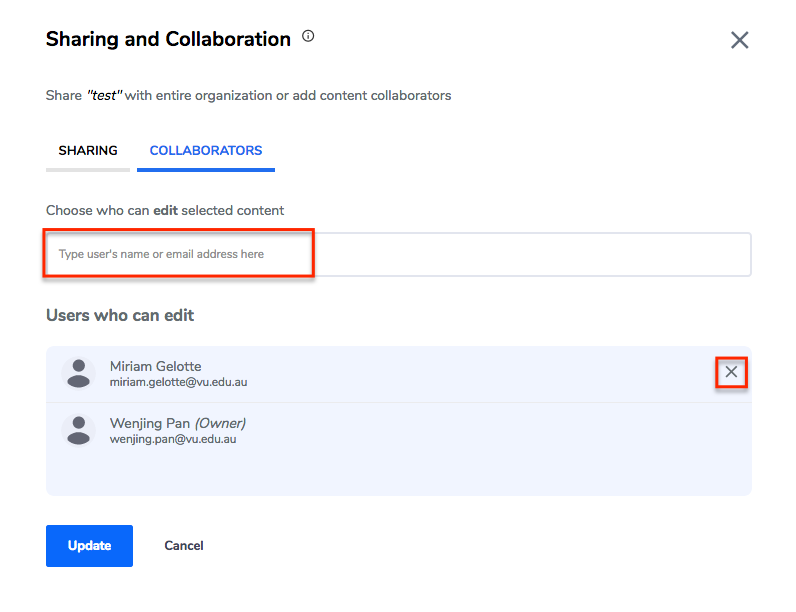 3. Click Update after you finish making changes.



---
You can create a folder in My Content and add collaborators to the folder to allow the collaboraters to edit all of the H5P objects in the folder.


1. To get access to My Content, follow step 2 above or go to https://vu.h5p.com if you have already accessed H5P from VU Collaborate.
2. To create a new folder simply click New Folder.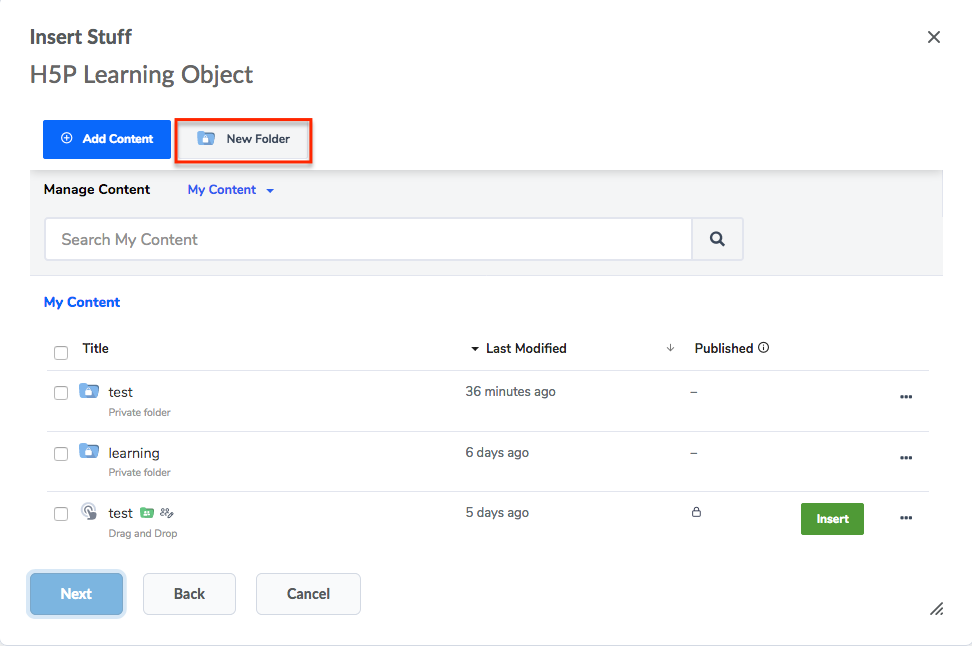 3. Enter folder name and click Create.



4. To add content in your folder, click on the folder name.



5. Click Add Content.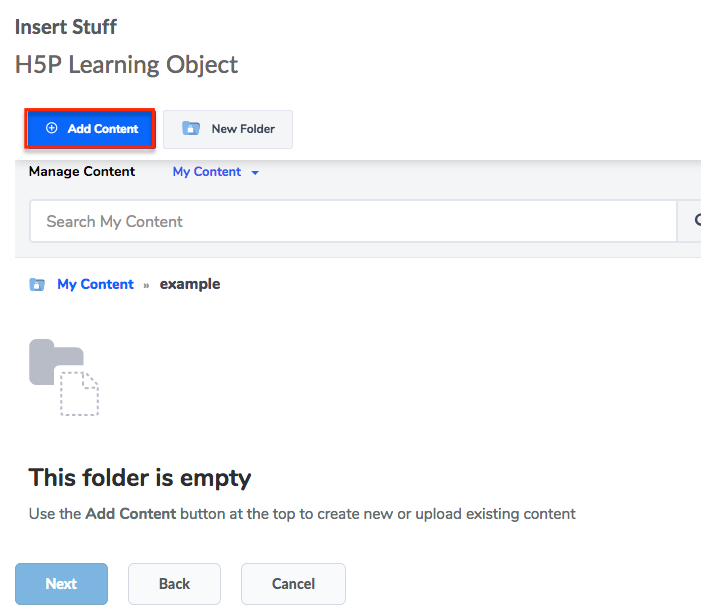 6. Now you are able to create content in the folder.



7. To upload an existing H5P object, you can click Upload. Then click Upload a file.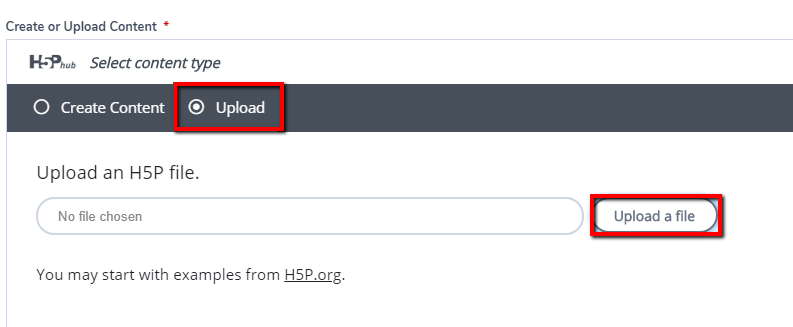 3.1 Add Collaborators to Your Folder
This is a good idea if a team of people are working on the same or similar H5Ps that you will all use. Once you add collaborators to a folder, all of the material in that folder can be edited by any of people in the folder.
1. Click the three-dot button to the right of the folder title and select Sharing.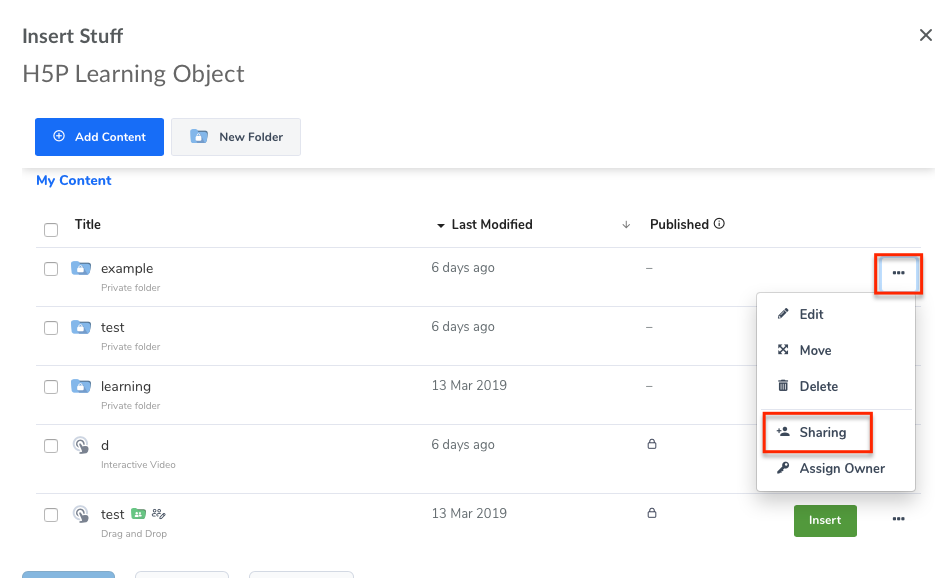 2. Click the Collaborators tab.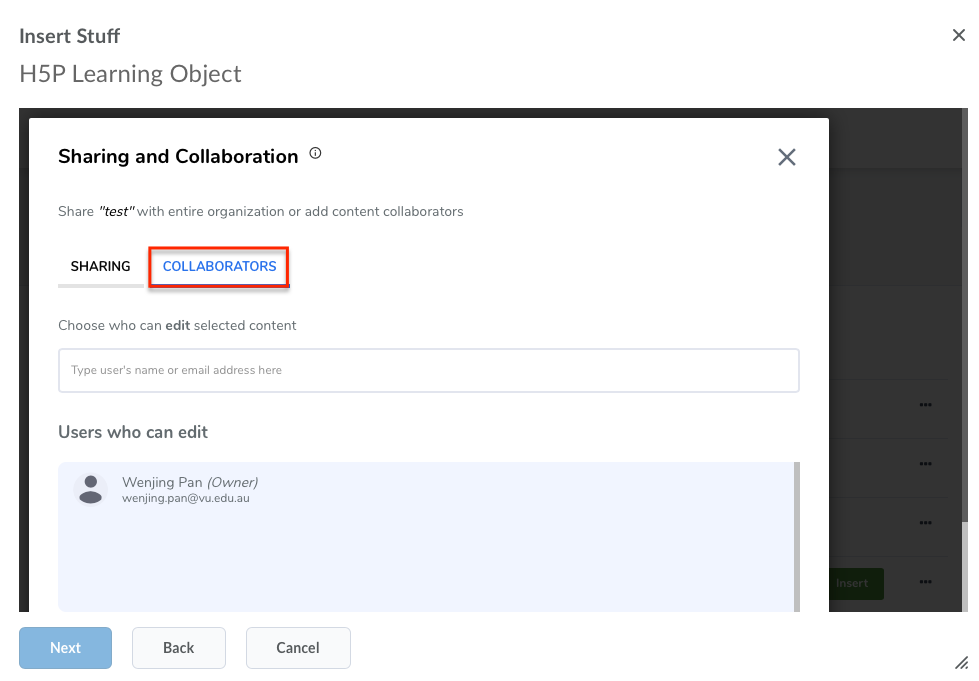 3. Type the person's name or email address to add them as a collaborator then click Update.


---
Further Support
Visit the VU Collaborate Help site at https://vucollaboratehelp.vu.edu.au for up to date information and resources on blended learning or email This email address is being protected from spambots. You need JavaScript enabled to view it..
Contact ITS Service Desk on (03) 9919 2777 or via self-service http://servicedesk.vu.edu.au for further technical support.