Understanding User Progress
The User Progress tool helps you to keep track of student progression in a unit by measuring the completion of indicators like logins, grades and content visited. This is helpful for keeping track of students who may be struggling, or getting a quick view of all student grades.
To see a short video on How to Check Student Progress, see the video below.
Following are the steps to Understanding User Progress:
Step One: Access User Progress
---
1. Click Toolbox from the main navigation bar and select User Progress.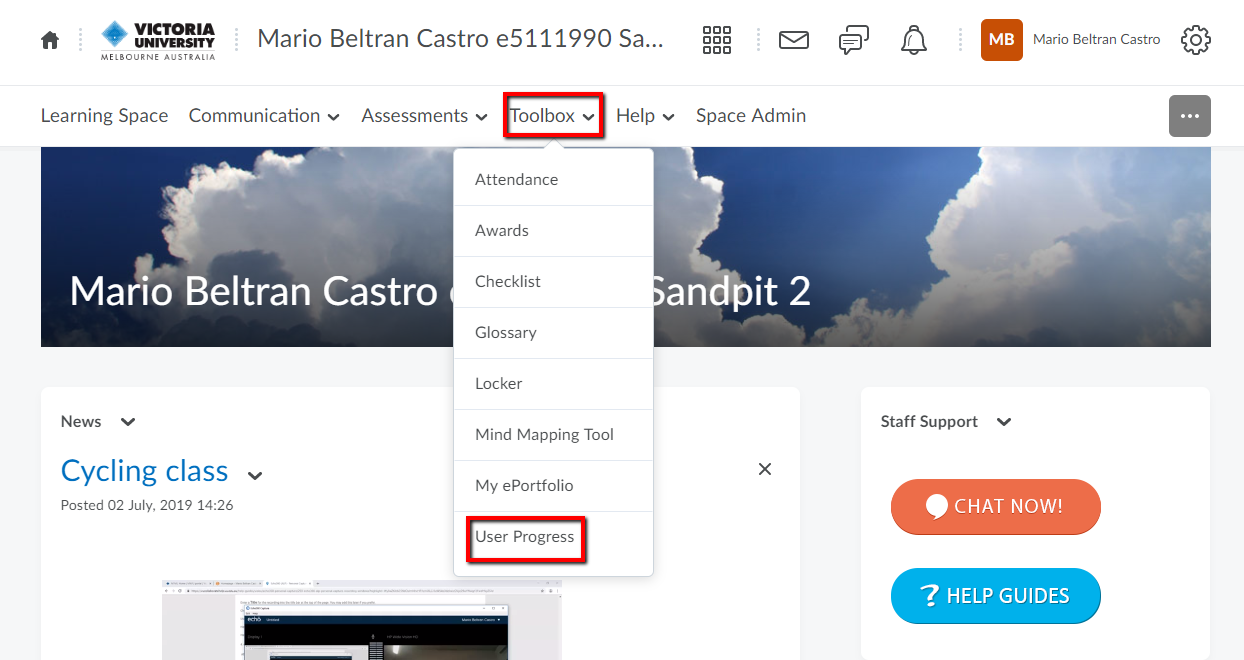 Step Two: Use the Class Progress Overview
---
The Class Progress screen provides an overview of the students in a space, and you can see a list of all the students sorted alphabetically by last name.
You can change the order in which names appear by clicking Last name, First name and selecting an option from the drop-down menu. You can also Search users using the search box in the upper right-hand corner of the screen.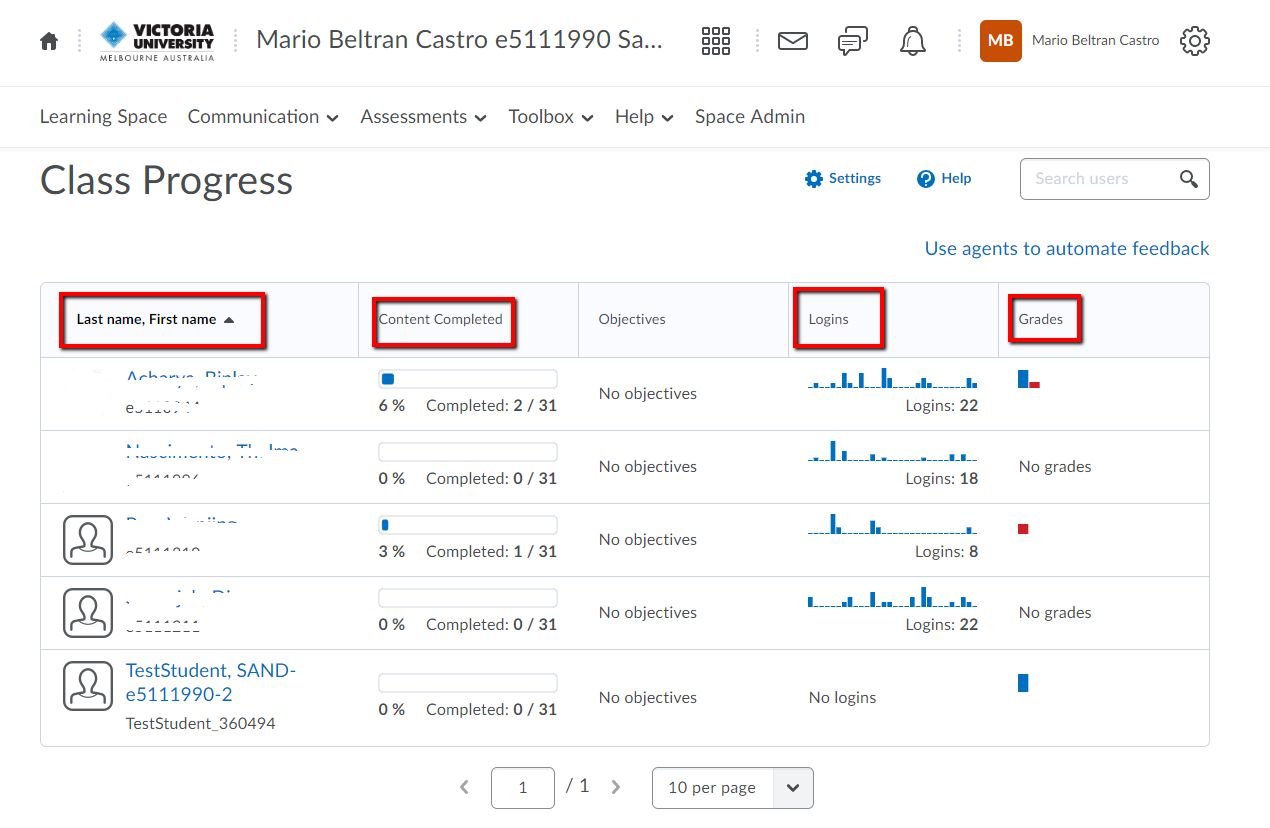 Next to each student's name, there is an overview. Content indicates what the student has visited in the space. If you are using objectives in your space, Objectives will indicate which ones have been met by this student. Logins will show the number of times that a student has logged in to VU Collaborate. You can also see an overview of Grades for each student. Hover the cursor over items to gain more information.
Logins does not count the number of times that a student has accessed the unit space, only logins to VU Collaborate itself.
---
1. Click on a student's name to view the User Progress for that particular student. A Progress Summary will appear. All of the grades received, completed quizzes and surveys, and much more can be viewed here. Note that login history refers to all logins for VU Collaborate, and Course Access refers to logins to the specific unit that you are looking into; both are for the prior 30 days.
2. To access more details, select a category from the left-hand side menu. You cannot change any of these items directly, only view progress.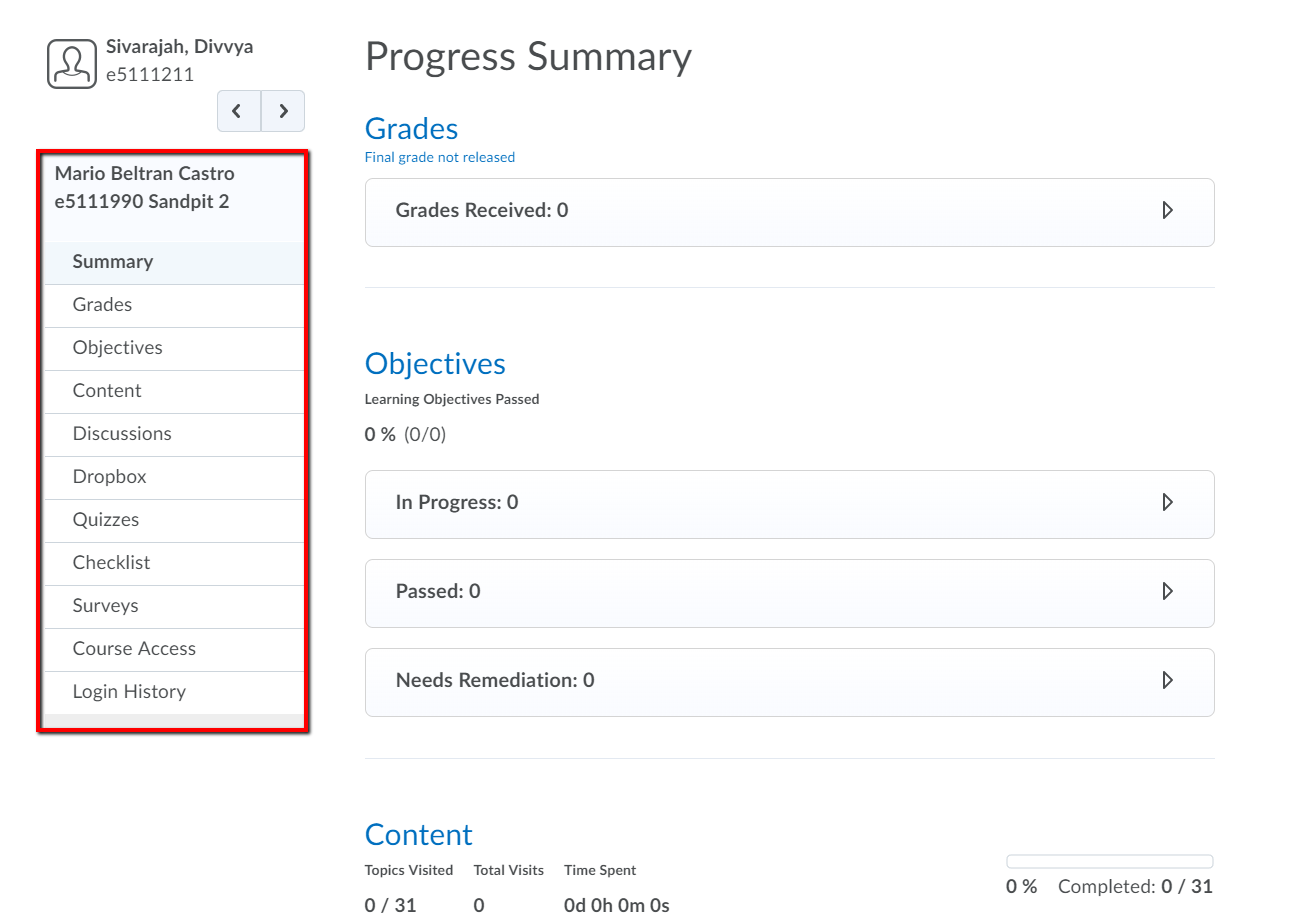 3. Once you're finished viewing progress for this student, click Class Progress to go back to the main progress screen and select another student or click on the backward and forward arrows beside the student number to go to the next or previous student in the Classlist.
Click on the picture below to see a video showing how to more options - reports in content. This is not one of our lovely professionally done videos, just a quick demonstration.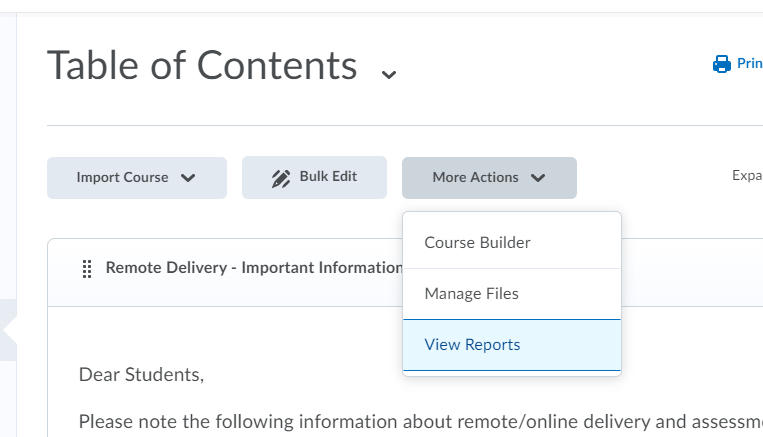 ---
Further Support
Visit the VU Collaborate Help site at https://vucollaboratehelp.vu.edu.au for up to date information and resources on blended learning or email This email address is being protected from spambots. You need JavaScript enabled to view it..
Contact ITS Service Desk on (03) 9919 2777 or via self-service http://servicedesk.vu.edu.au for further technical support.