Creating a backup using Exporting Components
Block Convenors and Block Instructors can export a copy of the delivery and/or master space, to make a backup of VU Collaborate spaces.
On this page:
---
No student data or user data will be exported in the copy.
1. In your unit or master space, on the navbar, select Space Admin (1)
2. Then click Import / Export / Copy Components (2).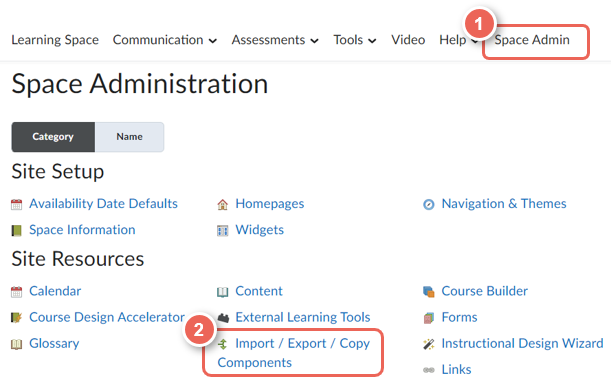 3. Choose Export Components (1).
4. Then click Start (2).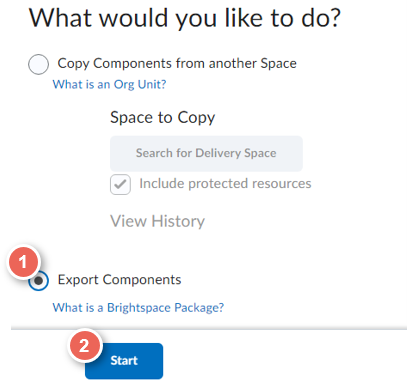 ---
1. To copy all content, tick Select All Components (1), or tick to only select required content.
2. Click Continue (2).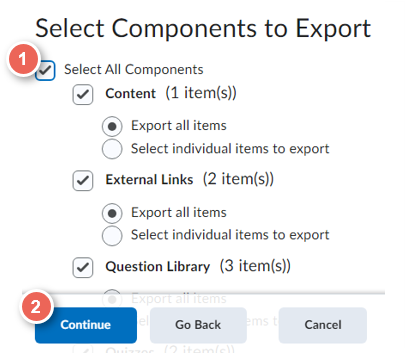 ---
1. In the Confirm Components to Export window, check if all selected export items are correct. If not, click Go Back, to modify the selection.
2. Make sure the checkbox Include course files in the export package (1) is selected, then click Export (2).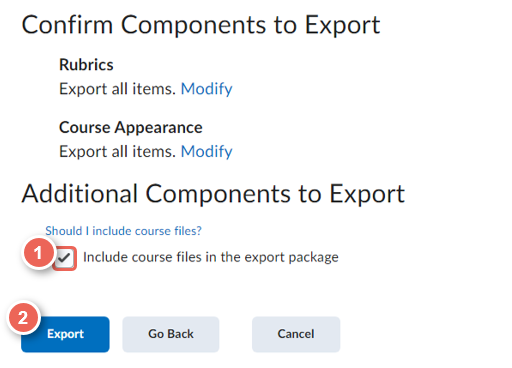 ---
1. You will be redirected to the Export started page as below. select Done (1).

Depending on the amount of content you choose to export, this process can take some time.
2. Once you are notified that the export is complete, select the notifications (bell) icon (1) and then Export finished (2).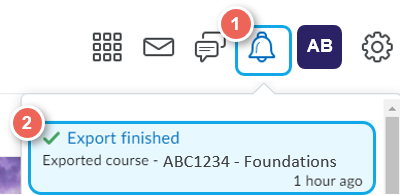 ---
1. Click here to download the export Zip package (1), then done (2).
2. From your downloads (3), select your zipped package (4).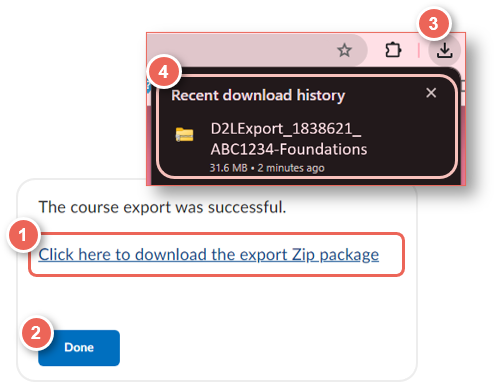 If you would like to import the backup .Zip file into another VU Collaborate space, please contact This email address is being protected from spambots. You need JavaScript enabled to view it. for more instructions.
---
Further Support
Contact us This email address is being protected from spambots. You need JavaScript enabled to view it., for information and resources on technology-enhanced learning, or visit VUCollaborateHelp.vu.edu.au.
Contact ITS Service Desk on (03) 9919 2777 or via self-service servicedesk.vu.edu.au for technical support.