Uploading and Embedding a YouTube Video
This guide will explain how to upload videos to YouTube and how to embed them into VU Collaborate.
YouTube is an online tool for sharing videos. YouTube allows you to embed videos into your own online resources regardless of video file type or Internet Browser compatibility. If you already have your video content ready, complete the following steps to upload and embed the video into your VU Collaborate content. This involves uploading content that you have recorded onto YouTube, and them embedding that YouTube video into VUCollaborate. While the ITS ServiceDesk and Connected Learning Team cannot provide support for uploading videos to YouTube, these instructions should be sufficient.
Below are the steps of this guide:
---
1. Navigate to Youtube.
2. Click the Upload button.

3. You'll be prompted to sign in via your Google account. Enter your username and password to sign in.


If you do not already have a Google account and you would like to use one, select Create account and follow the easy steps to set one up.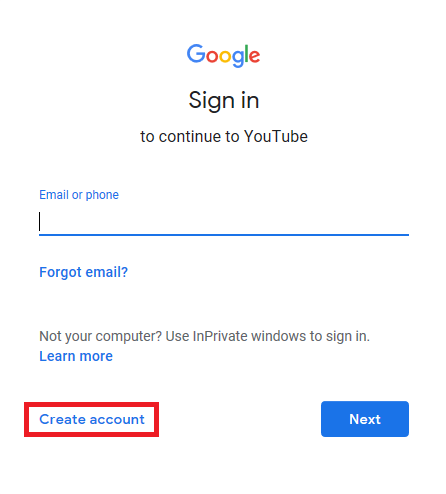 ---
2.1 Personal Channel
Once signed in with your Google account, you will be required to enter the first and last name that will appear as the source of the upload.
1. Enter these details and then select Create Channel.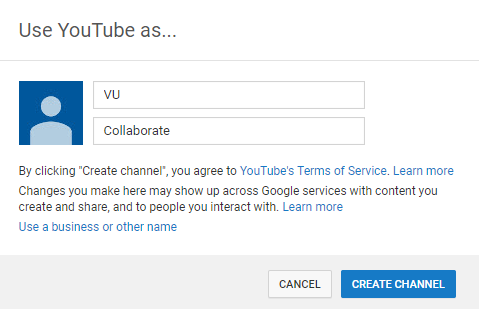 Please read YouTube's Terms of Service before agreeing to anything.


2.2 Brand Channel
Brand Accounts are an option that allows multiple users to be managers ( This is an account that allows multiple users to have access to uploading and editing content ).
1. If you want to create a Brand Account with multiple managers, select Use a business or other name.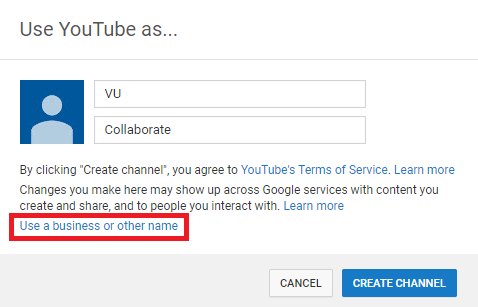 2. Then select Create a new channel.



3. This will lead to instructions to create a Brand Account.

4. Once complete, you now have a YouTube Channel attached to your Google account.

---
1. Select the Upload icon.

2. Select the videos Privacy settings by selecting the dropdown selection. Choose Unlisted (Other Privacy settings on your account can be found here).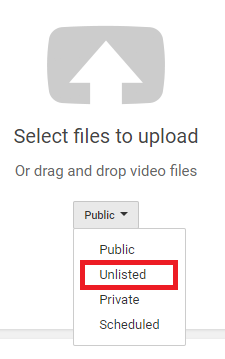 3. Click Select Files to Upload or drag and drop the video file onto the space where it states 'Select files to upload'.
4. Select the video from your files and click Open if you choose to Select Files to Upload in the previous step.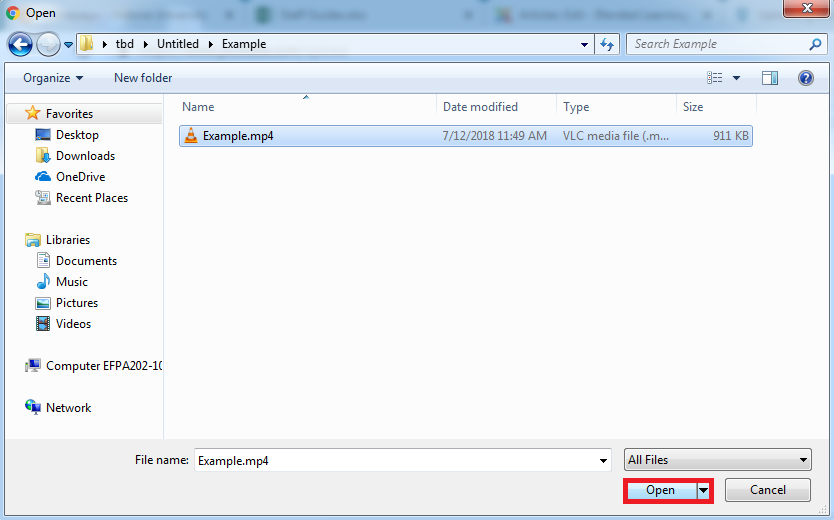 You can create simple videos with your iPhone, Android, Panopto, Zoom and other software programs that may come bundled with your computer.
5. While the video is uploading, take this time to edit the title, description, and tags.
If you have not already set the videos Privacy settings to Unlisted, select it now.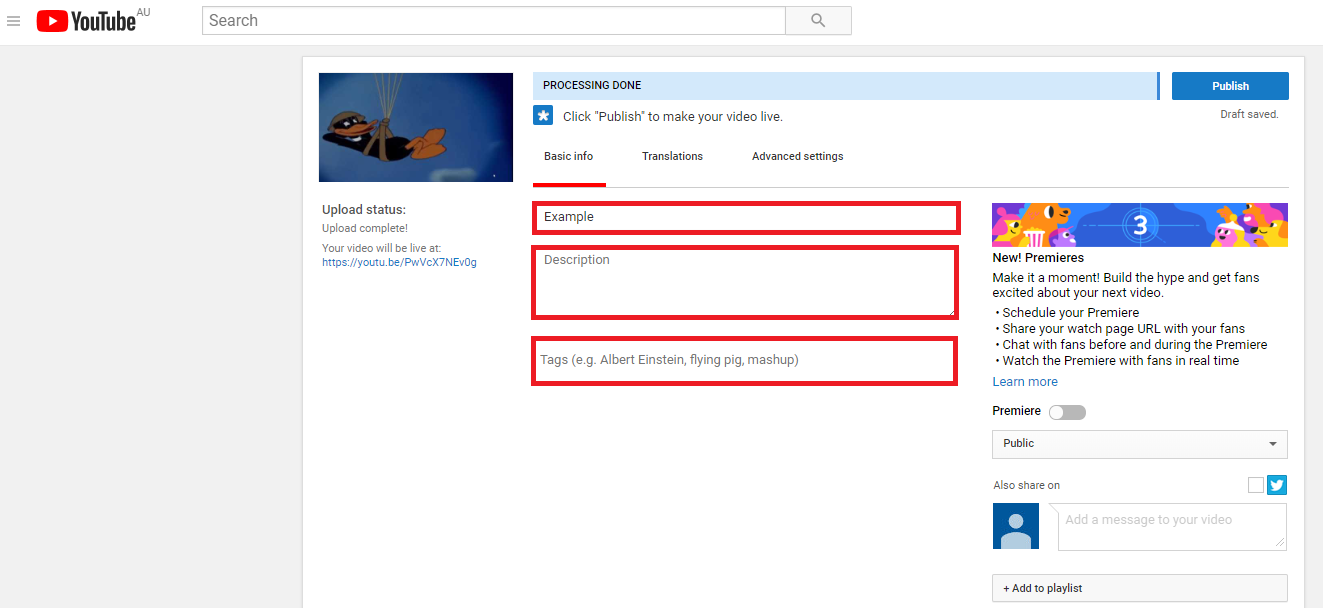 6. Explore the Advanced Settings and alter them as required.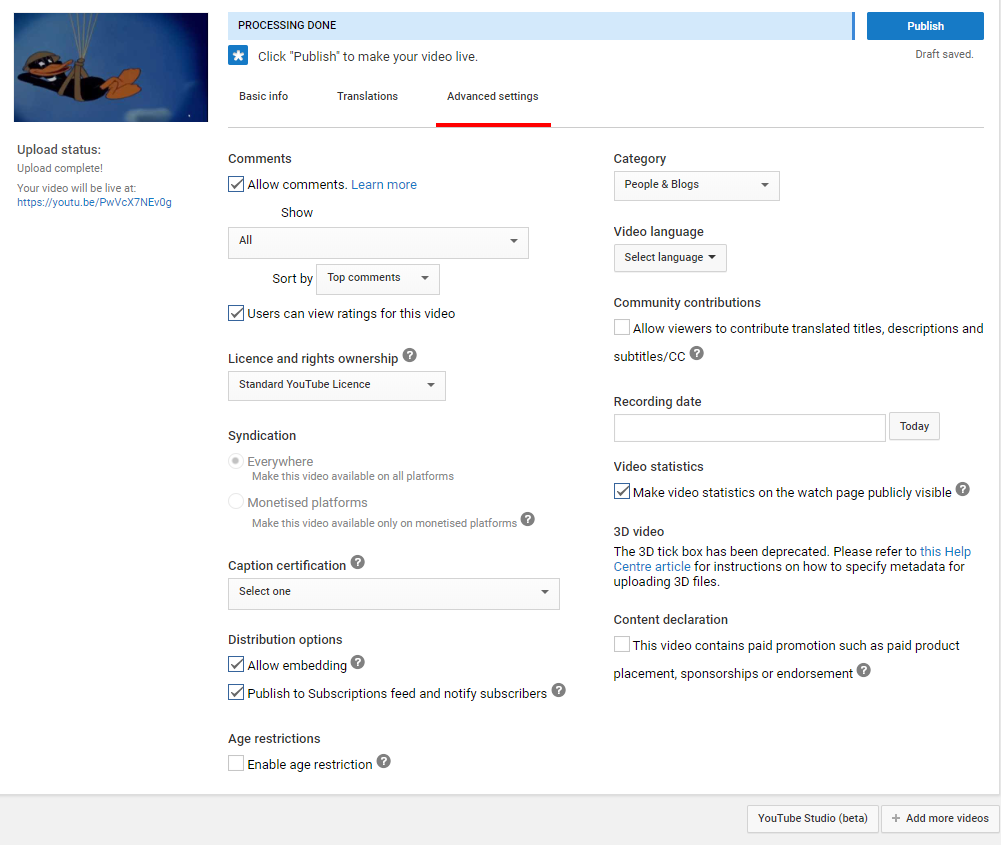 7. When the video has finished uploading and the settings are to your satisfaction, select Publish.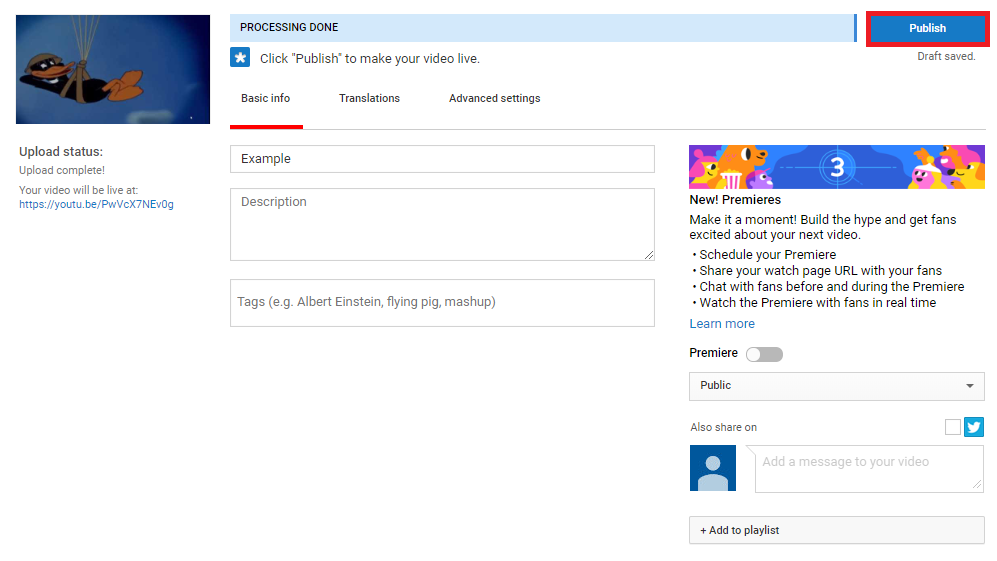 8. YouTube will generate the URL link for your videos YouTube page.

9. Copy the link and paste it into your address bar to view your YouTube video.
This is NOT the embed code, this is the URL.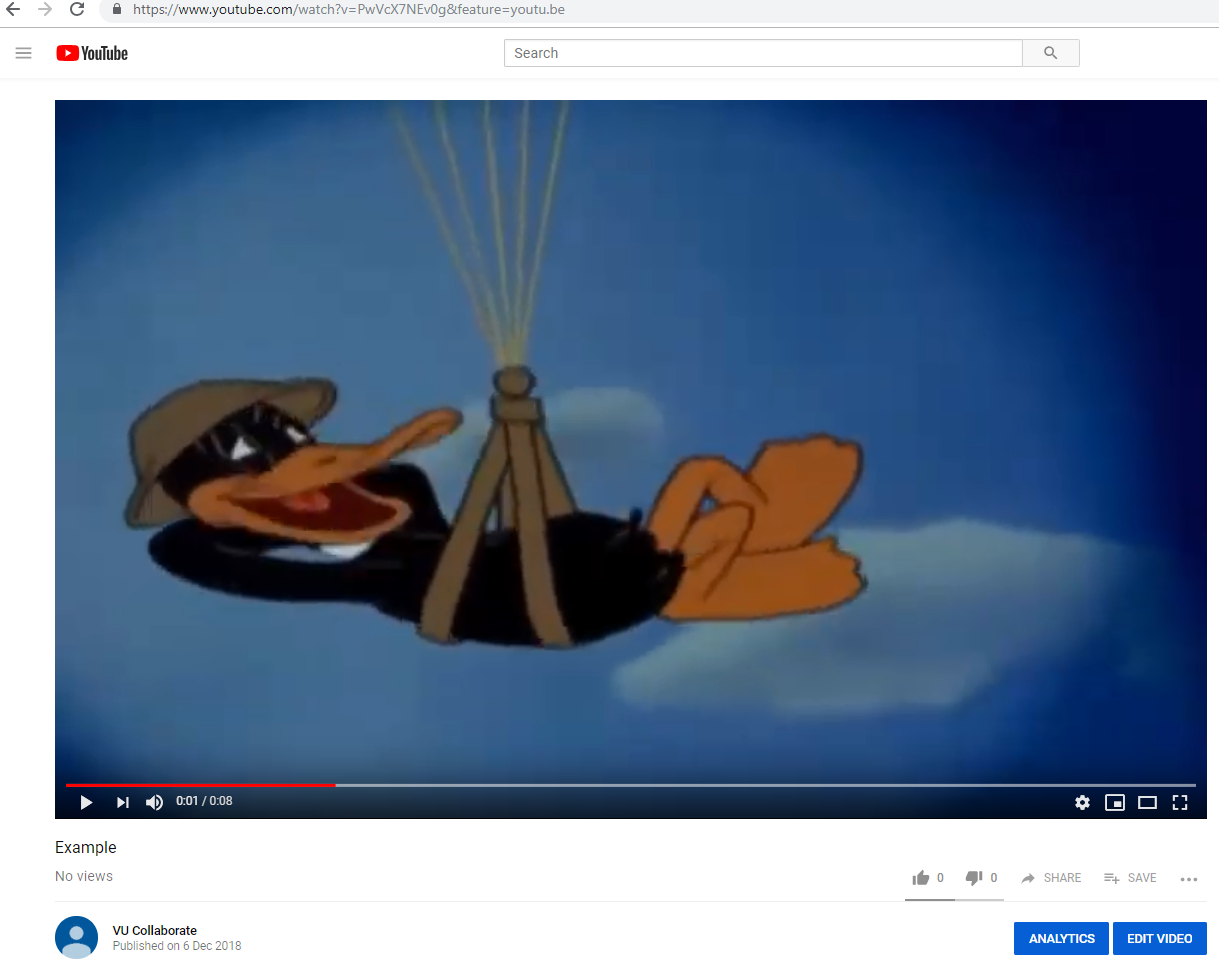 10. On your videos YouTube page, locate Share located next to the like and dislike button.
11. Once Share has been selected, to its right, click Embed.



12. Select and copy the code in the Embed Code box.
We will be accessing this copied code in Step Five: Embedding Your Video into VUCollaborate.
---
1. From your video on YouTube, select Edit Video.



2. In the editing page, choose a preferred thumbnail image to represent your video as an icon.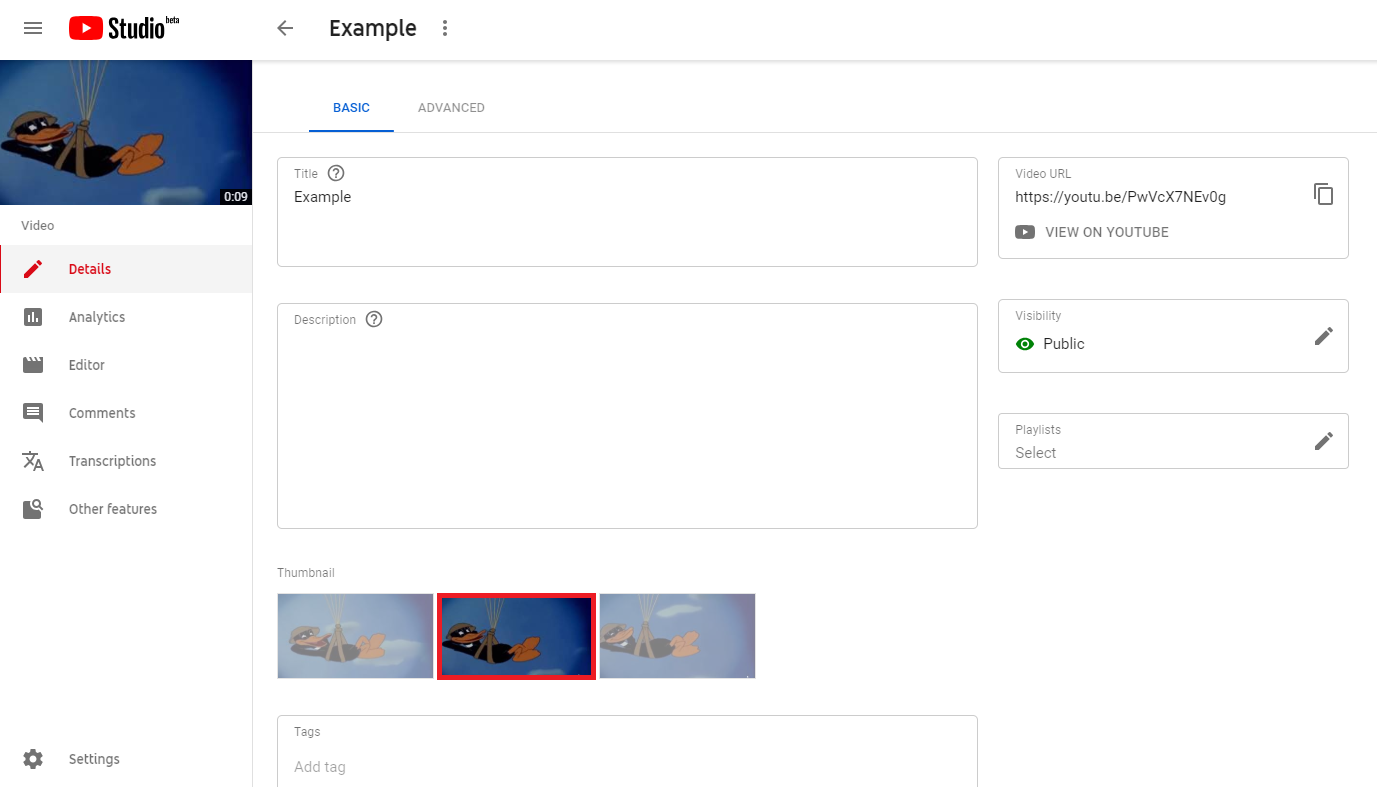 3. Click Save to save your changes.


If you have not already set the video's Privacy settings to Unlisted, select it now under Basic Info.
YouTube has three main privacy settings:
Public: allows videos to be viewed by anyone and appear in searches.
Private: Restricts viewing to selected users, videos can't be embedded.
Unlisted: Videos don't appear in searches but can be embedded.
Consult YouTube's Privacy Policy for more information.
There is a range of other settings to explore. Click through and adjust as you see fit.
---
1. Log in to your VU Collaborate space and locate where you would like the video to appear. There are several ways to embed your content into VUCollaborate. For the purposes of this guide, we will be using the Insert Stuff method.
2. Click New and select New Document from a module in the Learning Space.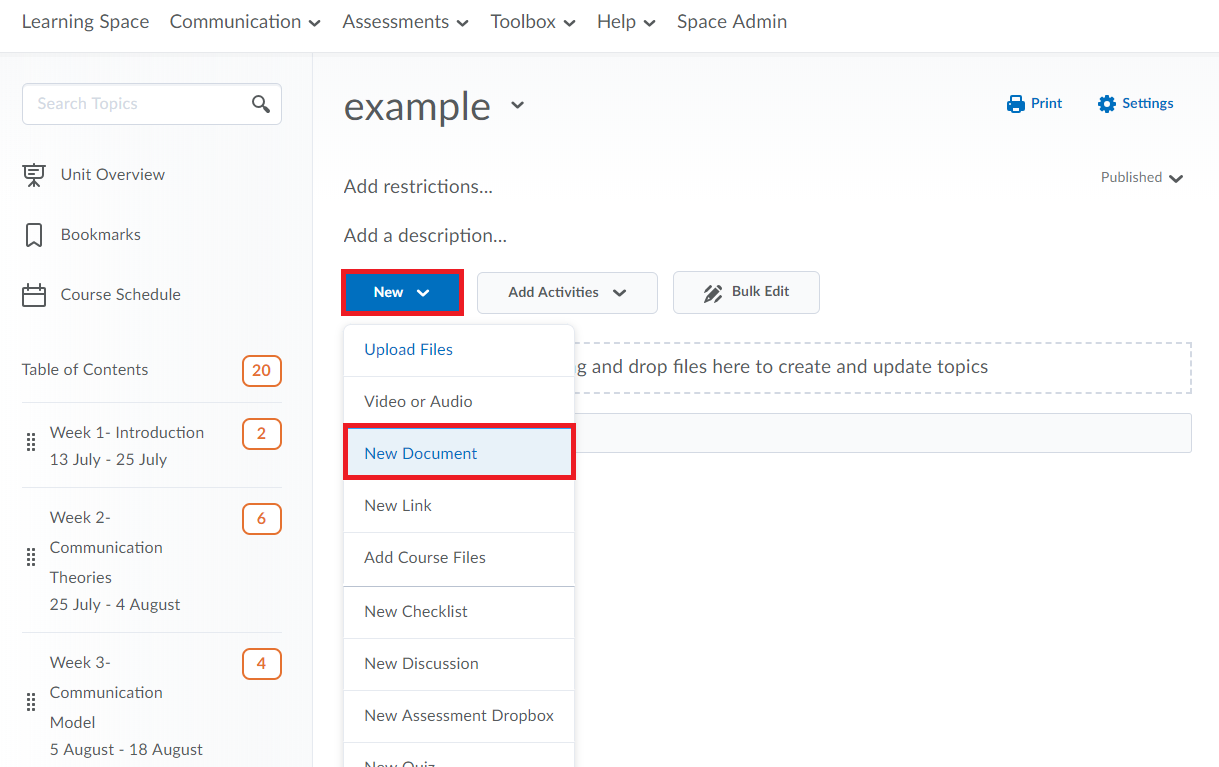 3. Click Insert Stuff.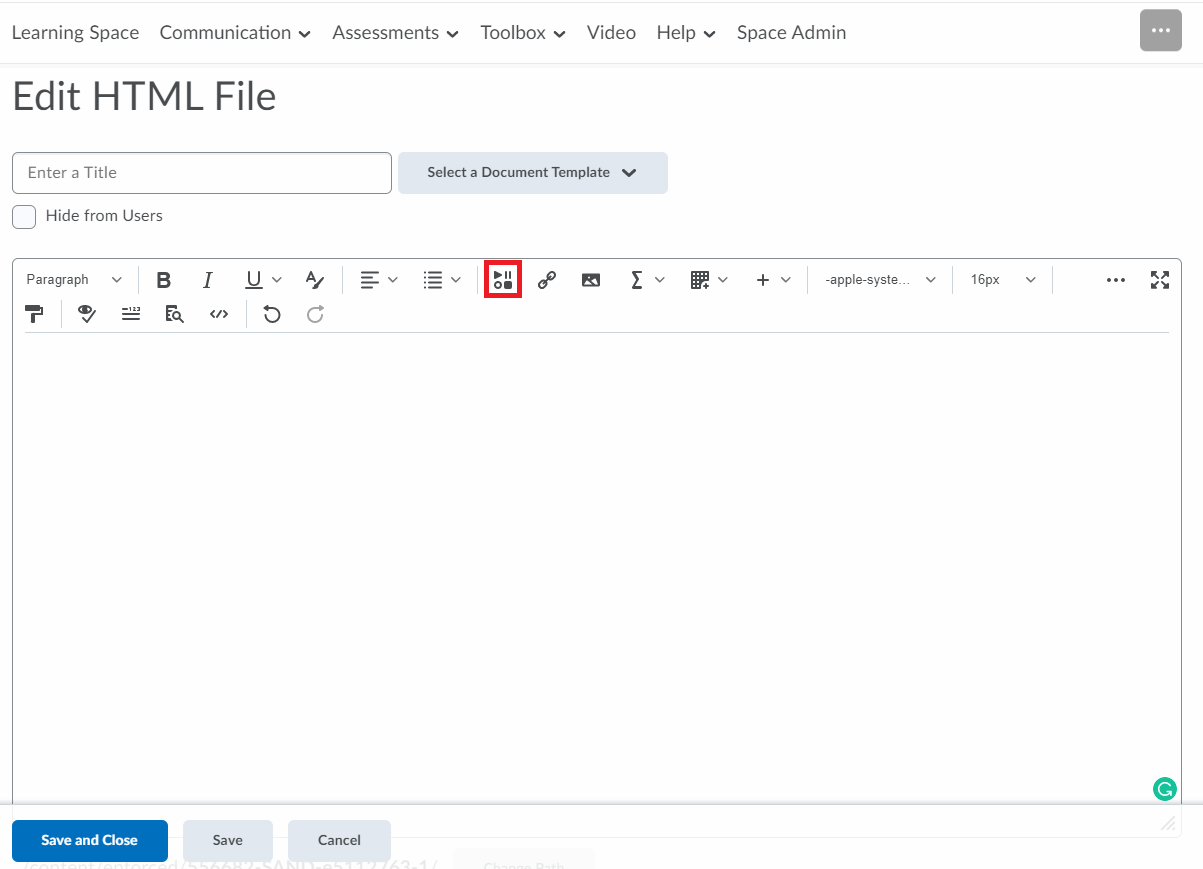 The embed code is different from the link. Ensure that you have selected Embed and copied the correct code.
4. In the Insert Stuff dialogue box, select Enter Embed Code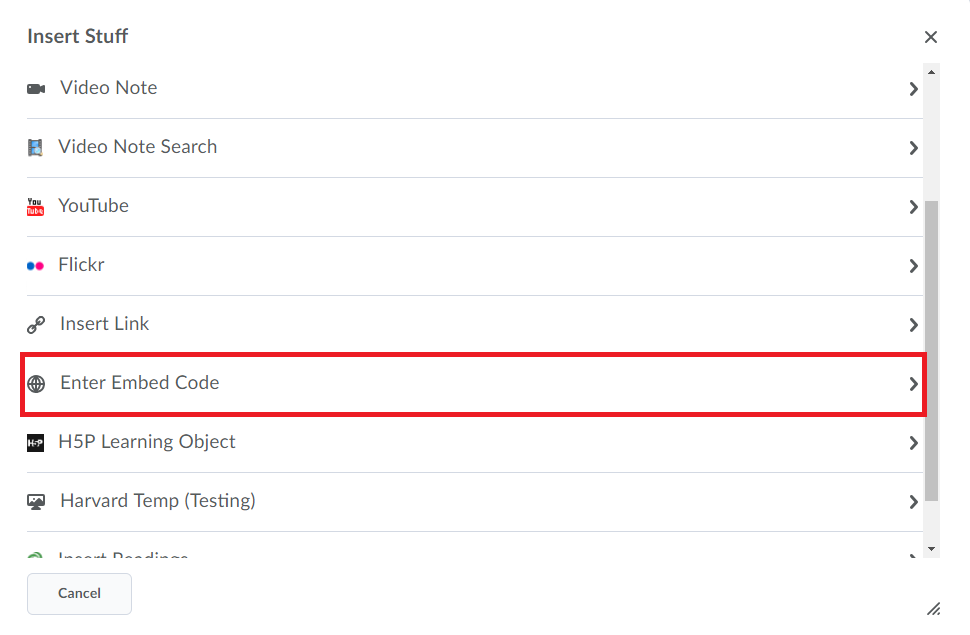 5. Paste the copied Embed Code into the field provided and click Next.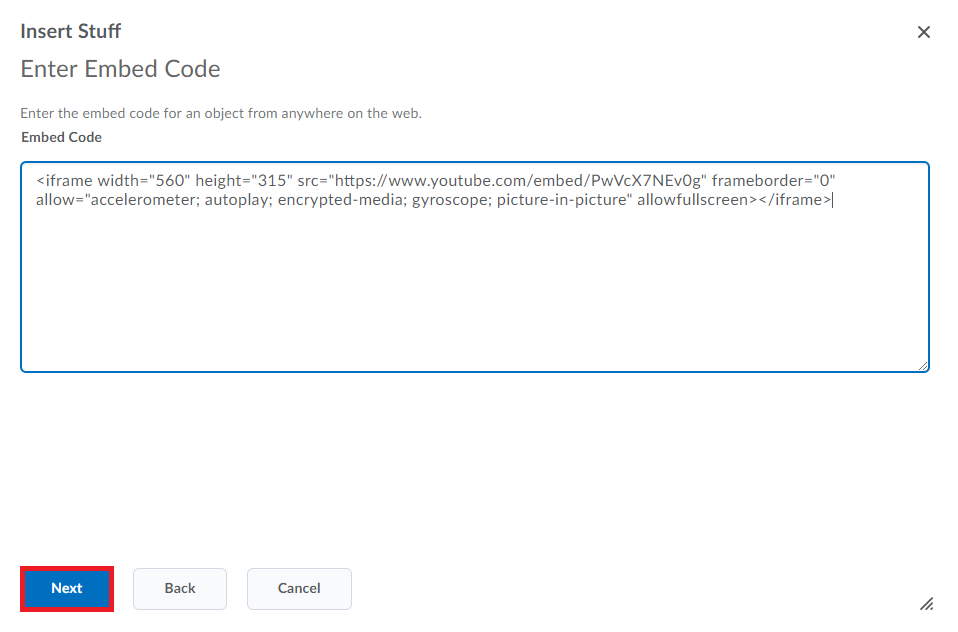 6. You will see a preview of your video. If you're happy with the video, click Insert.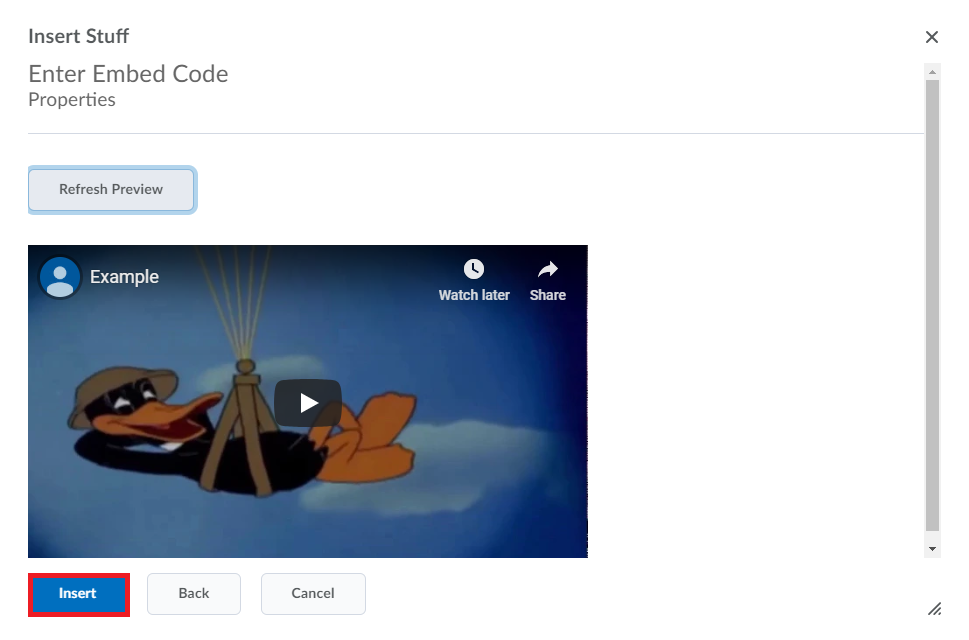 7. Select Publish to finalise the embed.

Your embedded YouTube video will now be visible in your space.
---
Further Support
Visit the VU Collaborate Help site at https://vucollaboratehelp.vu.edu.au for up to date information and resources on blended learning or email This email address is being protected from spambots. You need JavaScript enabled to view it..
Contact ITS Service Desk on (03) 9919 2777 or via self-service http://servicedesk.vu.edu.au for further technical support.