Submitting a Quiz on Behalf of a Student
Sometimes a quiz attempt is not submitted and remains in progress (often due to technical issues).
In these situations, you can go and submit the quiz on behalf of the student.
Take the following steps to submit a quiz on behalf of a student:
---
1. From the navbar select Assessments, then Quizzes.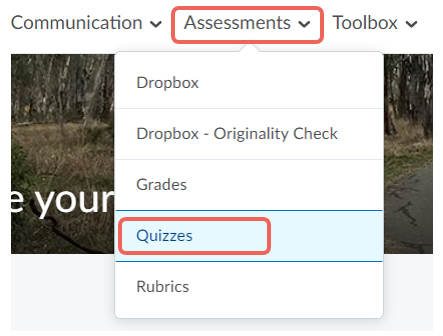 2. From the relevant quiz name, select Grade from the dropdown menu,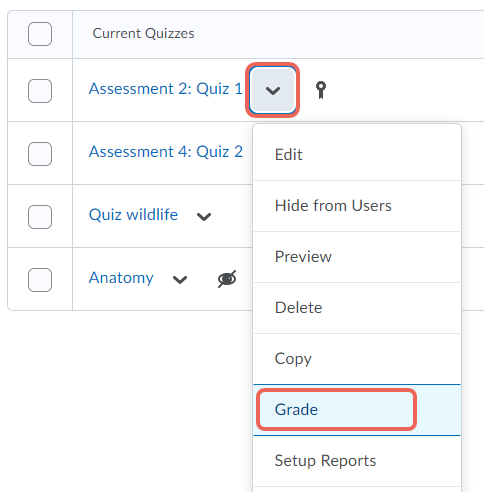 ---
Filter to find any attempts still in progress
1. Select Show Search Options, to view additional search options

2. Search for users with attempts in progress:
From Restrict To select (1) Users with attempts in progress
To search on the selection, click the (2) magnifying glass.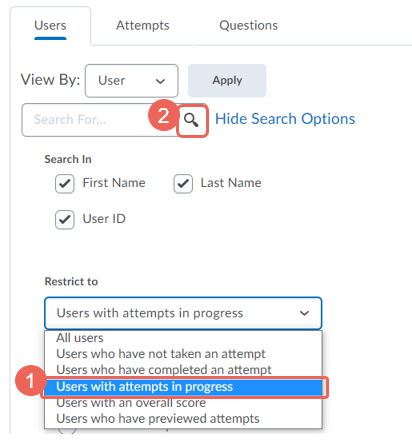 Tip: Use the search functionality to filter the view to only show specific information such as students who have completed an attempt or have not attempted the quiz or search for students using their name. Set the per page view to 200 to ensure more results are shown on the same page.
You will now have a list of students whose quiz attempts are still in progress.
 3. Under the students' name, next to "(In progress)", select the Enter Quiz as User icon.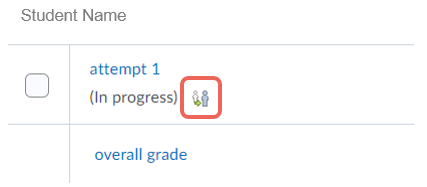 4. A dialogue box will appear asking you to confirm whether you would like to enter the quiz as the student concerned. Select Yes.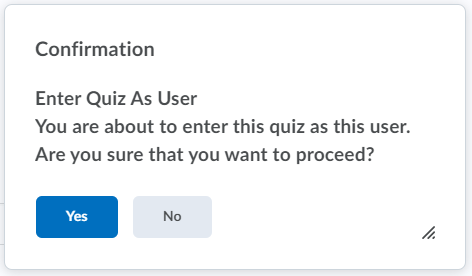 ---
1. When ready, select Submit Quiz.

2. Note quiz confirmation and then again, click Submit Quiz to confirm submission.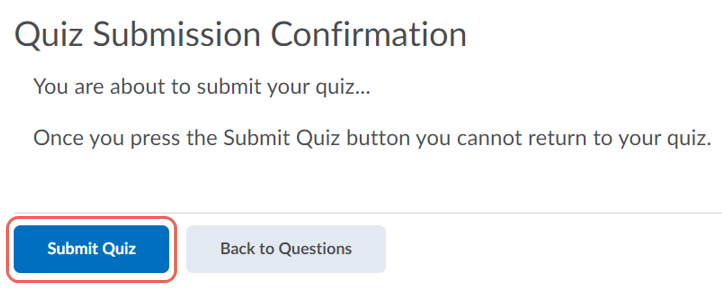 ---
1. Clear Search, to list all students with submissions.

2. Search for the appropriate student and confirm the submission of the quiz attempt.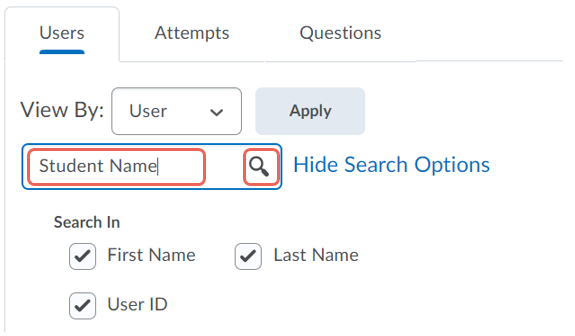 3. If ready, you can also (1) select the attempt, and then (2) publish the feedback.

---
Further Support
Contact us This email address is being protected from spambots. You need JavaScript enabled to view it., for information and resources on technology-enhanced learning, or visit VUCollaborateHelp.vu.edu.au.
Contact ITS Service Desk on (03) 9919 2777 or via self-service servicedesk.vu.edu.au for technical support.