Modify quiz submission views and feedback options
When building a quiz, you can utilise the settings tabs to define the quiz general properties, restrictions, assessment, objectives, submission views, and report setup. This guide will focus on the submission views of quizzes and the options available for revealing the scores and/or feedback. This guide will also take you through the different ways you can provide feedback when marking a quiz.
The steps below will explain why and how to use each of the available options:
---
1. Navigate to your quiz and select Edit.
2. In Edit mode select Submission Views then select the view you want to modify.
Option A - Default View: shown when results are published, and/or
Option B - Add Additional Views: optional additional views shown with date and/or time restriction.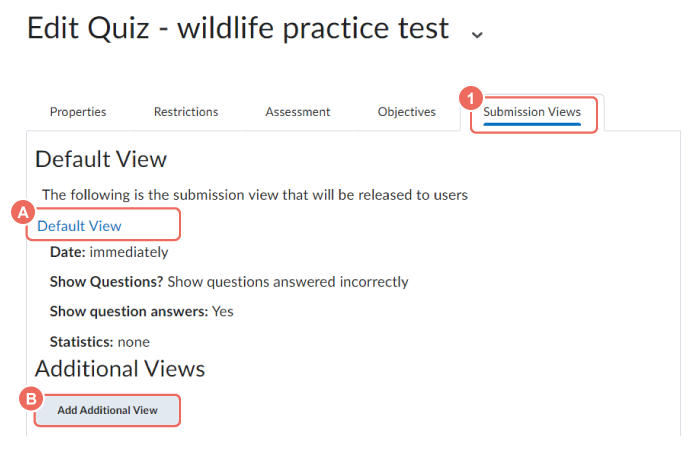 ---
A.1 Default submission view
The default quiz submission view, with auto-publish selected, shows the Attempted Score and Overall Grade.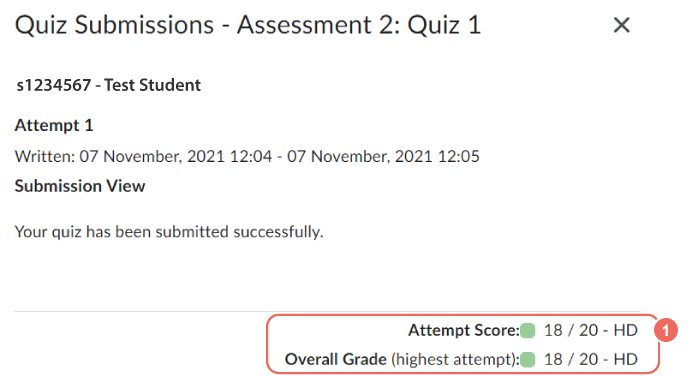 Each quiz has its own submission view that can be modified to include:
Questions, Answer Options, Correct Answers and Scores
Feedback
A.2 Show Questions
A.2.1 Question Options
Questions

Only Questions answered incorrectly
Only Questions answered correctly
All Questions, without user responses
All Questions, with user responses

Question Answers

Show question answers - displays a tick next to the correct answer

Question Scores

Show question score out of score: This displays the points earned on each question and the total points possible (Recommended)
Show attempt score and overall attempt score: This displays the score to students as soon as the quiz has been graded. The score displayed is only what the system is able to auto-grade.


A.2.2 Example - Show all questions, with user responses, correct answers and score
Show questions - select (1) Yes under Show Questions
Show all questions and options selected - select (a) Show all questions with user responses
Show correct response - select (2) Show question answers
Show score - select (3) Show question score and score out of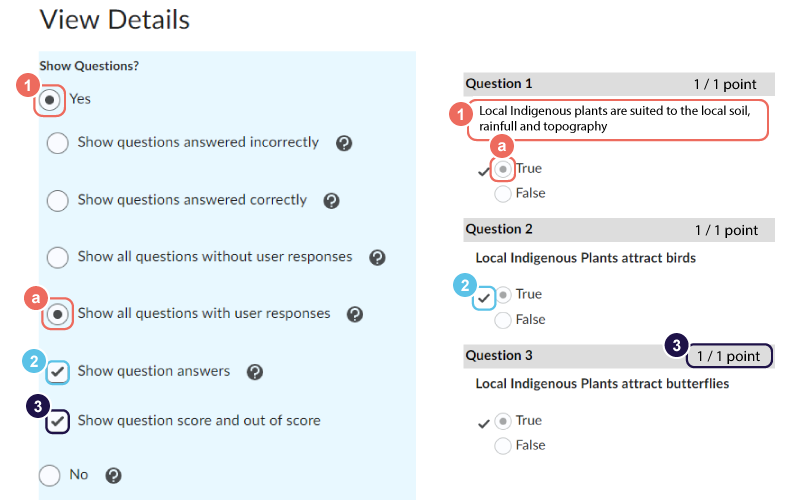 A.2.2 Example - Show questions answered incorrectly (or not selected), with user responses. Don't show correct answers or scores
Show questions - select (1) Yes under Show Questions
Show questions answered incorrectly (or not selected) - select (a) Show questions answered incorrectly
Do not show correct response - unselect (2) Show question answers
Do not show score - unselect (3) Show question score and score out of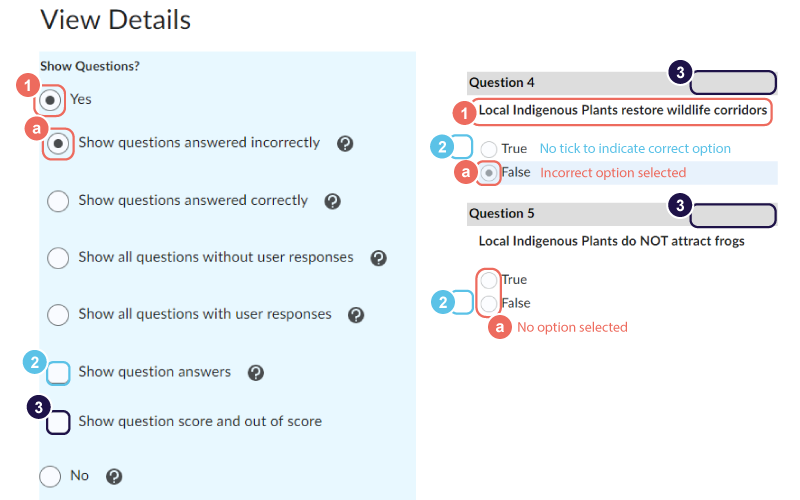 A.2.3 Feedback
3. Pre-set feedback for wrong answers within the Quiz/Question Library. This can be set up when you create a new question or edit an existing one.
This option allows the quiz to be auto-graded since it will not require manual feedback.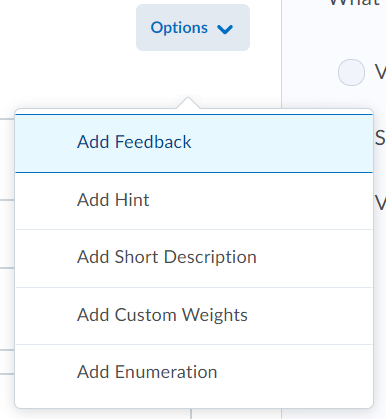 4. The feedback box will appear under each answer allowing you to fill in the relevant feedback.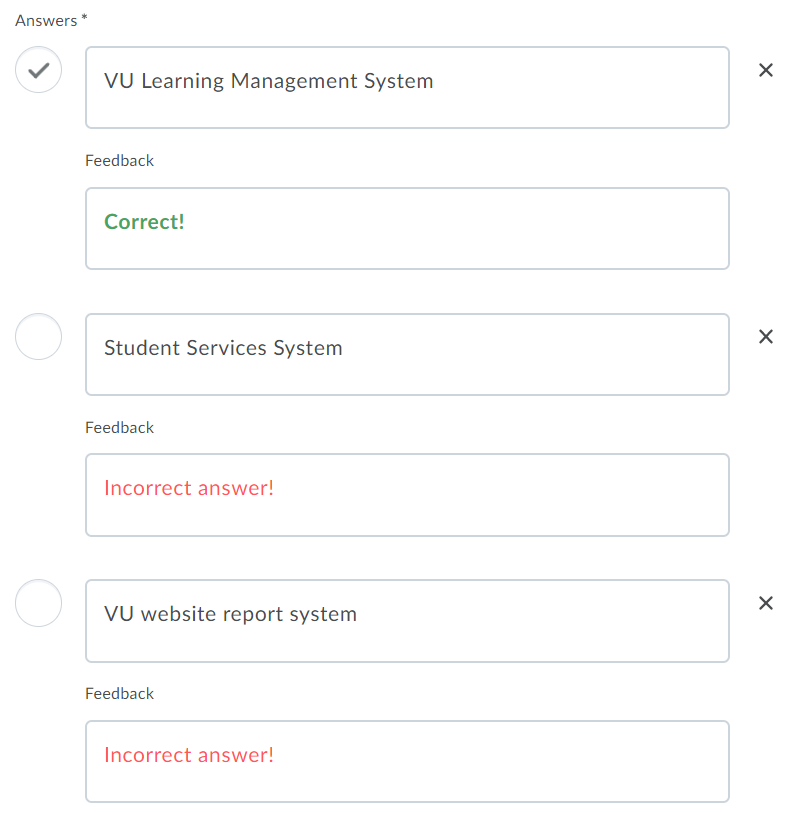 5. The student's submission view will only show the questions answered incorrectly along with the pre-set feedback.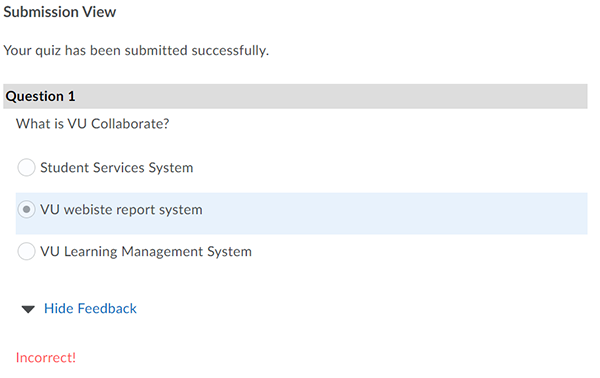 ---
1. In the Submission Views tab, click on Add Additional View (the timer option is only available here).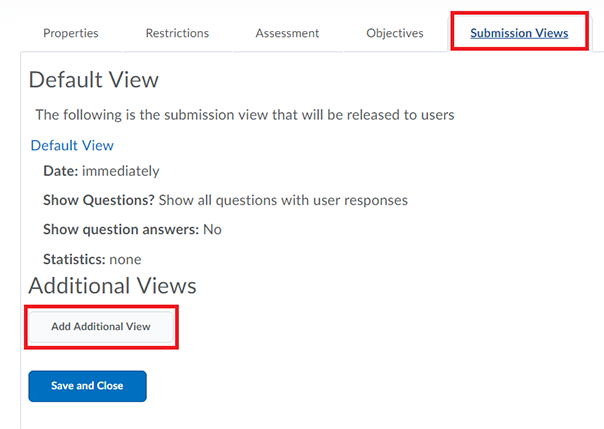 2. Under View Restrictions, you can select the date and time of when you would like to publish the Submission Views.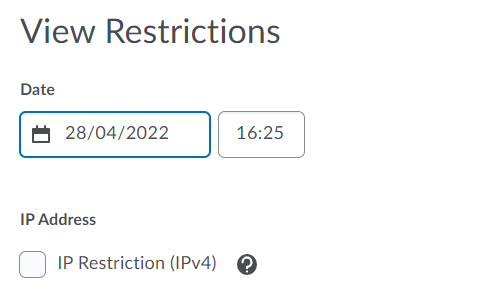 3. To limit the quiz feedback within a period of time, scroll down to Limited Duration and key in the number of minutes you wish to provide the submission view for, in the box shown.
This option is best used with auto-graded quizzes and/or pre-set feedback shown above, as the timer starts from the time a student submits the quiz attempt.

4. Click Save and Close once complete.

Students will see this submission view before the timer is up.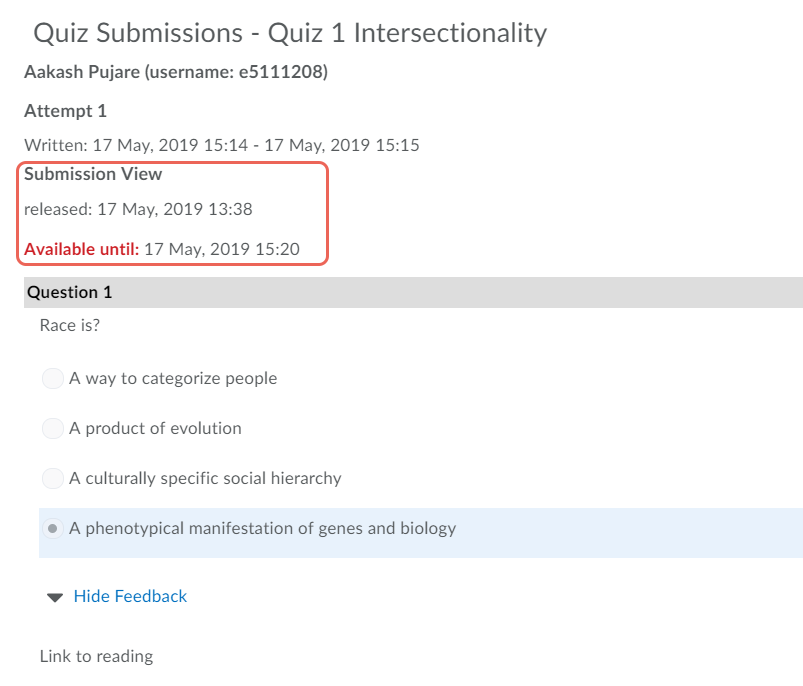 The submission view will refresh to this after the timer is up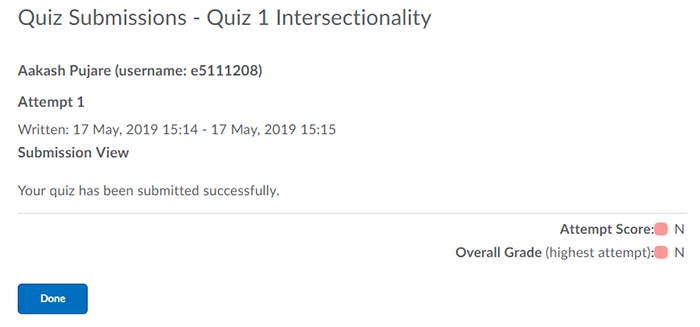 ---
These instructions below will guide you through how to manually enter feedback into a student quiz attempt if you have not set up pre-set feedback.
1. Go to the desired quiz and select Grade.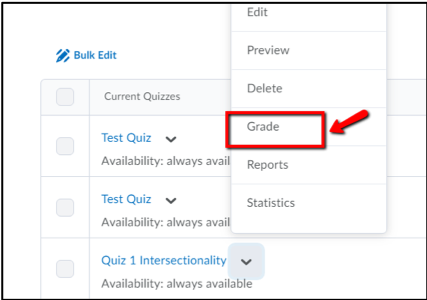 2. Click on the specific attempt made by the student (if there is more than one attempt available).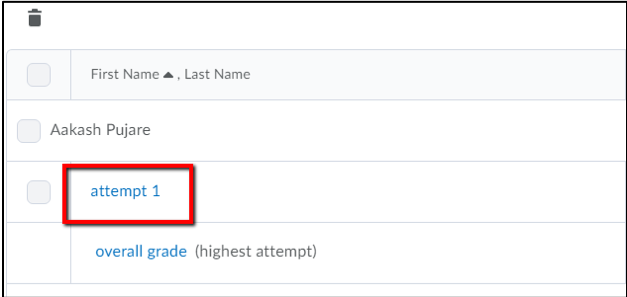 3. Under each question, there is a section where the manual feedback can be written.

---
You may only wish to publish overall feedback for a quiz without letting students see all quiz questions. Below are set by set instructions on how to give feedback to your students in this case.
1. Go to Assessments and then Grades.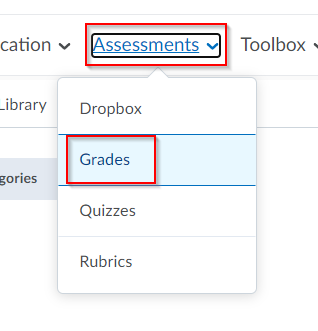 2. Select the dropdown arrow next to the title of the relevant quiz then select Enter Grades.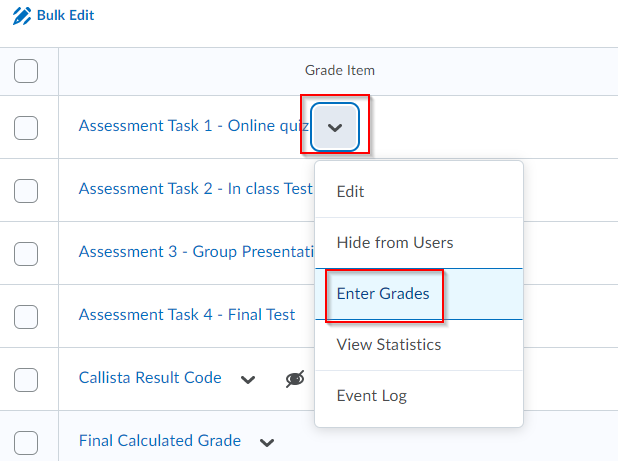 3. Select the pen icon to edit or add a comment.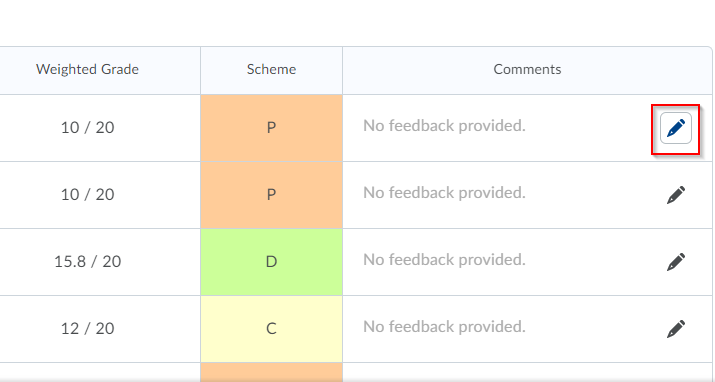 5. Type in your feedback then clicks Save.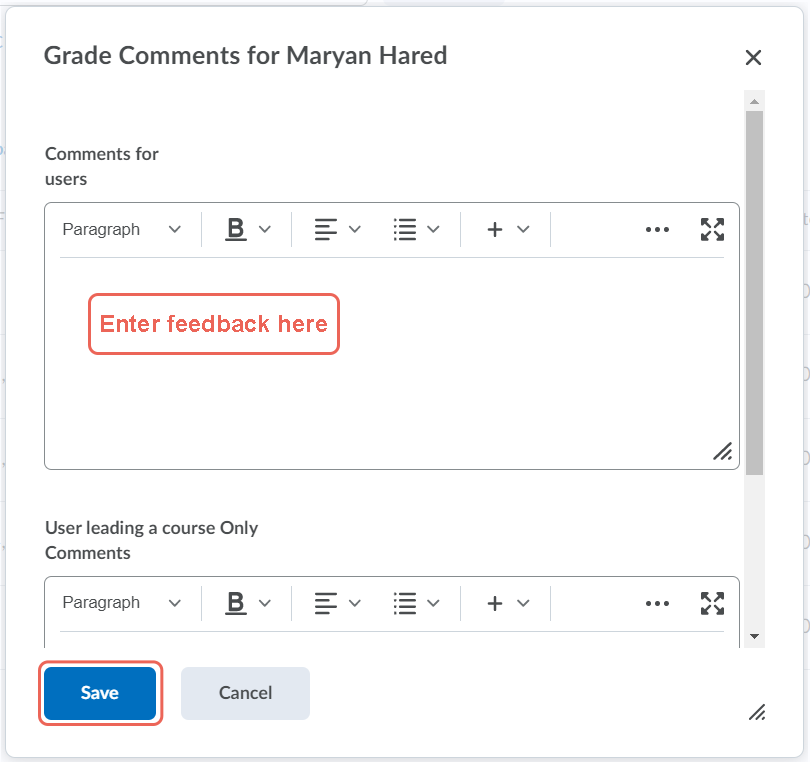 6. To make this feedback available to the student you will need to make sure that the grade item is visible to users.
---
Further Support
Visit the VU Collaborate Help site at https://vucollaboratehelp.vu.edu.au for up to date information and resources on blended learning or email This email address is being protected from spambots. You need JavaScript enabled to view it..
Contact ITS Service Desk on (03) 9919 2777 or via self-service http://servicedesk.vu.edu.au for further technical support.