Viewing the Turnitin Similarity Report
Turnitin is now available, replacing Ouriginal (Urkund) Dropbox - Originality Check by November 2023.
During the transition period, you can enable either Turnitin or Ouriginal (Urkund).
Ready to learn more? Book into an upcoming session.
Turnitin Feedback Studio is a tool that can be used to improve writing skills, by identifying instances of unintentional plagiarism. Feedback Studio compares submitted work to an extensive database including web pages, journals, articles, and other student submissions. Access the Similarity Report within VU Collaborate to view highlighted matched text, identified sources, and an overall similarity percentage score. This report shows the matched text, it does not detect plagiarism.
On this page:
In your unit space on the navbar, select Assessments, then Dropbox.

Dropboxes with Turnitin enabled will show an Originality Check icon (1), select the Dropbox name (2), to view the submissions list.

Student submissions will be listed with a submission status or similarity score for documents that can generate a report.
Select the Similarity Score (1) to access the report in Feedback Studio.

File requirements to generate a similarity report:
File size: Minimum of 20 words, less than 100MB and less than 800 pages.
File types: Microsoft Word (DOC and DOCX), Corel WordPerfect, HTML, Adobe PostScript, Plain text (TXT), Rich Text Format (RTF), Portable Document Format (PDF), OpenOffice (ODT), Hangul (HWP), PowerPoint (PPT) and, Google Docs via Google Drive.
See File Requirements, by Turnitin.
Submission status
In-Progress - indicates Turnitin is currently processing the assessment.
The first three submissions should be created within minutes (although may take longer), submissions after this will take 24 hours to be created.
Submit file icon - If Turnitin is enabled after submissions have been received, reports will not be automatically generated. Instead, a submit file icon will be displayed, select the icon to submit the file to Turnitin.

Similarity score ranges:
Blue: No matching text
Green: One word to 24% matching text
Yellow: 25-49% matching text
Orange: 50-74% matching text
Red: 75-100% matching text
Similarity Score is the percentage of the submission content that matches to source content.
See Similarity score ranges, by Turnitin.
Using Feedback Studio
Feedback Studio displays the similarity report, with highlighted matches. Take some time to become familiar with the interface:
Navigate between pages, by expanding the thumbnail bar (1), and between submissions (2) via the arrows and dropdown list.
Access Turnitin help guides (3).
Explore the toolbar (4) - Layers, Feedback layer (if enabled), Similarity layer, Download & Submission Information, and AI.
View the word count (5) and resize (6) the submission view.
See Using Feedback Studio, Instructor guide, by Turnitin to discover more.

Viewing Similarity Matches
Similarity Layer
Match Overview
Select the Similarity Score (1) on the toolbar to display the Match Overview panel. Source matches will be listed in descending order of percentage match.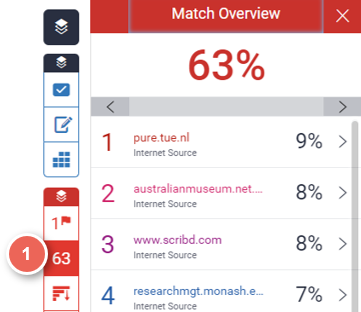 View source details and matches from the same source
Match Overview: select a source (1), then arrows (2), to navigate between matches from the same source.
On page: select a match number (3), then in the source box select arrows (4), to navigate between matches from the same source.
See Viewing Similarity Matches, instructor guide by Turnitin.

View Source Text
Select the title (1) in the source box to navigate to the source if available.
Select the book icon (2) to view the full source text in the side panel. Select the close icon (3) to close the panel.
See Viewing Similarity Matches, instructor guide by Turnitin.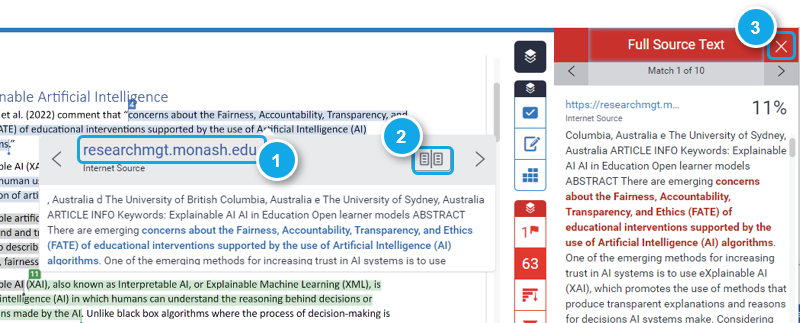 View Match Breakdown and Exclude Sources
Select the View Match Breakdown arrow (1), to view additional source locations.
Optionally select Exclude Sources (2), tick to select (3), then Exclude (4).
Select the Return to Match Overview arrow (5) before the Match Breakdown header, to return to the match list.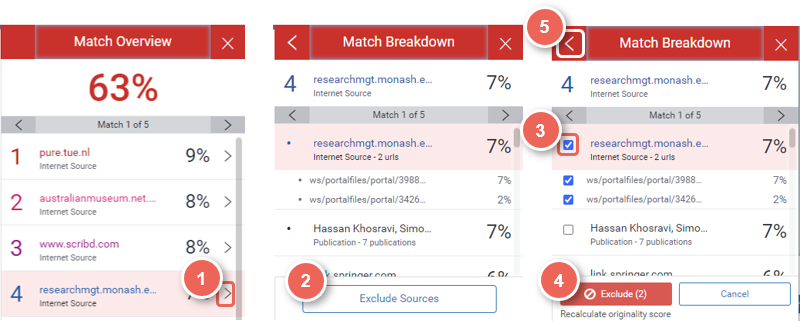 Filters, Settings, and Exclusions
Select the Filter icon on the toolbar, to apply exclusion filters (matches, quotes, bibliography and more) see Excluding small matches and Excluding quotes and the bibliography, instructor guides by Turnitin.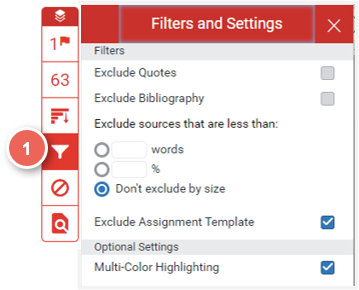 File information
Select the Document Details icon on the toolbar, to view file meta-data information, see Viewing document details, instructor guide by Turnitin to learn more.
---
Provide on page feedback with QuickMarks and Comments.
Comments
Click on the page, or select text, then select comments icon, and enter text. See Using bubble comments, by Turnitin.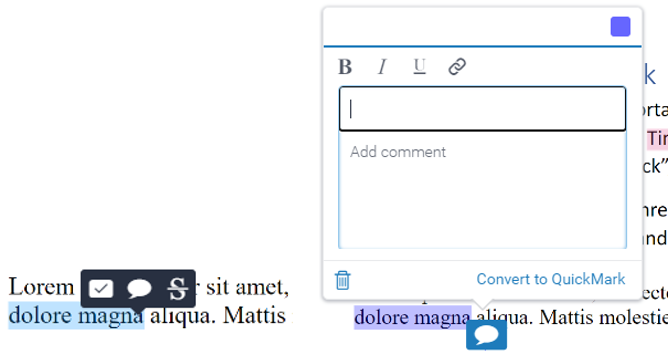 QuickMarks
Select the quickmark icon on the toolbar, then select and drag a selection onto the page. See Using QuickMarks by Turnitin.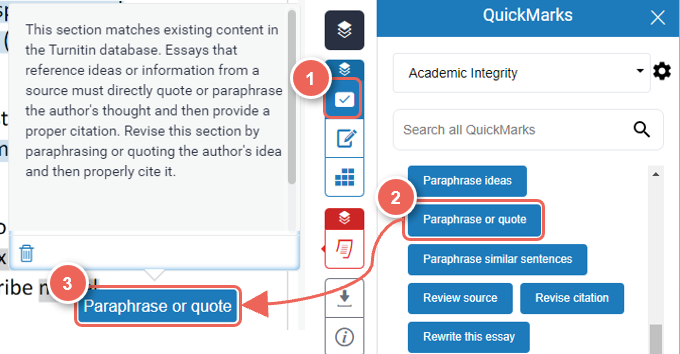 ---
Turnitin guides
Academic Integrity
Policy and Guidelines